A Ferrari 1-2 initiated the brave new world of the Formula 1 aero cars, Charles Leclerc victorious from pole after a thrilling challenge from Max Verstappen's Red Bull ended when a fuel system problem believed to be linked to the new E10 fuel caused the engine to die a few laps from the end.
Carlos Sainz backed up Leclerc for the Scuderia's dream result, paradoxically on what he felt was the most difficult weekend of his Ferrari career.
Verstappen's challenge was a formidable one, but Leclerc and Ferrari really did appear to have it all under control even before the Red Bull lost all power just a couple of laps before the sister car did the same, causing Sergio Perez to spin out of third.
These two late retirements promoted Lewis Hamilton's Mercedes to a podium which was merited only on account of good reliability, with team mate George Russell following him across the line.
Before a late safety car for Pierre Gasly's blazing AlphaTauri, the Mercedes pair had looked set to finish a minute or more behind, the W13's bouncing behaviour limiting both its speed and its tyre usage.
Did the new aero regs, all those years in the making, give the sort of racing F1 sought? A little early to say, because the Sakhir circuit has always been a pretty good one for overtaking anyway.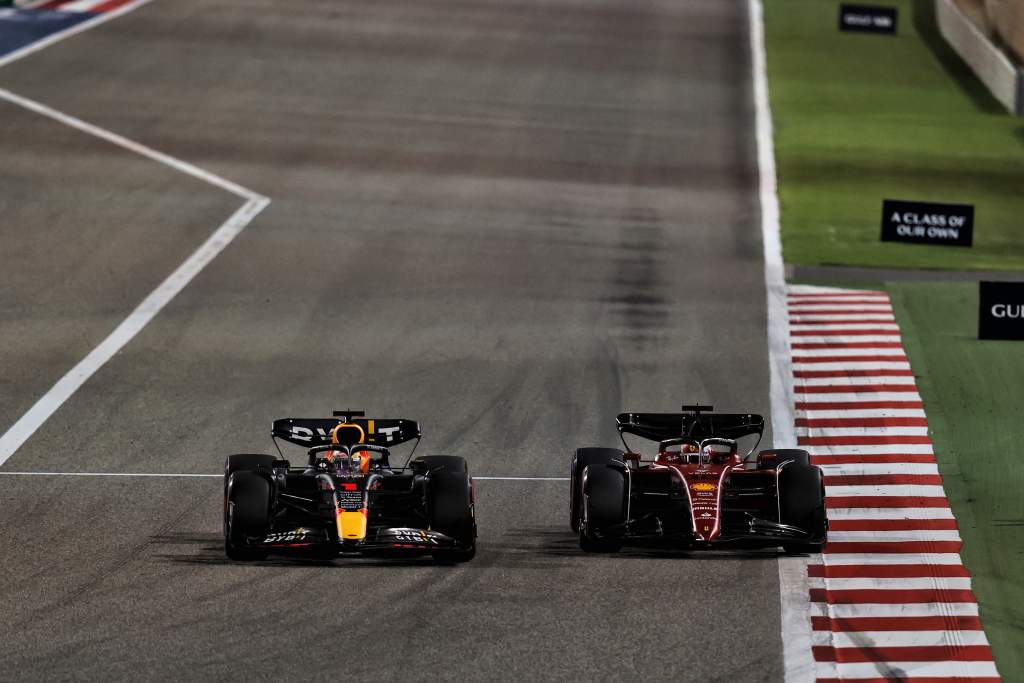 But the electrifying dice between Leclerc and Verstappen just after the first pit stops promised much. Cars did seem to be able to follow more closely and for longer – but eventually the abused tyres would surrender and that sort of put a false ceiling on how well the aero worked.
This remains a very tough place for tyres and brakes – and both those were limiting factors, more for some than others. The absolute best place to be to ensure good flow to brakes and tyres is always the front. Leclerc's pole the day before and his strong start, as Verstappen bogged down, secured him that advantage.
The new 18-inch Pirellis still need to be driven whole seconds off the pace to get a realistic stint length. They degrade even faster if you sit as close behind the following car as the new aero allows you to.
They are supporting an even heavier car than before with far less suspension sophistication to help out, sustaining greater high-speed loadings, running on stiffer settings and have a major aerodynamic porpoising acting upon them. Perhaps not all that surprising that they still struggle.
As for why Ferrari had the beating of Red Bull even before the blue cars stopped, it was about Ferrari's great preparation for this season and Red Bull's more compacted pre-season programme. A possible hangover from that '21 title fight, perhaps. All winter, it's as if Red Bull has been a few weeks behind Ferrari in preparation.
The suspected reason for the sudden loss of power in the Red Bulls late in the race is fuel cavitation – and, if true, that's almost certainly a function of the team's ambitiously compressed programme.
Fuel cavitation tends to occur as the last dregs of fuel are being pumped around near-empty tanks. As can be imaged, the fuel is heavily sloshed around because of the loads being fed into the car and no matter how well-designed the tank's baffling system, the temperature of the fuel increases when this occurs.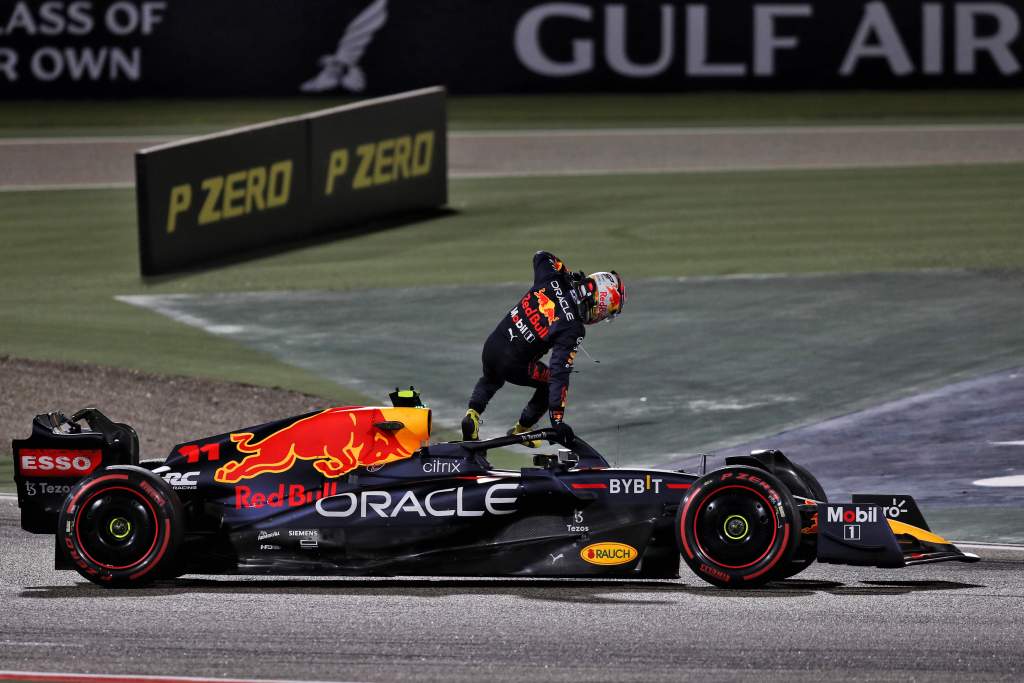 At a certain point of temperature the fuel begins vaporise and there will be a vapour lock in the pump, the fuel pressure dives and the pump is briefly pumping fresh air. The sudden load changes as the system pressurises and depressurises (together with the excess heat inside the pump from the vaporising fuel) will tend to damage the pumps and eventually they can no longer feed fuel to the engine.
The E10 fuel introduced this year runs at a higher temperature than the full fossil fuel previously used and so the cavitation threshold has changed. Only those teams with enough preparation time to do full race simulations in testing, including running the tanks almost dry, found this out.
Most teams did, but Red Bull – with its more compacted programme and the 11th hour performance upgrades to verify – did not. The list of parts changed overnight at Red Bull after qualifying included fuel tank lifter pumps.
Fuel temperature was the least of Verstappen's worries as he chased Leclerc in the race's early stages, though. Brake temperatures were the big concern. From as early as the third lap he was being cautioned to back off to bring them under control.
Like this, Leclerc was able to edge away a couple of tenths each lap. But they were both pulling clear of Sainz, who continued to feel ill-at-ease in the Ferrari now it was on full tanks once more, having felt he'd cracked his problems with it during qualifying.
Haas star of the midfield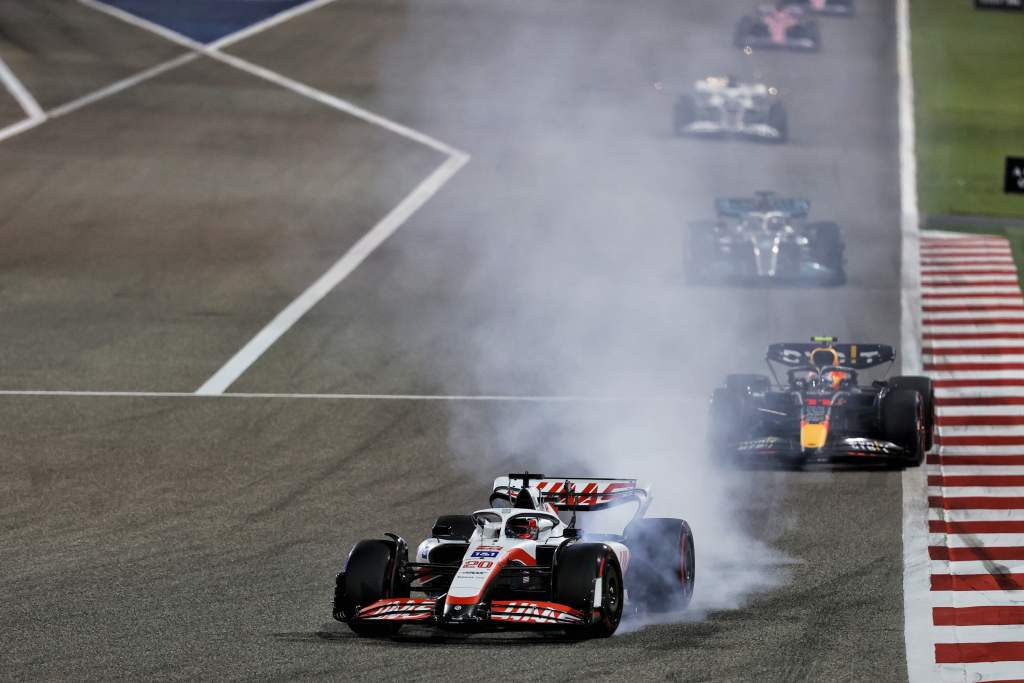 At the start Perez had been a little lead-footed out of Turn 1, the Red Bull's loss of momentum allowing Hamilton to immediately slip by for fourth and for Kevin Magnussen to slipstream ahead up to Turn 4.
It took only a lap for Perez to repass the wheel-locking Haas and just another for Russell to demote it down to seventh. But that was 'best of the rest' behind the big three teams – and a dream performance for both Haas and the returning KMag. It was a status he would hold to the end after seeing off a late challenge from Gasly's AlphaTauri before the latter's ERS-K-related conflagration.
Magnussen had been outqualified by Valtteri Bottas' Alfa Romeo but both Alfas had malfunctioning clutches and were terrible off the line. From sixth on the grid Bottas would complete the opening lap 14th.
He made a strong recovery and would be only one place behind Magnussen by the flag. Haas and Alfa Romeo were definitely the class of the midfield, though that midfield looks just as far from the front as before.
Although Fernando Alonso comfortably outqualified Alpine team-mate Esteban Ocon, the latter had a better handle on how to use the tyres on race day and caught and passed him to finish seventh, despite a 5s penalty for nudging Mick Schumacher's Haas into a Turn 6 spin on the opening lap.
Mick stayed out during the Gasly safety car in a doomed attempt at making the points as all those around him pitted but upon the restart his old rubber made him an easy scalp for Yuki Tsunoda, Alonso and – making the points on his F1 debut for Alfa Romeo – Guanyu Zhou.
Aston Martin, Williams and McLaren didn't make the midfield. For McLaren, at least, there is hope. Forced to run very compromised aerodynamics in order to have adequate front brake cooling for this place specifically, it should revert back to the much quicker car it looked once away from the demands of Sakhir.
The frustration of Verstappen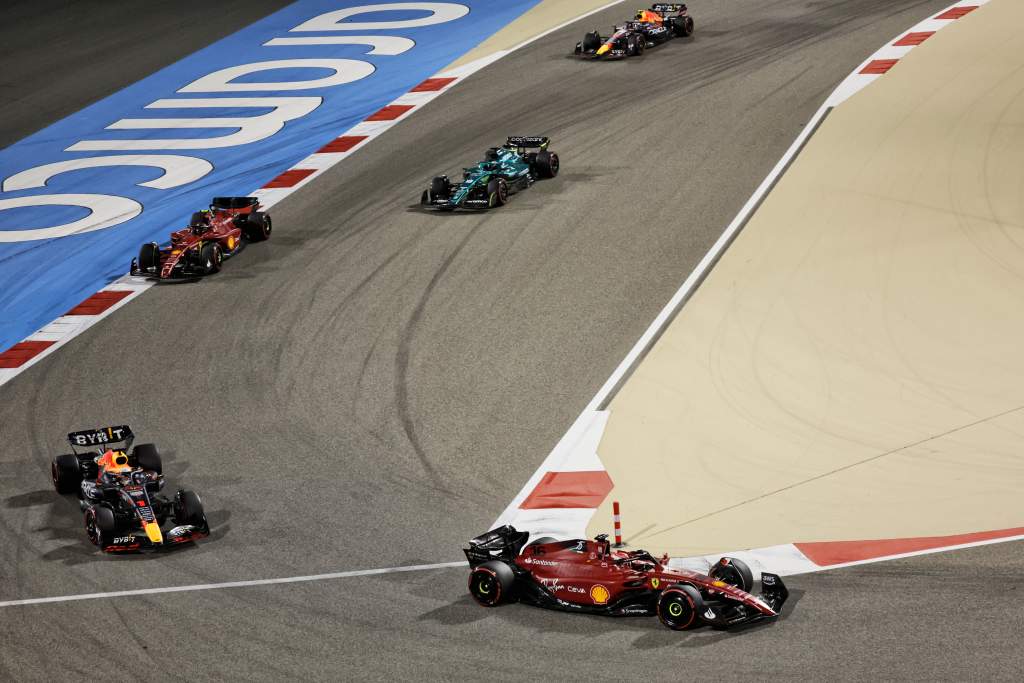 Ferrari was a little concerned that Verstappen, despite having to lift and coast and despite running used tyres, was able to run the pace he was. Only slightly slower than Leclerc's new-tyred car and faster than Sainz's.
But even as he brought the brake temperatures back under control before they got to a critical runaway state, Verstappen's tyres were giving out.
"I've got so much understeer on entry and no traction coming out," he complained.
The Mercedes drivers could only dream about such problems. Only for the first few laps could Hamilton hang onto Sainz as the relative lack of downforce took its toll on the tyres.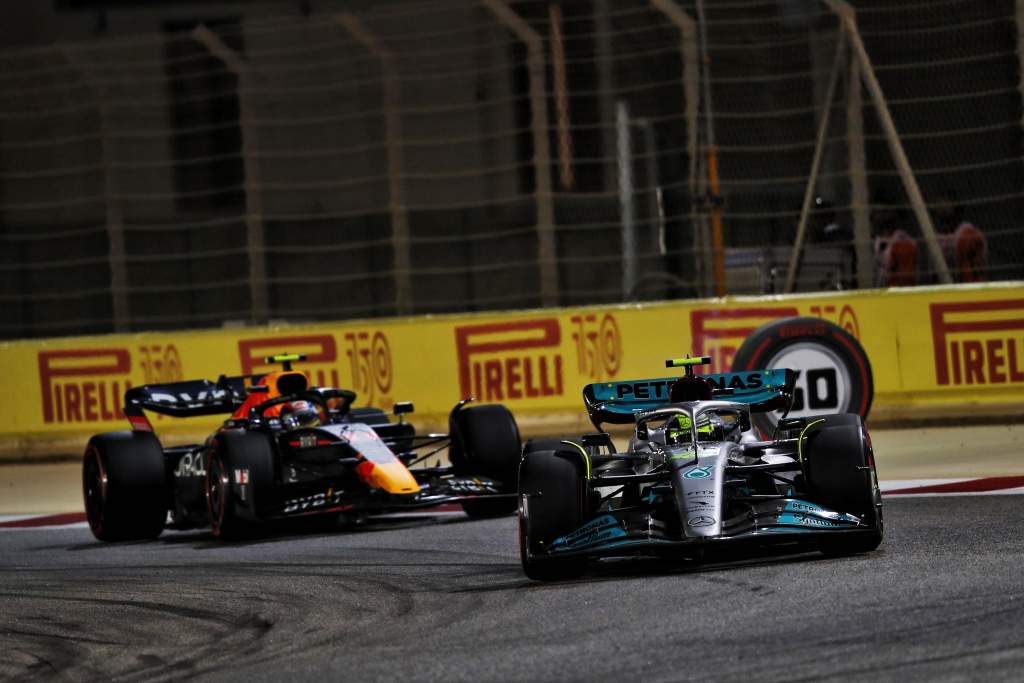 Just as Perez was poised to pass him for fourth, Mercedes called Hamilton in. It was a very early stop, even for a two-stop, and the choice of hard tyres was an unexpected one. Russell was brought in a few laps later for the same.
It was a failed gamble and Hamilton couldn't hold enough of a pace to prevent Perez jumping him for fourth. Hamilton and Russell then ran in tandem separated by around 6s, already by the 20th lap a full pitstop adrift of Leclerc.
By lap 13 the Ferrari's advantage over Verstappen was 3.7s and creeping up. Max was almost 4s behind as he peeled off into the pits and had another set of softs fitted.
He was cautioned not to push them too hard on the out-lap – as that invariably drastically reduces their life. But even driven relatively gently, they are still whole seconds faster than a 13-lap-old set, so high is the degradation rate around here.
The old set still on Leclerc's car as Verstappen made that out-lap was around 3s slower than the fresh set on Verstappen's. Which, together with a small delay changing Leclerc's right-front, brought the Ferrari out with the Red Bull right under its rear wing.
Verstappen was seething he'd had to take that out-lap at what for him felt such a slow pace. He'd comfortably have undercut ahead if he'd been able to push. An opening stint driving well below his potential pace to control the brake temperatures and now this: his frustration was palpable.
Informed he would have just one attempt at overtaking before the brake temperature issue would return, Verstappen used DRS and the Red Bull's greater end-of-straight speed to dive dramatically by on the inside into Turn 1, sparks flying into the night sky as the skid plates hit the bumps.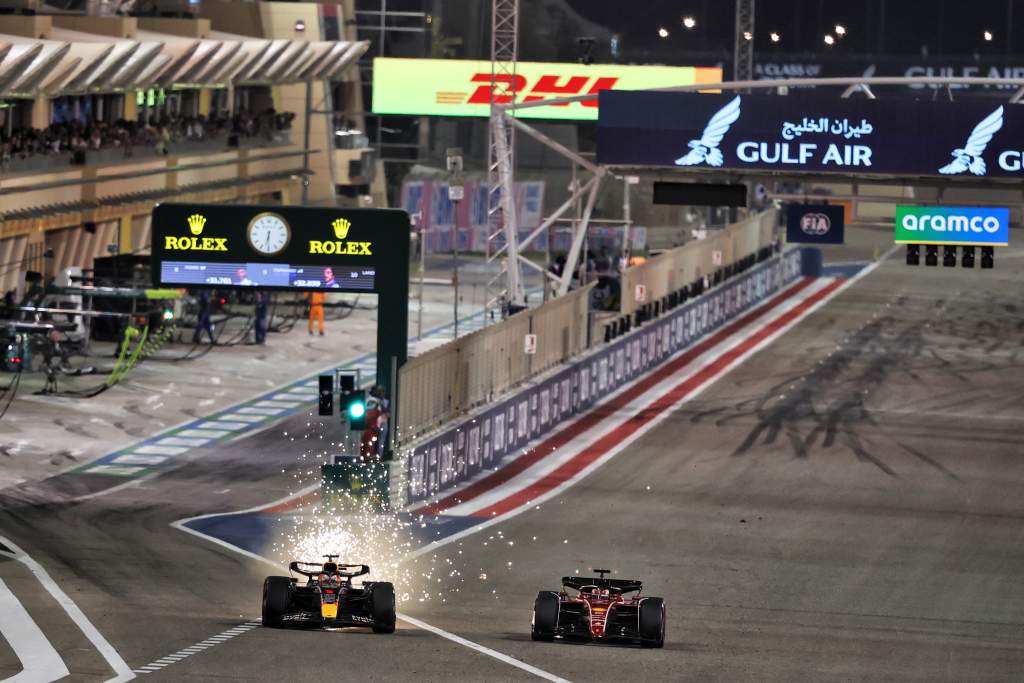 He was ahead into the turn but Leclerc cleverly didn't fight it, instead ensuring he was behind at the DRS detection line there – so that he would have DRS on the straight up to Turn 4. Like that he grinded his way back into the lead, cutting across Verstappen's bows as he did so. No holds barred but perfectly clean.
Verstappen repeated the trick on the next lap from a long way back and Leclerc did much the same thing to be leading once more out of Turn 4.
Verstappen's third attempt at the same manoeuvre resulted in a locked wheel and Leclerc was able to repass even before Turn 2. With his brakes now asking for mercy, Verstappen had to back off. "Impossible to race like this," he raged.
The undercut attempt on the Ferrari was tried again on lap 30, Leclerc brought in on the next lap.
Again it was close but this time there was no wheel-to-wheel challenge. Verstappen again raged about how he could have taken the place if he'd not had to pussyfoot the tyres on the out-lap.
The Ferrari was just in better shape and Leclerc was in full control of the situation and with both cars now on the medium tyres, the red car edged steadily away. But by no more than necessary, for the sake of the tyres.
Three-stop gamble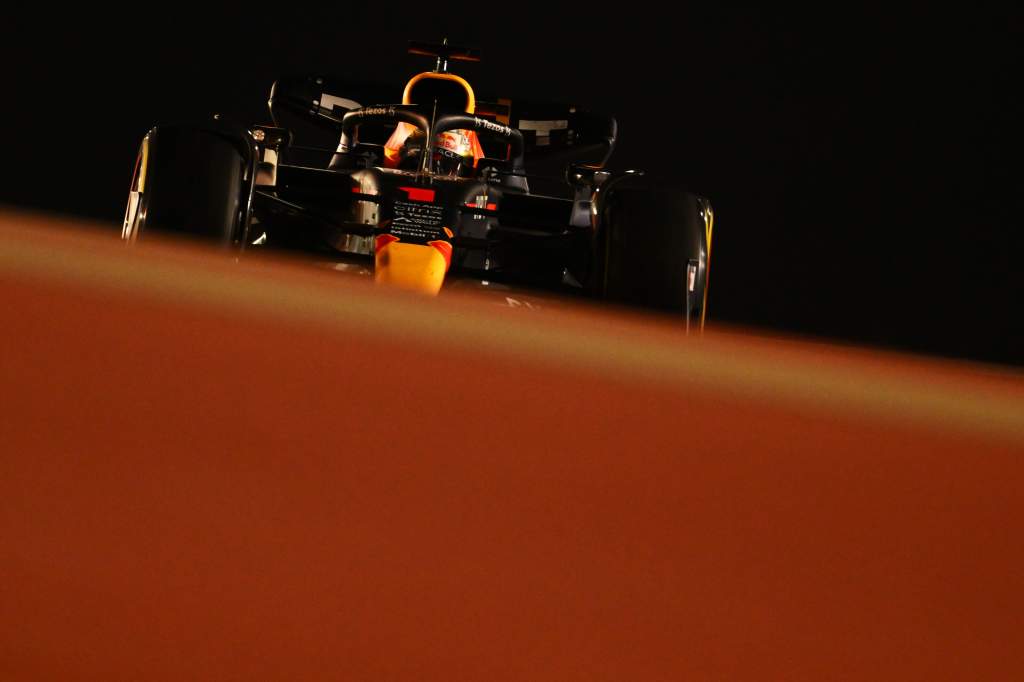 From 5s behind, with 14 laps to go, Red Bull threw the dice, bringing Verstappen in for a third stop and switching him to soft tyres.
Ferrari reacted to this by bringing in Sainz – who'd been reporting his tyres were in a bad way – and leaving Leclerc out there.
He was concerned, but relaxed as it was explained the Red Bull would need to catch him by 2s per lap to reach him before the end. Verstappen's first flying lap – the lap where the tyre advantage would be at its greatest – was only 1.7s faster. His speed advantage would have reduced lap by lap; that's just how it works. So barring any problems for Leclerc, it wasn't going to be enough.
Perez had also made the third stop and was hopeful of putting pressure on Sainz's third place. Hamilton too had pitted and was over a minute adrift of the lead with Russell due in on the next lap. Then Gasly pulled off his AlphaTauri to the side with a broken ERS-K and flames already licking around its rear quarters. This was lap 46.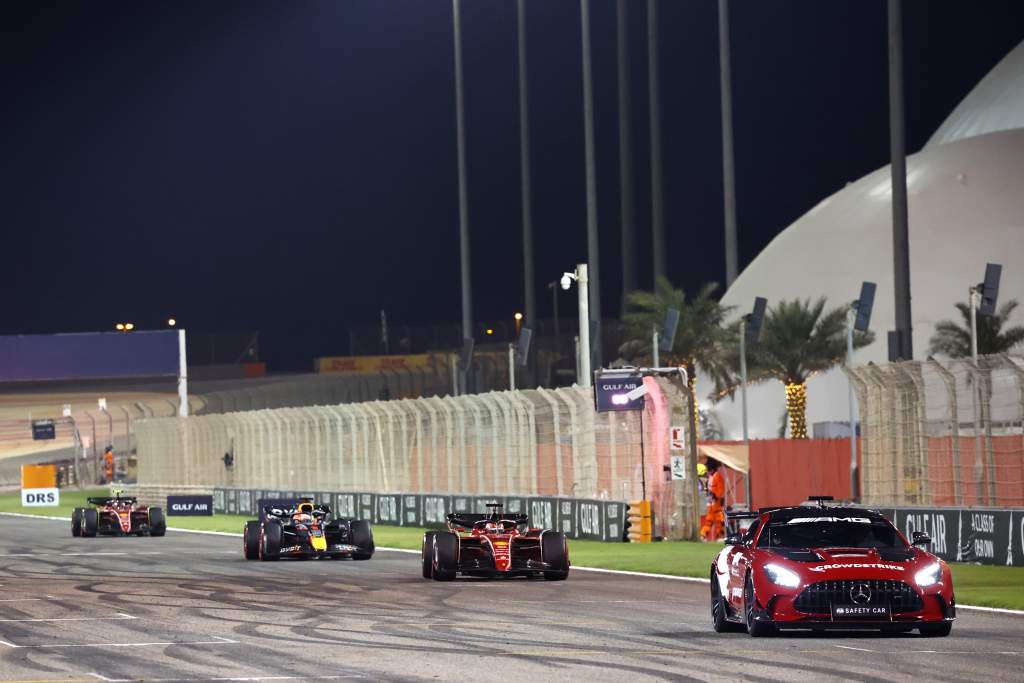 Leclerc was relieved to see the VSC signs. But then dismayed to see them replaced by those for a safety car. His big lead over Verstappen was to be neutralised – and he needed to pit for fresh rubber so as not to be outgunned at the restart.
What Leclerc didn't know is that Verstappen had a new problem. His steering had gone awry, pulling heavily to one side and with a delay after he turned it before the wheels responded. It seems a trackrod may have been damaged after the car was lowered from the jack at the stop.
So it was all Verstappen could do to hold off Sainz upon the restart with six laps to go. Leclerc was up and gone, 2.9s clear by the time DRS was re-enabled two laps later, the final sprint to a beautiful victory, the righting of the wrong which happened to him here in 2019 when his car failed him with victory in sight on only his second start for Ferrari.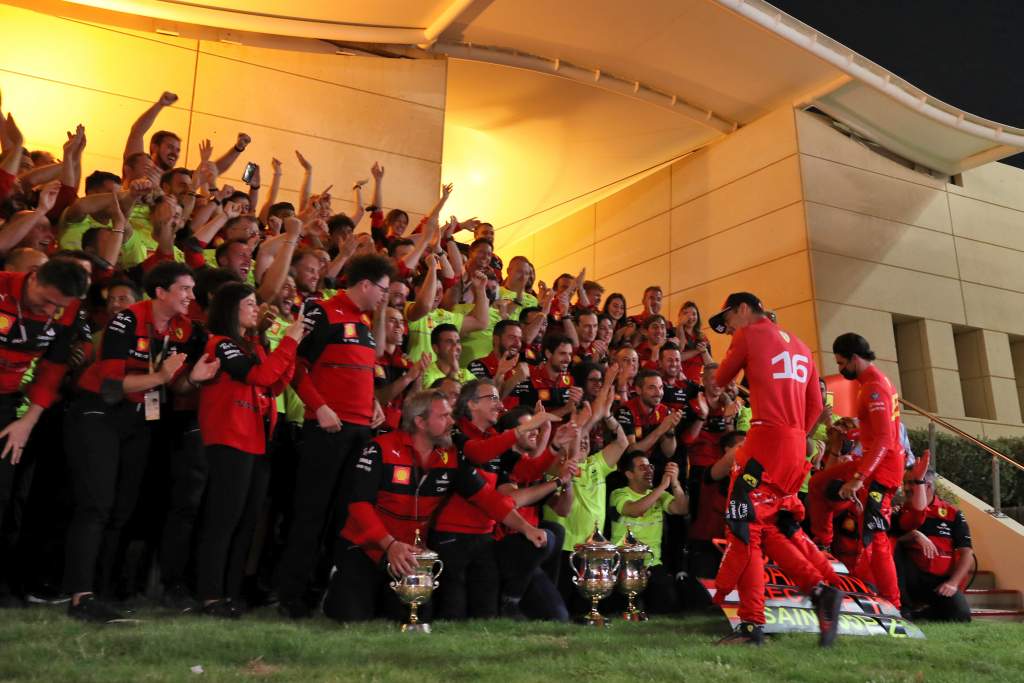 Sainz was still looking for a way by Verstappen's Red Bull when it spluttered out in front of him just a couple of laps after the restart. Max had just enough left to limp it to the pits as Ferrari took up 1-2.
Hamilton was chasing Perez into the final lap when the Red Bull's rear wheels seized as the engine suffered the same fuel starvation as Verstappen's – and spun Perez around.
Like that, F1 2022 came to life. Leclerc made a little joke about 2019 to his crew on the last lap – "guys the engine feels a bit strange" – giving them palpitations. Then relief. Then joy. After two years away from the top step, the Scuderia is back.