Max Verstappen won a sensational Las Vegas Grand Prix but it was by far the hardest-fought of his 18 grand prix wins in the 2023 Formula 1 season, featuring wing damage and a penalty.
His challenge started on the opening lap when, from second on the grid, he launched his RB19 down the inside of Charles Leclerc's polesitting Ferrari at the Turn 1/2 left-hander.
Verstappen's move sent both cars off track but he emerged in the race lead with a disgruntled Leclerc calling it a "joke if he keeps the position".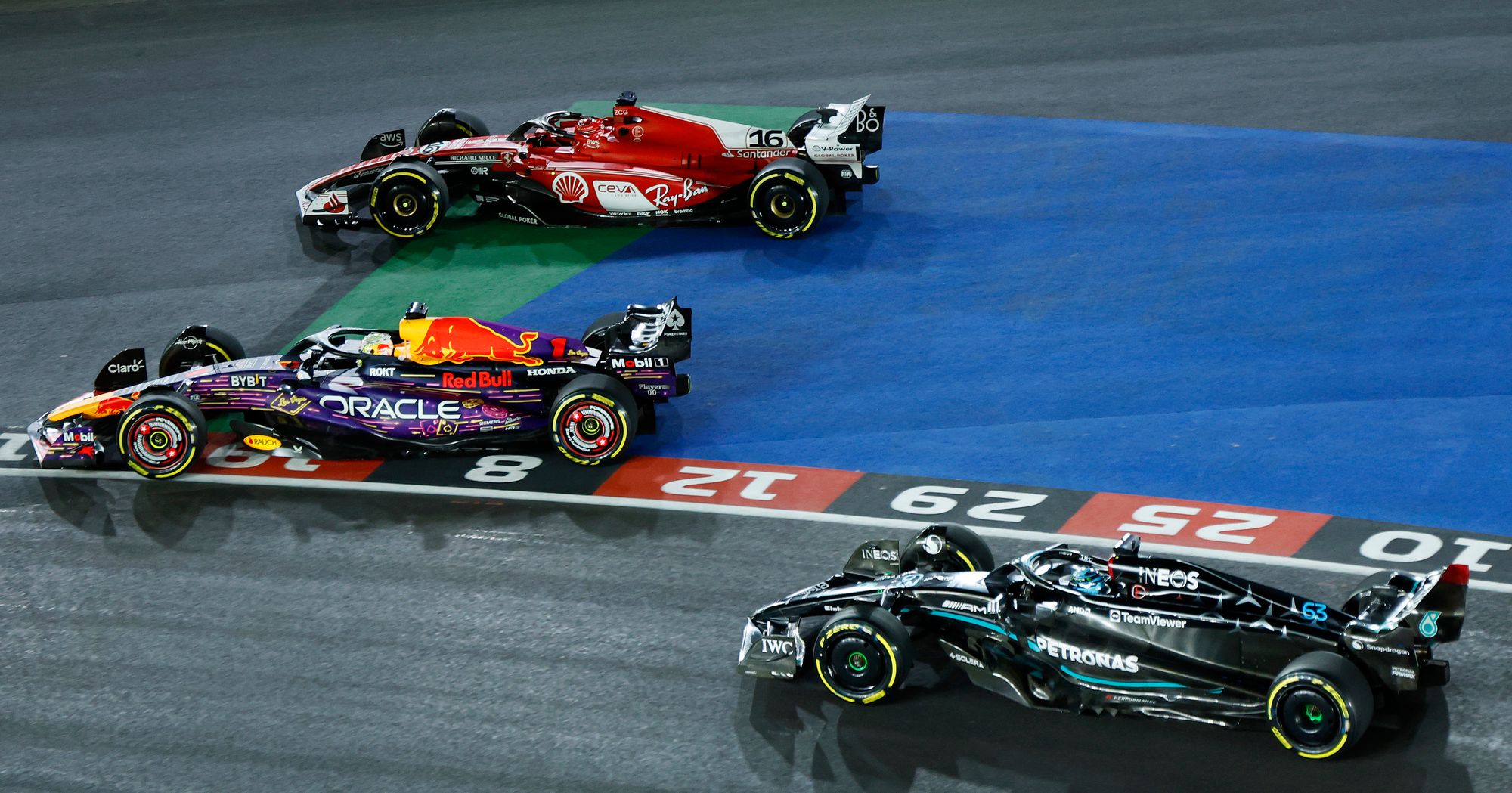 The stewards took a dim view of Verstappen's move too and handed him a five second penalty.
But Leclerc didn't need to wait for Verstappen to serve that as he caught and passed him at the end of the first stint.
He passed Verstappen for the lead on-track on lap 16 of 50 with Verstappen then pitting at the end of that lap.
Leclerc took his tyres seven laps longer than Verstappen and emerged well clear of him, when he pitted with George Russell's Mercedes also jumping ahead of Verstappen as the Red Bull served its penalty.
Out front Sergio Perez - who pitted on the opening lap after hitting the back of Valtteri Bottas who had just hit a spun Fernando Alonso at Turn 1 - held an 11-second margin over Leclerc, who made a cautious start to his second stint.
Behind Leclerc, Verstappen closed on Russell but when he made his move Russell closed the door and the duo collided, damaging both of their cars. Russell was deemed to be at fault and handed a five-second time penalty.
Verstappen continued but with damage to his front wing.
The resulting debris triggered a safety car and handed Perez a golden opportunity, allowing him to make his final pitstop and emerge right behind Leclerc with fresher tyres.
Perez initially made good on it, passing Leclerc five laps after the safety car restart to take the lead.
But Perez couldn't stay there as Leclerc repassed him just a few laps later down the inside of Turn 14.
While Perez and Leclerc had been duelling Verstappen had quickly made his way up to third and was right behind them. He easily cleared team-mate Perez and then passed Leclerc one lap later to take the lead.
Verstappen's victory never looked in doubt thereafter despite his wing damage and he even slowed on the final lap to help Perez get a tow to help his fight to keep Leclerc behind.
A mistake from Leclerc had given Perez second place back but Leclerc harried Perez in the closing laps and then made his move on Perez on the very last lap. It's the second race running that Perez has been passed on the final lap.
There were no such problems for Verstappen, who won the first F1 race at the Las Vegas Strip circuit by two seconds, although that margin was artificially reduced by slowing to help Perez.
Leclerc claimed a hard-fought second place although he was audibly disappointed to not claim Ferrari's second victory of the season. Perez had to settle for third, though he has clinched second in the drivers' championship.
Russell crossed the line in fourth place but his penalty for clashing with Verstappen dropped him down to eighth place.
That promoted Esteban Ocon to fourth place in a race that included a tense team order discussion at Alpine.
Lance Stroll finished fifth for Aston Martin for the second weekend running ahead of Carlos Sainz (from 12th on the grid and despite a first-corner spin) and Lewis Hamilton who recovered from a clash with Oscar Piastri.
Alonso came home ninth after losing ground early on to his spin at Turn 1 while Piastri took the final point after making a late pitstop for mediums.
Pierre Gasly was in podium contention early on but his pace dropped off and he slid down the order all the way to 11th place.
Lando Norris suffered a nasty hit with the wall and slid down the Turn 12 escape road on the third lap. He retired from the race and triggered the first safety car.
After an initial assessment at the circuit medical centre, Norris was taken to University Medical Center for further precautionary investigations but swiftly released.
Race Results
| Pos | Name | Car | Laps | Laps Led | Total Time | Fastest Lap | Pitstops | Pts |
| --- | --- | --- | --- | --- | --- | --- | --- | --- |
| 1 | Max Verstappen | Red Bull | 50 | 0 | 1h29m08.000s | 1m35.614s | 2 | 25 |
| 2 | Charles Leclerc | Ferrari | 50 | 0 | +0.020s | 1m35.669s | 1 | 18 |
| 3 | Sergio Pérez | Red Bull | 50 | 0 | +0.020s | 1m35.939s | 2 | 15 |
| 4 | Esteban Ocon | Alpine-Renault | 50 | 0 | +0.180s | 1m36.637s | 1 | 12 |
| 5 | Lance Stroll | Aston Martin-Mercedes | 50 | 0 | +0.200s | 1m36.584s | 2 | 10 |
| 6 | Carlos Sainz | Ferrari | 50 | 0 | +0.210s | 1m35.984s | 2 | 8 |
| 7 | Lewis Hamilton | Mercedes | 50 | 0 | +0.220s | 1m35.716s | 2 | 6 |
| 8 | George Russell | Mercedes | 50 | 0 | +0.230s | 1m36.071s | 2 | 4 |
| 9 | Fernando Alonso | Aston Martin-Mercedes | 50 | 0 | +0.260s | 1m36.559s | 2 | 2 |
| 10 | Oscar Piastri | McLaren-Mercedes | 50 | 0 | +0.290s | 1m35.490s | 2 | 2 |
| 11 | Pierre Gasly | Alpine-Renault | 50 | 0 | +0.340s | 1m36.913s | 1 | 0 |
| 12 | Alex Albon | Williams-Mercedes | 50 | 0 | +0.430s | 1m37.357s | 1 | 0 |
| 13 | Kevin Magnussen | Haas-Ferrari | 50 | 0 | +0.450s | 1m37.455s | 2 | 0 |
| 14 | Daniel Ricciardo | AlphaTauri-Honda RBPT | 50 | 0 | +0.480s | 1m37.108s | 1 | 0 |
| 15 | Guanyu Zhou | Alfa Romeo-Ferrari | 50 | 0 | +0.500s | 1m37.375s | 1 | 0 |
| 16 | Logan Sargeant | Williams-Mercedes | 50 | 0 | +0.510s | 1m37.740s | 1 | 0 |
| 17 | Valtteri Bottas | Alfa Romeo-Ferrari | 50 | 0 | +1.250s | 1m37.562s | 2 | 0 |
| | Yuki Tsunoda | AlphaTauri-Honda RBPT | 46 | 0 | DNF | 1m37.587s | 2 | 0 |
| | Nico Hülkenberg | Haas-Ferrari | 45 | 0 | DNF | 1m37.565s | 2 | 0 |
| | Lando Norris | McLaren-Mercedes | 2 | 0 | DNF | 1m59.327s | 0 | 0 |