I'm going to stick my neck out now and say there's no way the 2024 Las Vegas Grand Prix will be as good as the 2023 edition of Formula 1's newest race.
That's simply because all 10 F1 teams now have a bank of data from which to learn and improve. Everyone will have a better idea of what wing levels to run, what ride heights to start at, how best to prepare and manage the tyres - and pre-event preparation in simulators will naturally have greater fidelity second time around.
The 2023 Las Vegas F1 race was rightly hailed as a brilliant advert for Formula 1. Racing on a brand new street circuit, with Monza-style low-drag set-ups, on a slick surface that barely gripped up, in temperatures more reminiscent of winter testing in Barcelona than typical grand prix races at desert venues, created the kind of spectacle Liberty Media was no doubt counting on to justify its extraordinary $500million investment.
It's not very often you see Fernando Alonso looping his car around all by himself at the first corner of a race, or Lando Norris simply losing control of his McLaren through a high-speed curve - or Max Verstappen actually having to race Charles Leclerc for a narrow victory. That's an image that belongs to our memories of what now feels like the distant past of early-2022.
Alonso said it wasn't much fun to drive "on this kind of circuit, at this speed of 360km/h, with no grip, no visibility, bouncing like hell". McLaren's Andrea Stella described the Vegas asphalt as "just too slippery" for racing at night. George Russell said the Pirelli tyres got so cold behind the safety car that they were "rock solid" and "colder than you experience in the rain".
He's among those suggesting the Vegas Strip circuit be resurfaced for 2024, using the grippier, more abrasive asphalt employed for the Saudi Arabian Grand Prix on the Jeddah Corniche circuit.
No. Please. Whatever you do for next year, F1, just don't…
I know everyone was very tired, and didn't appreciate doing Japan time for a Singapore-type night race at a US venue, but what we absolutely don't need is for a brilliant grand prix to become instantly several degrees more boring than it already will do anyway simply from F1 teams' endless quest for self-improvement.
Daniel Ricciardo called the restarts "sketchy" and suggested bringing the timetable forward so everyone might feel a little warmer and less tired. I appreciate it was a difficult moment at the end of a long season and think everyone would obviously appreciate having "a little bit more juice in the tank", as he put it.
But warmer conditions will equal more grip; a more abrasive track surface will equal more grip; adding support races (for which there was some clamour during the early part of the weekend) will equal more grip.
Any driver will want more grip - it means you can drive faster and enjoy the thrill that bit more. But every driver, if they have the choice, will also want to win races from pole position by driving off into the distance in a car that utterly behaves itself.
We can appreciate that is an incredibly difficult thing to achieve, and marvel at the skill involved in making it happen, but it's also obvious that all but a select few people will not really enjoy watching it happen.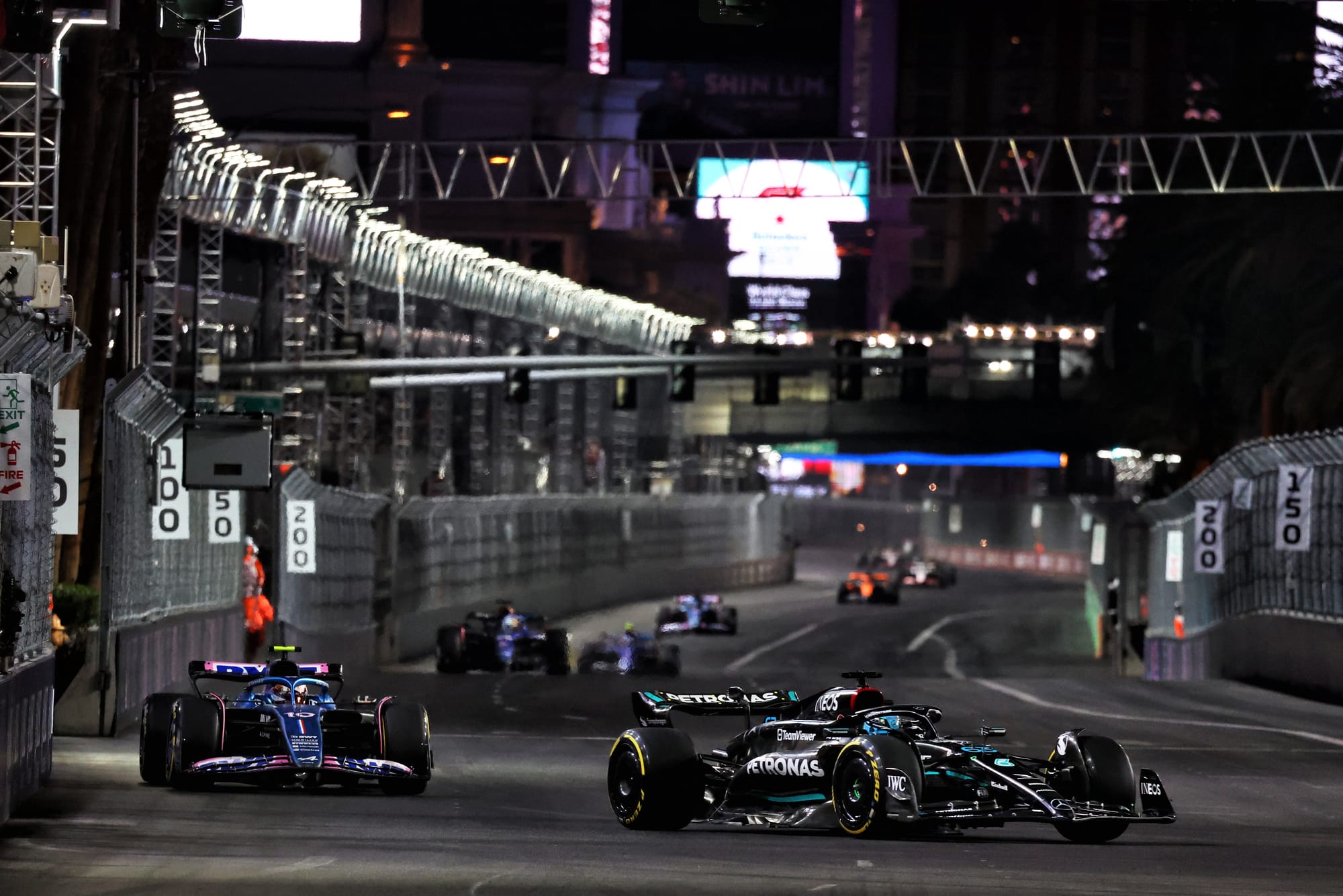 Jeddah has become an exciting addition to the calendar because the average lap speed is just so ridiculously fast for a temporary circuit. Baku set the template for a modern F1 street race, requiring extreme conflicting set-up demands from the cars (in a similar way to Spa), and now in Vegas we have a sort of hybrid of Singapore and Baku, but on a track with such low grip it moved some drivers to say it was like driving in the wet on slicks.
Well, that sounds like a brilliant recipe for excitement to me. You could see clear fluctuations in performance as confidence ebbed and flowed. And when Verstappen and Sergio Perez were battling Leclerc's Ferrari for the lead late on, it was noticeable that whichever car was 'off-line' on the inside for Turn 14 at the end of the Strip was having to brake much earlier, allowing the car on the outside to almost come back into play on the grippier line as the cars decelerated.
Leclerc's brilliant last-gasp dive inside Perez was perhaps the exception, but anyway I'm struggling to remember another time I've seen that sort of lengthy and properly contested braking zone on an F1 track - certainly in the modern DRS era, where overtakes on such a long straight are usually completed so early that the faster car can simply rejoin the racing line before even thinking of closing the DRS flap by hitting the brake pedal.
F1 drivers often complain, with some justification, their views are not given enough weight. On matters of driving standards and track limits I have much sympathy with their position - especially when you are on the receiving end of questionable decisions made by people, as Max Verstappen has argued before, who don't really understand what it's like to balance these cars on the knife edge of grip at incredible speeds.
But in this case, I think F1 would do well to politely decline to heed drivers' requests for Vegas track 'improvements'. Yes, of course make sure all the inspection hatches are bolted down properly, or filled with concrete if necessary, but otherwise just leave it well alone.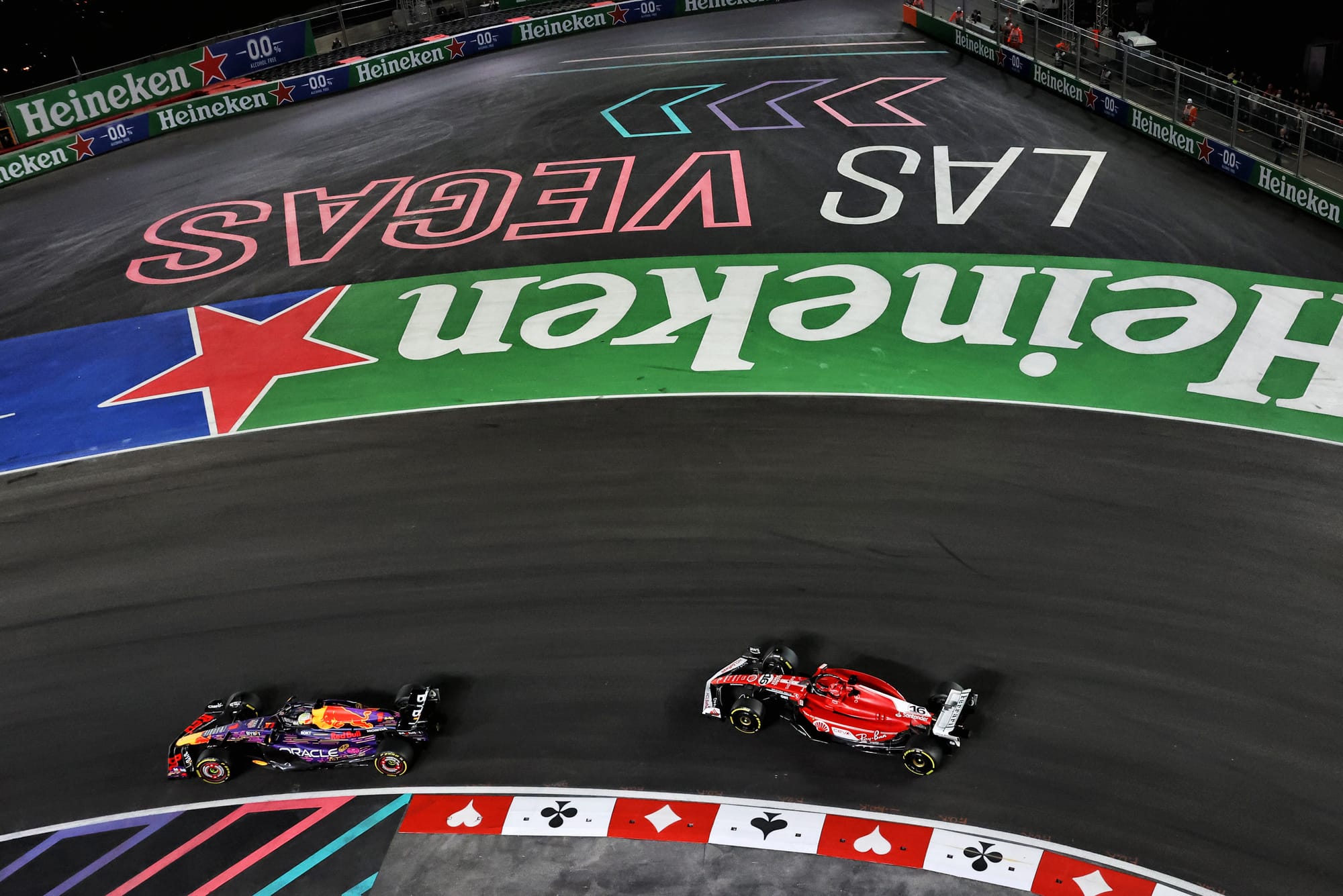 An easier ride for everyone will lead to a more predictable outcome, less jeopardy and, sadly, a more boring race.
Given the ridiculous amount of money being committed to Vegas by everyone connected with F1, including fans of course, that is something we could all do without.