Four-time Formula 1 champion Sebastian Vettel's real-life racing accolades are too numerous to list – but his simracing CV remains limited to one outing in which he was "so bad".
Vettel reflected his appearance in the rFactor 2-based The Race Legends Trophy today in a press conference for the 2023 Race Of Champions – which marks his first official racing appearance since his F1 retirement.
The German competed against fellow F1 drivers and other motorsport luminaries of the past in one of the rounds of the Legends Trophy season, held while Formula 1 and other racing categories were on hold due to the COVID-19 pandemic three years ago.
Vettel, at that point a Ferrari F1 driver, drove a red Brabham BT44B and had an incident-filled pair of races, albeit with the highlight of briefly running as high as fourth.
Asked during the ROC press conference whether simracing could be a part of his post-F1 regimen, he said: "No, I tried one during the lockdown and… I was so bad. Like, so bad."
With fellow Legends Trophy participant Petter Solberg also in the press conference, Vettel turned to the World Rally champion to say while laughing: "And then I phoned you after, and I was like 'how the hell do you manage to do it so well?'
"Because I was really struggling. And I'd grown up with video games, and I've done a little bit, I thought 'I will be OK, I'll sign up'.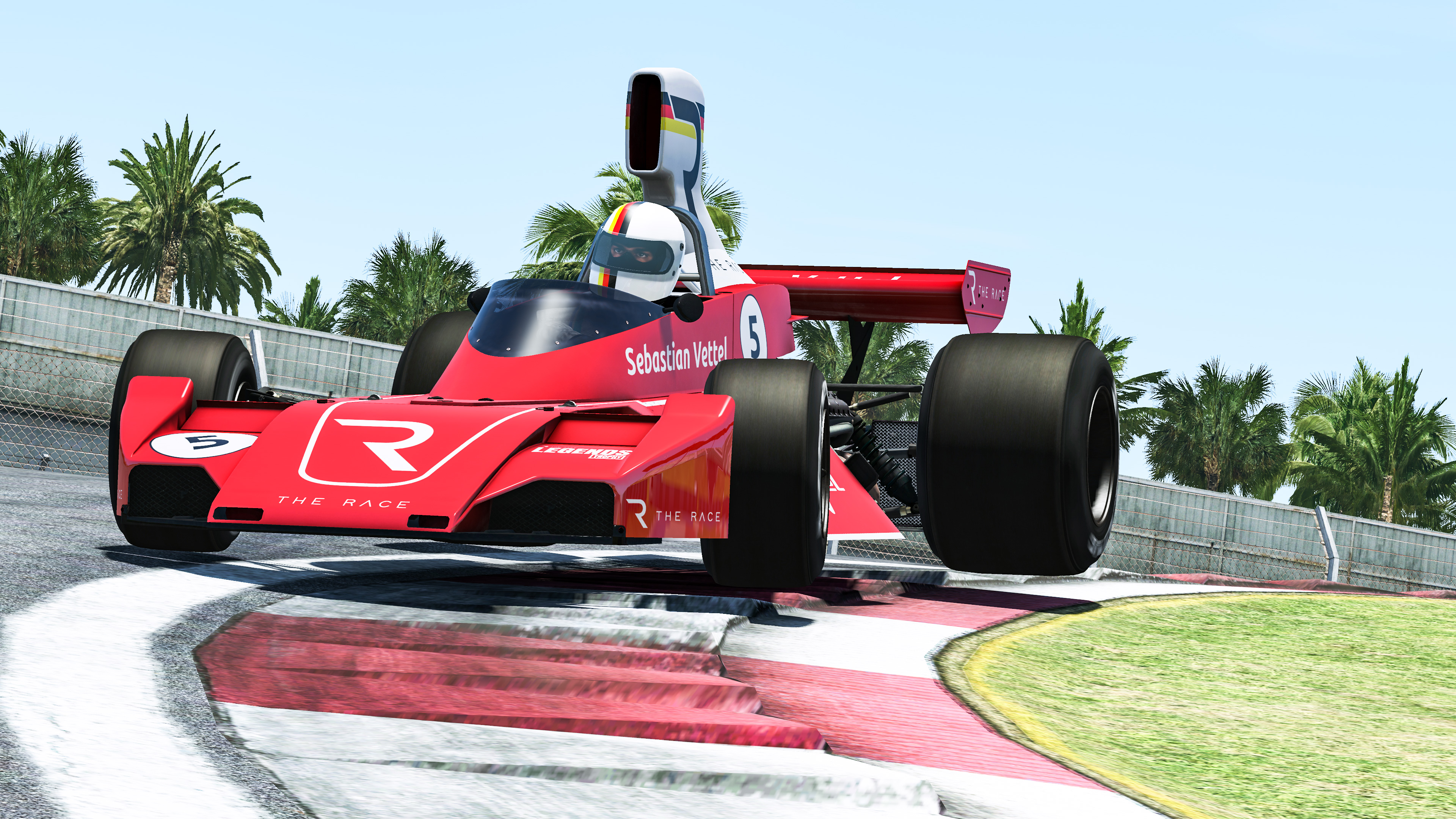 "I was so bad. And then Petter was really good. And I said 'how the hell did you manage?'. And he's like 'ah, yeah, you need to practice a little bit more', and then Pernilla [Solberg's wife] came and [said] 'He was practicing so much! He has never been inside the house!'."
Vettel was prompted to speak about simracing in light of ROC's own esports initiative eROC.
ROC has two main parts – the individual contest and the team-based Nations Cup – and the latter will feature a simracer team represented by Lucas Blakeley and Jarno Opmeer, the two eROC finalists and also the two most recent F1 Esports champions.
Vettel commended simracers in ROC for "jumping behind the wheel of the real cars and doing really well" and said it's "crazy how much esports has grown over the last years".
And though he initially seemed to completely rule out future virtual appearances, he subsequently appeared to leave the door open – while getting a dig in at Solberg, who he'd spent much of the press conference jesting with.
"It was difficult then to squeeze the time in [for practice]," he said. "Now in theory I have more time.
"So, I don't know.
"But these guys [Blakeley and Opmeer] are on another level, so it's not that easy to jump in and do well.
"If I can't beat Petter, then, can you imagine!"
The making of the Legends Trophy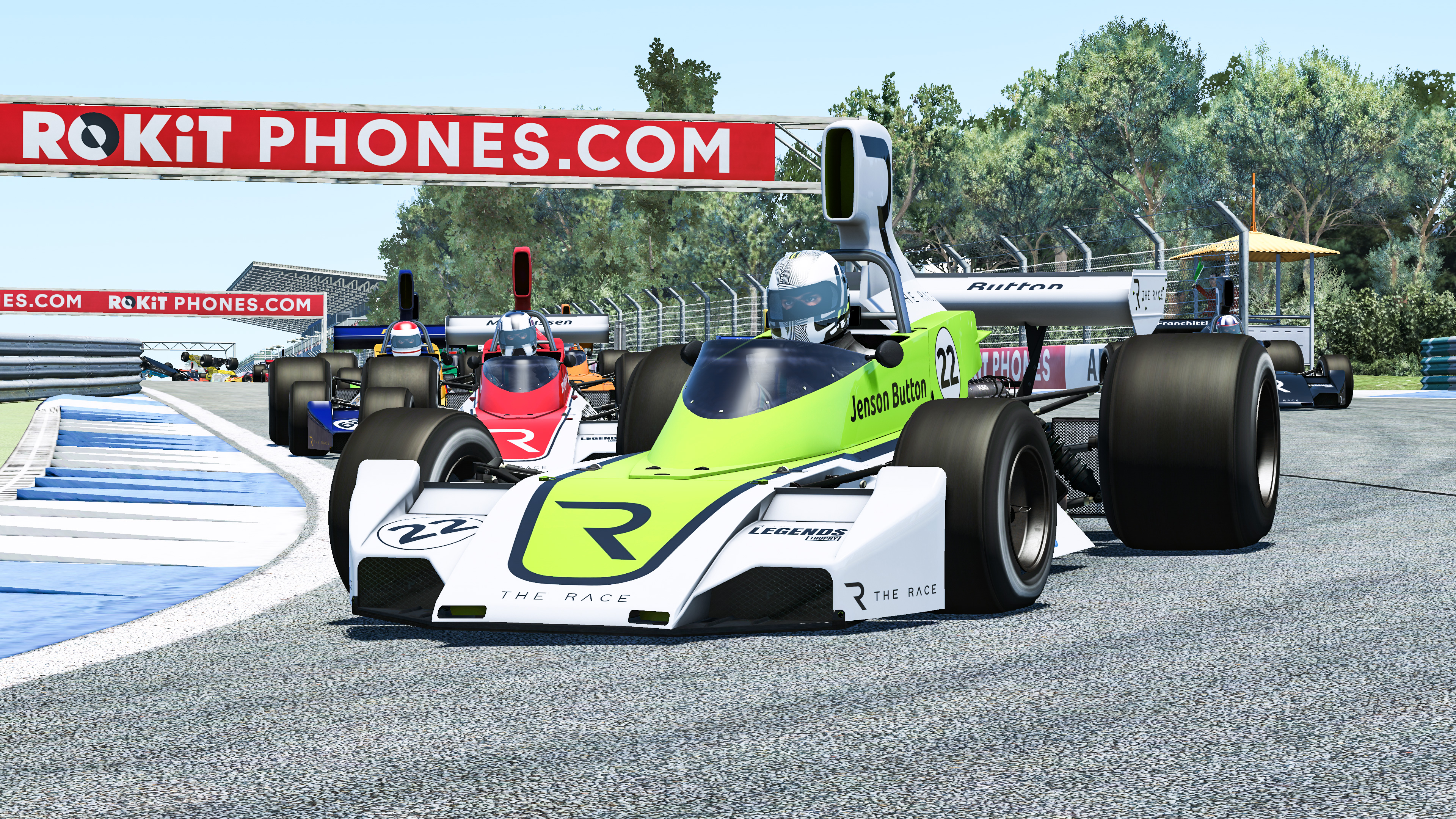 When COVID halted real-life racing nearly three years ago, the esports world sprang into action spectacularly – and very quickly – to fill the void.
The Race Legends Trophy was an undoubted highlight, featuring Fernando Alonso, Jenson Button, Petter Solberg, Jacques Villeneuve, Sebastian Vettel, Juan Pablo Montoya, Emerson Fittipaldi and so many more, racing each other in 1970s Formula 1 cars and modern IndyCars.
Sam Smith was among those tasked with recruiting the drivers. He shares the inside story.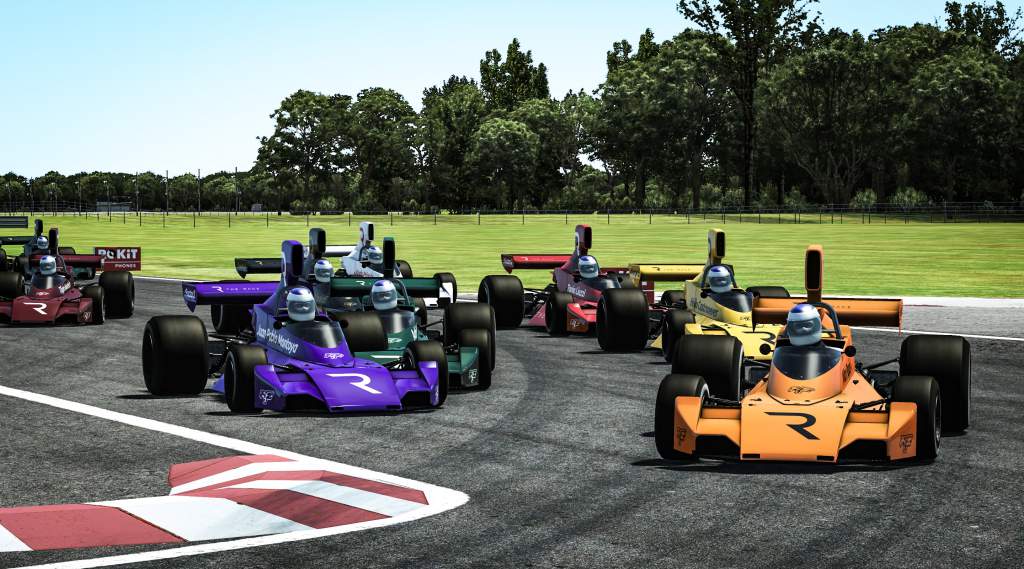 The weekend before the official lockdown began I was on a long-planned family break in my home city of York when the familiar notification ping on my phone awoke me on Sunday morning. It was The Race's founder, Andrew van de Burgt, and it was a call to arms.
Could I contact as many drivers as I could who might be up for an All-Star esports race the following weekend?
That day I would pull away from walks through the historic streets for illicit message sending to a da Costa, a Guenther, a Vandoorne, a Bird, a Piquet Jr, a Jani and so on. By the end of the day I was very much the least popular member of our family as my 'off duty' status waned.
The initial responses I received ranged from the wholly positive and accepting to one that just read: "I'm too old for this s**t, thanks anyway!"
But within hours Antonio Felix da Costa, Maximilian Guenther, Neel Jani, Oliver Rowland, Oliver Turvey and Stoffel Vandoorne had been rounded-up for inclusion or future inclusion once they had their hardware sorted out. That last element was a big factor because many who were presumed to be big gamers simply didn't have the right equipment to take part.
Others were just in the wrong place at the wrong time and couldn't get access to equipment at all. This went on to affect the likes of Sam Bird and Lucas di Grassi in Formula E's infamous Race at Home Challenge, although both eventually got hooked up and running.
Others I contacted like Mitch Evans and James Rossiter were having a knees up at their mate Andre Lotterer's house in rural France!
While the All-Star Esports battle went on to great success and multiple seasons, it was the Legends Trophy which stood out for sheer spectacle and drama.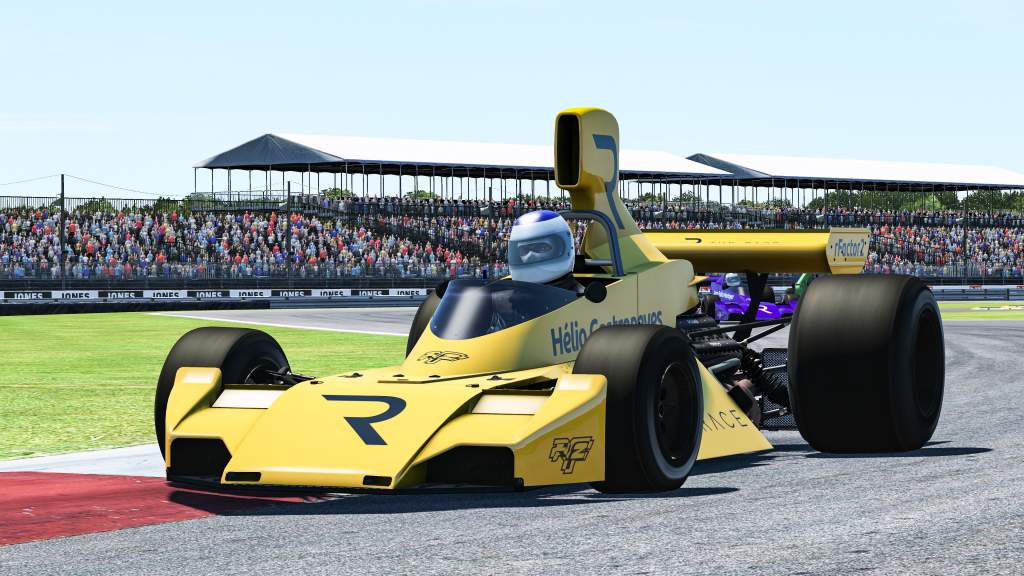 We were asked to dip in to our little black books once again in April but this time it was the slightly older editions we had to unearth and thumb through.
I have to admit that esports was not a world I knew but over three months or so I got hooked on seeing a grid assembled by a select few of us become a thrilling surreal rollercoaster ride.
I've been around a bit, so long in fact that I have a reasonable contacts book, so I along with several others started to pull in some favours, talk up the plans or in most cases just nag and beg some big names or their managers into submission.
Some were easier than others. Direct cold calling was something I thought I'd left behind when I used to flog wine to bored Cheshire housewives in the mid-1990s but here I was calling up Tonio Liuzzi, Emanuele Pirro, Olivier Panis, Mika Salo and Jacques Villeneuve to name but a few.
On that latter name, I informed VDB of the good news that Villeneuve was up for it with a simple six word text: "We've got the son of God".
Perhaps the writing had been on the wall from late March when Dario Franchitti sent me a message that showed him ragging a virtual 1995 spec Ferrari Formula 1 car around Oulton Park, using the proper Knickerbrook obviously!
There was something in this.
Even for old cynics like myself, esports may not be 'racing' but it's as close as we'd get to it for a while. In fact the more outlandish the better, and pretending to be Jean Alesi at Oulton Park was suitably mad.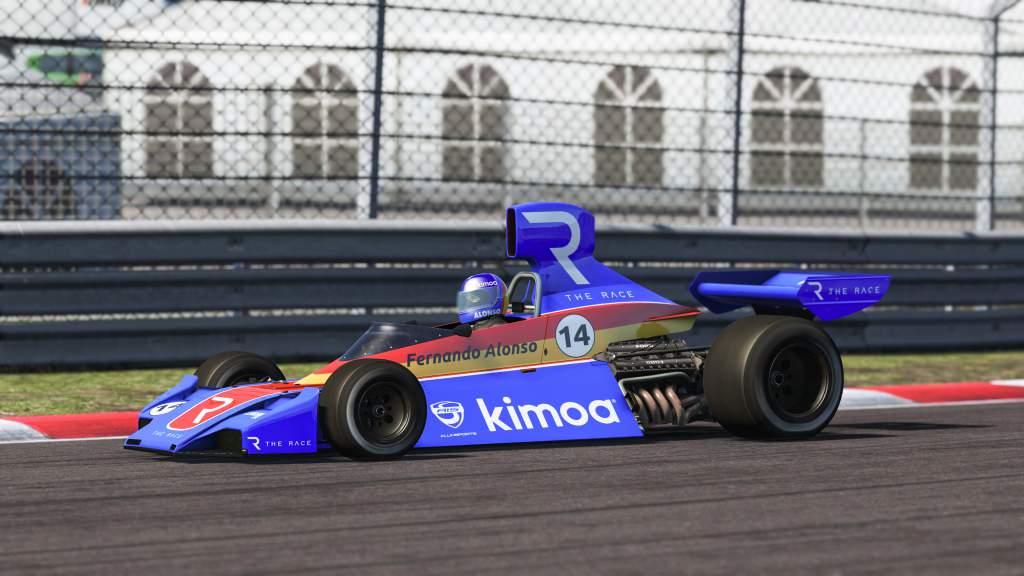 The Legends Trophy highlights became numerous, whether they were Fernando Alonso out-Dumbreck-ing Peter Dumbreck with a cataclysmic shunt at Zandvoort's final corner; Jenson Button and Jan Magnussen's outrageously entertaining battle at Lime Rock or a thrilling Indianapolis oval finale between virtual sensations Button and Alonso.
Then there was the Legends WhatsApp banter, which was a reality show all of its own in the making. It was one which would regularly render us incapacitated with mirth.
It sometimes got feisty but always ended in a mutual realisation that fun and camaraderie were the overriding themes. It was an absolute joy just to witness a group of genuine racing legends having a laugh and tapping into their competitive reflexes.
From a tremendous gang of former IndyCar drivers who mercilessly took the piss out of each other to the consistent comic brilliance of Jason Plato to the cool and highly amusing ambivalence of Salo, there was so much value from so many greats of racing spanning the last four decades and more.
The 'fun' of getting up and running in the Legends Trophy was tangible even if it was sometimes sprinkled with fraughtness.
In particular, Steve Soper was unsparing in detail regarding his "inherent computer illiteracy."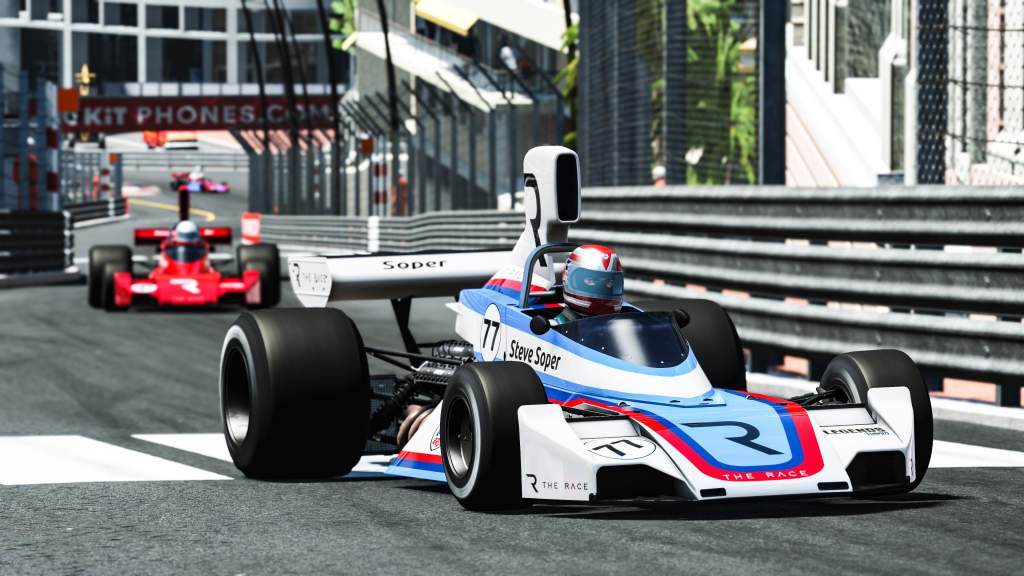 "When I do this I have to call upon my daughter to help set things up a fair bit, she's my team manager really," he told me back in May 2020.
"And like all great team managers I've had, we've fallen out a few times, and last night we shouted at each other while trying to get on the server and ended up communicating via separate rooms!"
He joined the fun along with many more and by the second series in June there was a monumental finale at Le Mans won by Juan Pablo Montoya, who had been a Legends and All-Star regular since the start.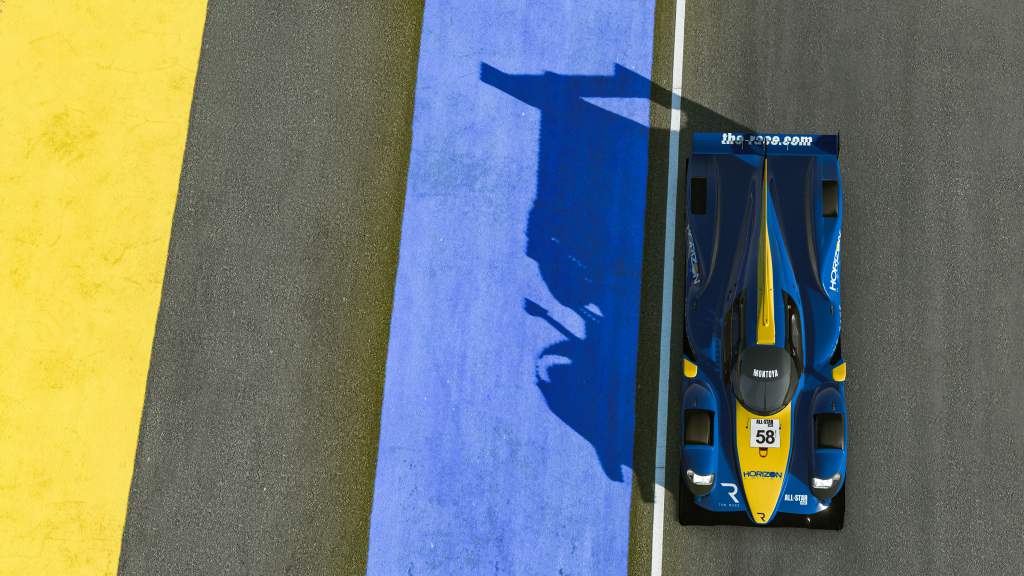 In a way it all seemed like some form of weird Dadaist dream. But what esports did was bring its fun, competitiveness and professionalism to the wider attention of a captive audience while fuelling true creatives, such as the team behind The Race's series, to lead the way in some seriously tough and frustrating times.
Imagine saying in 2019 that Fernando Alonso and Petter Solberg would be banging virtual wheels in Brabham BT43s around Silverstone and Zandvoort with Emerson Fittipaldi, Steve Soper and Jason Plato in close attendance.
Or that Sebastian Vettel and Jacques Villeneuve (with primeval-spec hardware) would make last minute cameos in the same machines?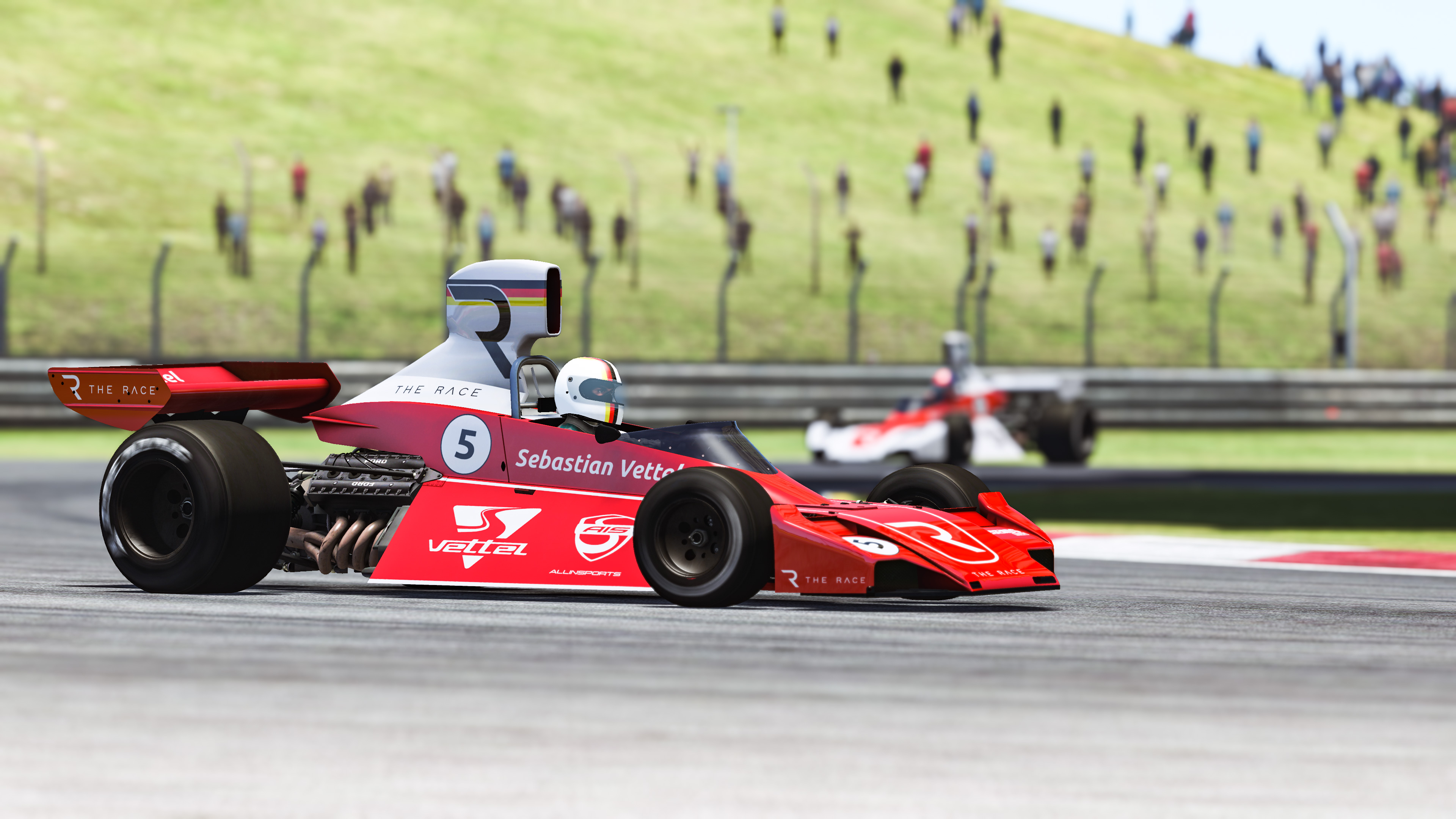 But it happened, and having been able to play a small part in helping put some of those famous bums in 'seats' and to see the carnage and fun evolve was a weird but very entertaining privilege.
There was a tremendous team behind it all: Darren Cox, Paul Ryan, AJ Smith, Edmund Trevelyan-Johnson, Jof Cox, Stuart Mosley, the aforementioned VDB, Rebecca Banks, Christopher Elliott, Paul Crawford, Paige 'the livery guru' Pell, the whole rFactor 2 team.
I'll leave it to Franchitti to encapsulate a genuinely wonderful few months that entertained tens of thousands of people all over the world.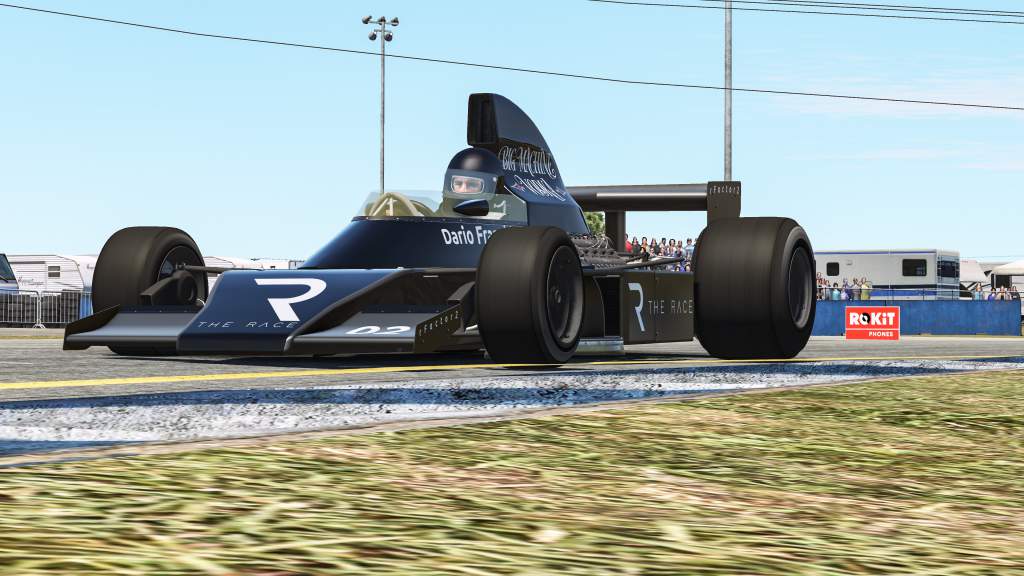 "I used to play [1970s arcade game] Pole Position and stuff like that, I used to hustle people at Pole Position when I was about six years old," he said just after getting sucked into esports by fellow Legend and simulator guru Darren Turner.
"To me having Emerson there was really special. A lot of the guys [taking part] were the same generation, but to have Emerson there was just the icing on the cake. He's such a cool character, such a legend of the sport.
"I was following Emmo at one point in practice thinking, 'he actually drove against this car and so he knows exactly what he's up against'.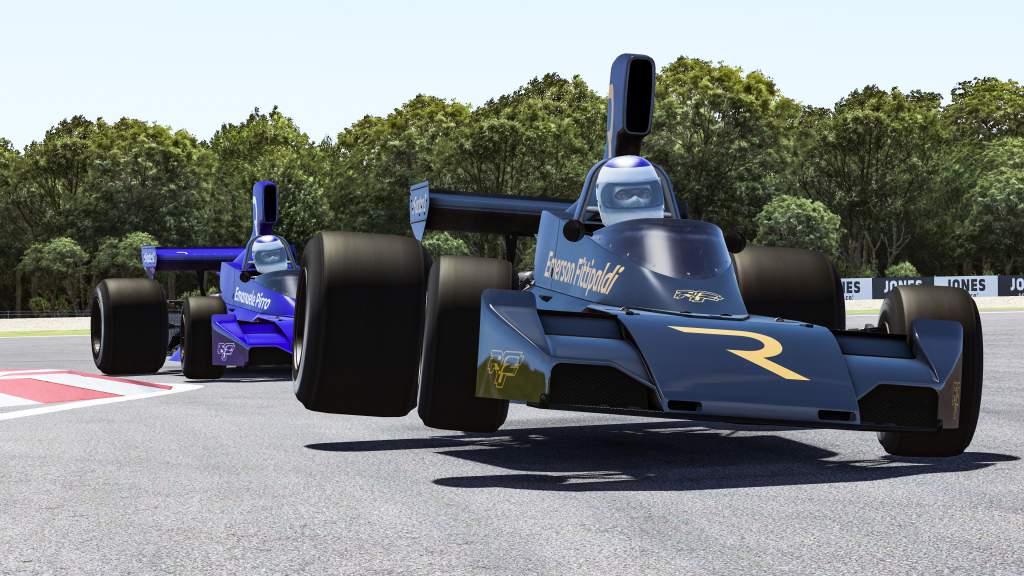 "I bet he was having flashbacks thinking, 'yeah, there's more runoff at Copse now than there used to be!'
"It's hyper real and such fun. Honestly, the adrenaline buzz afterwards from winning was so big, I was really surprised."
---
Ranking the Legends
Button and Montoya won the two Legends Trophy championship seasons, but who actually impressed the most? Nathan Quinn picks his top five drivers
 5 – Petter Solberg
We're just posting this for Slo Mo drift reasons. @petter_solberg at full tilt. pic.twitter.com/z9qnSEdKrQ

— The Race (@wearetherace) May 9, 2020
One of the most flamboyant Legends drivers on track and successful too, even if it was a world away from the sort of motorsport the World Rally and World Rallycross champion has done for a career.
Solberg won the reverse grid race at the Nurburgring in season one and his sideways drifting helped him wrestle the Brabham BT44B to another reverse grid win at Estoril, gaining 15 positions from where he started to get there.
In the Triple Crown series he even outscored Fernando Alonso in the Legends standings, which is some achievement given the double F1 champion's record across Monaco, Indy and Le Mans.
4 – Jan Magnussen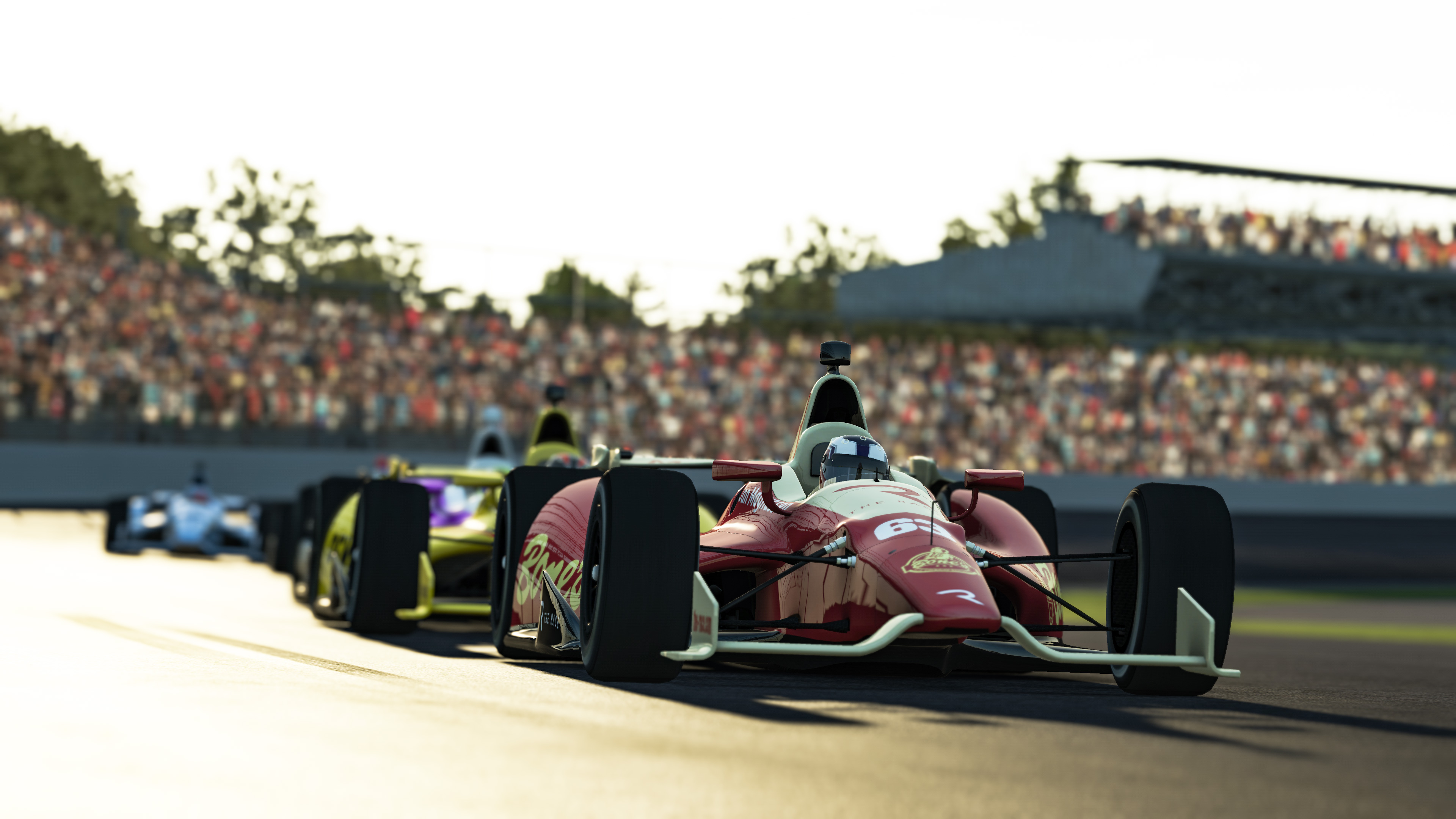 Magnussen was one of the quickest to get to grips with simracing, finishing sixth in the first Legends race and then taking pole position, the race win and the fastest lap in the second event.
From then on he took two more race wins and five podium finishes and ended the second season third in the Legends Trophy standings.
Magnussen also put on a stunning display of defensive driving by holding off Jenson Button at Lime Rock Park, taking the lead at the start by reacting to the lights faster and making a diving move into the first corner.
3 – Juan Pablo Montoya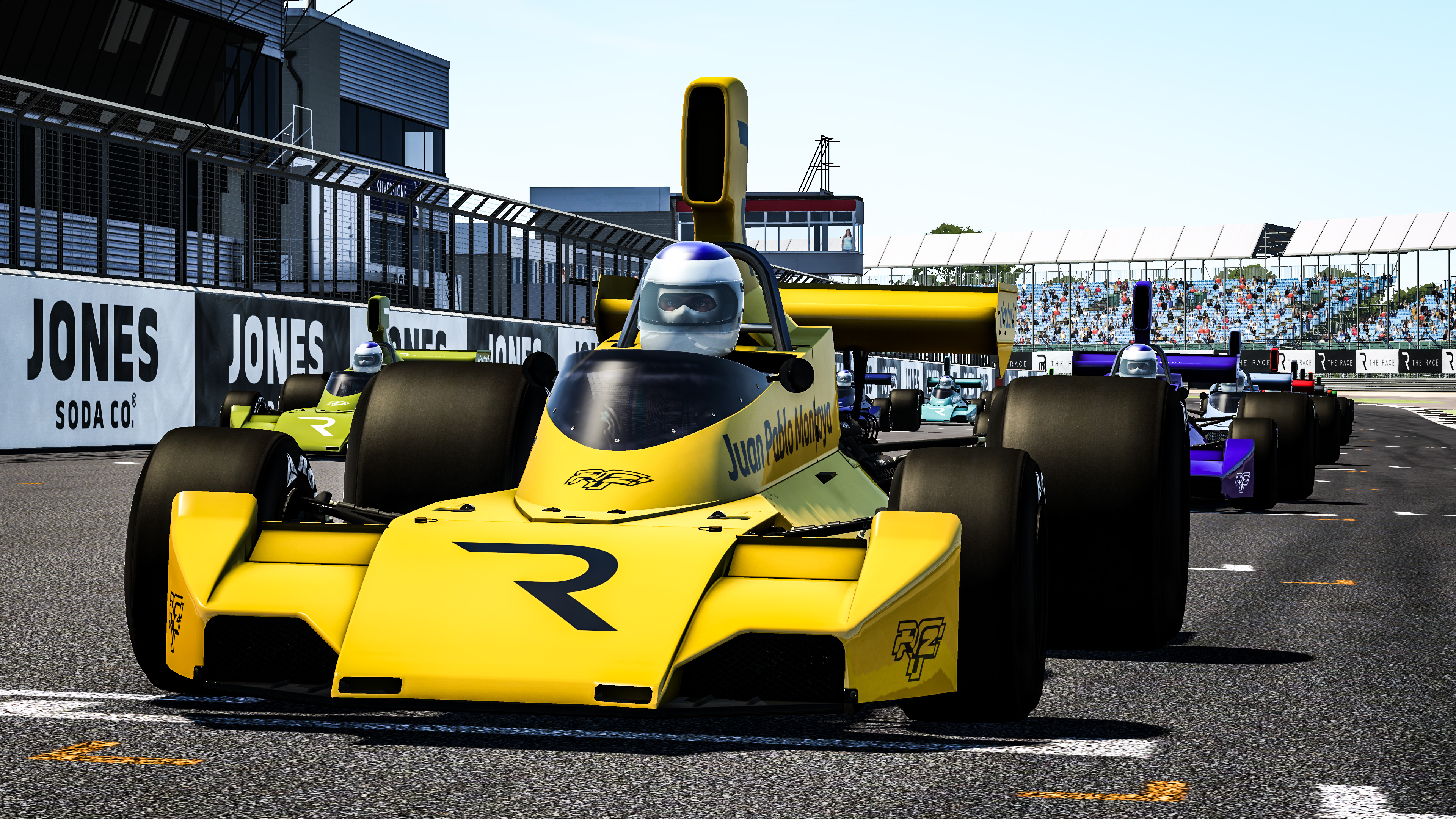 A first corner crash stopped him from becoming the winner of the first Legends race at Silverstone, where he was the fastest in qualifying and set the fastest lap in the race as he tried to recover.
Fastest race lap times became a habit for Montoya, but it took until the sixth All-Star round before he was able to get a race win too.
Montoya's form carried on into the second season. He won the first Legends Trophy race having started in fifth place in Malaysia before making up 11 positions in the reverse grid race to briefly lead the inaugural drivers' championship.
His time in the All-Star Series ended on a big high as he became the Legends Trophy champion in the Triple Crown series, edging David Brabham by a mere four points in the Le Mans decider.
2 – Jenson Button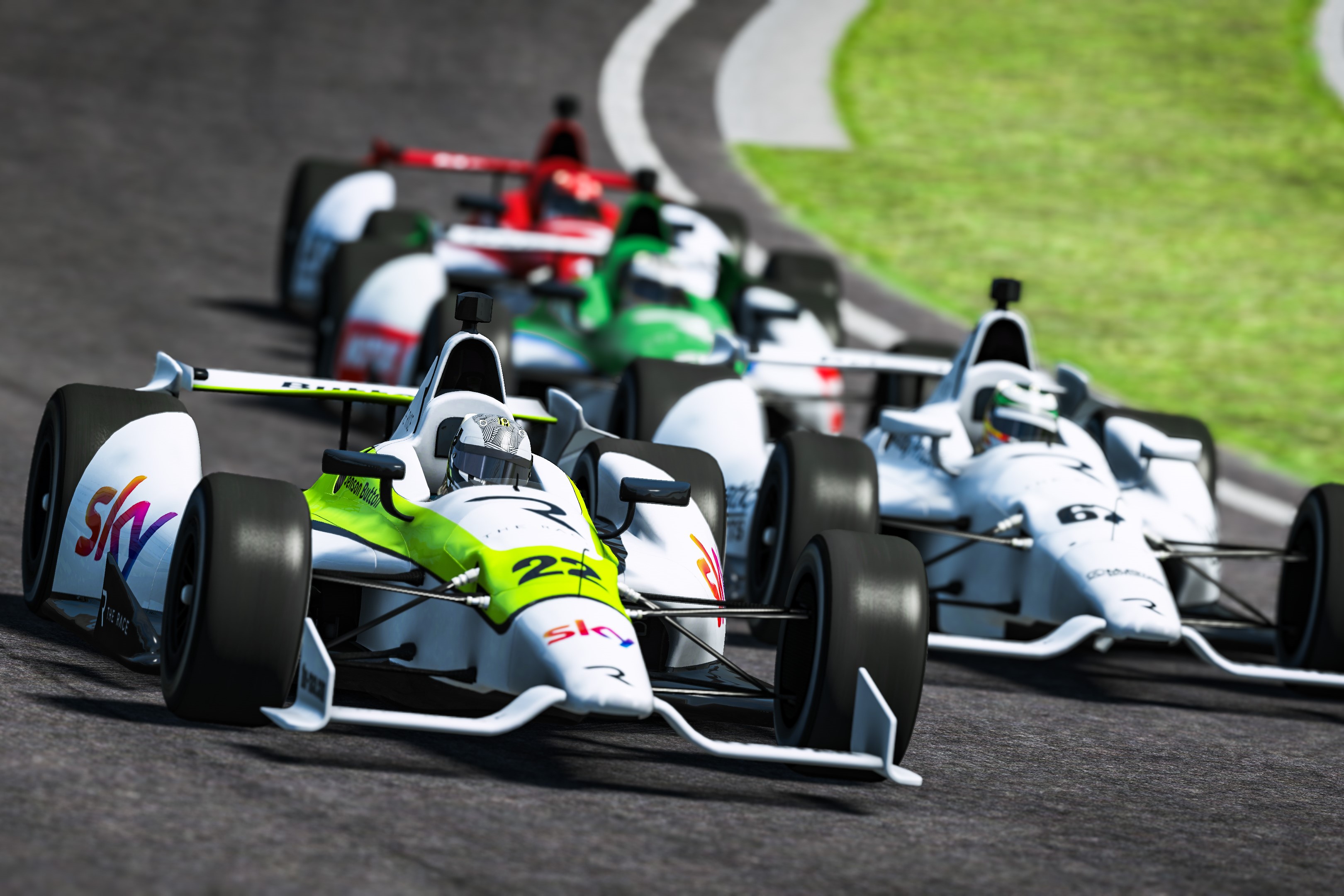 One of the more consistent drivers. Button finished at least second in every normally gridded race he took part in with two exceptions, the first one being his first Legends event.
The only other exception was the Indianapolis round in the Triple Crown series where he was seventh in the standard race but the winner of the reverse grid race.
That consistency certainly helped Button become the Legends Trophy champion in the second All-Star season, outscoring runner up Emanuele Pirro by 51 points.
But one-lap pace was also extremely strong, as he took his first pole position at the same event as his first win and he took the top spot on the grid for the next four rounds in a row.
1 – Fernando Alonso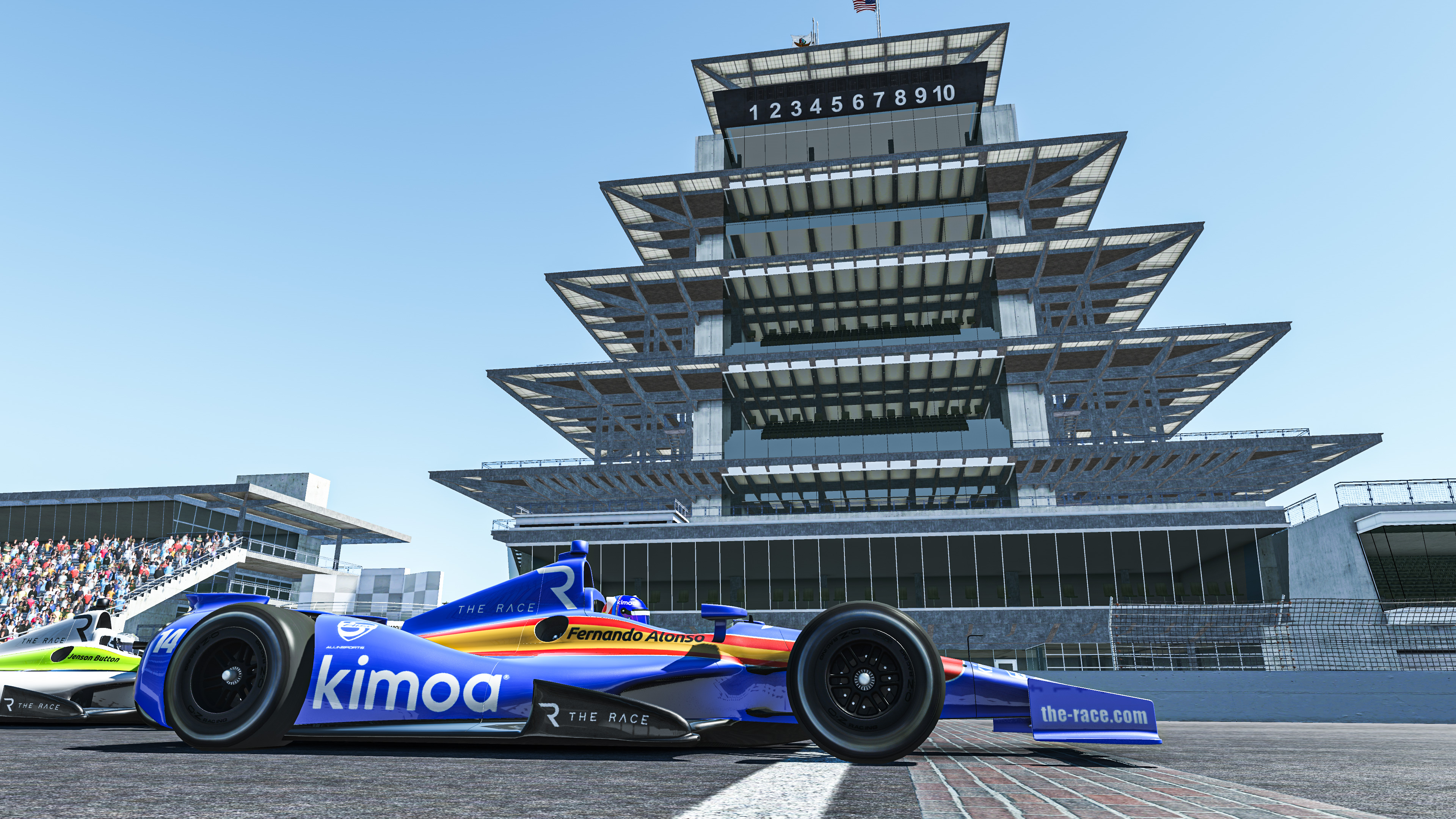 The two-time Formula 1 world champion first took part in the third round of the second season in the All-Star Series, having a promising but hectic couple of races and failing to finish either.
Afterwards he won all of the remaining four races in the second season and carried on his streak into the third season, before it came to an end when he finished third in the reverse grid race in Monaco.
In 10 laps he gained 10 positions and he set the fastest lap of the race by a massive 0.7s over nearest rival Montoya.
Were it not for a DNF in the double points final event at Le Mans in the Triple Crown series, Alonso would've likely won that championship as he led it going into the decider.