Seven-time Formula 1 champion Lewis Hamilton says he's "very much involved" in putting together the script of the F1-themed movie he's producing – and that he's aiming for it to be authentic to the sport.
Tech giant Apple's film and TV production arm Apple Studios announced earlier this week that it had acquired an F1 racing movie project produced, among others, by long-serving top Hollywood producer Jerry Bruckheimer and Hamilton.
Joseph Kosinski, best known for his directorial debut Tron: Legacy and new release Top Gun: Maverick, is the director, while veteran star actor Brad Pitt will headline the cast, playing "a driver who comes out of retirement to compete alongside a rookie driver against the titans of the sport".
Asked about the project ahead of F1's Azerbaijan Grand Prix in Baku, Hamilton said: "I can't really say too much yet – I don't really know if it's been properly announced yet.
"But it's something that we've been working on in the background, and it's a super exciting project, a long time in the waiting. And I can't really say much more, I guess, about it."
However, while he was also unable to disclose information on when the movie would begin filming, he did add some extra details on his involvement.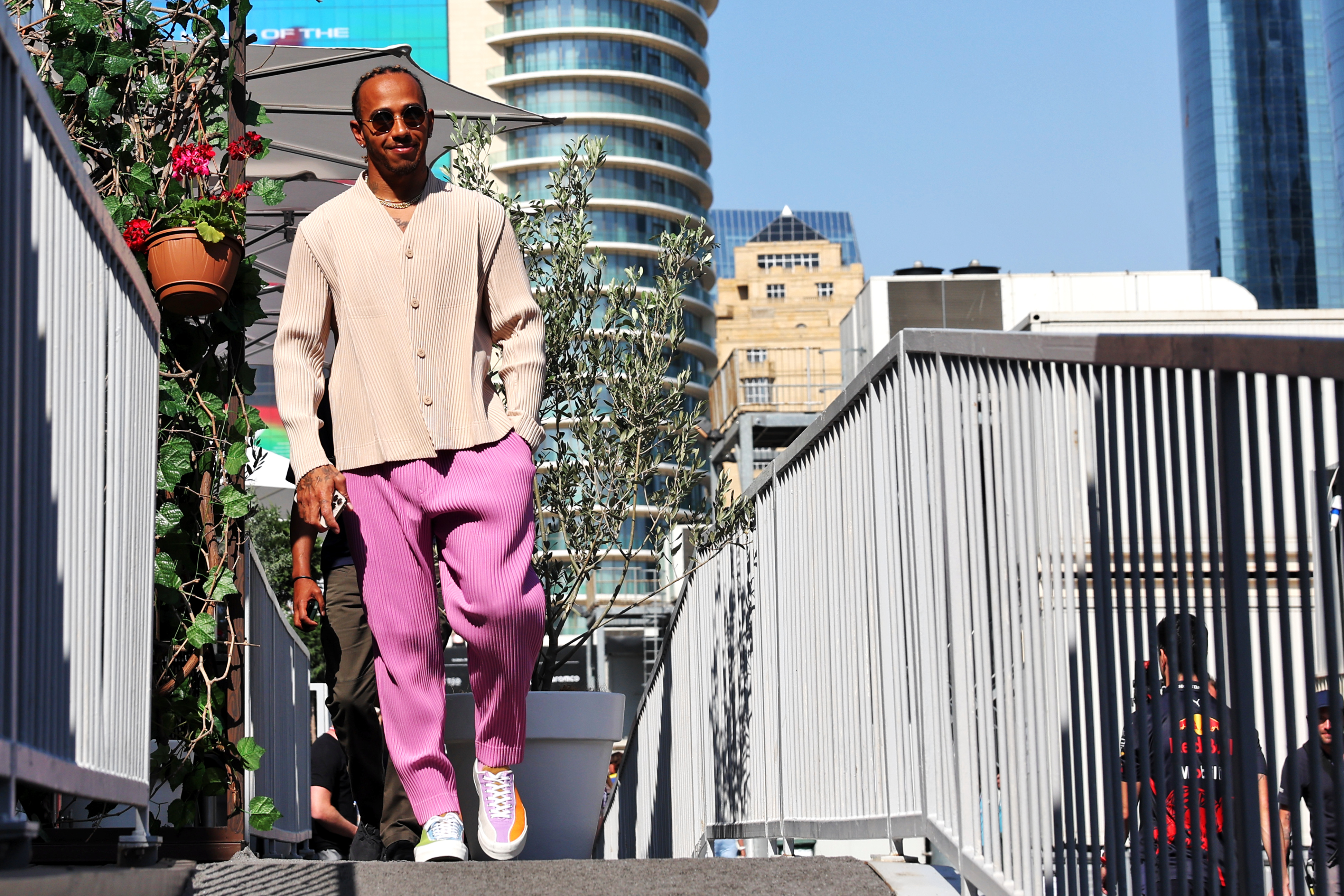 While clarifying that he wasn't planning to actually appear in the movie in any role, Hamilton said he had been hands-on with the script – which is being penned by Ehren Kruger, one of the writers on the aforementioned Top Gun: Maverick as well as the 2002 American remake of the horror movie The Ring and its sequel and several movies in director Michael Bay's Transformers franchise.
Hamilton also said that he was emphasising diversity among the cast and crew of the picture.
"It's a really cool project, and we're working on the script for example, very much involved in the script, which is fun.
"And spending good time with Brad, which is pretty epic, and seeing his progress [in the role].
"And, yeah, I guess really my responsibility and something I take on is just making sure that the cast and the crew in the background is diverse, it's something that I really highlighted in the beginning.
"And then just making sure that- if you look at all the racing movies, you can't necessarily say that all the racing movies that have been in the past have been spectacular, and that's something we want to change.
"And it's really about showing how great this sport really is, to people that maybe have never watched it – but also making sure that we really keep the real heritage and the true racing spirit within the movie, and within the script. So that's kind of part of my role."
Asked whether he'd approached any of his F1 peers about parts in the movie, he said: "Well, we're going to need drivers, I'm sure, at some stage…
"One thing that's going to be important is that it's not my movie, it's Formula 1's, it's for all of us – there's lots of people within the sport who are being a part of this, helping educate those who are trying to create this movie. It's going to include lots and lots of people.
"There's talk already of how we're going to capture some of the footage, and it's going to take us drivers being involved in that… but we're not actors! We don't want this movie to be crap. Which is probably why I'm not going to be a part of it also – we need some good actors."