Monaco has come under significant pressure lately for something to be done to update the facility for modern Formula 1 and create better racing. And it's important for it to react to that.
It's a circuit steeped in history, first holding a grand prix back in 1929, and in my humble opinion it merits its place on the calendar alongside circuits like Silverstone, Spa, Suzuka and Monza. These are the tracks that new circuits must be judged against.
It has always been a circuit where the drivers flirt with disaster and that makes it that bit different. But if all things go as planned, we usually end up with something of a procession. To the viewer, other than the glitz and glamour surrounding the race, it all looks a bit boring.
Over my years of going to Monaco for the grand prix, there have been many changes. They have all been subtle and the geometry of the circuit has changed a little, but it's all covered more or less the same footprint.
No matter how boring it looks, I can assure you it is far from that. If you are a driver or in a team, it is nail-biting right up until the chequered flag is thrown. On top of that, the prestige it brings if you get a good result is second to none.
All that said, with F1's need to be as entertaining as possible to hold the attention of the watching world, it's definitely time for Monaco to look seriously at what could be done to lengthen the circuit. This should be done to create an opportunity for overtaking.
That could mean big changes, but it's essential those responsible don't throw the baby out with the bathwater. They must hold on to what makes Monaco one of the toughest tracks of the season and augment it, rather than take away from it.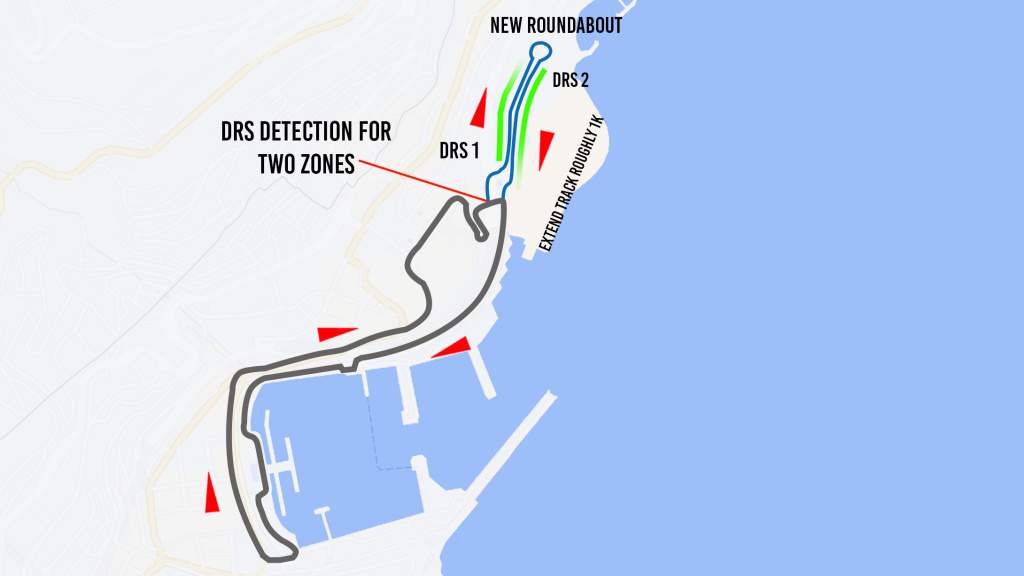 So here is my proposal. Before the entrance to the tunnel, you turn left a little earlier instead of right at Portier. The roads in that area do already exist, but might need to be resurfaced to level them out a bit with some of the road furniture also tidied to make sure it's suitable for F1 cars.
Then you head down towards the Beach Plaza Hotel. Here, it may be necessary to create a new 'exotic' roundabout and then head back up to rejoin the old track again just before the tunnel. If you use two DRS sections you might just need a small kink that needs a touch on the brakes where Portier used to be just to disengage the DRS before the tunnel, the space is there to have this. I say exotic because it needs to be more than what we currently regard as a roundabout. But in Monaco, nothing is normal so that should be no problem!
We have one hairpin in Monaco around Lowes, as it used to be known. which requires more steering lock than any other corner on the F1 calendar so why not another in the form of this roundabout?
We all know that no matter where you go in Monaco, unused land is at a premium but all I would say is make it a reasonable size with a good straight braking area on entry to invite some overtaking in the braking area. It can then sweep to the left on the exit as we have at the exit of the chicane after the tunnel.
This layout has plenty of positives. The majority of the road structure already exists so for the 'poor' ACM, or indeed the people of the principality of Monaco in general, it wouldn't be too expensive.
It extends the circuit into an area of Monaco that is not as overgrown as the area the circuit uses now. It also goes into what has always felt like a bit of an outlying part of Monaco itself. Currently, it is reclaiming land from the Mediterranean so ties that area nicely into the old town and that new roundabout could just be the entrance into that new complex.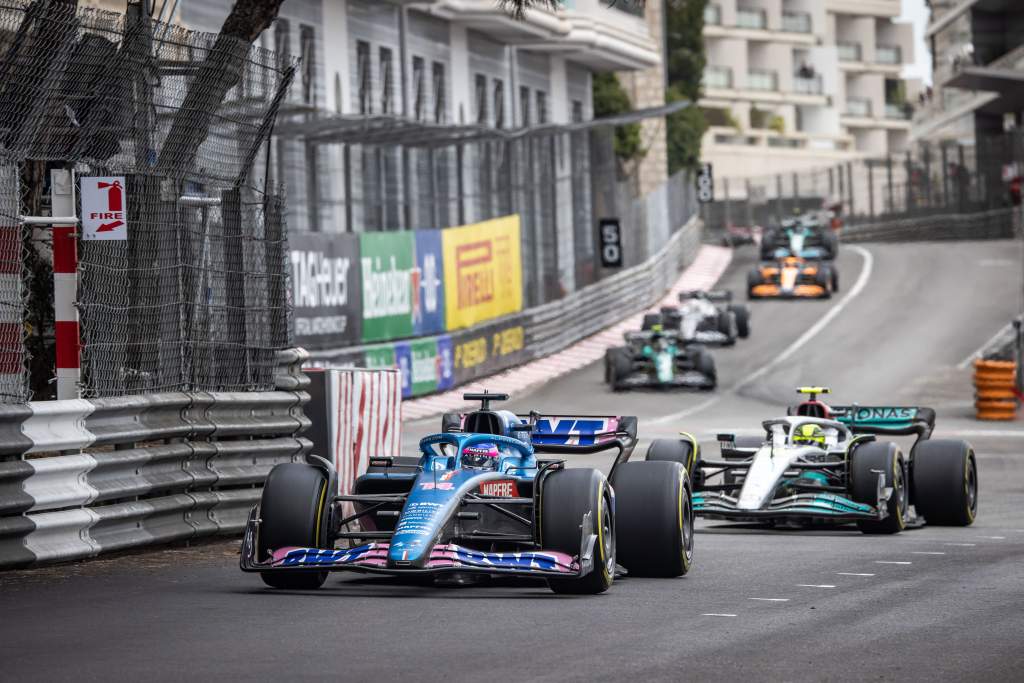 As for the racing, it would also offer an opportunity to have another one or even two DRS zones. Personally, I'm not a fan of the DRS but as we saw this year when Lewis Hamilton followed Fernando Alonso for many laps when he was driving two or three seconds off the pace and still couldn't or didn't manage to overtake, we need something for this current car specification and driver breed to help with overtaking in Monaco.
Overtaking in Formula 1 has never been easy and around Monaco it has normally been down to a driver making a mistake, pit strategy, weather or reliability. That's illustrated by the fact that in the last 20 Monaco Grands Prix, the driver starting at the front has won 14 times. And as with the 2022 race, usually it's for strategy reasons that the lead driver on the grid doesn't win. That's because with today's big cars, it is almost impossible to pass on track. Now, with late braking and very powerful recovery off the corners, it is even more difficult.
If there is the will then there is a solution and something like this can be done. It can even incorporate grandstands that will allow the elite that can afford a seat in them to see the cars twice. Executed correctly, it could become Monaco's own little amphitheatre with stands around the outside of the roundabout.
F1 or it owner Liberty Media could even spend some of its hard-earned cash and build a new pit complex and VIP area above it, similar to what it's doing in Las Vegas!
Realistically, I know that's not going to happen give the objective seems to be to extract money from Monaco. But while it's good F1 as a whole is striking out into new territories and making big gains in America, it's important not to leave behind what's helped make grand prix racing what it is.
As for Monaco, it needs the grand prix and it's time it invested into future-proofing its event with this kind of change to the circuit to ensure it stays on the calendar for years to come.