We all went into the 2021 Formula 1 season thinking it would simply be more of the same, with Mercedes running away with it and Red Bull promising more than it could achieve early on.
But the reality has been a closer and tougher start to the season than we have seen in a long time.
Competition is competition. The past doesn't matter because on the day you simply have to do a better job than those you are competing with, which is the same in any sport. As we have just seen in the fantastic Tokyo Olympics, where on their day many underdogs won medals, that's all it takes. Beat whoever you are competing with and you take home the big prizes.
That might sound obvious, but when it comes to performance in F1 the only target you are shooting for is being faster than the opposition. There is no absolute. And according to that target, Mercedes started the season weakly by its usual standards.
Despite that, come race day it was still able to score the big points. And that's also despite complaining that the aerodynamic regulation changes impacted the non-high rake cars more than the high-rake cars. Aston Martin was also very vocal about this, even threatening to take the FIA to court to resolve this issue.
But since then, it has been a season of surprises.
When Red Bull has been strong, Mercedes seems to spend time trying to indicate that this has been achieved in a questionable way.
First of all it was the suggestion the regulation changes were designed to hurt Mercedes, then it was flexi-wings, then it was that Red Bull had found a way to run the tyres under-inflated, then it was the hints that its performance step coincided with fitting a new Honda engine that had allegedly featured performance developments.
That's a very long list and there have been plenty of times when Red Bull has hit back. And there was the fallout from the Silverstone accident, with Red Bull seeking – and failing – to get a review of Lewis Hamilton's penalty.
But both teams need to be aware that while you are moaning about everything else, you aren't fully focused on what you need to do to take a step forward. Before you can fix a weakness, you need to identify it and then you can find a solution.
Mercedes recovered quite a bit of lost performance for Silverstone from modifications to the floor, bargeboards and front and rear brake cake tins.
It's strange that this came from an update team principal Toto Wolff implied was not happening just a couple of weeks before, before the team clarified that his comments didn't apply to developments already in the pipeline. As an insider at Mercedes told me: "That was no surprise, Toto has very little knowledge of what is happening from day to day technically."
Setting the politics aside, if we have a look at the numbers it's possible to decipher who is doing a lot of talking with little substance to back it up and who is keeping quiet and getting on with it.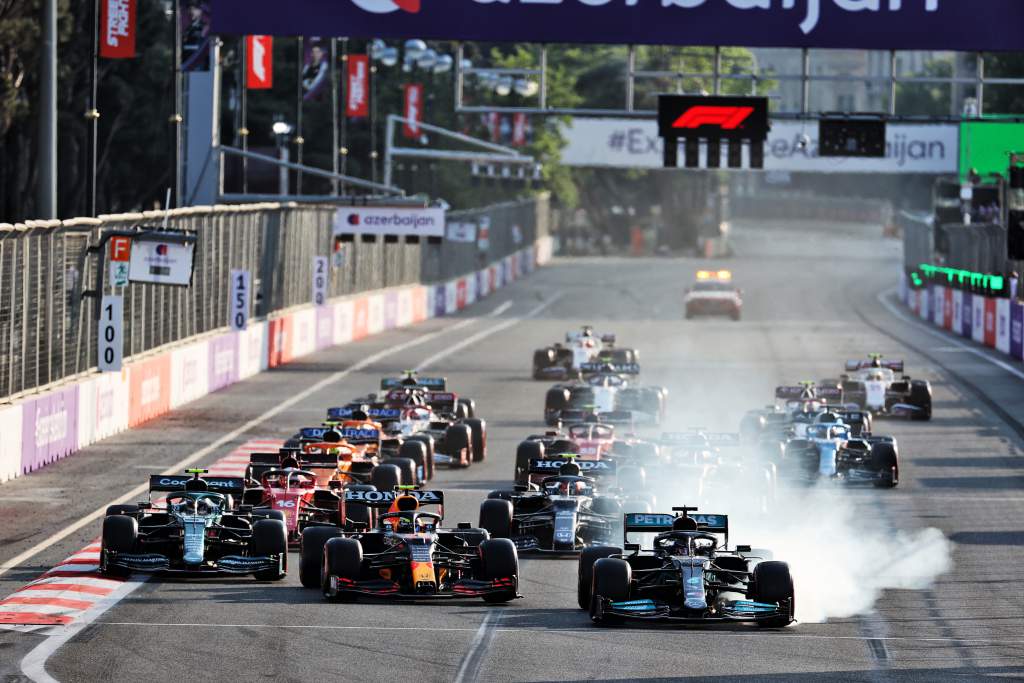 This year's cars are still very similar to last year's, but with aerodynamic development free and the two available development tokens that could be spent on whatever homologated part of the car each team selected, there have been plenty of changes. But it also makes comparisons from one year to another even more relevant.
To make this comparison, I have taken the average performance of each car over the final four races of 2020 and compared it to the first four races this year. This is to judge who did the best job over the winter.
The performance over the first four races of 2021 is then compared to the average over four of the last five races. This is because there was a double-header at the Red Bull Ring, so I just used the data from the Styrian Grand Prix to give an even spread of circuits. These figures are all as a percentage of the fastest car's performance on each weekend.
Each table also includes an average performance figure, which shows how the field closed up from 2020 to 2021.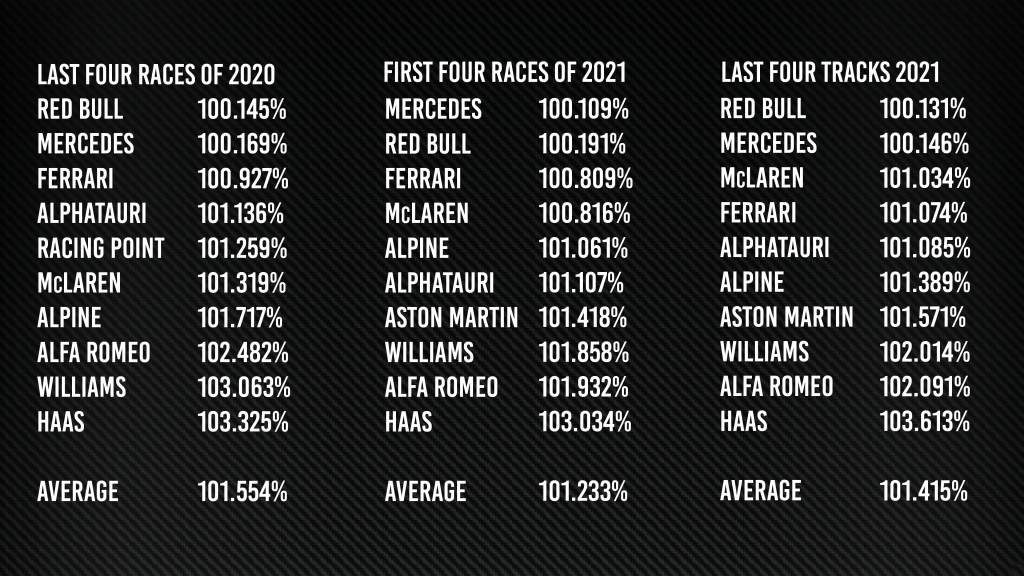 Since the end of last season, it has been nip and tuck between Mercedes and Red Bull. If you look at these numbers, I don't really see any data to support the argument that the change in regulations affected one team more than the other.
I'm also pretty sure that elusive development package that Mercedes introduced at Silverstone has brought it into line with the performance of the Red Bull.
Perhaps Mercedes just got used to having that half-a-percent advantage that it had for the last few years and doesn't like it when the competition gets too close?
Aston Martin is the one team that has significantly dropped off in performance. There was such a ruckus last year when the 'Pink Mercedes', as it was called, first appeared and with that came a significant step in performance.
As a team, it had first-hand experience of high- and low-rake cars so you would have thought it would have recognised the potential aerodynamic problems these two concepts generated quicker than most. But it stuck with the low-rake solution, so must have had some belief that it was the correct direction.
As for the others, McLaren has done a strong job. Yes, it had the best opportunity thanks to the change from Renault to Mercedes power unit, so with a winter of limited developments for the other teams it was able to exploit more from its car in other areas. That's despite not being able to spend any tokens as a result of the changes made to accommodate the Mercedes engine.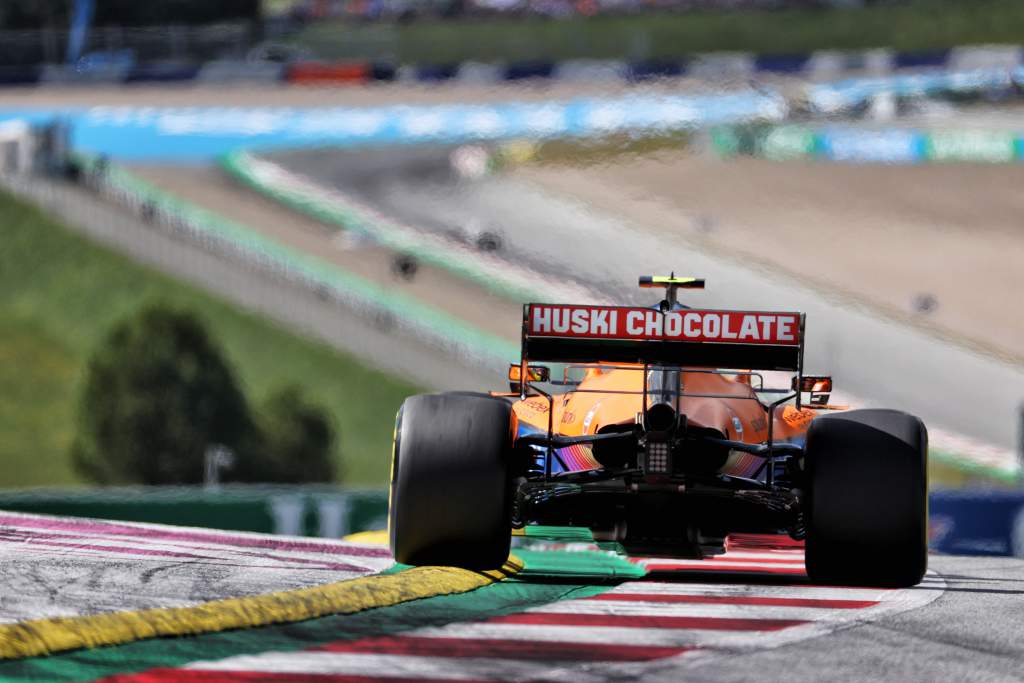 That said, it has also moved forward as the year progressed with a series of aerodynamic upgrades, so this shows that there is a clear understanding of the development direction. That's very encouraging for next season.
The biggest mover of all is Williams. It's now firmly off the back of the grid and is now in the fight with Alfa Romeo. It won't be easy to stay there, but at least Williams can just about race for points positions.
At the beginning of the season, George Russell was complaining about the car in windy conditions, but Williams seems to have got on top of that problem now.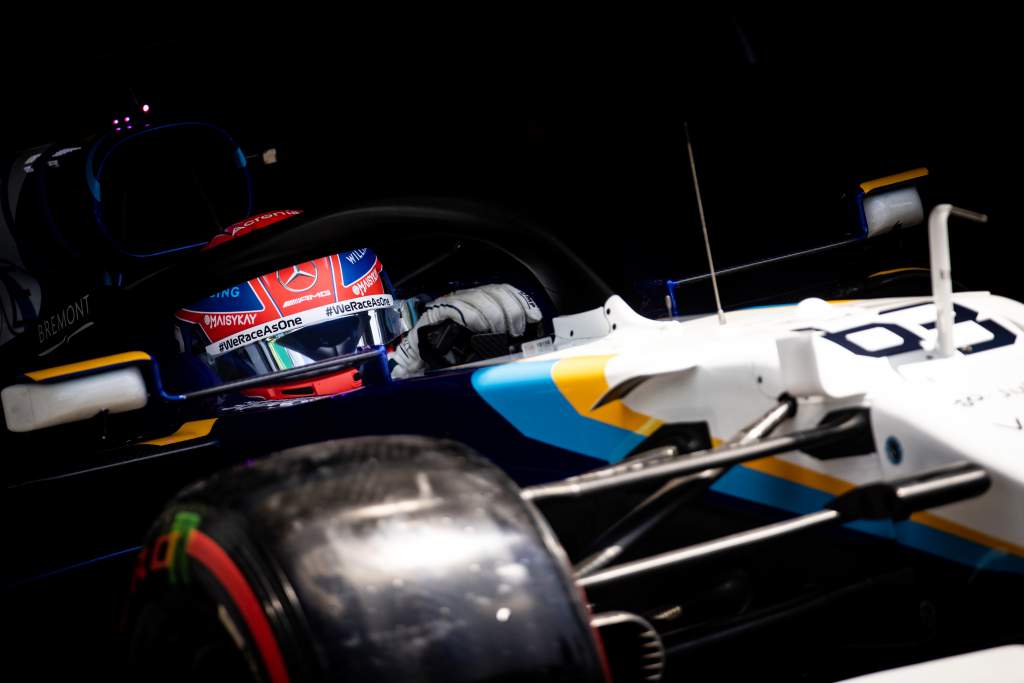 If you have a well-balanced car that's driver friendly, even if the downforce levels are not as good as the others and you are on new tyres in qualifying, the driver can really drag a laptime out of it.
In the race, with used tyres, it's a different matter. You need that extra aerodynamic grip to keep the tyres alive, as they overheat or wear and then it's a spiral downwards.
AlphaTauri has more or less stood still. On raw performance is right in there with McLaren and Ferrari, but hasn't translated that into race finishes. It is similar to Williams in that on new tyres the car is good, but on used tyres it suffers more.
As for the others, they have all dropped off slightly as the season has progressed.
Now we are well into the summer break but the season is a long way from over. It's going to be about who brings a surprise or two to Spa and after that simply gets on with getting the best from the car they have and forget any further developments, Sometimes not introducing developments every race allows you to understand the car just that bit better and set-up wise you get it into a better working window.
Perhaps we should ask Wolff about what Mercedes has planned, as I'm sure we will get an accurate answer? Then again, Christian Horner has said his Red Bull team will be pushing on with developments all the way to Abu Dhabi so perhaps it's best just to judge by what the numbers tell us over the second half of the season.
With just 0.015% separating Mercedes and Red Bull across recent circuits, it's going to be a close one.
The big teams have the manpower to still focus on small developments for the current cars but for the rest it is now about concentrating on the new cars for 2022.
If one of them can have a eureka moment then there might just be a chance of joining the big two at the front.