You could almost be forgiven for thinking, given much of the marketing material from Codemasters and EA, that Formula 1 isn't the main focus in F1 22. That's because the new F1 Life mode and complementary supercars have been the subjects of a lot of buzz from the two companies and a lot of confusion and scepticism from fans.
The reality is there have been a lot of changes and additions to the on-track side of the game which we've already experienced in an earlier preview version of F1 22. Those include the new broadcast and immersive options for formation laps, pitstops and safety cars, as well as the inclusion of sprint races.
A newer and more complete preview build of the game has been given to The Race to try out and it means we were able to get a look at the driver and My Team career modes. The notable change there is the different starting options for My Team, which can give you a race-winning car from the very start and the budget to recruit one of the 'icon' drivers from the outset.
It was recently announced that three former F1 drivers were joining the roster of recruitable icon drivers for career mode – Jacques Villeneuve, Mark Webber and Nico Hulkenberg – although they are only available with the Champions Edition of the game.
Whether or not you like or loathe the idea of F1 Life, the fact is it's a part of F1 22. Quite prominently, too, since the F1 Life tab on the main menu is before even the career mode tab, so it's obvious that the developers don't want players to overlook it. Importantly though, this is the first time we've been able to get a hands-on look at it and try it out ourselves.
The first two things players will likely do in F1 Life is dress up your avatar in casual wear from well-known brands including Kickers, Puma, Sparco and Oakley. You can even choose to have your avatar be wearing headphones from Beats.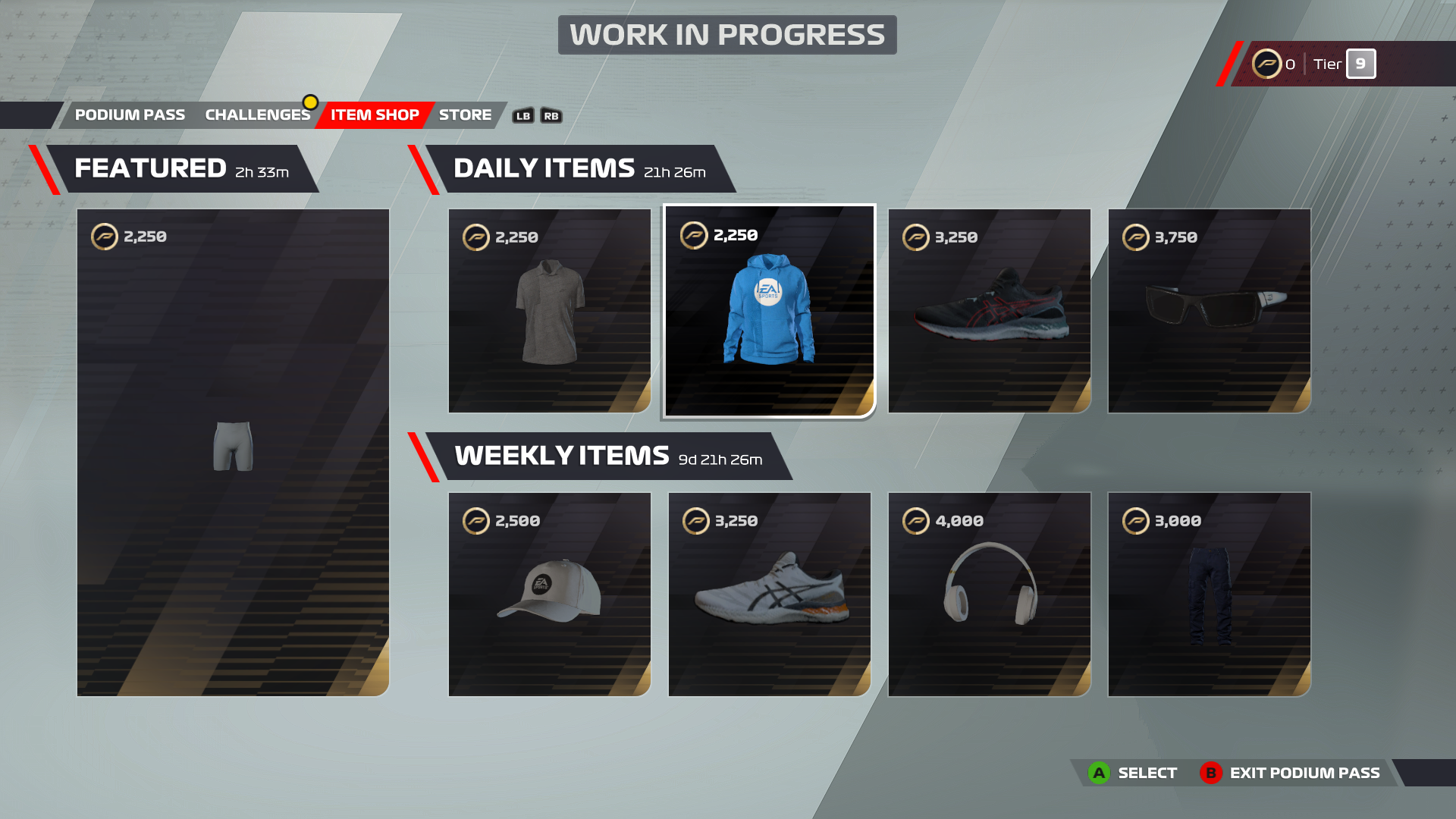 Options for t-shirts, trousers, trainers, sunglasses and headwear when in F1 Life go alongside the pre-existing options for racing gear such as race suits, crash helmets and gloves, used when racing in career mode.
The range of decorative choices for your F1 Life apartment is also quite wide, including options for sofas, tables, flooring, wall art and lighting. This may all sound completely superfluous but its purpose is to be an area to interact with players online when not racing as you can also visit other players' apartments. That said, F1 Life is not the sort of mode or addition to multiplayer that was requested by the league racing and esports community.
What's also odd is that, at the very least in this preview build, those real-world companies only exist within F1 Life. That may seem obvious but it is worth remembering that in the My Team career mode you do sign deals with fictional sponsors and their logos adorn your team's cars.
It feels like a missed opportunity to not include these real-world brands as selectable sponsors in the racing element. Codemasters' 2008 release Race Driver: GRID had players unlock real-world companies to sponsor their teams, and that game showed that it's a lot more appealing and authentic to have recognisable brands on your car rather than fictional ones. If the likes of Puma and Kickers are happy to lend their name and put their products in F1 22, then why are they not also included in My Team?
F1 Life has been seen by many as an avenue for monetisation, which is true – but these customisation items are obtainable through the item shop and podium pass in exactly the same way that car liveries, race suits and helmets were in the previous F1 games. There also isn't any obligation to engage with F1 Life at all. So if you don't want to spend any money on clothes and furnishings, then you don't have to.
However, it is worth noting that a pair of Beats headphones for your character costs 4000 Pitcoin – which is equivalent to just over £3 if you buy a lower denomination of the in-game currency.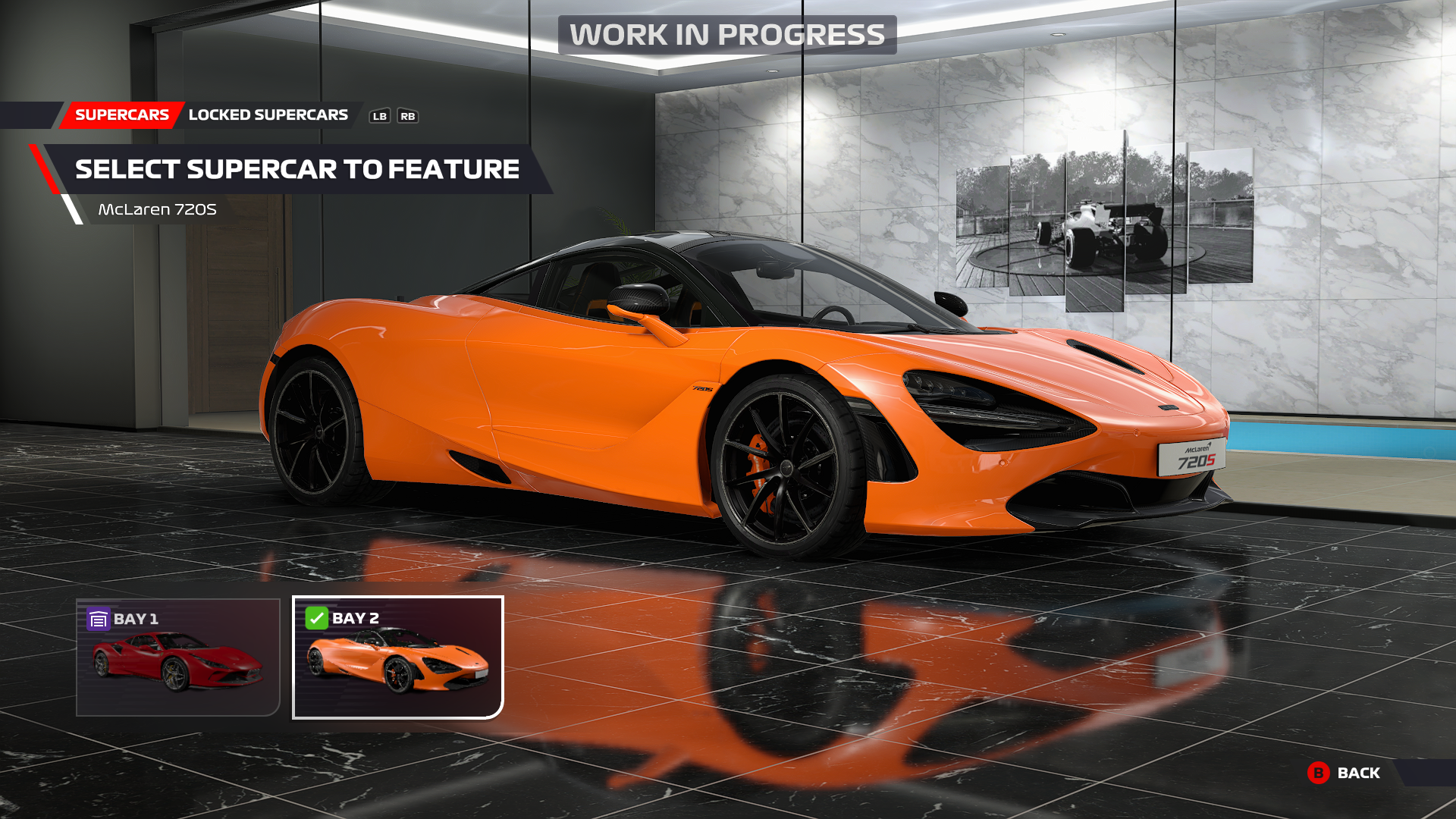 What hasn't been locked behind a paywall though is the additional supercars – that is with the exception of the two Aston Martin and Mercedes-AMG safety cars which are again exclusive to F1 22's Champions Edition release. Instead the eight different supercars are unlocked with tokens, which are earned by distance driven with either the F1 or Formula 2 cars or even the other supercars.
Alongside being able to be displayed in your F1 Life apartment, the supercars are also used for the Pirelli Hot Laps events, which can be played at any time but are also woven into career mode.
Anyone who played F1 2020, and specifically the invitational events involving classic F1 cars, will be familiar with that idea. Especially because the time attack and checkpoint challenge events have been carried over.
New event types include drift, average speed zone, autocross and rival duel. The first two are self-explanatory and autocross is sort of like a slalom challenge since it tasks you with driving through a series of gates dotted around the circuit with a time penalty for each gate you miss.
Finally, rival duel is a three-round head-to-head race around a part of a circuit and against a single simulated opponent. The track segment used is the same across all three rounds and instead the difference is the starting positions. For the first round you start ahead of your rival, the second you are side by side and for the third you are behind them to begin with. To get the gold medal you have to finish ahead in all three.
It is jarring to go from the powerful, lightweight, high-downforce F1 cars to the supercars as the braking distances and cornering characteristics are wildly different. Even from one supercar to the next there is a massive distinction between the more lumbering, tail-happy Mercedes AMG GT Black Series and the more nimble McLaren 720s or Ferrari F8 Tributo.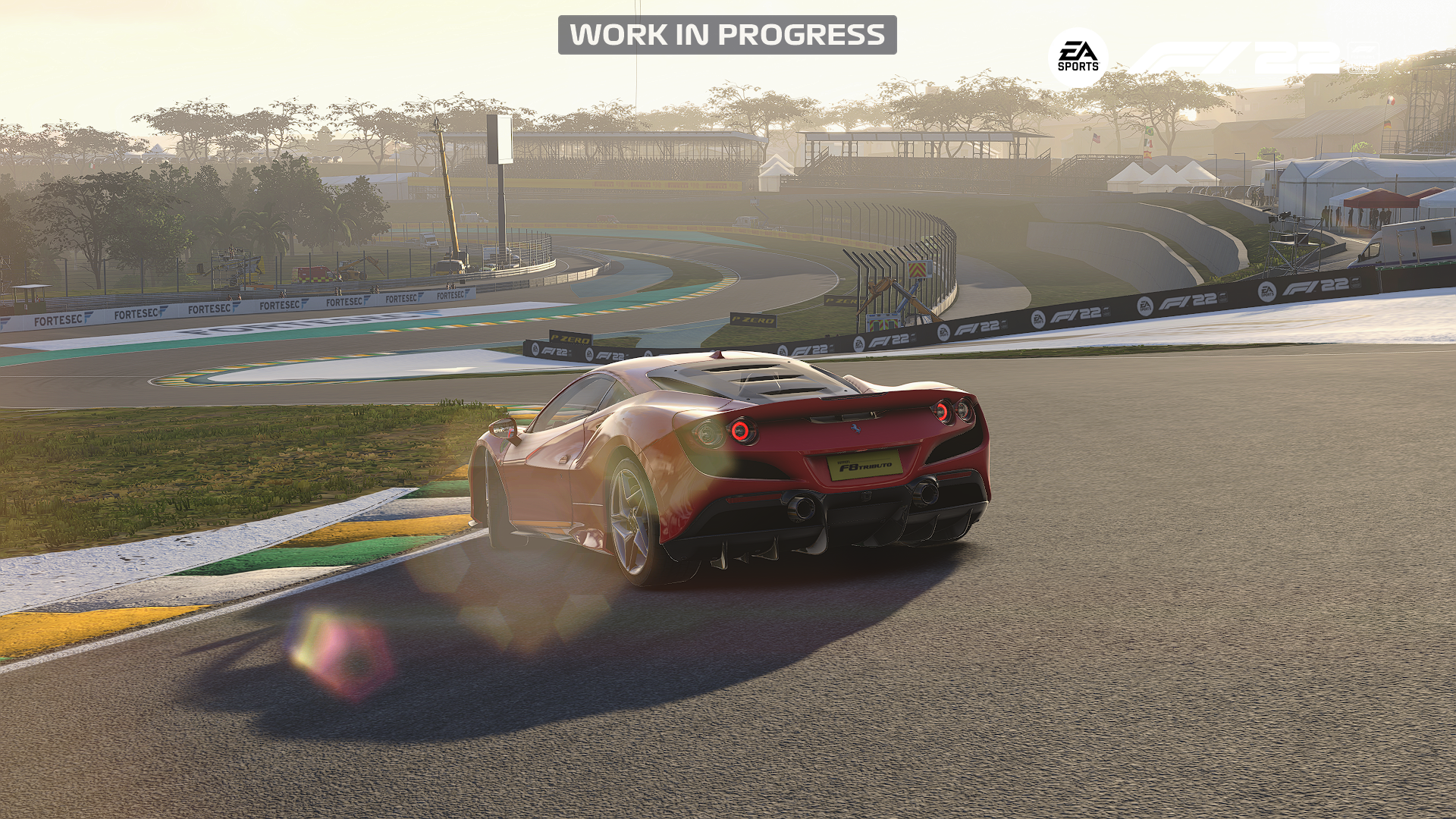 Like with the rest of the game, the handling model of the supercars is not a full-on simulation. It's more grounded than GRID Legends since in that game almost all of the cars have too much mechanical grip, which makes the driving grounded but simplified. F1 22 is a step above that in terms of realism but, understandably given the focus on the new generation of F1 cars, the handling of the supercars isn't flawless.
The interior for the supercars has been modelled so you can drive using the cockpit camera, and they aren't restricted to the Pirelli Hot Laps events since they can also be used in the time trial game mode.
Unlike with the classic F1 cars in F1 2020 though, the supercars can't be raced against each other in grand prix mode. At the very least that's true in this preview build, and it may be the case that it will be changed at some point once F1 22 is released. The closest to races you can get with them right now is in the previously mentioned rival duel events.
With F1 22 being released in just over two weeks, it won't be long before we see what the finished version of the game is like and how well-integrated F1 Life and the supercars are into F1 22 alongside the core of the game.