There were plenty who questioned Zhou Guanyu's ultimate potential as he prepared to become Formula 1's first Chinese driver in 2022.
That kind of scrutiny could seem harsh, but it could also be legitimate if done fairly. He was not arriving in F1 as a major junior single-seater champion, after all, so he did not have the reputation of a Charles Leclerc or George Russell, and a seven-year progression through Formula 4, Formula 3 and Formula 2 meant his rise was hardly Max Verstappen-esque.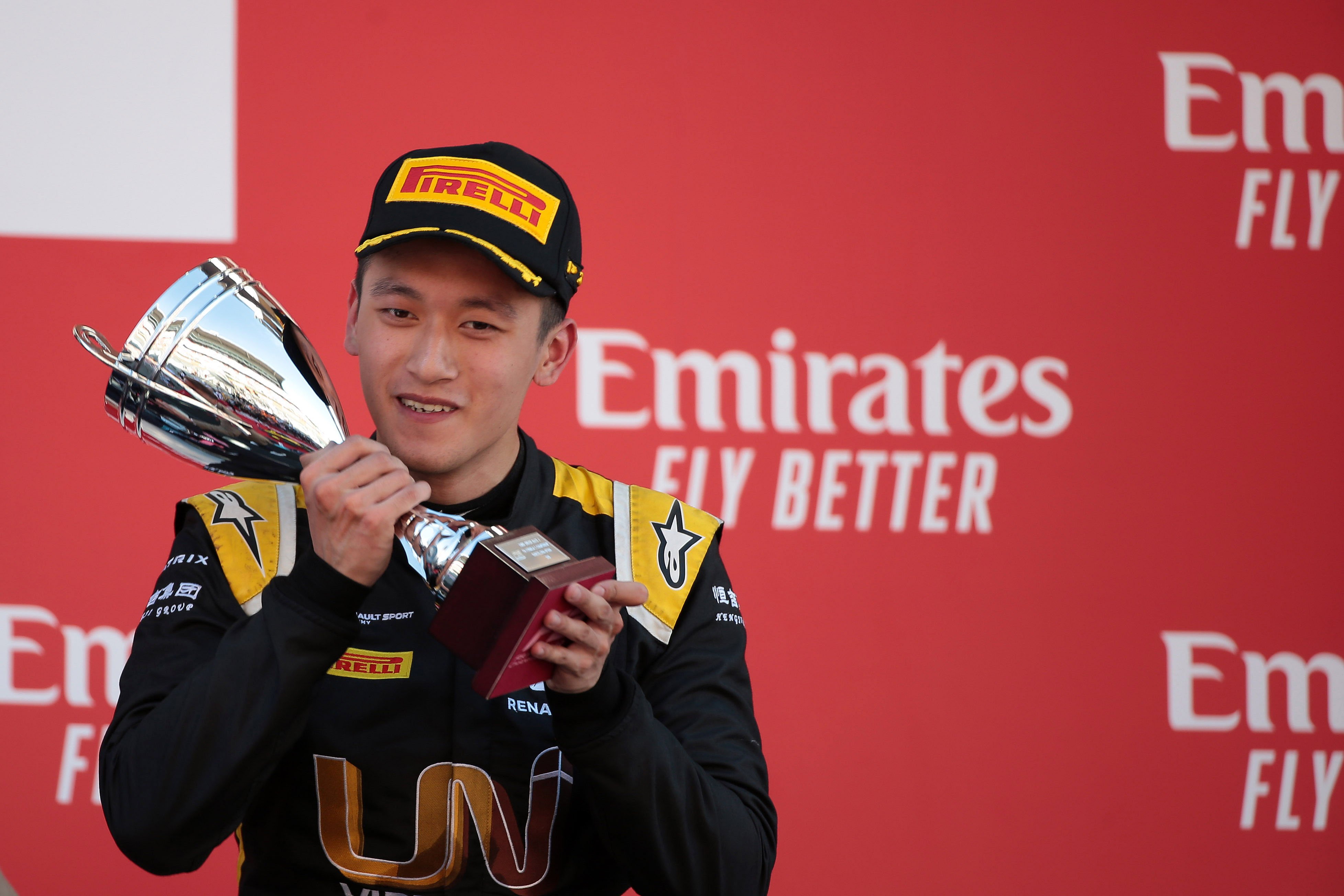 So, he had his doubters. But through Zhou's debut season, his Alfa Romeo team kept stressing he was proving them wrong.
Plenty of drivers who get into F1 aren't viewed as mega prospects because they have a good CV and better backing, so Zhou is not unique in that regard. More significant is that he feels he attracted unjust criticism before he'd even turned a wheel in F1.
Zhou sees a difference between how people who paid attention to his career viewed him, and how more casual F1 fans viewed his imminent debut a year ago.
"The people in the paddock were always OK," he tells The Race. "It's more on the outside, the fans on the internet, the keyboard writers, they are being a bit harsh or unfair.
"It's not something I expected, where you reach your dream and then you get all this hate for no reason.
"It's great to use this season to kind of just change my picture around a little bit, let people know me better."
Zhou is used to being written off by lazy assumptions. And there is a simple reason why.
He is not the first driver to discuss not being taken seriously because of his nationality in a sport that is so European-centric. Sergio Perez has spoken about the disrespect he feels he has been victim of throughout his career, because Mexican drivers weren't prominent in F1 for a long time.
But there is no reference at all for a Chinese driver. And Zhou feels that has directly contributed to the perception people have of him.
"Yeah, it's true," he says. "Let's say it, to be quite open, it's definitely true.
"I read what Checo said. If you're a Chinese driver it's even worse, probably twice as worse than what's affected Mexican drivers!
"I've lived in this kind of situation many times in my career. I'm used to how to get rid of all this unnecessary attention, to just focus purely on the job.
"When this happens the only way I try to deal with it is to keep it quiet, just to do the things on track, do the job, which is the most efficient way.
"But it's still quite unfair or bad to see how people are still judged by all nationalities. It's definitely not the way we should go forward."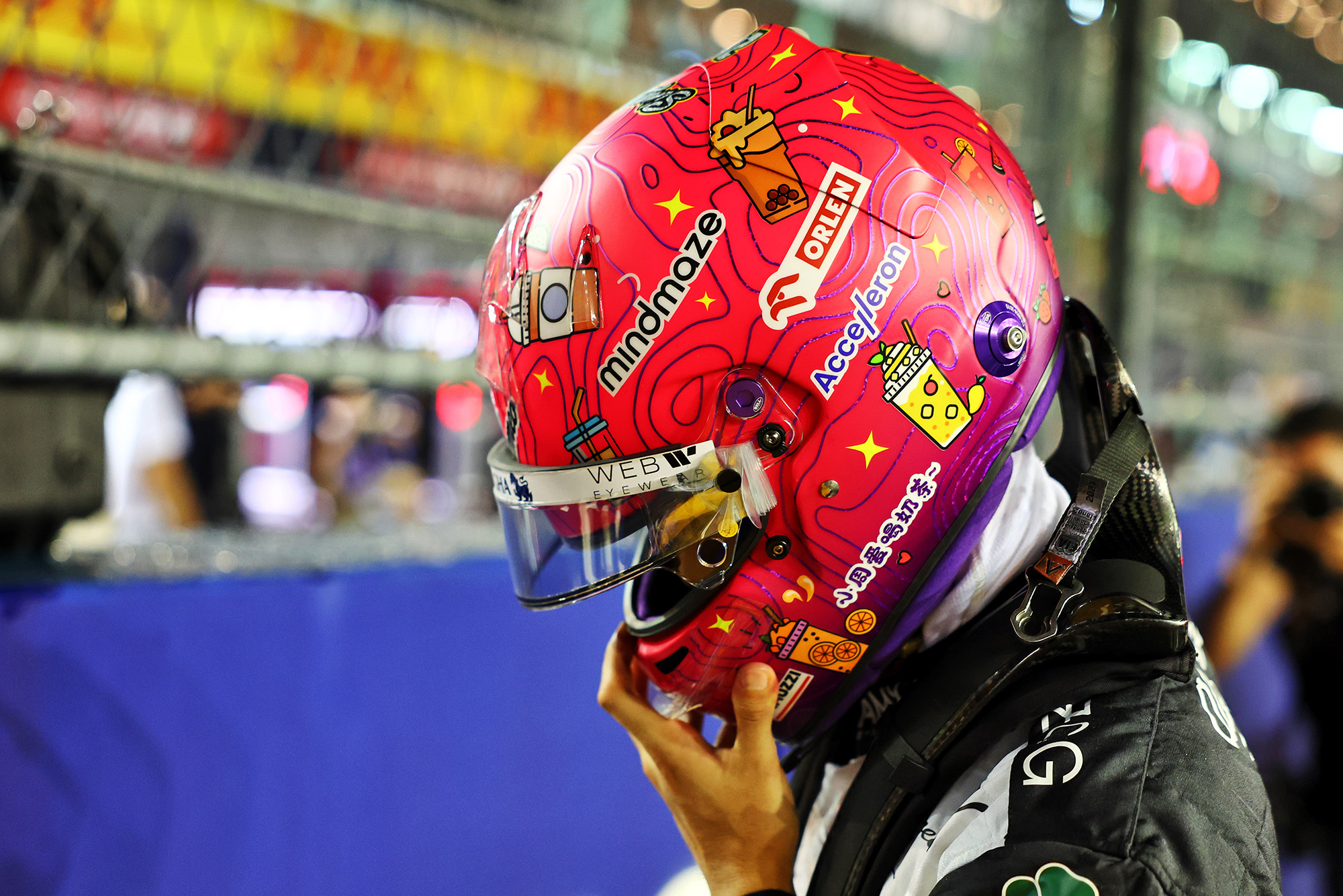 If Zhou is right about his 2022 season letting more people understand him as a person and a driver, then it should have won him more supporters.
The real Zhou is not an absolute top-tier talent of his generation but as a race winner in every category and a frontrunner in Formula 2, he is clearly a talented driver, with the results to merit a shot at F1, and the right ingredients to at least establish himself on the grid longer-term.
He had proven himself worthy of a chance in F1 and only the most uncharitable of reviews of his 2022 season would determine he was not good enough.
When he scored his debut point, the emotion was palpable. Zhou's journey is far from finished but he is at least past the longest, most arduous part of it – and that's what came flooding back barely a year ago at Sakhir.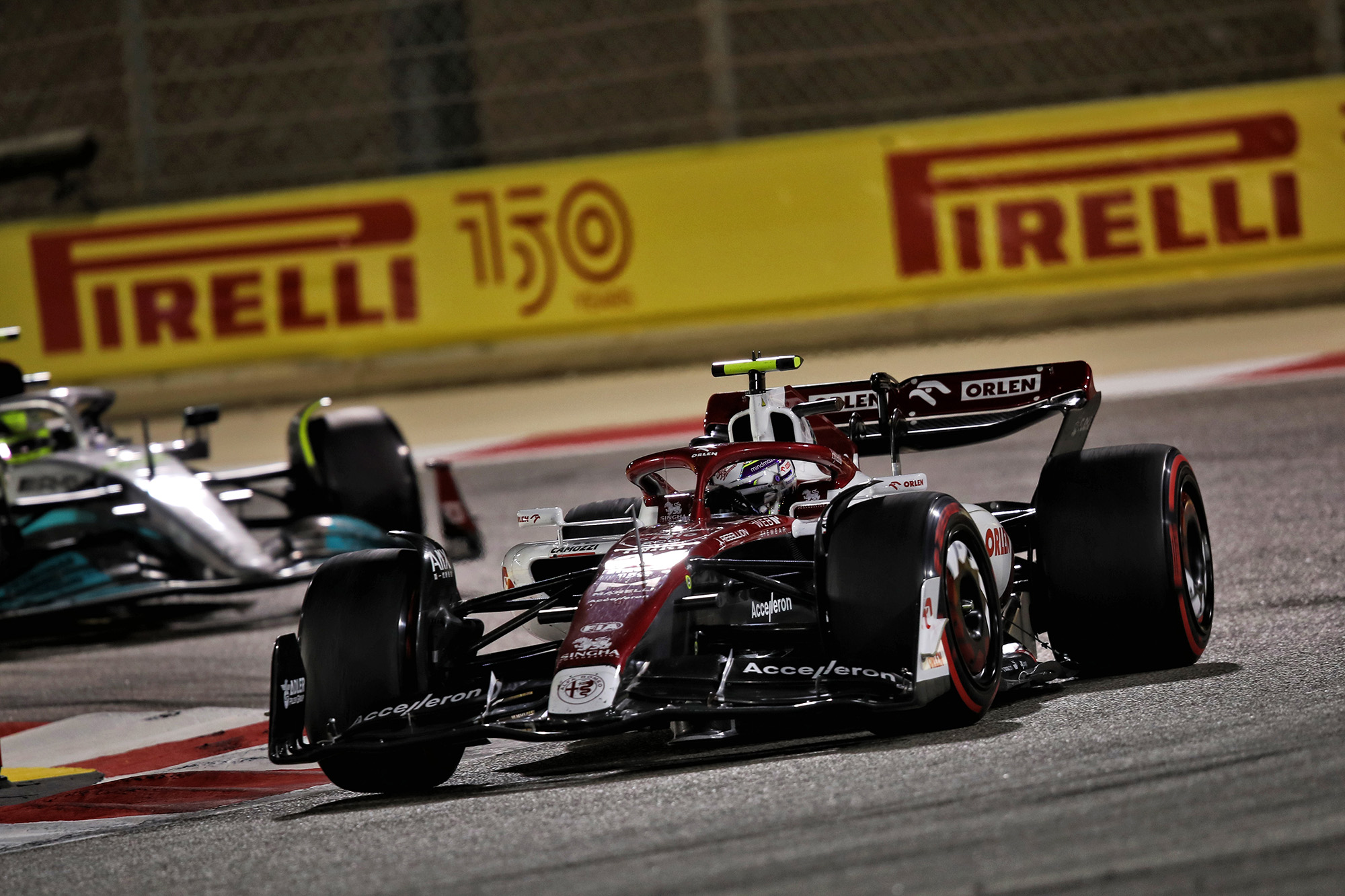 All F1 drivers must make a sacrifice to some degree or another throughout their careers. But the extent of Zhou's is, on balance, beyond that of any others.
"I was in tears because it was very emotional what happened," he says. "Before the race, I was very nervous because you don't think the first race is exciting. It was just nervous, intense.
"But I finished in the points, and it's kind of just a huge achievement for my side. It's quite crazy how this journey has been. Because it's not been a smooth journey.
"From karting onwards, I had to fight my way through. You can't just go to F2, or F3, and expect to be in F1 without showing your results. I had to work my way from outside the top 10 and then to be fighting for a championship in every series.
"It's quite impressive. [And doing this] with a different culture, different city and country you live, you have a lonely time, just because you don't know that area or people.
"You have to just make your friends and get to know how to live there."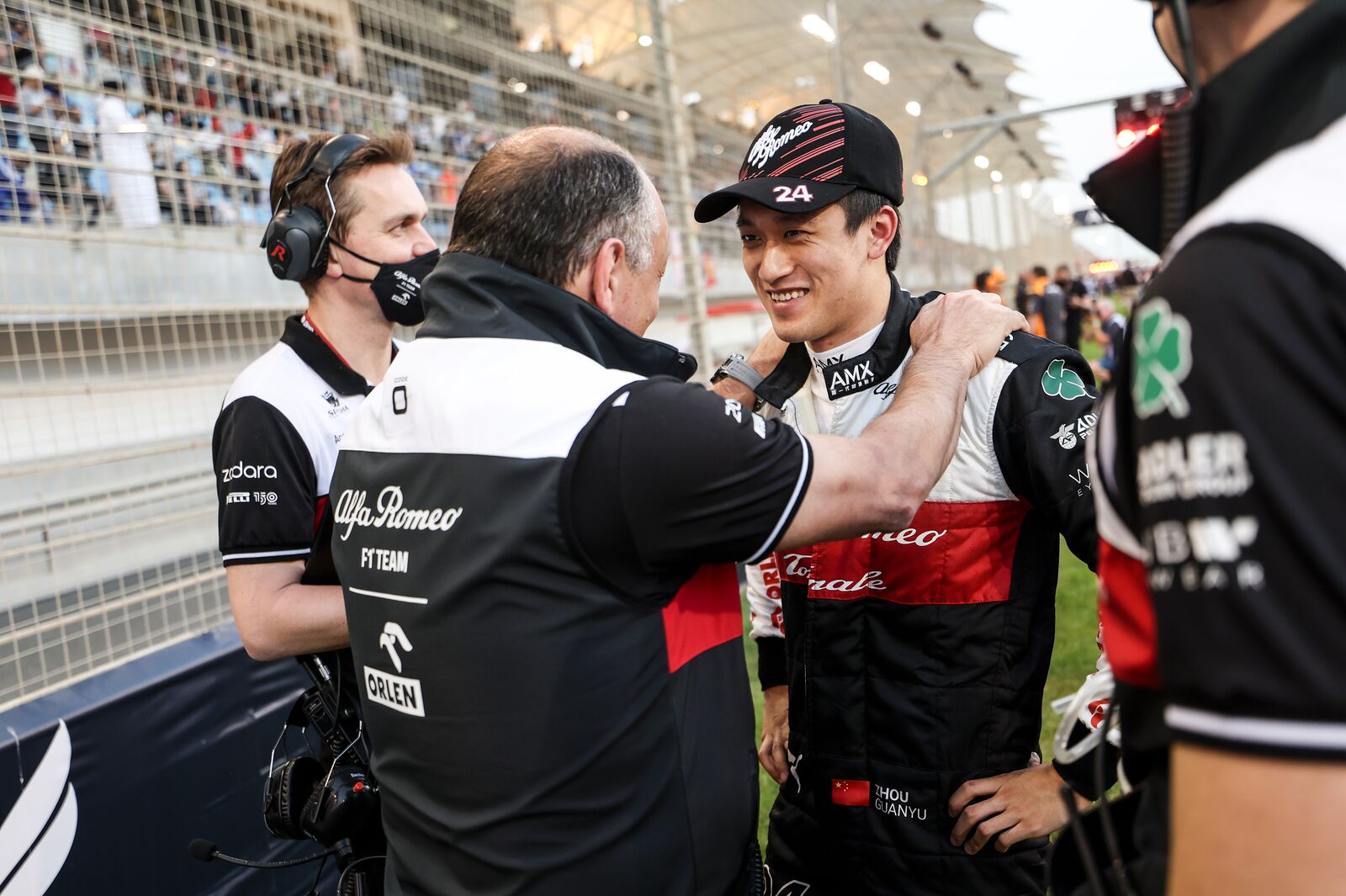 Zhou's nationality shouldn't define him as a driver, but it is a key part of his career to date. In fact, as F1 driver origin stories go, Zhou's is quite something.
A lot of those on the current grid tell a consistent tale, whether truthful or embellished, of how the first time they were taken to a kart track, they loved it straightaway, they were really quick and they beat everybody.
Zhou's story has some similar components. It just starts differently. Not because it begins in Shanghai, China, but because it was a ride in a two-seater kart, eyes closed and scared, and an experience he initially didn't want to repeat.
"Yeah," he smiles, "but that was the first time! I did go back that day.
"It was a two-seated one. I didn't want to try it straight away. So, I was happy to be on the backseat. And my eyes were fully closed. It was like a rollercoaster because I don't know where it was going.
"When I finished, I wanted to go home, I was quite scared. And dad was like 'you are here, you must try', because the karting place is quite far from where I lived. And there is huge traffic, it takes like almost one hour to get there.
"So, it was like, 'OK, we need to at least try, as we're here'. And then that session, I think I was very quick, or one of the quickest out there, apart from the guys that go there all the time. For the first time it was very impressive.
"I just really enjoyed it. And I was like, that was something I wanted to do. I would go there every week after school, from that day onwards."
A talented Chinese driver like Zhou could eventually count on some advantages with his nationality, given the countless stories of the extent of his backing and the opportunities that teams and manufacturers and F1 itself have seen in getting him on the grid.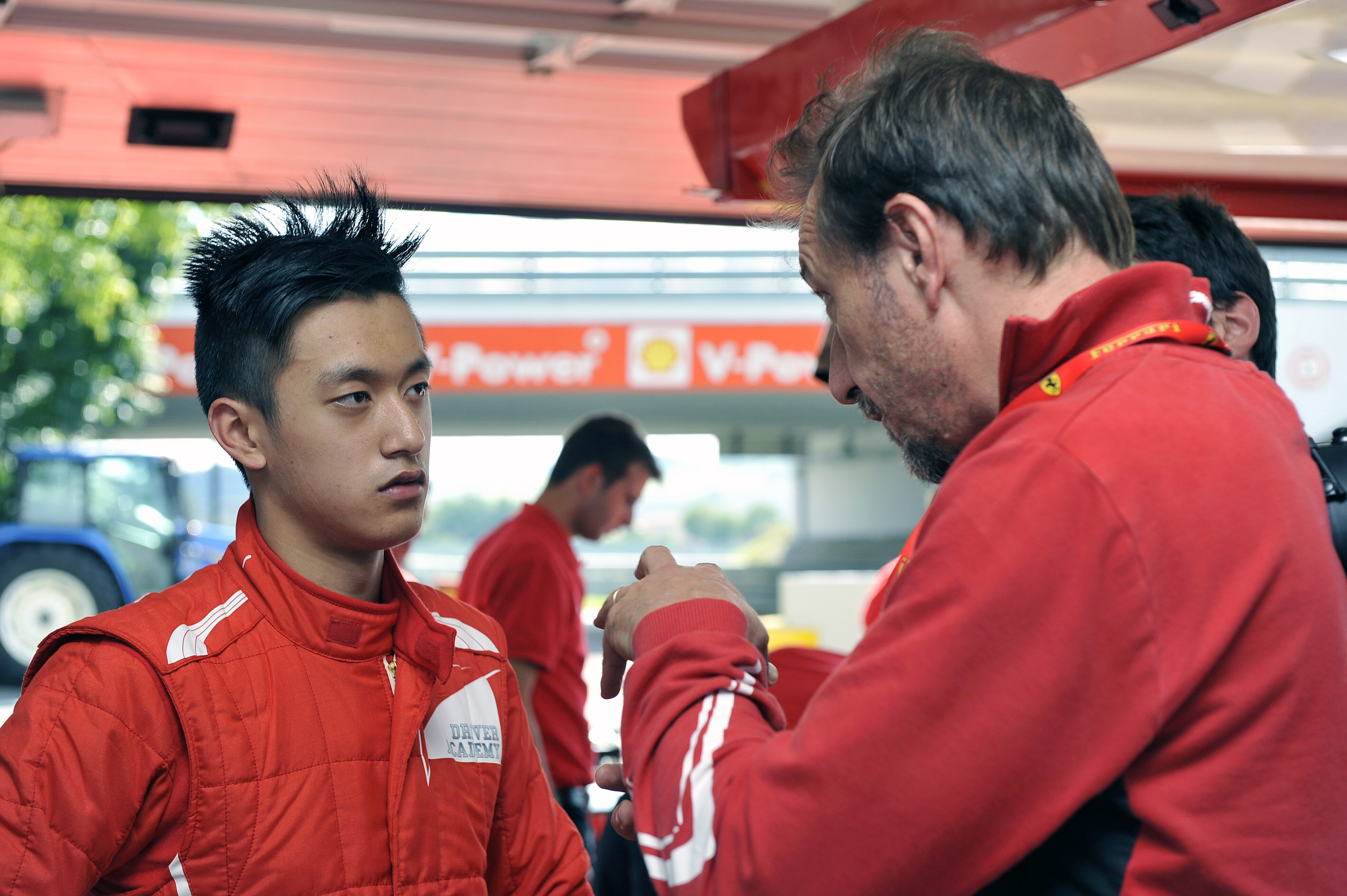 However, it could also be considered that this support was necessary. Perhaps it just balances out the 'negatives', for lack of a better phrase, of being born in a country where there is no established path to F1 despite a few attempting it over the years.
The fact is, while there should be no reason whatsoever that a young kid from Shanghai couldn't get to F1, Zhou is a trailblazer for a reason. Moving to Europe – Sheffield, in England, to be specific – was a necessity if he was ever going to forge a career as a driver. That brought a host of challenges with it.
"When I first arrived, I was with a team that helped me a lot [Strawberry Racing, Tony Kart's main UK team]," says Zhou.
"They have good drivers around. So, when you're team-mates, whether they help you or not, you still have good data around you.
"But then I think what was happening was quite early on, the first half year when you do this racing, people take you out on purpose.
"When you're a big train into Turn 1 or a hairpin, people can just push you off. I've been loaded a few times – more than a few times.
"I had to really just gain my speed, and then I started to be a championship contender. Then people gain respect for you. That's just the way you have to do it, coming from where I came."
This was, for a long time, all Zhou knew. Was it worth it, to get where he is now? "Yeah," he says with a smile. "Definitely."
That's not enough to make him a world champion, or even suggest he'll become a grand prix race winner, but drivers should be afforded the personal satisfaction of getting on the grid in the first place.
Especially one like Zhou, whose move from China to the UK at a young age left him on the back foot on-track and off it.
He found it "impossible to understand anything" with a poor grasp of the language at first, although he made quick progress learning the less savoury parts of English through his time travelling to kart tracks and staying on the road with his mechanics: "The first half year I was fully flowing with all the swear words!"
More seriously, the process of adjusting to life away from home helped give him an enduring resilience.
"When you're such a young age, you have your friends and you like to hang out with all your mates – and then your schoolmates, basically, you [change from] having a load to basically zero in the UK," he says.
"You just have a few people that helped you when you first got into the school, you start to build up relationships, but don't understand anything. There are quite a lot of downsides because you don't have many friends the first year.
"It kind of gradually goes up. And it's very similar to the racetrack. You have no one there [at first]. Of course, I was lucky that I had my family, especially my mum, who was there to look after me, and in the same house. So it was good to have some family support.
"But for me, there's quite a dark side, because everything is a completely new, different world to me. I'm not talking about moving to London, I'm talking about Sheffield! It's a big difference from Shanghai.
"You're travelling all the time, doing schoolwork and testing. There's no other things, you don't go out for vacations, you're either in Sheffield going to school or you're travelling with your team in the van.
"So, it's kind of quiet…I wasn't feeling bored, because I love racing karts, but you don't have much time like other people do, to go out and have some fun. It's always quite intense. You are just racing, always high focus.
"There's no commercials. You're kind of just always on your own. That's the way you kind of became stronger."
Another part of Zhou's path to F1 that was unorthodox was the karting career he had even once he was in Europe.
Zhou had a slightly prolonged junior career, especially by the standards of modern F1's most prolific young drivers. That makes it easy to forget he's actually the same age as Lando Norris, who now has four seasons in F1 to Zhou's one, and their paths briefly crossed in karting despite going rather different routes.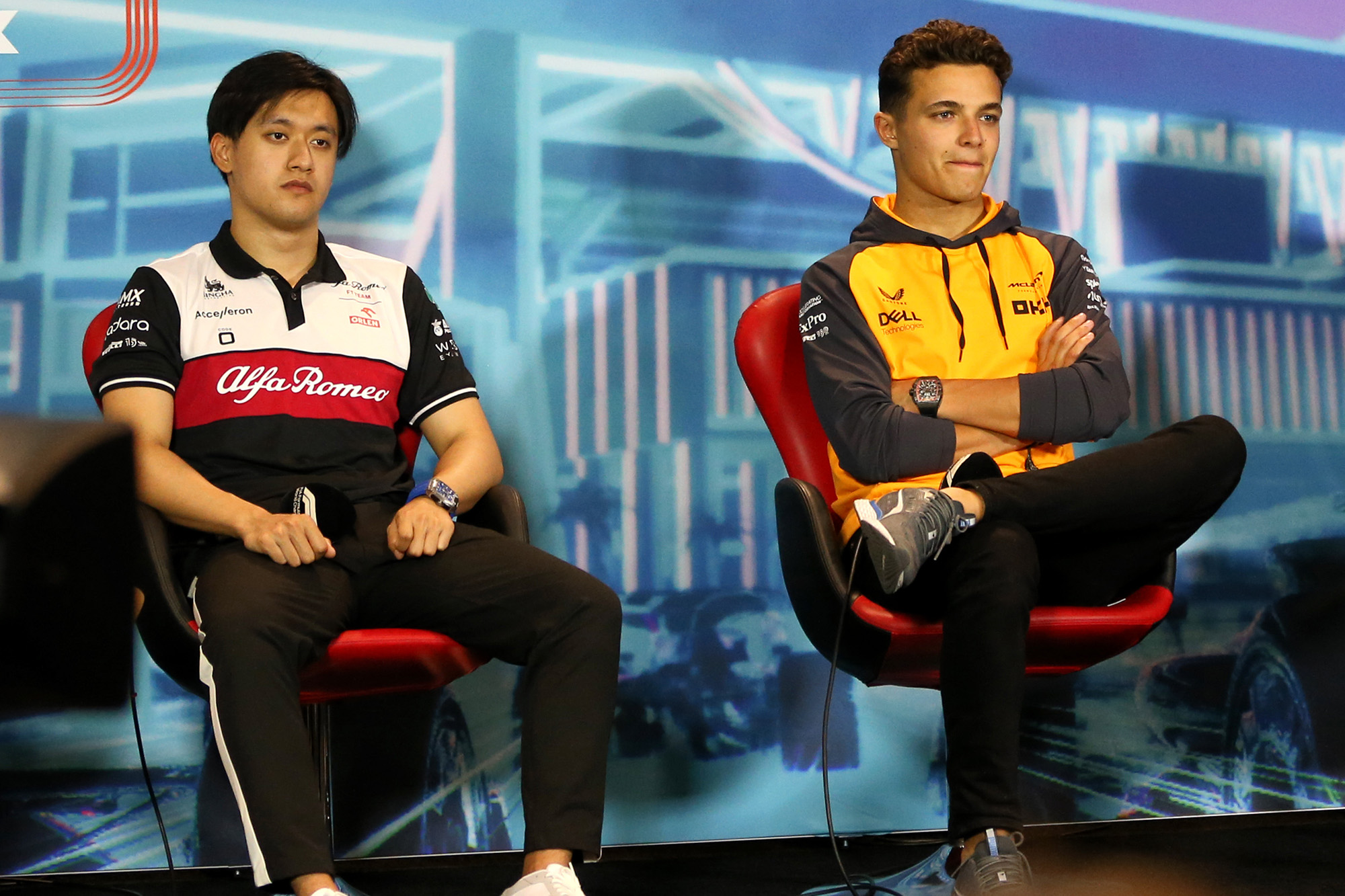 While Norris would achieve phenomenal success in the much higher profile KF categories that carry FIA World and European Championship status, Zhou stuck with the Rotax junior class – cheaper by comparison, with well-populated grids and good competition at the front but lacking the same strength in depth and prestige.
Such a strategy has, almost inevitably, invited criticism over the years. Zhou's financial backing was never considered a barrier to racing in a 'better' class of karting, so it was interpreted as pot-hunting – deliberately racing in a weaker series to get better results.
It's a cynical view, and one that ignores something that is so easily overlooked in Zhou's back story: he was not starting from the same base as his rivals, and probably played catch-up through his time in karts.
His move to the UK was not only a significant personal challenge, it was also a career reset. With all respect to his initial success in China, it meant little in a much more competitive environment. Zhou had to forge a reputation from nothing.
"When I was in China, before I moved, I literally won everything out there," he says.
"I was almost P1 in every session in the Chinese national championship. There were eight rounds, and I won all of them. I was the first person ever to do it!
"So, you're like going to England expecting to be at least top 10, and I was like around P13-14 area, but there's like 40 drivers. The top five was an achievement if I do that. So, quickly, you feel like you really have to do something here. And Formula 1 is very far."
One thing Zhou has had on his side is opportunity. He does not shy away from that: "In karting, luckily, you can just put laps in, testing and trying to do as many races as possible and you just start to build up."
It's not something every driver had the luxury of, and that again is something that tends to invite criticism. Drivers with funding can get as good, slightly better, or just be negligibly worse than those with more 'natural' talent who hit a financial ceiling.
This is one of the areas motorsport is flawed but it is not black and white. Well-backed drivers can still be very good. Zhou worked hard and started to reap the rewards at the end of his time in karting.
He won the Rotax Junior Max series in the UK and in Europe (on a countback) in 2013, which he saw as "the switching around point". That's when it started to feel more real – chasing F1 was not some abstract dream anymore.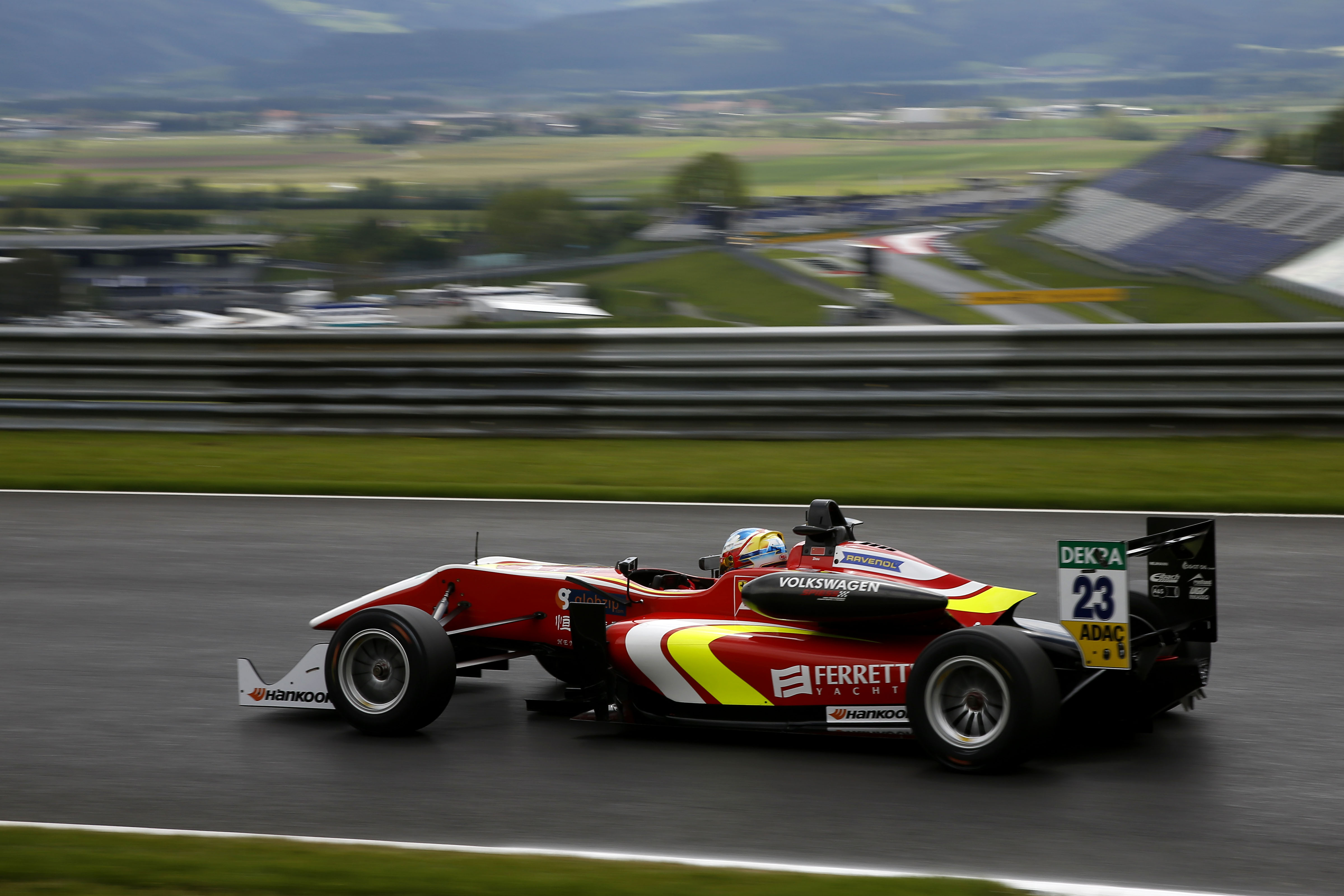 The seven years that followed in F4, F3 and F2 established Zhou as a good, hard-working, intelligent driver. His rookie F1 season reinforced that. There was no hint whatsoever that he was out of his depth.
If anything, Zhou was probably more of a problem for team-mate Valtteri Bottas in the second half of the season than even his biggest supporters could have realistically hoped for.
His progress was largely masked by the circumstances of 2022, as Zhou's experience increased through the year while Alfa Romeo's competitiveness decreased. That might have proved tougher for Zhou to manage without the early relief of his debut.
"In Bahrain, when you go into the race with a big tag on you, seeing all this rubbish, and then to be scoring points, getting to Q2, was a release of this pressure from the winter," he says.
"I was happy and I kind of started to enjoy being here."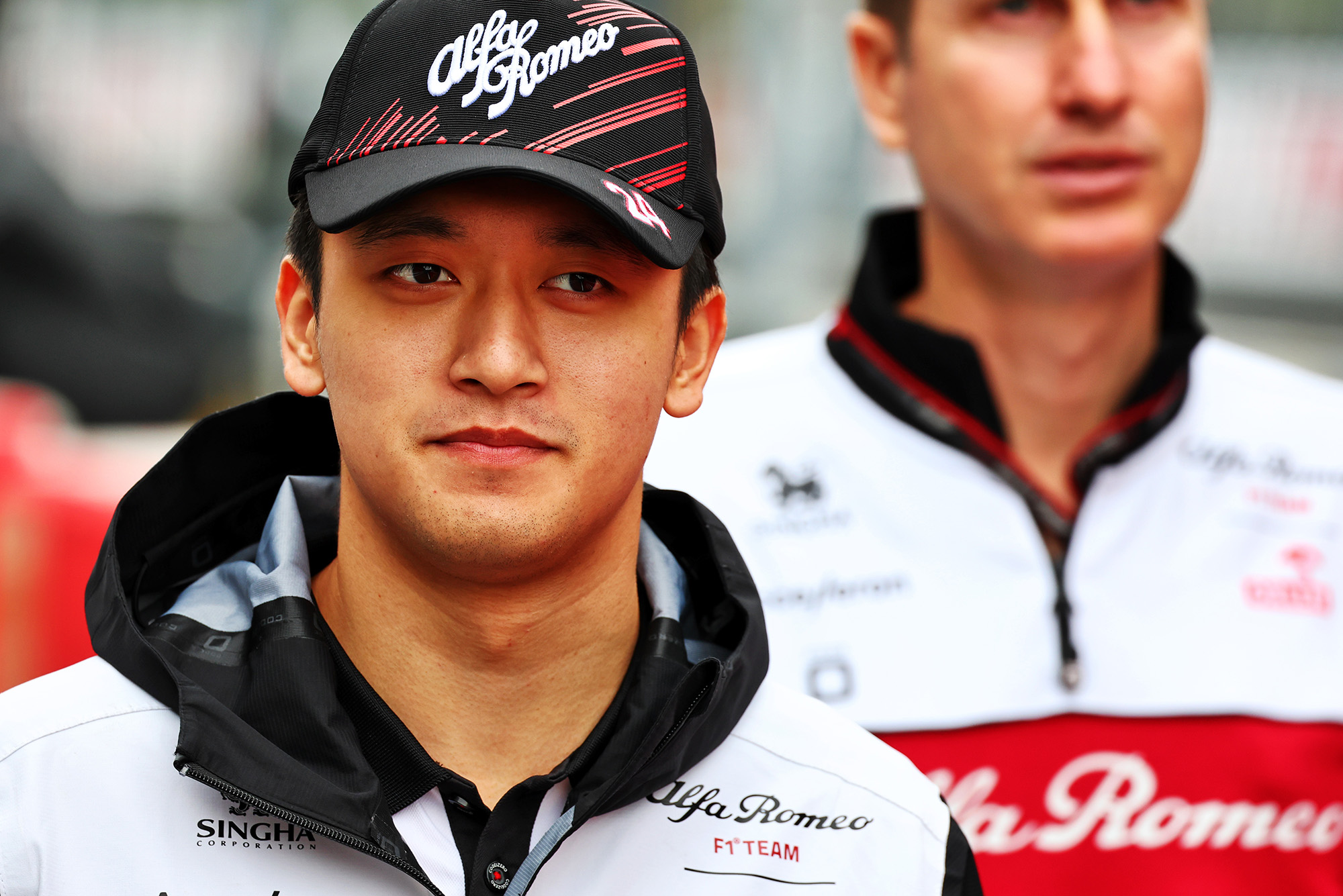 Of course, Zhou's merits will always come with an asterisk to many who focus solely on his funding, and brush aside the work he has done and the results he has achieved to gain that support and retain it.
The fact is, Zhou will probably never convince his harshest critics. But on his journey from Shanghai to Sauber, via Sheffield, he's gone further than many would have imagined and become a better driver than people still give him credit for.
And if he continues to improve, he may do that in F1 for a while longer yet.