Repsol Honda's two MotoGP racers will start the team's home race this weekend at the Japanese Grand Prix on two different machines, with Joan Mir confirming that he will use Honda's new 2024 prototype RC213V chassis at Motegi while his team-mate Marc Marquez will stick with the current version of the machine.
Honda first brought its new frame to Misano, where in the post-race test Mir immediately enjoyed the feeling it gave - a feeling that wasn't shared with his six-time world champion team-mate, who admitted that the change in riding style required wasn't worth the marginal gains he felt the chassis gave under braking.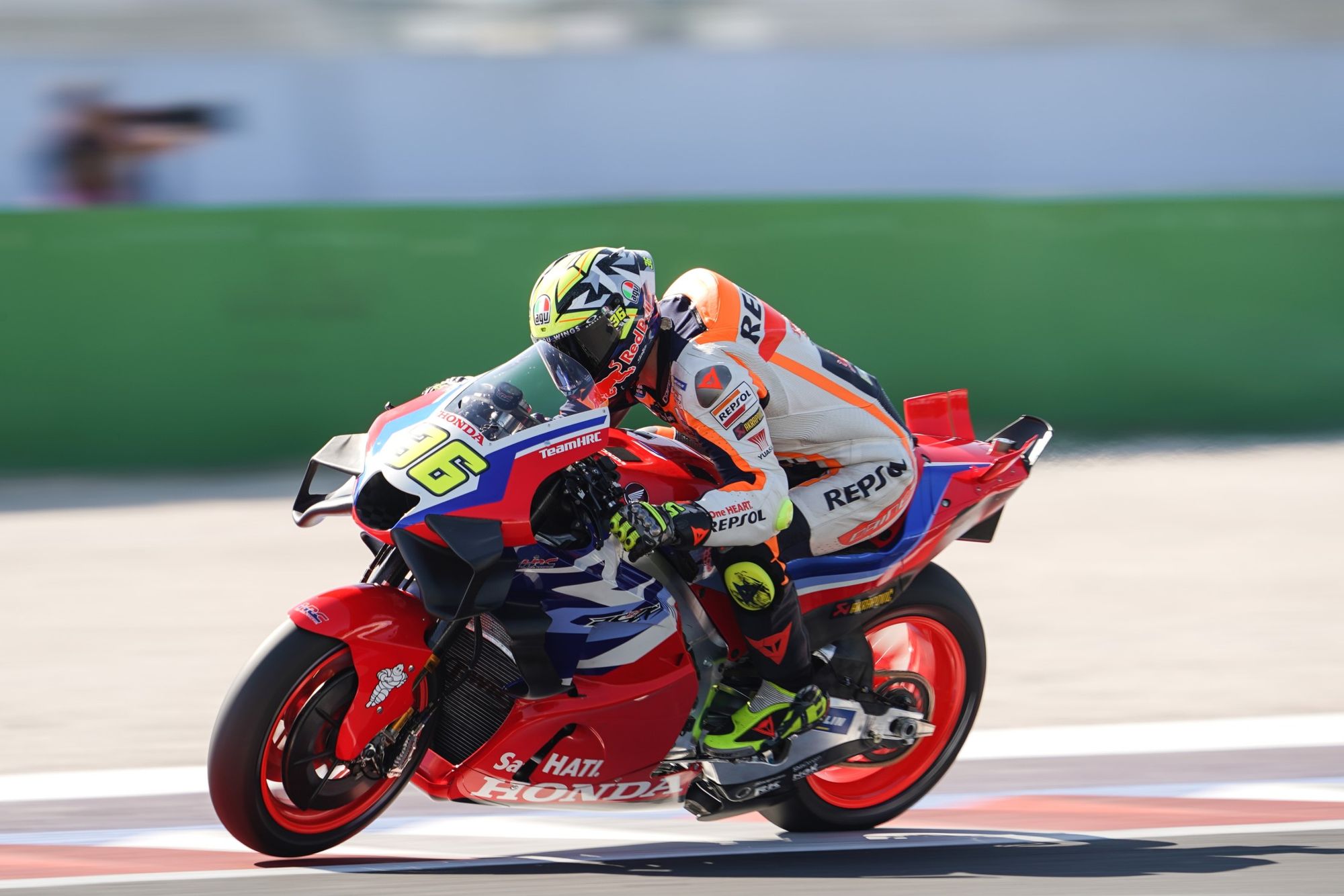 And despite the success Mir had at last weekend's inaugural Indian Grand Prix on the old bike (while the new one underwent post-test analysis at Honda HQ), he's still keen to jump onto the new development bike this weekend and continue to work for next season.
"I will try it, but I don't know," the 2020 world champion said of the prospect of using it all weekend. "If I'm happy with it, I'll continue, but if I have doubts about it. I'll go with the same one as all the year, the one I used in India, that base. That's a little bit what we want to do.
"In Misano, I was able to be more comfortable on the riding [with the prototype]. I was able to be a little bit quick, especially in terms of the used tyre, in terms of pace. That's why I wanted to try it again here, because I was able to be faster in Misano than with the other one. Then in India we came back to the other one, and it's been competitive.

"Now we have that in our pocket, to see if it's a little bit better. But if we have doubts, we'll keep the same one.
"I wanted to have it [the prototype] in India, probably, because you have more time to adapt. Or at a track, not in India, but in Montmelo for example where we struggled a lot and we had nothing to lose. I think that type of weekends are the ones where you need some help.
"But we will see. Somehow, we have a bike that with the old chassis I [now] feel comfortable. With the other one I might feel even better and that will be very welcome, but I don't think that will happen."
Mir says he'll know pretty quickly what path to take for the weekend once track action gets underway.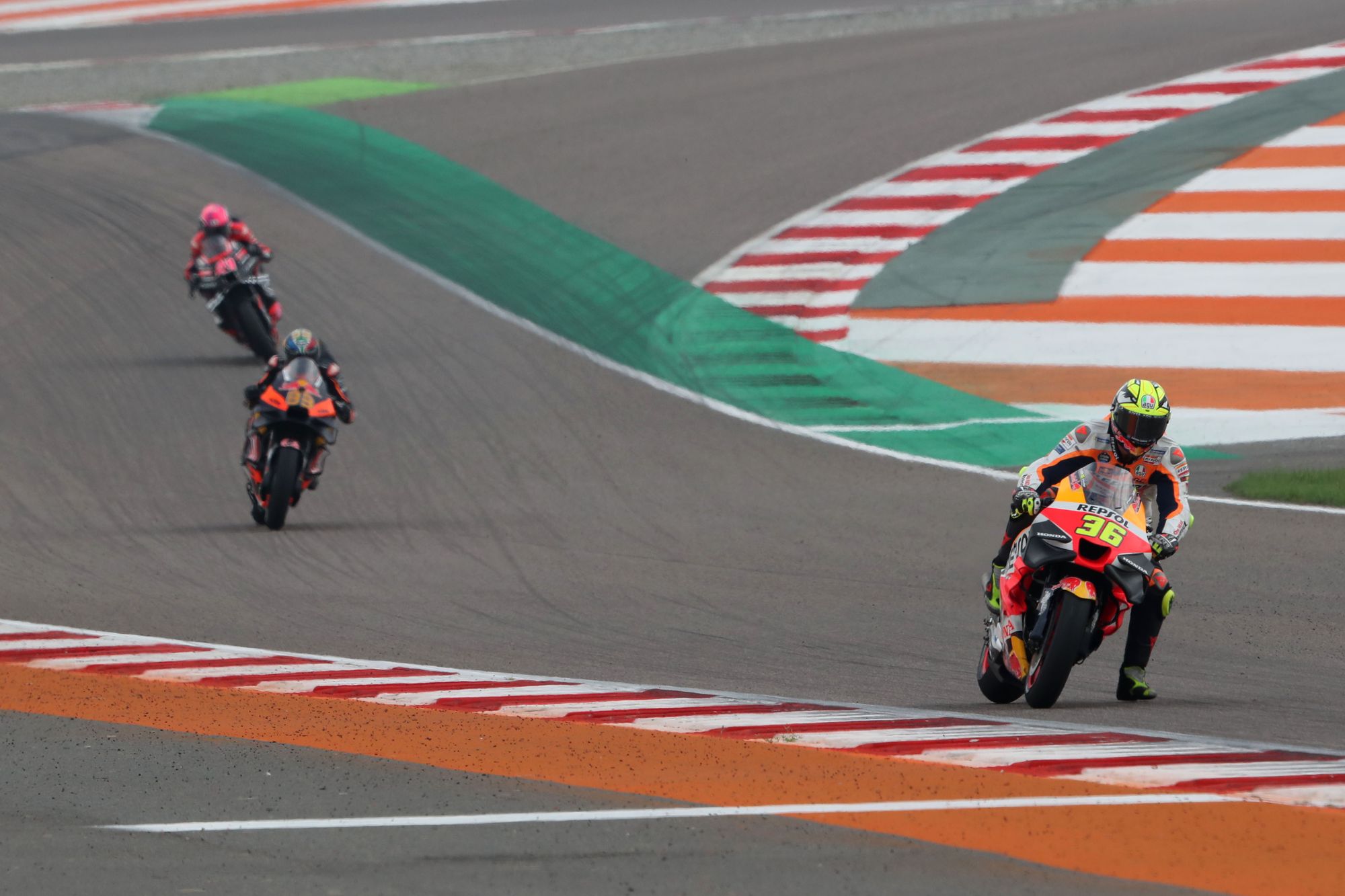 "Honestly I don't want to expect so much. I think it's better [that way]. In India we had more or less a bike I was able to be comfortable with. OK, we still have some limitations in acceleration and in terms of grip, but we've been competitive somehow.
"Here is a track where on paper should be similar to there, stop and go. But the asphalt is completely different, the tyres are a little different.
"We will try, and straight away you will see. In FP1, you realise how much the potential is, and what we will be able to do. If we will be able to go to Q2 - or if we won't have any possibilities to and will be fighting at the back. That would be a shame, and I would like to be as in India."
However, while Mir might be ready to take the risk with his new bike this weekend, his team-mate Marquez (also coming off one of his best weekends of the year with a sprint race podium at the Buddh circuit) remains firm in his dismissal of the prototype's potential.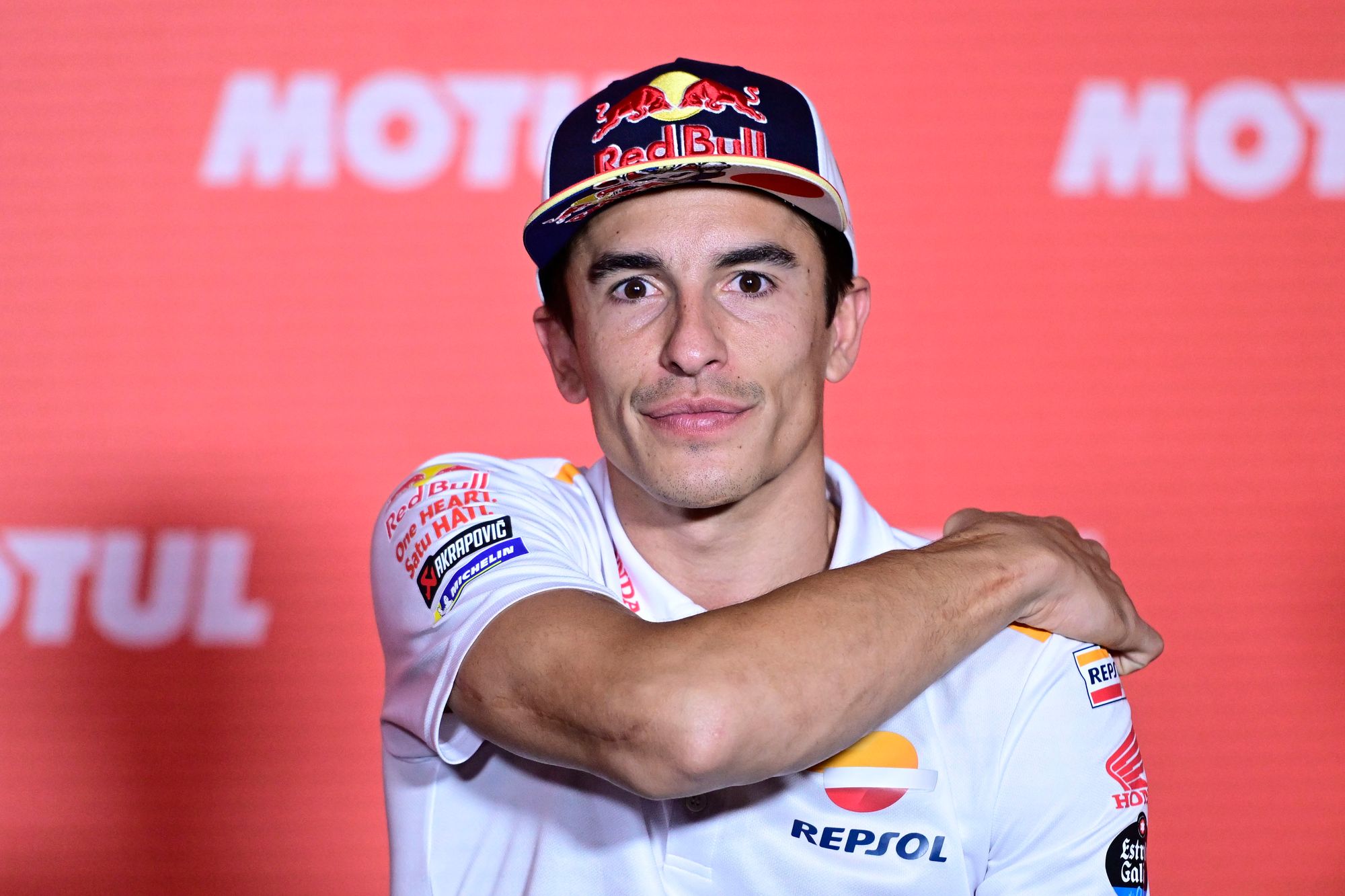 "I know that Joan will ride with the 2024 prototype bike chassis," he said, "but I won't at the moment. In Misano, I felt maybe some positives and maybe some negatives, and maybe here it can be positive because it's a lot of stop and go and the bike was good for this, but I believe that the way to ride that proto bike, for a season, is not the way to do [it].
"For me there is no meaning to make one race with one chassis, one with another. I'm concentrating with what I have. I'll try a few small things that Honda have requested me to, but I'll keep going with what I feel and what I believe."