Aleix Espargaro says his fellow MotoGP rider Andrea Dovizioso would be "more than welcome" to join him at Aprilia for next year onwards.
Espargaro is currently partnered by test rider Bradley Smith, who has been promoted to a regular role amid regular rider Andrea Iannone's doping-related suspension.
Iannone's initial Aprilia deal runs through 2020, and the appeal over his doping case – which initially yielded an 18-month ban verdict – has been recently delayed to October 15, meaning he remains in limbo.
And while Aprilia has stood by Iannone and has not publicly entertained replacing him, other candidates for his ride beyond 2020 have been mooted, with LCR Honda's outgoing veteran Cal Crutchlow chief among them.
However, with Dovizioso now on the market following the news that his negotiations with Ducati over a contract extension have been cut short, Espargaro has said he would be delighted to share the garage with the Italian.
"I said many times in the past, he's my favourite rider on the grid," Espargaro said of Dovizioso. "[In] how he approaches the races, how he works, his character.
"I'm super different, I'm a lot more up and down than him. And I can learn a lot from Dovi, as a rider, and I think also he can bring here a lot of information.
"Also our engineers can learn a lot, I think will be fantastic to have Dovi as a team-mate, so for me it would be fantastic, and for sure if I can be at the same level as him or even faster, it will improve my skills as a rider, obviously."
Asked by The Race how realistic a move for Dovizioso was in his eyes, Esparagro said: "For me it's clear it's a real chance. It's the only factory [ride] available. And he'd be more than welcome, we would treat him really good here."
When Espargaro's comments were put to Dovizioso by The Race, the Italian – who had made it clear that he had no back-up plan when ending his talks with Ducati – said: "You know, everybody likes when, especially, some other riders speak in a good way about you. This is really, thank you for that…
"About [my chances of joining] Aprilia, doesn't change if Aleix has a good feeling with me. We will see about my future, at this moment I don't have really anything clear."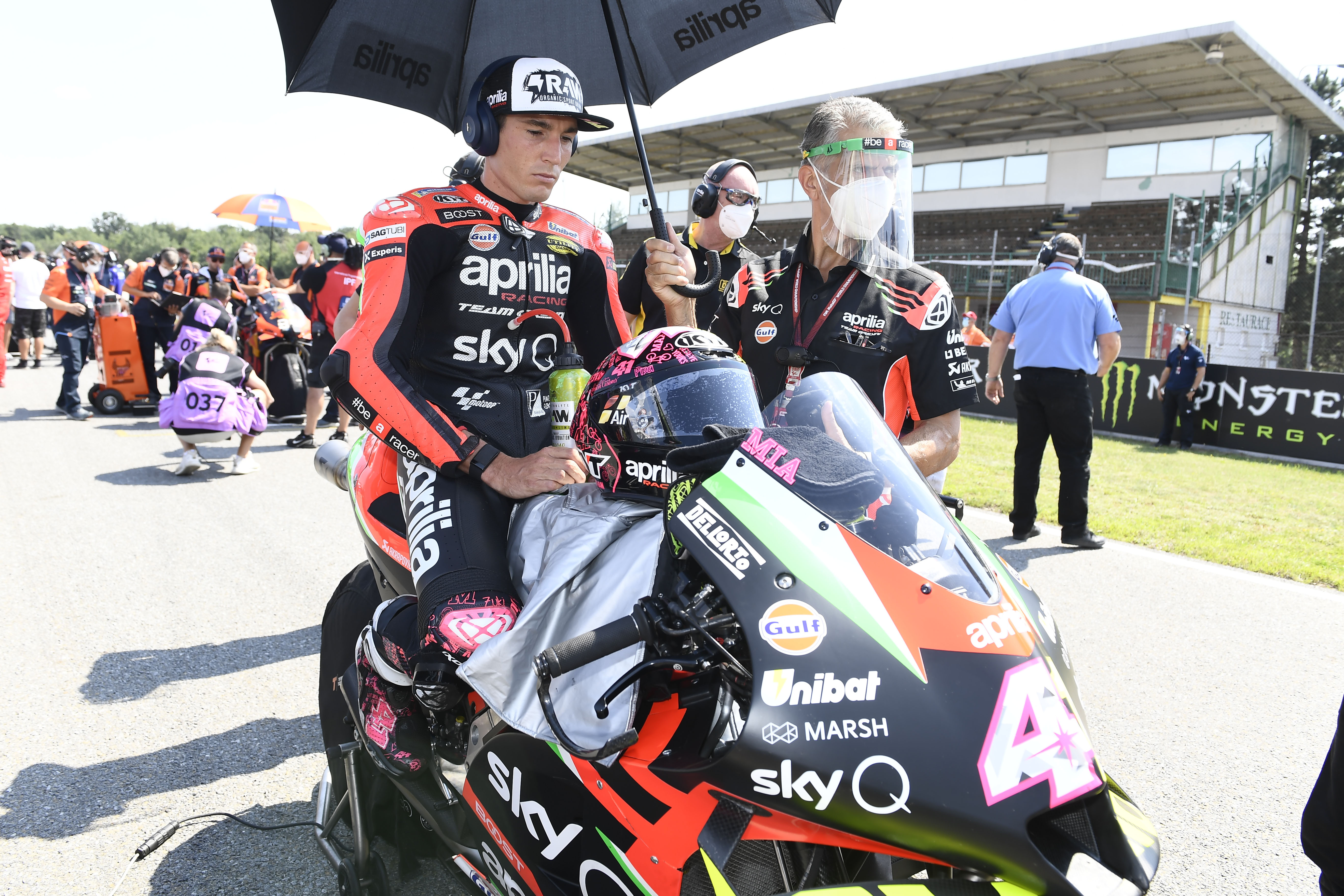 Espargaro 'angry' RS-GP potential isn't realised yet
Espargaro leads Aprilia's efforts this year but has only 11 points on the board after four races – a scant return given the all-new RS-GP looked like the surprise package of the 2020 grid in pre-season testing.
The Spaniard often cut a dejected figure last year due to his dissatisfaction with the old-spec bike, but saw enough from the new RS-GP and the revised team structure to commit to a new deal running through 2022.
Asked about his mindset now compared to last year, he said: "I'm very angry inside of myself because I feel that this bike is much better. But the results are not arriving yet.
"But regarding my feelings, I feel a lot better than last season, because for example in race one here in Austria I was in the same pace of Valentino [Rossi], [Johann] Zarco, [Franco] Morbidelli, and they were fighting in the second group of the race, but then red flag.
"So, looks like this season is very strange. I hate to say that we need more time but it's the reality. We need to go step by step.
"Unfortunately we missed the part of the calendar that I love the most, which is Qatar, Argentina, Malaysia, Thailand, Australia, very long and fast circuits. This is not helping us, but anyway let's go step by step.
"Overall I think we are growing. It's not easy to put the bike on the podium straight, because the difference – if you check the difference in the top 15 it's half a second, but I think, and I believe, that this bike is much better than last season.
"If we keep working like we are doing right now, the results will come."