Aleix Espargaro claimed an incredible milestone win for himself and Aprilia in an exciting duel against Jorge Martin in MotoGP's Termas de Rio Hondo race.
In what was Espargaro's 200th MotoGP start, the Spaniard delivered a first-ever premier-class win for his Italian employer, while also recording his own maiden triumph in any class of grand prix racing.
Espargaro's Aprilia was very sluggish off pole at the start, but managed to minimise the damage with a good entry into Turn 1 that left him second only to a fast-starting Martin – whose initial half-second lead was then quickly eroded.
The pair then made quick work of breaking away from the chasing pack, monopolising the battle for the lead over the first 10 laps, before Espargaro suddenly dropped a second back from Martin through a succession of sub-optimal corners.
A mistake for @AleixEspargaro! 👀

That's given @88jorgemartin some breathing room at the front! 💨#ArgentinaGP 🇦🇷 pic.twitter.com/P0GRAkJRSQ

— MotoGP™🏁 (@MotoGP) April 3, 2022
A couple of laps later though, he was back on Martin's tail and putting pressure on the Pramac man – which grew increasingly sustained lap after lap.
With eight laps to go, Espargaro slipstreamed past Martin out of Turn 4, only to fail to get his braking right into Turn 5 and hand the position back immediately. He tried again at the same spot two laps later, and was again unable to get his RS-GP stopped in time.
THIRD TIME LUCKY! 👏@AleixEspargaro LEADS! 🔄#ArgentinaGP 🇦🇷 pic.twitter.com/pY9hjmhCMy

— MotoGP™🏁 (@MotoGP) April 3, 2022
The third time, however, was the charm, and after completing the pass at Turn 5 Espargaro immediately went about eking out a lead, doing enough to keep the Ducati sophomore and his excellent top speed at bay through the two main straights of the circuit.
It took Espargaro until the penultimate lap to finally break Martin's resistance, the Aprilia coming through to win by eight tenths and take the championship lead to boot.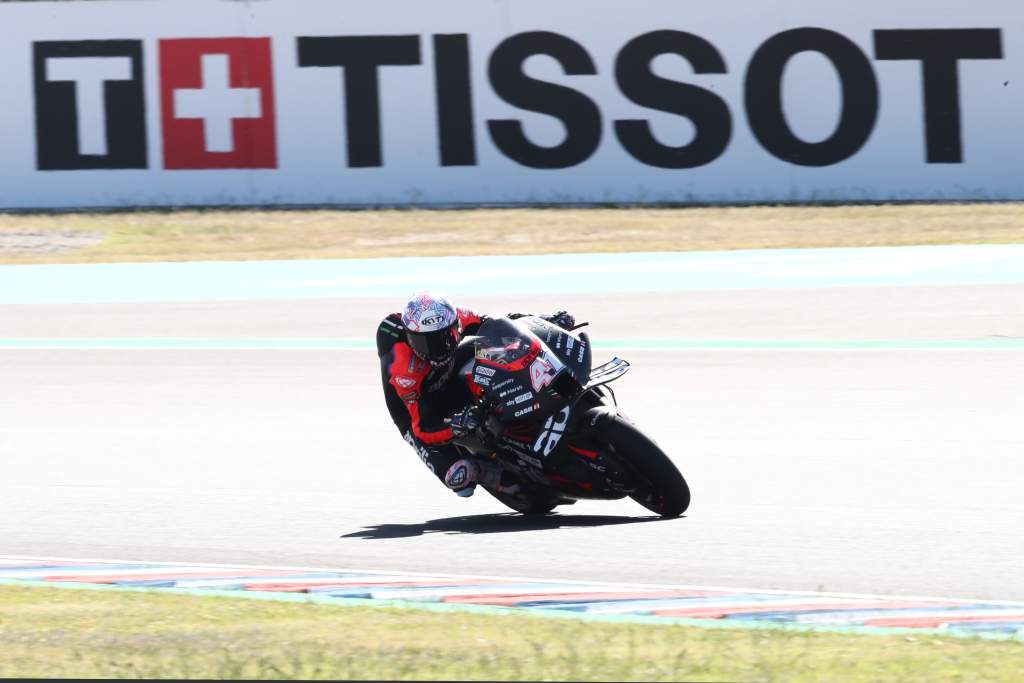 Behind Martin, who had gotten off the mark for the season after two crashes in the first two races, Suzuki's Alex Rins completed the podium – having fought through to third early on but never quite able to make up the gap the leading duo had established.
Joan Mir made it two Suzukis in the top four, while Ducati's Francesco Bagnaia fought through from 13th to finish fifth, him and KTM rider Brad Binder outfoxing Espargaro's Aprilia team-mate Maverick Vinales late on.
Reigning champion Fabio Quartararo had a difficult race, dropping back to as low as 13th at one point before recovering to a final eighth, as Yamaha's only points-scorer of the day – with both Franco Morbidelli and Andrea Dovizioso thwarted by apparent mechanical issues.
VR46 Ducati rookie Marco Bezzecchi shone in ninth despite running Alex Marquez and Stefan Bradl – standing in for Marc Marquez – out wide at the start.
Erstwhile points leader Enea Bastianini (Gresini Ducati) was compromised by a botched Turn 5 overtaking attempt on his former team-mate Luca Marini, but ultimately recovered to 10th, with Marini – who stayed in the battle for third early on after starting from the front row but ultimately faded – right behind him, just 0.040s up on Takaaki Nakagami – who was originally supposed to miss this race due to a positive COVID-19 test.
It was a difficult day for both KTM's Indonesian GP winner Miguel Oliveira and works Ducati rider Jack Miller, who battled each other for an eventual 13th and 14th, with Marquez (LCR Honda) completing the podium.
Game over for @polespargaro! 🛑

A strong 4th slips through his fingers! 😢#ArgentinaGP 🇦🇷 pic.twitter.com/a2TtF1fL2U

— MotoGP™🏁 (@MotoGP) April 3, 2022
Aleix's brother Pol Espargaro (Honda) was the highest-profile faller, tumbling out of fourth place while chasing after Rins. Beyond the Honda factory man, there were also crashes for Johann Zarco (Pramac Ducati) and Fabio Di Giannantonio (Gresini Ducati).
One lap later and @JohannZarco1's progress is over! 🛑

The Frenchman loses the front at Turn 2! 💥#ArgentinaGP 🇦🇷 pic.twitter.com/oqKud9mUXb

— MotoGP™🏁 (@MotoGP) April 3, 2022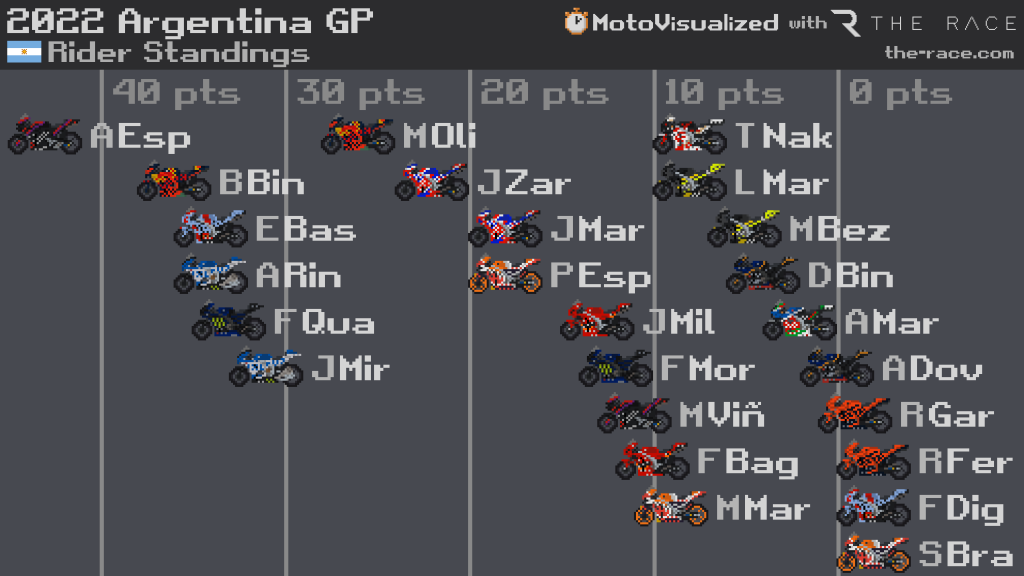 Race Results
| Pos | Name | Team | Bike | Laps | Laps Led | Total Time | Fastest Lap | Pitstops | Pts |
| --- | --- | --- | --- | --- | --- | --- | --- | --- | --- |
| 1 | Aleix Espargaró | Aprilia Racing | Aprilia | 25 | 5 | 41m36.198s | 1m39.375s | 0 | 25 |
| 2 | Jorge Martin | Pramac Racing | Ducati | 25 | 20 | +0.807s | 1m39.522s | 0 | 20 |
| 3 | Alex Rins | Team SUZUKI ECSTAR | Suzuki | 25 | 0 | +1.33s | 1m39.453s | 0 | 16 |
| 4 | Joan Mir | Team SUZUKI ECSTAR | Suzuki | 25 | 0 | +1.831s | 1m39.443s | 0 | 13 |
| 5 | Francesco Bagnaia | Ducati Lenovo Team | Ducati | 25 | 0 | +5.84s | 1m39.451s | 0 | 11 |
| 6 | Brad Binder | Red Bull KTM Factory Racing | KTM | 25 | 0 | +6.192s | 1m39.505s | 0 | 10 |
| 7 | Maverick Viñales | Aprilia Racing | Aprilia | 25 | 0 | +6.54s | 1m39.574s | 0 | 9 |
| 8 | Fabio Quartararo | Monster Energy Yamaha MotoGP | Yamaha | 25 | 0 | +10.215s | 1m39.611s | 0 | 8 |
| 9 | Marco Bezzecchi | Mooney VR46 Racing Team | Ducati | 25 | 0 | +12.622s | 1m39.6s | 0 | 7 |
| 10 | Enea Bastianini | Gresini Racing MotoGP | Ducati | 25 | 0 | +12.987s | 1m39.749s | 0 | 6 |
| 11 | Luca Marini | Mooney VR46 Racing Team | Ducati | 25 | 0 | +13.962s | 1m39.825s | 0 | 5 |
| 12 | Takaaki Nakagami | LCR Honda IDEMITSU | Honda | 25 | 0 | +14.002s | 1m39.773s | 0 | 4 |
| 13 | Miguel Oliveira | Red Bull KTM Factory Racing | KTM | 25 | 0 | +14.456s | 1m39.852s | 0 | 3 |
| 14 | Jack Miller | Ducati Lenovo Team | Ducati | 25 | 0 | +14.898s | 1m39.905s | 0 | 2 |
| 15 | Alex Marquez | LCR Honda Castrol | Honda | 25 | 0 | +23.472s | 1m40.118s | 0 | 1 |
| 16 | Raul Fernandez | Tech3 KTM Factory Racing | KTM | 25 | 0 | +25.862s | 1m40.116s | 0 | 0 |
| 17 | Remy Gardner | Tech3 KTM Factory Racing | KTM | 25 | 0 | +28.711s | 1m40.127s | 0 | 0 |
| 18 | Darryn Binder | WithU Yamaha RNF MotoGP Team | Yamaha | 25 | 0 | +28.784s | 1m40.209s | 0 | 0 |
| 19 | Stefan Bradl | Repsol Honda Team | Honda | 25 | 0 | +31.943s | 1m40.452s | 0 | 0 |
| 20 | Andrea Dovizioso | WithU Yamaha RNF MotoGP Team | Yamaha | 22 | 0 | +3 laps | 1m39.908s | 0 | 0 |
| | Fabio Di Giannantonio | Gresini Racing MotoGP | Ducati | 22 | 0 | DNF | 1m40.289s | 0 | 0 |
| | Pol Espargaró | Repsol Honda Team | Honda | 14 | 0 | DNF | 1m39.514s | 0 | 0 |
| | Franco Morbidelli | Monster Energy Yamaha MotoGP | Yamaha | 7 | 0 | DNF | 1m40.043s | 0 | 0 |
| | Johann Zarco | Pramac Racing | Ducati | 5 | 0 | DNF | 1m40.032s | 0 | 0 |