Helio Castroneves' IndyCar comeback with Arrow McLaren SP at last weekend's Indianapolis double-header only produced 20th and 21st place finishes.
But that hasn't stopped the three-time Indianapolis 500 winner being keen to extend his relationship with the team.
He reckons he can help drive it forwards despite a baptism of fire at Indianapolis.
The Arrow McLaren SP outing was Castroneves' first IndyCar start with a team other than Penske since his 1999 CART season with Hogan.
For the last two years he has mainly focused on Penske's prototype programme in IMSA while contesting the Indianapolis road course and Indy 500 in May each year.
In 2020 though, Castroneves only contested the 500 and will not be kept on by Penske next year, with its factory Acura IMSA programme also coming to an end. He's won three races in a row in that series and is third in the championship with three rounds left.
The Brazilian stepped in at Arrow McLaren SP to replace reigning Indy Lights champion Oliver Askew – suffering with concussion-like symptoms since the Indy 500 – for the Indianapolis double-header last weekend in a deal helped along by Castroneves' former Penske team-mate Gil de Ferran, who is sporting director on the McLaren side of the team.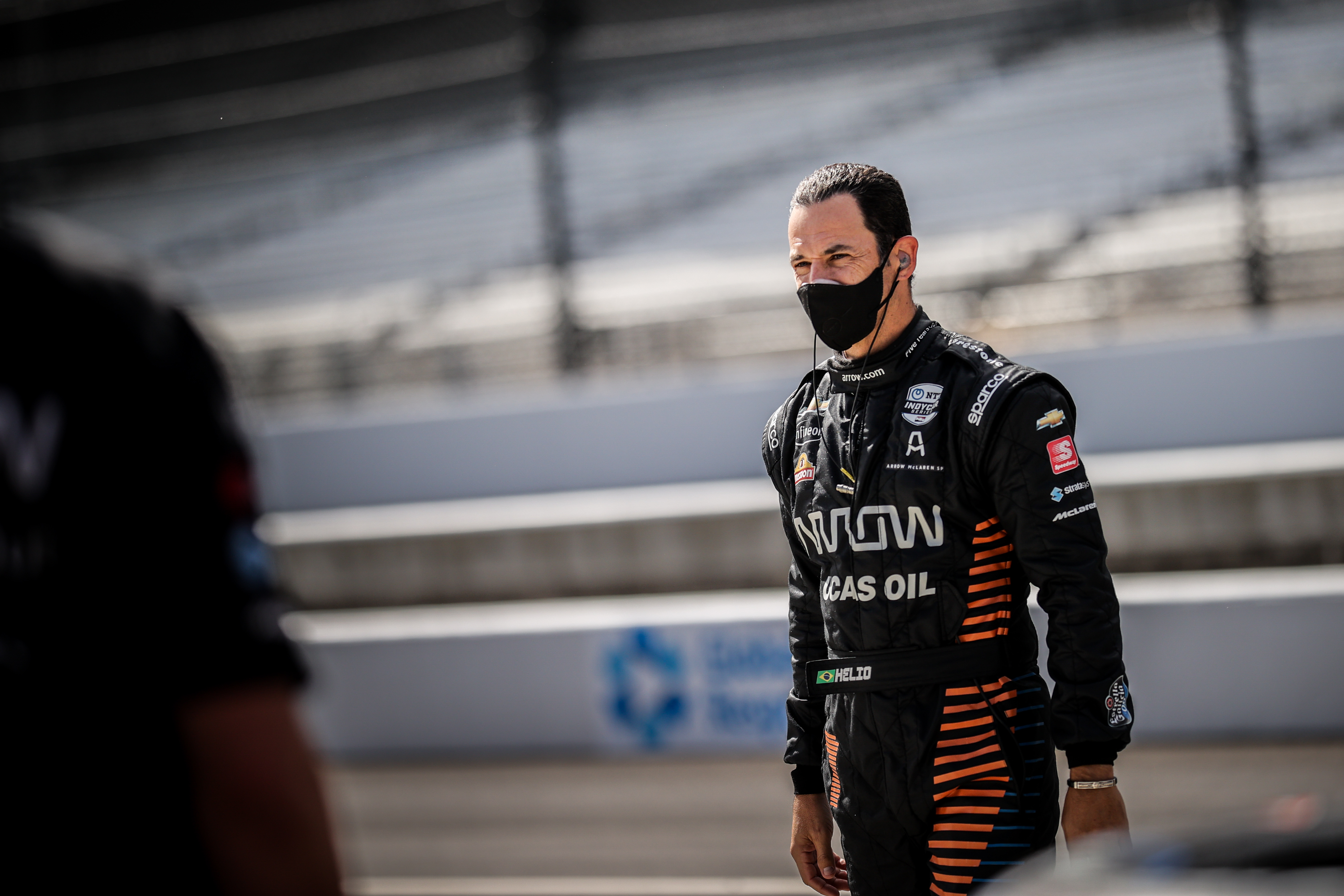 He faced an uphill struggle on his comeback alongside Pato O'Ward.
Castroneves was 20th in race one while his improved pace in race two didn't really show as he was on a sub-optimal three-stop strategy.
He had to deal with a completely new steering wheel – Penske makes its own – and trying to find brake feel across a weekend where IndyCar was already running condensed schedules due to the coronavirus outbreak.
It was also Castroneves' first time on a road course race with the new aeroscreen device, which alters set-ups dramatically and has caught out other drivers in trying to get the tyres in the correct window, something that afflicted another returning legend Sebastien Bourdais at the weekend as he made his first starts for new employer AJ Foyt Racing.
"When I was battling wheels with Seb [Bourdais] for like 20th, 21st, I was like, OK, we've got to do something different," Castroneves said in an exclusive interview with The Race.
"We got to get used to this here a little bit better, faster! But again, I don't have anything to prove. I don't think Seb had anything to prove either. So we know how competitive we can be.
"We know how strong we can be, that is, in my opinion. And I have tonnes of things that – I do have knowledge – we can do to to make things better.
"Pato's an incredible driver and has a bright future. But I do feel that we could make some little details that make a big difference.
"And for me it was great to be out there and hopefully, the thing that I already mentioned to them, there will be a way to continue to grow. They have only one more race [in 2020] and we'll see what happens.
"If they're willing to do a third car, great, with Oliver there as well. And he was helping out [at Indianapolis] which was really, really good, especially being the guy running the whole season."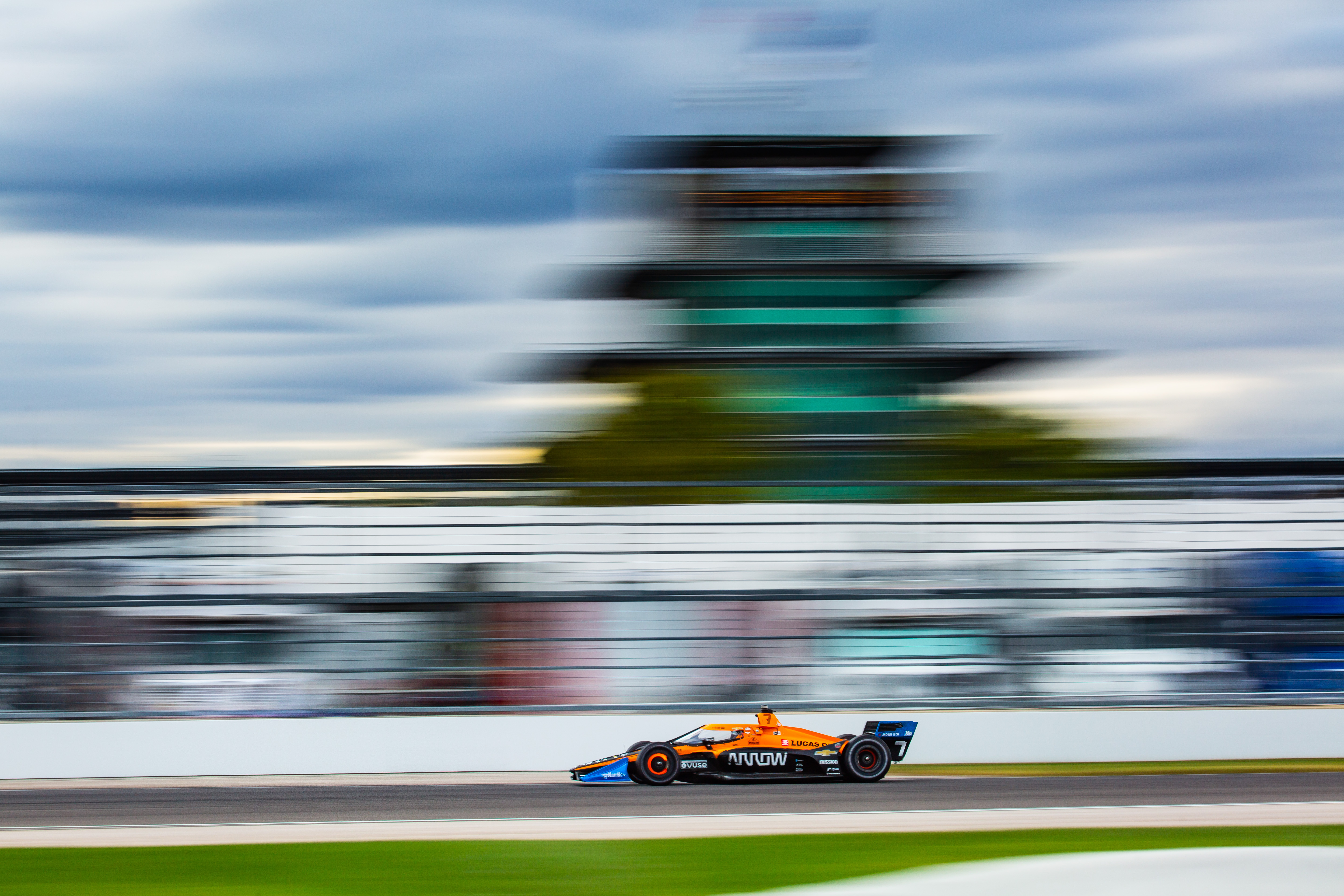 Askew is expected back for the St Pete race but the unpredictability around his injury means it is not out of the question the 23-year-old will have to step aside again, paving the way for Castroneves to return at a track he has consistently been good at before.
But rather than addressing that, Castroneves took the time to praise Askew and says other drivers can learn from his "courage" in facing his injury which has cost him seat time.
"His courage to come out and say look, I'm not feeling well," said Castroneves. "And this can help a lot of young drivers and athletes, that when you don't feel well, we should speak up.
It may not be that Castroneves fights for wins or the championship if Arrow McLaren SP signed him, but the experience he would bring could help O'Ward and Askew reach their potential
"And so he was there [at Indianapolis], we were able to collect information together. It was great. I really enjoyed it, driving in the car again."
The move for Castroneves may have made sense from the point of view of the de Ferran connection, but it goes against McLaren's recent driver policy.
In Formula 1 for the last two seasons it has fielded young drivers Lando Norris and Carlos Sainz Jr, and once it had bought into the Schmidt Peterson team to create its IndyCar squad, it followed a similar path with rookie Askew and second-year driver O'Ward. The latter was signed with just eight IndyCar races under his belt after joining Red Bull in Europe and Japan for the second half of 2019.
McLaren chief Zak Brown said earlier in the season that the squad would be up for running a third car – it did for Fernando Alonso at the Indianapolis 500 this year – but that entry must be funded for it to make sense to the organisation.
Its driver policy this year has been a success with O'Ward third in the points and, before racing on with his concussion-like symptoms, Askew had been 12th in the standings having just scored his first podium at Iowa.
However, there's no doubt that having the 45-year-old Castroneves aboard would add vital experience to a team stacked with just that on the team personnel side, but not on the driving front. Just in terms of bouncing pre-race ideas around, digesting, understanding and applying feedback and quick fixes in a series where it has been vital to arrive at the track with a car that only requires a few tweaks to be competitive.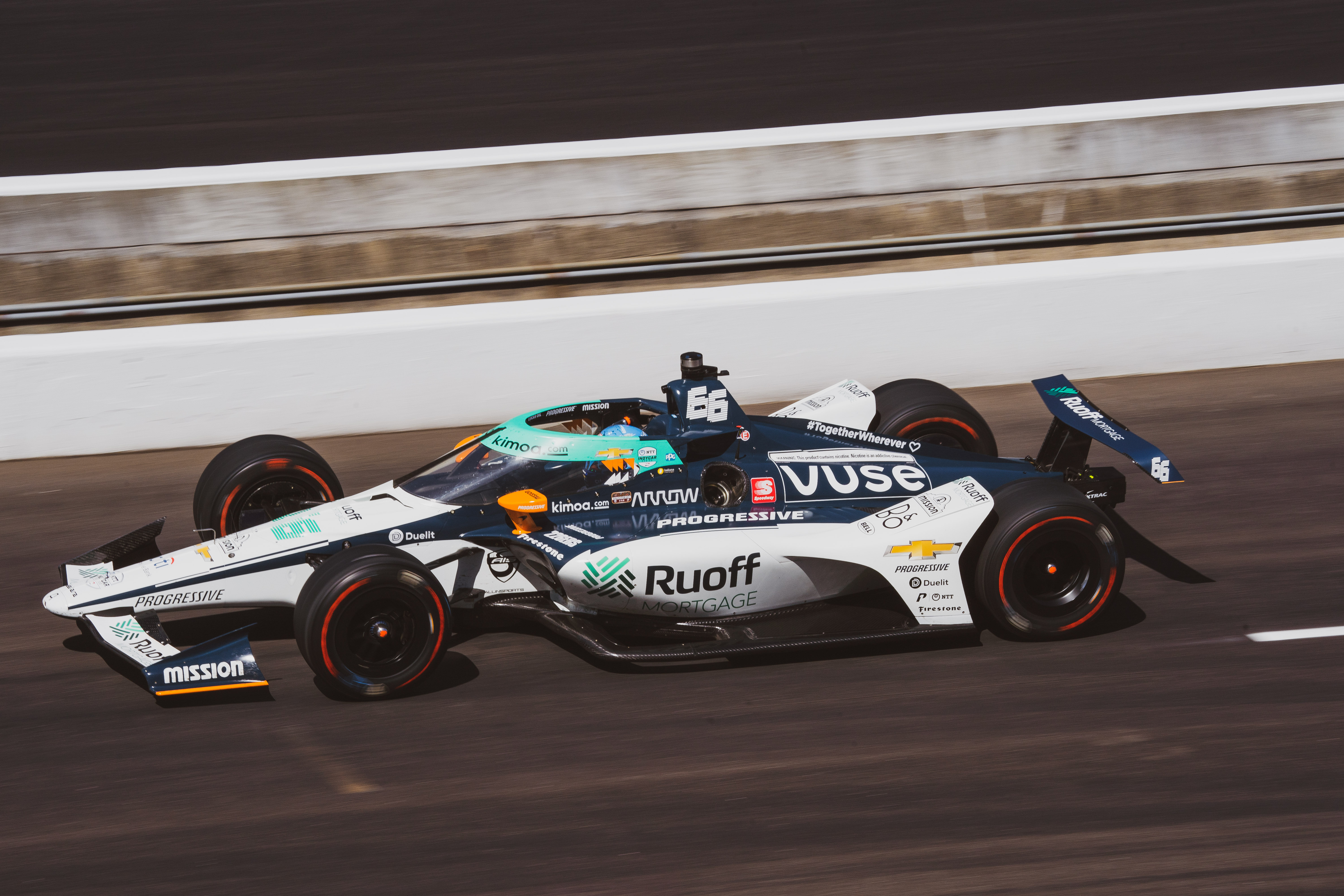 It may not be that Castroneves fights for wins or the championship if Arrow McLaren SP signed him, but the experience he would bring could help O'Ward and Askew reach their potential. If the car is funded, then it would be a no-brainer, even if it didn't fit McLaren's recent driver policy.
Alonso is the perfect example. O'Ward and Askew both waxed lyrical about Alonso's impact when he joined for the 500, both in the preparation and during the on-track action. O'Ward was able to finish sixth and as the top rookie in the race, and credited part of that to the added benefit Alonso brought.
For Castroneves to do that though, he needs to be an actual part of the team. Not parachuted in to an impossible one-off challenge like last weekend was.
"Nobody, at least as a competitive driver and with everything I achieved, nobody wants to drive and finish 20th," adds Castroneves. "My competitive spirit is, it's like…. OK, that was different. But at the same time, understand the limits, understand the reality, you know? And yes, I would love to continue to make progress.
"I just want to make sure that for me to adapt to the new system, new process, I need to understand and be part of the process, so that we can grow together and I would love to continue, to pursue coming back to IndyCar. We'll see."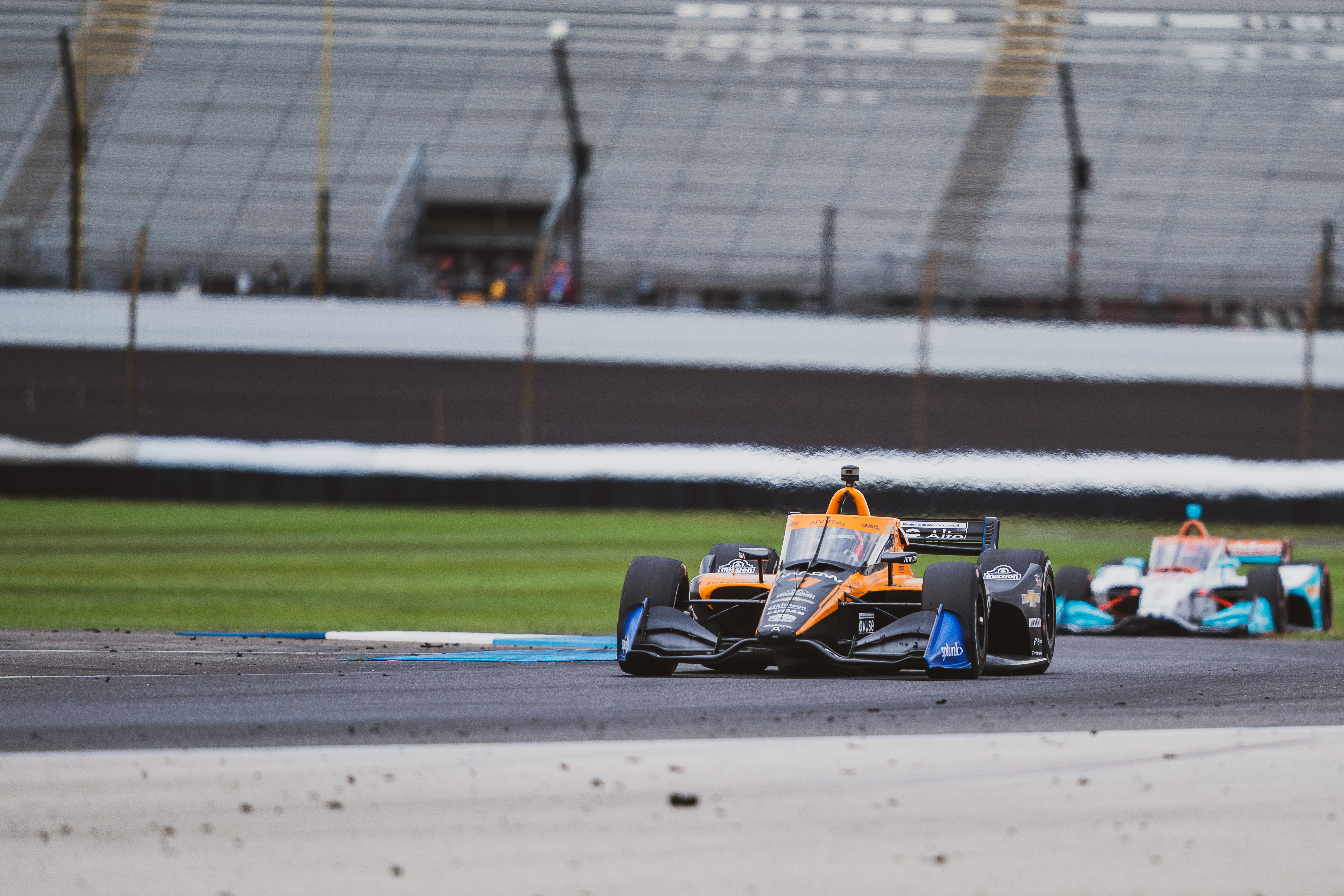 Arrow McLaren SP is led on the IndyCar side by the relatively young Taylor Kiel, who brings a friendly but no-nonsense approach to the team and has done a fantastic job acclimatising two very inexperienced drivers into a podium capable team this year.
It's added Bourdais' Champ Car engineer and multiple Indy 500 winner Craig Hampson as its head of R&D and de Ferran leads the McLaren arm with a small group back in its Woking factory dedicated to offering all sorts of assistance based on its F1 experience.
With all that, it's created a unique mix none of the other IndyCar teams can offer and has provided a big boost to the team known as SPM last season before the McLaren merger. It's all been about putting people in the right places, and from Castroneves' excited responses, it's easy to see he's been impressed with what he saw.
"When you jump in, you don't know what to expect but it was a good surprise," says Castroneves. "Like how good the guys were not only in technique, but the information that the guys have at some points, I was like, 'wow, this is actually better than what I'm used to!'
"So it was very, very positive. And I enjoyed it very much.
"When you're going to a great environment, and it's really, really welcome, that's what I felt. So for me, it was a great impression, a great experience.
"I wish we would have one more race. Just one more practice. One more qualifying only and it would have been much better."