Scott McLaughlin earned his first IndyCar victory by fending off late pressure from defending champion Alex Palou in the St Petersburg 2022 season-opener.
Team Penske's Supercars convert McLaughlin stormed to his first IndyCar pole in qualifying with a sensational lap despite having next to no single-seater street racing experience prior to his IndyCar switch at the end of 2020.
He led the early stages of the race before series rookie David Malukas (Dale Coyne Racing) hit the wall at Turn 3 and caused the first caution period of the season.
The first full-course yellow of the season is out for NTT @INDYCAR SERIES rookie, David Malukas.

📺 : @nbc and @peacockTV
💻 : https://t.co/GvChvJgmhK pic.twitter.com/Tx84w1e23v

— IndyCar on NBC (@IndyCaronNBC) February 27, 2022
Race leader McLaughlin pitted along with every driver yet to pit – bar Alexander Rossi – and he fell to 13th place behind 11 drivers who already stopped and new race leader Rossi.
Rather than charging past all those who had already pit, McLaughlin conserved his fuel, ensuring he could make his two-stop strategy work and he slowed cycled his way back to the lead as other drivers made their pitstops.
When those drivers on the alternative three-stop strategy – led by six-time champion Scott Dixon – made their final pitstops, McLaughlin retook the lead and had Palou as his closest competition, a couple of seconds adrift.
Chip Ganassi Racing's Palou, who crashed in practice and qualified 10th behind two of his team-mates, closed to within a second of McLaughlin but couldn't make a serious attempt at the lead.
He eventually finished just 0.5095s behind first-time IndyCar winner McLaughlin.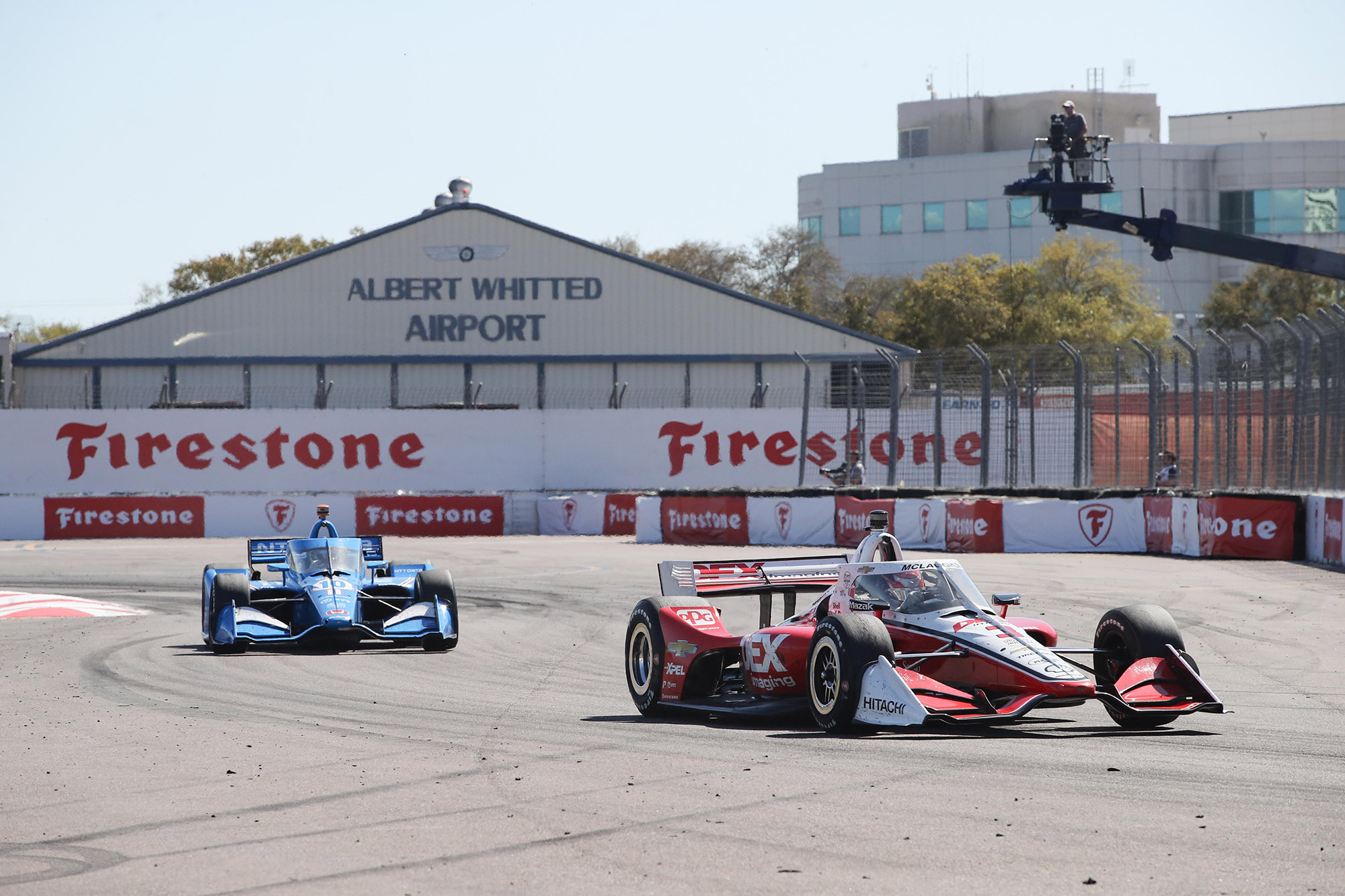 Front row starter Will Power lost ground at the beginning of the race as he was the only driver in the top 10 to start on the harder black tyres.
He recovered by the time of the caution, but then lost out to Palou shortly after the restart.
Power ended up taking the final spot on the podium, only 2.4671 adrift of his race-winning team-mate McLaughlin.
A celebration @smclaughlin93 will never forget.#INDYCAR // #FirestoneGP // @GPSTPETE // @Team_Penske pic.twitter.com/TzUY02AbRJ

— NTT INDYCAR SERIES (@IndyCar) February 27, 2022
Andretti's Colton Herta made a late-race move on Rinus VeeKay for fourth place and as Graham Rahal attempted to follow him through, he connected with VeeKay and Romain Grosjean was able to overtake them both.
Grosjean claimed fifth place on his debut for Andretti, having survived a knock to his front wing on the opening lap in contact with Power.
VeeKay denied Rahal sixth place, while Dixon finished eighth.
Dixon's Ganassi team-mate Marcus Ericsson, who was sent to the back of the field while under caution for causing a collision in a bizarre pitlane incident with Rahal and Grosjean, finished ninth.
SANDWICHED!

Check this out as Marcus Ericsson, Graham Rahal, and Romain Grosjean get real close to each other on pit road. #INDYCAR

📺 : @nbc and @peacockTV
💻 : https://t.co/GvChvJgmhK pic.twitter.com/VyfiBZ165M

— IndyCar on NBC (@IndyCaronNBC) February 27, 2022
Takuma Sato was 10th on his debut for Dale Coyne Racing while Rahal Letterman Lanigan's Christian Lundgaard dropped from ninth to 11th in the final four laps.
Arrow McLaren SP's Pato O'Ward was just a few seconds shy of Dixon when they made their second pitstops, but he suffered a slow pitstop and came out in traffic, meaning he ended up 12th at the chequered flag.
The top 15 was rounded out by RLLR's new signing Jack Harvey and Meyer Shank Racing pair Helio Castroneves and Simon Pagenaud.
Penske's Josef Newgarden struggled to 16th ahead of McLaren's Felix Rosenqvist, with brief race leader Rossi 20th.
Race Results
| Pos | Name | Team | Car | Laps | Laps Led | Total Time | Fastest Lap | Pitstops | Pts |
| --- | --- | --- | --- | --- | --- | --- | --- | --- | --- |
| 1 | Scott McLaughlin | Team Penske | Dallara DW12-Chevrolet | 100 | 49 | 1h51m27.346s | 1m01.478s | 2 | 54 |
| 2 | Alex Palou | Chip Ganassi Racing | Dallara DW12-Honda | 100 | 1 | +0.51s | 1m01.863s | 2 | 41 |
| 3 | Will Power | Team Penske | Dallara DW12-Chevrolet | 100 | 1 | +2.467s | 1m01.537s | 2 | 36 |
| 4 | Colton Herta | Andretti Autosport with Curb-Agajanian | Dallara DW12-Honda | 100 | 0 | +15.844s | 1m01.733s | 2 | 32 |
| 5 | Romain Grosjean | Andretti Autosport | Dallara DW12-Honda | 100 | 0 | +18.453s | 1m02.145s | 2 | 30 |
| 6 | Rinus VeeKay | Ed Carpenter Racing | Dallara DW12-Chevrolet | 100 | 13 | +20.652s | 1m01.974s | 2 | 29 |
| 7 | Graham Rahal | Rahal Letterman Lanigan Racing | Dallara DW12-Honda | 100 | 0 | +21.418s | 1m01.916s | 2 | 26 |
| 8 | Scott Dixon | Chip Ganassi Racing | Dallara DW12-Honda | 100 | 26 | +22.028s | 1m01.353s | 3 | 25 |
| 9 | Marcus Ericsson | Chip Ganassi Racing | Dallara DW12-Honda | 100 | 0 | +22.368s | 1m01.639s | 2 | 22 |
| 10 | Takuma Sato | Dale Coyne Racing with RWR | Dallara DW12-Honda | 100 | 0 | +23.274s | 1m02.002s | 2 | 20 |
| 11 | Christian Lundgaard | Rahal Letterman Lanigan Racing | Dallara DW12-Honda | 100 | 0 | +24.425s | 1m02.027s | 2 | 19 |
| 12 | Patricio O'Ward | Arrow McLaren SP | Dallara DW12-Chevrolet | 100 | 0 | +26.275s | 1m01.74s | 3 | 18 |
| 13 | Jack Harvey | Rahal Letterman Lanigan Racing | Dallara DW12-Honda | 100 | 0 | +31.669s | 1m02.132s | 3 | 17 |
| 14 | Hélio Castroneves | Meyer Shank Racing | Dallara DW12-Honda | 100 | 0 | +33.599s | 1m02.09s | 3 | 16 |
| 15 | Simon Pagenaud | Meyer Shank Racing | Dallara DW12-Honda | 100 | 0 | +34.215s | 1m01.872s | 3 | 15 |
| 16 | Josef Newgarden | Team Penske | Dallara DW12-Chevrolet | 100 | 0 | +36.26s | 1m01.794s | 3 | 14 |
| 17 | Felix Rosenqvist | Arrow McLaren SP | Dallara DW12-Chevrolet | 100 | 0 | +39.036s | 1m01.788s | 3 | 13 |
| 18 | Kyle Kirkwood | A.J. Foyt Enterprises | Dallara DW12-Chevrolet | 100 | 0 | +58.124s | 1m01.993s | 3 | 12 |
| 19 | Callum Ilott | Juncos Hollinger Racing | Dallara DW12-Chevrolet | 100 | 0 | +58.722s | 1m02.081s | 3 | 11 |
| 20 | Alexander Rossi | Andretti Autosport | Dallara DW12-Honda | 100 | 10 | +59.164s | 1m01.93s | 2 | 11 |
| 21 | Conor Daly | Ed Carpenter Racing | Dallara DW12-Chevrolet | 100 | 0 | +1m0.136s | 1m0.986s | 3 | 9 |
| 22 | Devlin DeFrancesco | Andretti Steinbrenner Autosport | Dallara DW12-Honda | 100 | 0 | +1m02.861s | 1m01.904s | 3 | 8 |
| 23 | Jimmie Johnson | Chip Ganassi Racing | Dallara DW12-Honda | 99 | 0 | +1 lap | 1m02.343s | 2 | 7 |
| 24 | Tatiana Calderón | A.J. Foyt Enterprises | Dallara DW12-Chevrolet | 97 | 0 | +3 laps | 1m03.151s | 4 | 6 |
| | Dalton Kellett | A.J. Foyt Enterprises | Dallara DW12-Chevrolet | 62 | 0 | DNF | 1m02.111s | 4 | 5 |
| | David Malukas | Dale Coyne Racing with HMD Motorsport | Dallara DW12-Honda | 23 | 0 | DNF | 1m02.529s | 1 | 5 |