Arrow McLaren SP watched what should have been its best weekend of the year slip into oblivion with a double-DNF for Pato O'Ward and Felix Rosenqvist at Mid-Ohio.
But for O'Ward, at least it might not be the end of his title bid despite another crushing blow.
Rosenqvist qualified fourth and ran third early on while O'Ward scored his first pole of the season and looked strong in the first stint.
"Today was a bummer," said O'Ward.
"Apparently, the issue was something fuel delivery-wise, and it just kept getting worse and worse and worse. Then it just failed.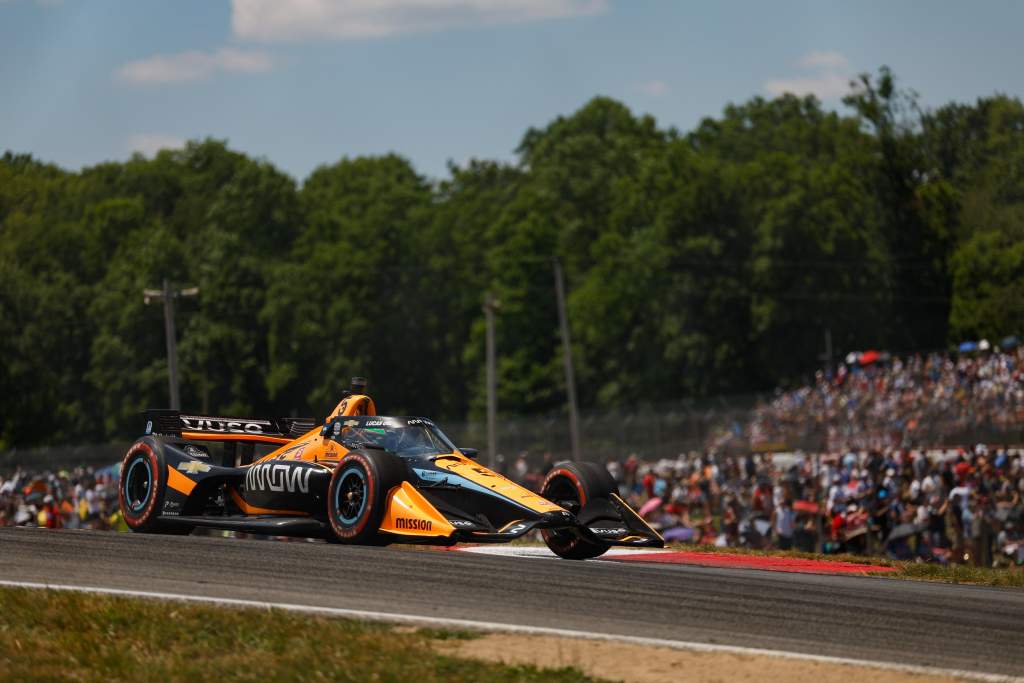 "It is a bummer and frustrating as we have thrown away, I think, an easy podium for us here.
"We had a lot of pace, and we've had a lot of pace throughout the weekend.
"The #5 Arrow McLaren SP Chevrolet was really well put together for qualifying and I tried to do my job the best I could."
"I'm losing power!"

Issues for the race leader, @PatricioOWard.

WATCH LIVE:
📺: @nbc & @PeacockTV
📲: INDYCAR App powered by NTT DATA – https://t.co/vyuISIyifv#INDYCAR // #Honda200 pic.twitter.com/aEkTOeaUIc

— NTT INDYCAR SERIES (@IndyCar) July 3, 2022
O'Ward led the first stint but then his issues set in. These were first thought to be gearbox-related but then as various fuel-saving and engine maps failed it became clear it was linked to a fuel-delivery issue, which is not directly related to Chevrolet.
In some ways that will be a relief for Chevrolet, after O'Ward had an engine failure while on for at least a top-10 finish last time out at Road America, and at Mid-Ohio Rosenqvist pulled to the side of the road with smoke billowing from the rear of the car.
"It's just unfortunate," said Rosenqvist, who had recorded four-straight top 10s entering the race.
Disaster for @Frosenqvist with a mechanical issue at @Mid_Ohio.

His day is done.

WATCH LIVE:
📺: @nbc & @PeacockTV
📲: INDYCAR App powered by NTT DATA – https://t.co/vyuISIyifv#INDYCAR // #Honda200 pic.twitter.com/yNoHYyvFXV

— NTT INDYCAR SERIES (@IndyCar) July 3, 2022
"I had a really, really, really good run. I feel for the #7 Arrow McLaren SP guys, who worked so hard this weekend.
"We had a mega weekend going as we were off strategy with the black tires and holding our position. We actually managed to move up from fourth to third, so yeah, it's a big loss for the team.
"I just felt like we were sailing out there. I think we showed again we are up there and fighting for podium positions. We just have to come back and do better in Toronto."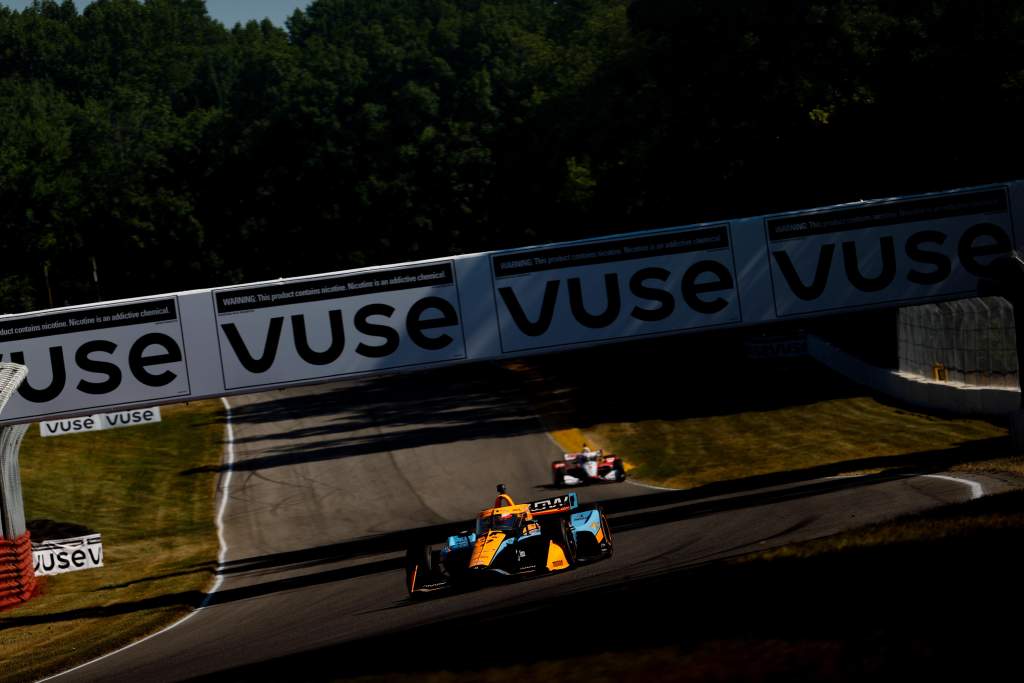 Rosenqvist is right to point out his strategy and early positioning.
He was one of only two drivers to start on the black tyre, which may have opened up a stronger strategy than the leaders at the end of the race, but he never found out as working his way past Colton Herta for third was the last position he would gain.
Chevrolet will take the unit back to Detroit this week to evaluate it.
One area of encouragement for Rosenqvist – who would face a penalty if the engine isn't repairable – is that Chevy fixed O'Ward's broken unit from Road America and that was the engine that powered O'Ward to a pole and the lead of the first stint of the race.
That's also good news for O'Ward, who won't take a penalty as the engine was repaired – but the big blow for him was in the championship.
He was 12 points adrift two races ago and now he's 65 points behind with 54 on offer for a perfect weekend.
He's probably going to need to win another two races if he's to have a shot at the title now, but an engine penalty and a six-place grid drop would certainly not have helped that bid.
Avoiding it is likely crucial.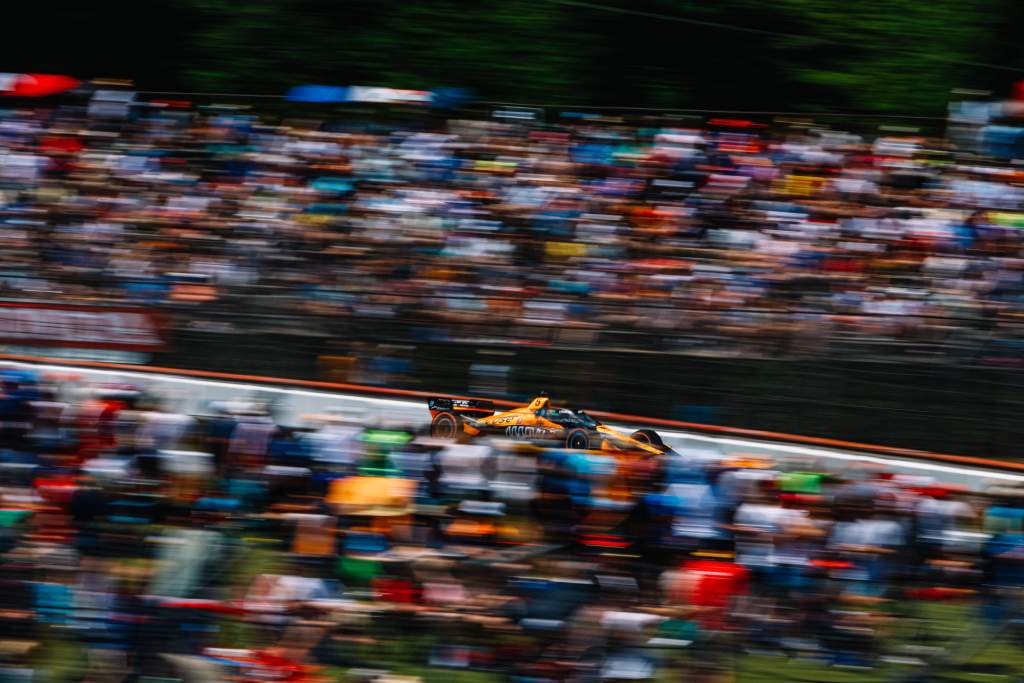 "Obviously, it was a great qualifying and one of our best as a team in a long time. We followed up with our worst result in a long time," said team president Taylor Kiel.
"We are certainly looking into the issues for failures on both Arrow McLaren SP Chevrolets.
"It's very unfortunate, as we left a lot of points on the table with very strong race cars.
"This is super disappointing, but we will go home and take the short time we have to find it, diagnose it and solve it before Toronto.
"We'll look to turn it around in a couple weeks."
O'Ward hasn't raced in Toronto as he'd moved to Japan with Red Bull for Super Formula by that point in his first IndyCar season that started with Carlin in 2019, the last time the Canadian street circuit featured as future races were halted by the coronavirus outbreak.
Rosenqvist took a top five there during his rookie year with Ganassi.