Romain Grosjean produced yet another superb performance in the early races of his IndyCar career by qualifying third for his first outing in Detroit.
It was impressive given he'd only had one practice session on the tricky Belle Isle track before going into the compressed qualifying, and significant as his Dale Coyne Racing team had struggled for qualifying pace on the season's previous street track in St Petersburg, where Grosjean started only 18th.
Putting Grosjean's qualifying further into perspective, Will Power, a past winner and polesitter in Detroit, had predicted on Friday that this would be one of the hardest venue for rookies to get to grips with.
"It's certainly a hard track, definitely if you haven't been here, for a rookie," the Penske driver said.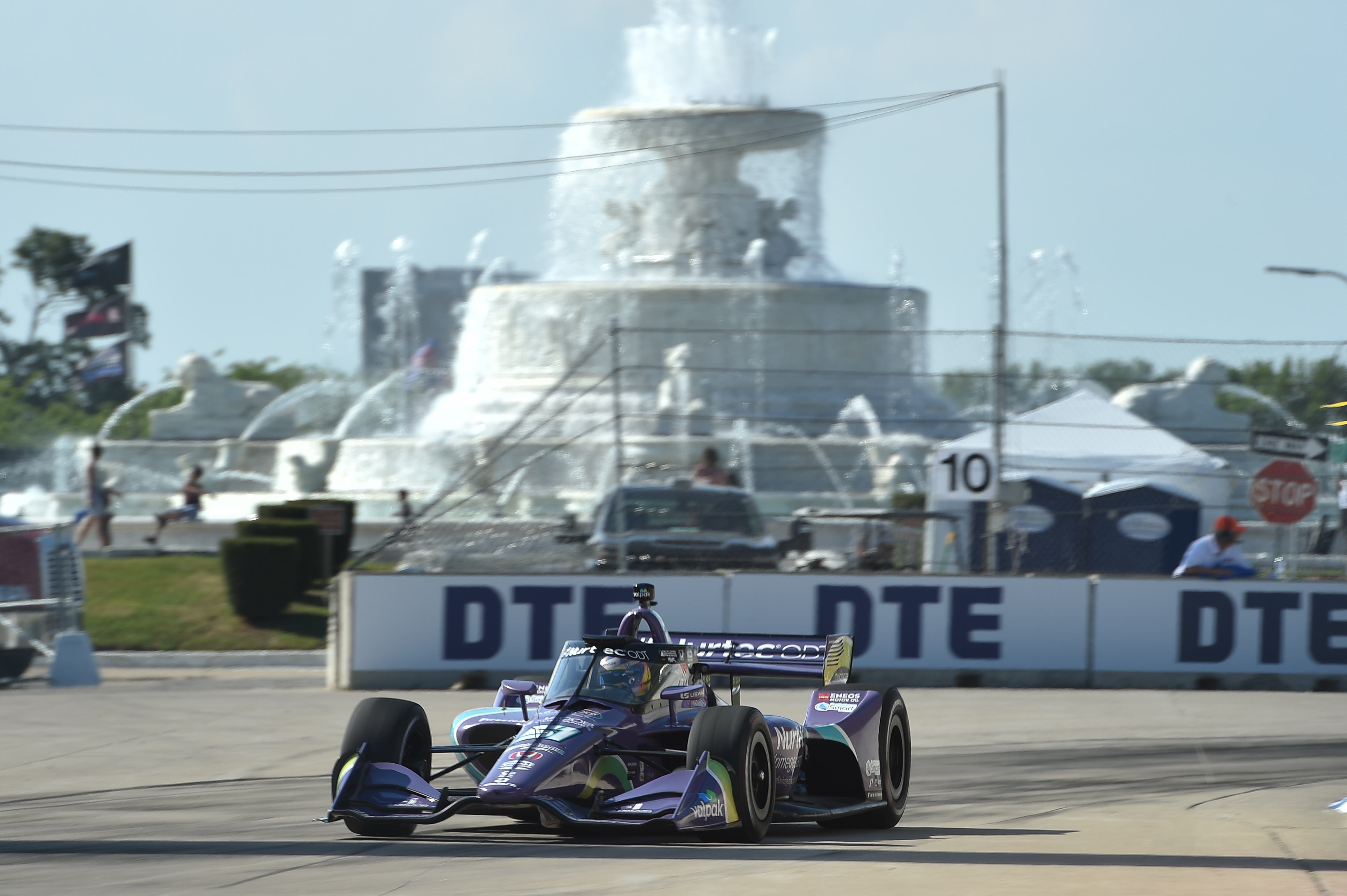 "There's no track that you attack as much as this one. It's super low-grip. The track continually evolves as the session goes on.
"Definitely a tough track to just rock up with one practice session."
But Grosjean's opening race was eventful and complex, and ended early with a heavy crash.
Here's how it unravelled.
LACK OF RACE PACE
Grosjean held third behind Pato O'Ward and Alexander Rossi in the early laps, but soon felt his car was poor in race trim.
"This track changes dramatically," Power had added on Friday.
"Once it resets and you go out, it like completely resets. It's really slippery.
"It's actually quite a difficult track to get your head around to get the car to work in all the conditions."
Grosjean felt his car's performance had changed so much – developing significant oversteer – that there was a possibility it had sustained damage somehow, though after the race he and Dale Coyne Racing felt it was more a simple matter of having the wrong set-up balance.
STRATEGY STRETCHED TOO FAR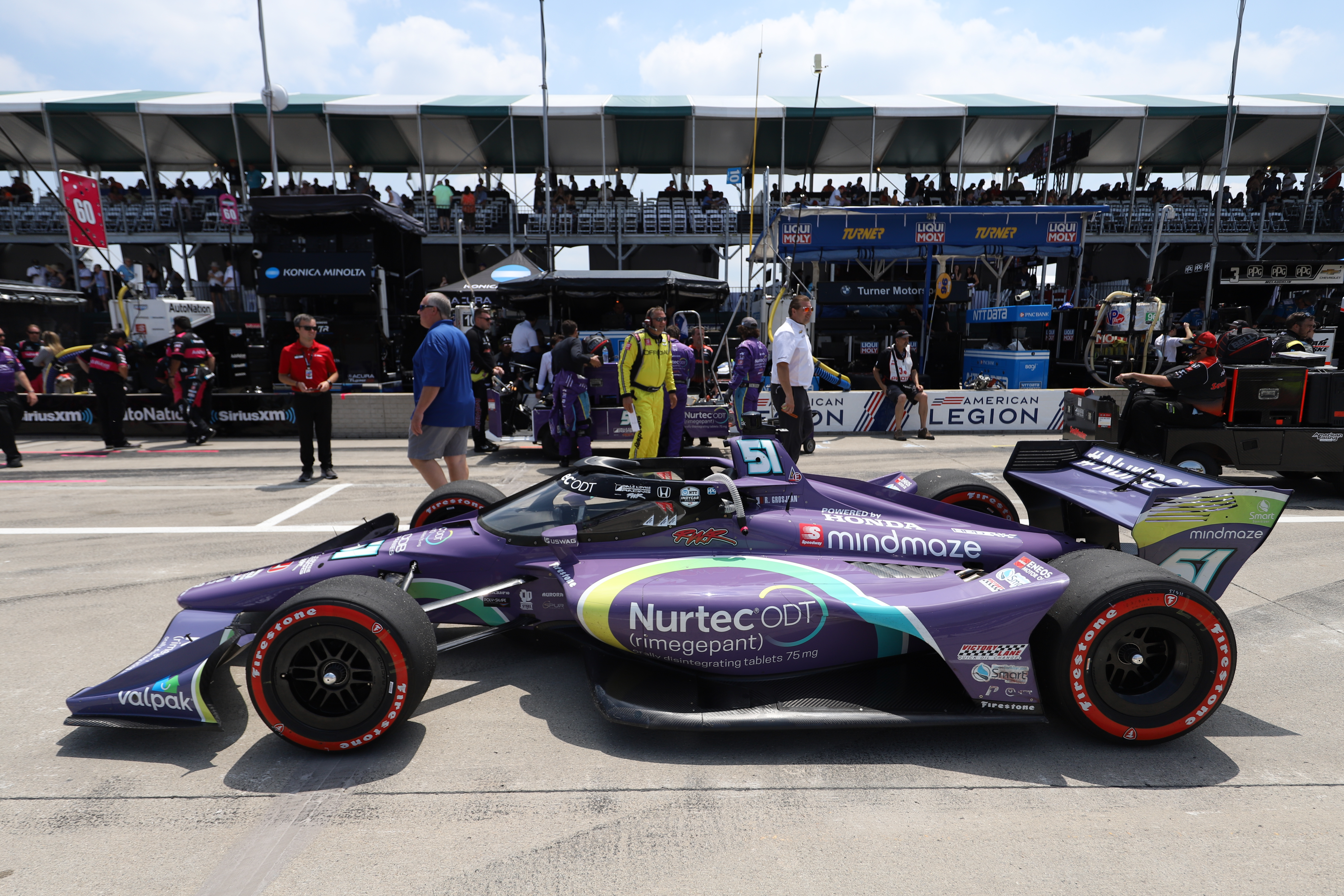 "It's a big tyre eater," polesitter O'Ward said of the track on Friday night. "I'd expect reds to be pretty savage in the race."
IndyCar rules oblige all drivers to use the softer red-branded Firestone tyres for at least two laps in the race, but the wear rate in Saturday's heat and track conditions was such that four drivers pitted to get rid of them as soon as those mandatory two laps were complete at the start.
That was more a pre-emptive strategic move – with upper midfield runners Ryan Hunter-Reay and Rinus VeeKay (who eventually finished second) taking it as well as those who'd qualified at the back – than a case of the tyres fading that soon.
But early leaders O'Ward and Rossi weren't far behind, pitting on laps three and five respectively and elevating Grosjean into first place.
He only stayed there for a lap, though. While others opted to stick with the reds as long as possible, or had started on the harder black tyres and were trying to do a long early stint on them, Grosjean joined the group clearing the reds with a very short initial stint.
But pitting on lap six was actually a little too late for that strategy given his slower race pace, and he rejoined behind earlier pitters VeeKay and Colton Herta, before being overtaken by Sebastien Bourdais, who had been running eight places behind Grosjean at first but pitted for blacks one lap sooner.
It all left Grosjean mired in a temporary 18th, though even O'Ward was only 13th at this point behind a dozen cars trying to run much longer first stints.
EARLY SECOND STOP
Having made little progress, Grosjean came in for his second pitstop just 14 laps after the first.
His engineer Olivier Boisson confirmed to The Race that the team took the earliest chance to come back in – pitting again as soon as it was possible to make it to the lap-70 finish with just one more fuel stop – so it could make set-up changes to try to rectify the handling problems.
With many of those on alternate strategies coming in around the same time, Grosjean was 17th after that round of pitstops.
As it turned out, that choice put Grosjean onto the same strategy as those who would emerge as the victory contenders, albeit towards the back of that group due to his slow early pace and additional stop.
PUNCTURE WITH PAGENAUD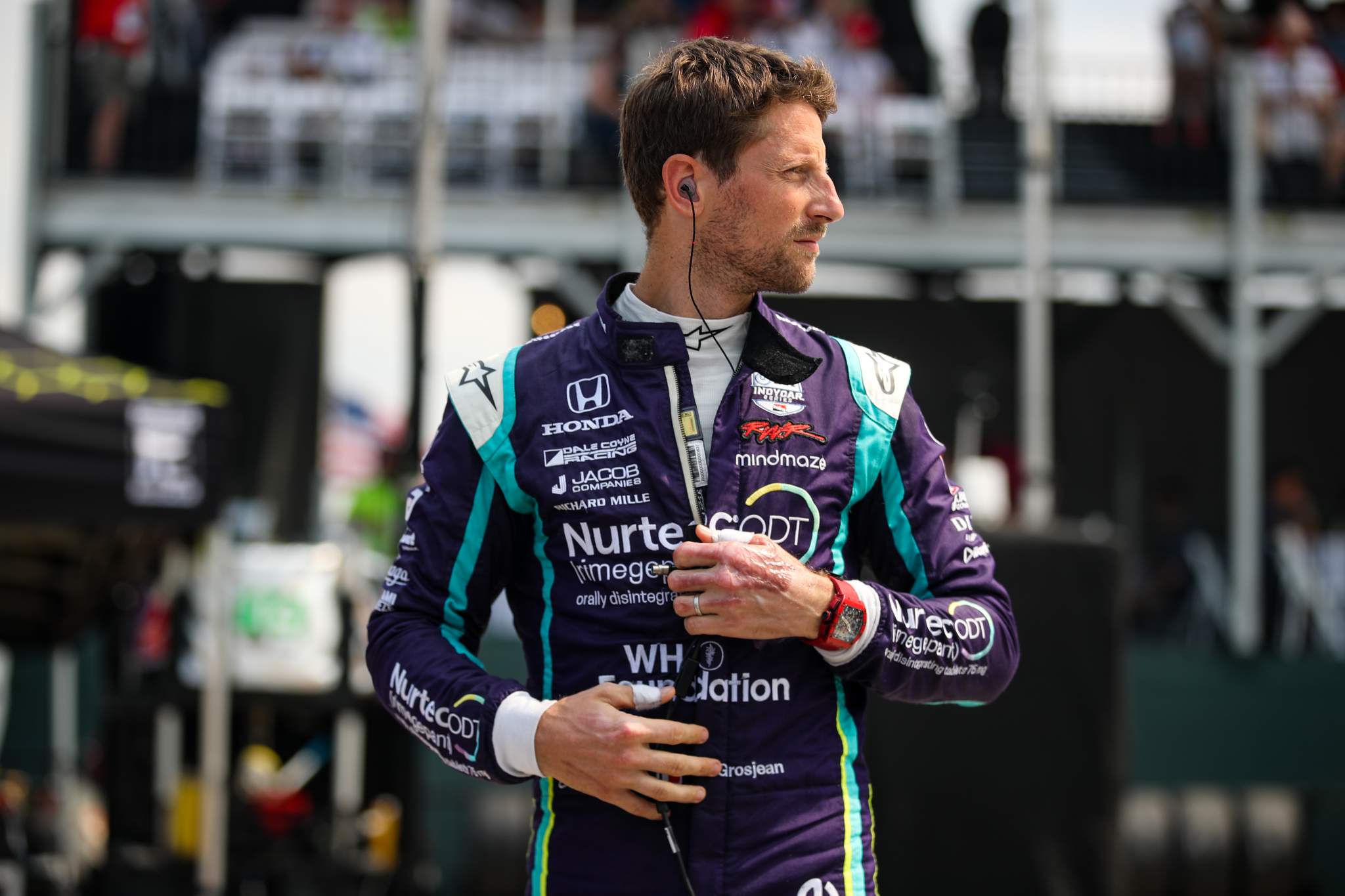 When the race was put under caution and then red-flagged for Felix Rosenqvist's huge crash, all the lead cars had been poised to make either their first pitstops or their second following a very early first one.
That meant a large group of frontrunners had to come straight in for fuel during the caution laps ahead of the eventual restart, with Grosjean among those benefiting as he could stay out.
He was elevated to ninth immediately, then overtook Jack Harvey for eighth.
But while battling wheel to wheel with Penske's Simon Pagenaud for seventh place, Grosjean picked up a front puncture.
"We were hanging in there at the restart following the red flag and we were looking good," said Grosjean.
"I made an attacking move on Simon Pagenaud but sadly we touched, and it caused a puncture."
Though the damage was sustained close enough to the end of the lap to let him dive to the pits with barely any time lost, the incident happening on lap 34 meant another fuel stop would be necessary to get to the end of the race. He rejoined a distant 21st.
THE FINAL CRASH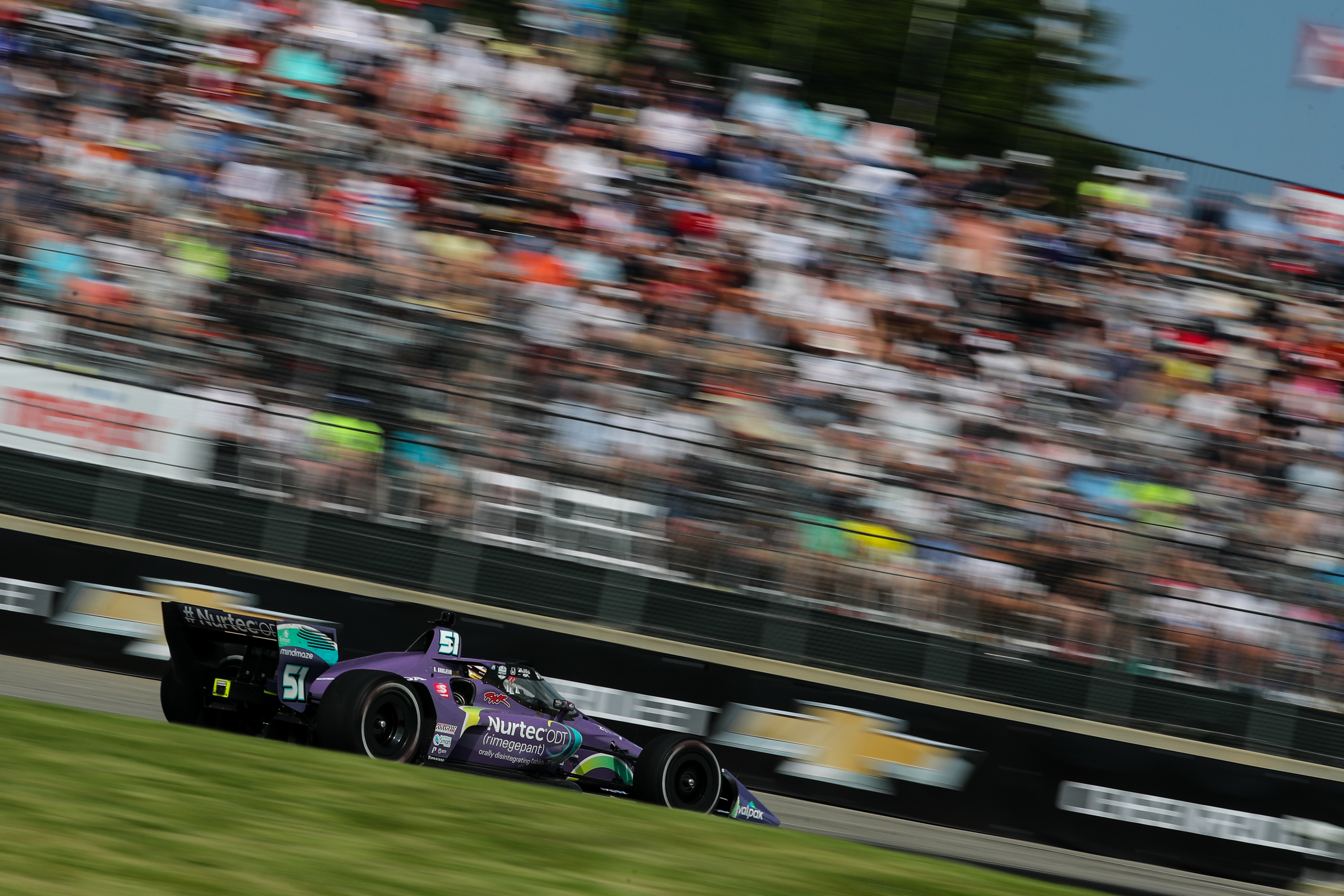 Grosjean was at least able to leave that final stop late – coming in with 11 laps to go – and he'd got back up to ninth temporarily as others made their last pit visits much earlier.
He rejoined 18th, and soon set his personal best lap of the race, but then crashed into the Turn 9 wall six laps from the finish.
"I was running at the back and I was trying to find some pace for tomorrow, but I was a bit optimistic, and I ended up in the wall," said Grosjean.
The double-header format gives Grosjean a fresh chance on Sunday when he can put all he's learned about Belle Isle's idiosyncrasies into practice with another qualifying session and race.
But he warned on Saturday night "we still need to improve the car to be better tomorrow".