In the week he tested a Formula 1 car for the first time with McLaren, Colton Herta became the first repeat IndyCar pole winner of the 2022 season and denied Scott Dixon his first non-oval pole since 2016 in Toronto.
Herta did an evaluation test for McLaren at Portimao but shot back for his second IndyCar visit to Toronto, where he vaulted up the order with stunning final lap to take his ninth pole position of his short IndyCar career.
He had gone two tenths of a second faster than Josef Newgarden, who held the fastest time despite walking the wall at Turn 6, but he had to pit after that and Dixon used the time to leap into second less than a tenth off Herta.
A resurgent Dixon congratulated his Ganassi #9 crew, which has struggled with set-up gambles and inconsistency this year especially on road courses but has been fast all weekend in Canada.
Newgarden, whose day also included an engine change that cost him some practice time, held on for third ahead of Herta's team-mate Alexander Rossi.
Rossi made it two Andretti Autosport drivers in the top six in a turnaround from a difficult and controversial Mid-Ohio race that had featured multiple team-mate crashes.
Four of the five IndyCar rookies will start inside the top 12 on Sunday at a track 13 drivers haven't been to before because of its absence during the COVID pandemic since 2019.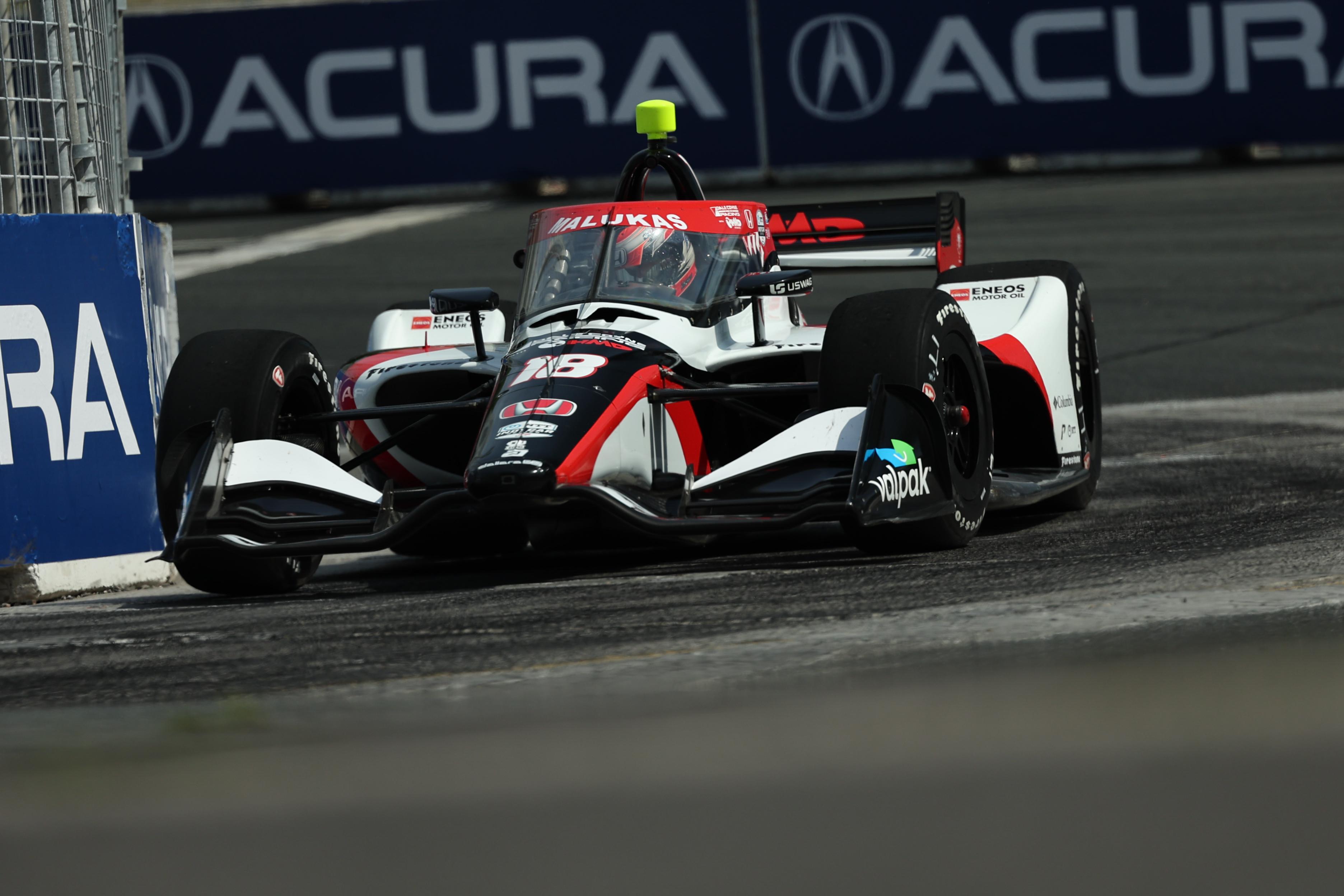 David Malukas was the best of those. He had thrilled with his performance at Mid-Ohio, where he would have started higher than his actual eighth before being held up on his fastest lap, and followed that up by being at the sharp end throughout his first visit to Toronto for Dale Coyne with HMD.
Mid-Ohio winner Scott McLaughlin was the second Penske driver in the top six and was some way off the pole by over six tenths, but will be happy to start so near the front anyway.
Though Juncos Hollinger has struggled on street circuits this season, Callum Ilott delivered some rapid pace and missed out on graduating to the Fast Six by just 0.0476s, starting seventh.
His lap was made all the more impressive by having been done on used tyres.
Felix Rosenqvist upheld Arrow McLaren SP's honour with an eighth place start ahead of fellow Swede and Indianapolis 500 winner Marcus Ericsson who starts just ahead of his 2022 qualifying average despite being disappointed by his driving on his last lap.
Rahal Letterman Lanigan's Christian Lundgaard was another impressive rookie in 10th ahead of Romain Grosjean, who crashed heavily in practice two and was visibly frustrated but bounced back well considering in 11th.
Devlin DeFrancesco will have his best ever IndyCar starting position on his first visit to Toronto in his native Canada after a wild session.
He went fastest of anyone in the second group of the first segment of qualifying but immediately put his car in the tyres at Turn 3.
Devlin Defrancesco was fastest in Group 2 of qualifying…. but then binned it into the tire barrier.

Red flag is out. #INDYCAR

📺 : @PeacockTV pic.twitter.com/cOhMZOoMUN

— INDYCAR on NBC (@IndyCaronNBC) July 16, 2022
Luckily Alex Palou ground to a halt with an engine issue and brought out a red flag before DeFrancesco was penalised for impeding other competitors.
Then in Q2 he went straight on at Turn 2, tried to rejoin the track but unfortunate timing meant he blocked team-mate Herta and DeFrancesco got an impeding penalty that cost him his two fastest laps and led to a 12th-place start.
Will Power has the best average finish of any driver this year, but his average start is 11.2 including his worst career run with four races in a row now outside the top 15. He'll start 16th.
AJ Foyt Racing's Kyle Kirkwood was on a lap which looked good enough to progress to the second phase when he hit the wall at Turn 6 and admirably tried to finish the lap with broken suspension, but spun at the last corner bringing out a yellow while Power was three tenths up and had to back up for the resulting yellow flag.
Kyle Kirkwood spun coming to the start/finish line in qualifying, just before Will Power was going to cross it.

Neither driver advanced to the next round of qualifying. #INDYCAR

📺 : @PeacockTV pic.twitter.com/pB78Gjy82W

— INDYCAR on NBC (@IndyCaronNBC) July 16, 2022
After two straight retirements while running in podium positions, Pato O'Ward's struggles continued as he failed to get out of the first group of qualifying for Arrow McLaren SP.
He'd flatspotted his only set of soft tyres in practice and kissed the wall at the last corner but still missed out by only a tenth and will start 17th.
"I haven't had the speed all weekend," a frustrated O'Ward told Peacock TV.
"I haven't had the speed all weekend. I don't have another answer for you."

After grabbing the NTT P1 Award at Mid-Ohio, @PatricioOWard fails to advance to round 2 of qualifying for the #IndyTO.#INDYCAR // @hondaindy pic.twitter.com/hA6NhsVjTC

— NTT INDYCAR SERIES (@IndyCar) July 16, 2022
Simon Pagenaud was another high profile departure in the first round of qualifying, being the last winner at this track back in 2019. Now at Meyer Shank Racing he had been quick in practice but was in a messy second group and will start 18th.
Red flag is out for the defending series champion.

"What's going on?" – @AlexPalou as his car slows during qualifying at @HondaIndy.#INDYCAR // #IndyTO pic.twitter.com/8AM6xO82MW

— NTT INDYCAR SERIES (@IndyCar) July 16, 2022
O'Ward's potential team-mate next year Palou – who has been claimed by both Ganassi and McLaren for 2023 – ground to a halt with five minutes left in group qualifying as his dash went dark and he lost all power. He had to be towed back.
He had also crashed, hitting the inside wall on his first visit to Toronto. He'll start 24th.
Qualifying Results
| Pos | Name | Team | Car | Q1 | Q2 | Q3 |
| --- | --- | --- | --- | --- | --- | --- |
| 1 | Colton Herta | Andretti Autosport with Curb-Agajanian | Dallara DW12-Honda | 1m0.068s | 59.539s | 59.269s |
| 2 | Scott Dixon | Chip Ganassi Racing | Dallara DW12-Honda | 59.699s | 59.534s | 59.359s |
| 3 | Josef Newgarden | Team Penske | Dallara DW12-Chevrolet | 1m0.158s | 59.461s | 59.525s |
| 4 | Alexander Rossi | Andretti Autosport | Dallara DW12-Honda | 59.772s | 59.37s | 59.554s |
| 5 | David Malukas | Dale Coyne Racing with HMD Motorsport | Dallara DW12-Honda | 59.868s | 59.463s | 59.614s |
| 6 | Scott McLaughlin | Team Penske | Dallara DW12-Chevrolet | 59.921s | 59.587s | 59.955s |
| 7 | Callum Ilott | Juncos Hollinger Racing | Dallara DW12-Chevrolet | 59.831s | 59.635s | |
| 8 | Felix Rosenqvist | Arrow McLaren SP | Dallara DW12-Chevrolet | 1m0.365s | 59.663s | |
| 9 | Marcus Ericsson | Chip Ganassi Racing | Dallara DW12-Honda | 59.687s | 59.852s | |
| 10 | Christian Lundgaard | Rahal Letterman Lanigan Racing | Dallara DW12-Honda | 1m0.585s | 59.915s | |
| 11 | Romain Grosjean | Andretti Autosport | Dallara DW12-Honda | 1m0.275s | 1m0.081s | |
| 12 | Devlin DeFrancesco | Andretti Steinbrenner Autosport | Dallara DW12-Honda | 1m0.154s | 1m14.888s | |
| 13 | Jack Harvey | Rahal Letterman Lanigan Racing | Dallara DW12-Honda | 1m0.021s | | |
| 14 | Graham Rahal | Rahal Letterman Lanigan Racing | Dallara DW12-Honda | 1m0.68s | | |
| 15 | Patricio O'Ward | Arrow McLaren SP | Dallara DW12-Chevrolet | 1m0.119s | | |
| 16 | Will Power | Team Penske | Dallara DW12-Chevrolet | 1m0.797s | | |
| 17 | Hélio Castroneves | Meyer Shank Racing | Dallara DW12-Honda | 1m0.271s | | |
| 18 | Simon Pagenaud | Meyer Shank Racing | Dallara DW12-Honda | 1m0.797s | | |
| 19 | Takuma Sato | Dale Coyne Racing with RWR | Dallara DW12-Honda | 1m0.532s | | |
| 20 | Rinus VeeKay | Ed Carpenter Racing | Dallara DW12-Chevrolet | 1m01.087s | | |
| 21 | Jimmie Johnson | Chip Ganassi Racing | Dallara DW12-Honda | 1m0.981s | | |
| 22 | Alex Palou | Chip Ganassi Racing | Dallara DW12-Honda | 1m03.051s | | |
| 23 | Dalton Kellett | A.J. Foyt Enterprises | Dallara DW12-Chevrolet | | | |
| 24 | Kyle Kirkwood | A.J. Foyt Enterprises | Dallara DW12-Chevrolet | 1m03.251s | | |
| 25 | Conor Daly | Ed Carpenter Racing | Dallara DW12-Chevrolet | 1m05.259s | | |