He's may be one of the most controversial drivers on the IndyCar grid but Romain Grosjean deserves another chance.
There are strong rumours that – despite having appeared close to a contract renewal in May after two poles and some misfortune that cost him a first win – Andretti Autosport is now set to drop Grosjean and go in a different direction.
Marcus Ericsson and David Malukas are the strong favourites to replace Grosjean and Devlin DeFrancesco in the Andretti line-up for 2024.
Current Dale Coyne Racing driver Malukas is rumoured to have had a deal with Andretti in place for some time and Ericsson's exclusivity with Ganassi is up on August 1 – his mind likely made up by the team's unwillingness to pay him what he believes he is worth.
On Thursday Michael Andretti gave the strongest public hint yet that Grosjean is racing for his future via some quotes to the Indy Star.
"He tends to push it when he doesn't have the car," Andretti said.
"Instead of bringing it home 10th, he tries to push it to ninth and finishes 28th, and that's been really frustrating on our side.
"We've had a talk about it, and we'll see how the rest of the year goes.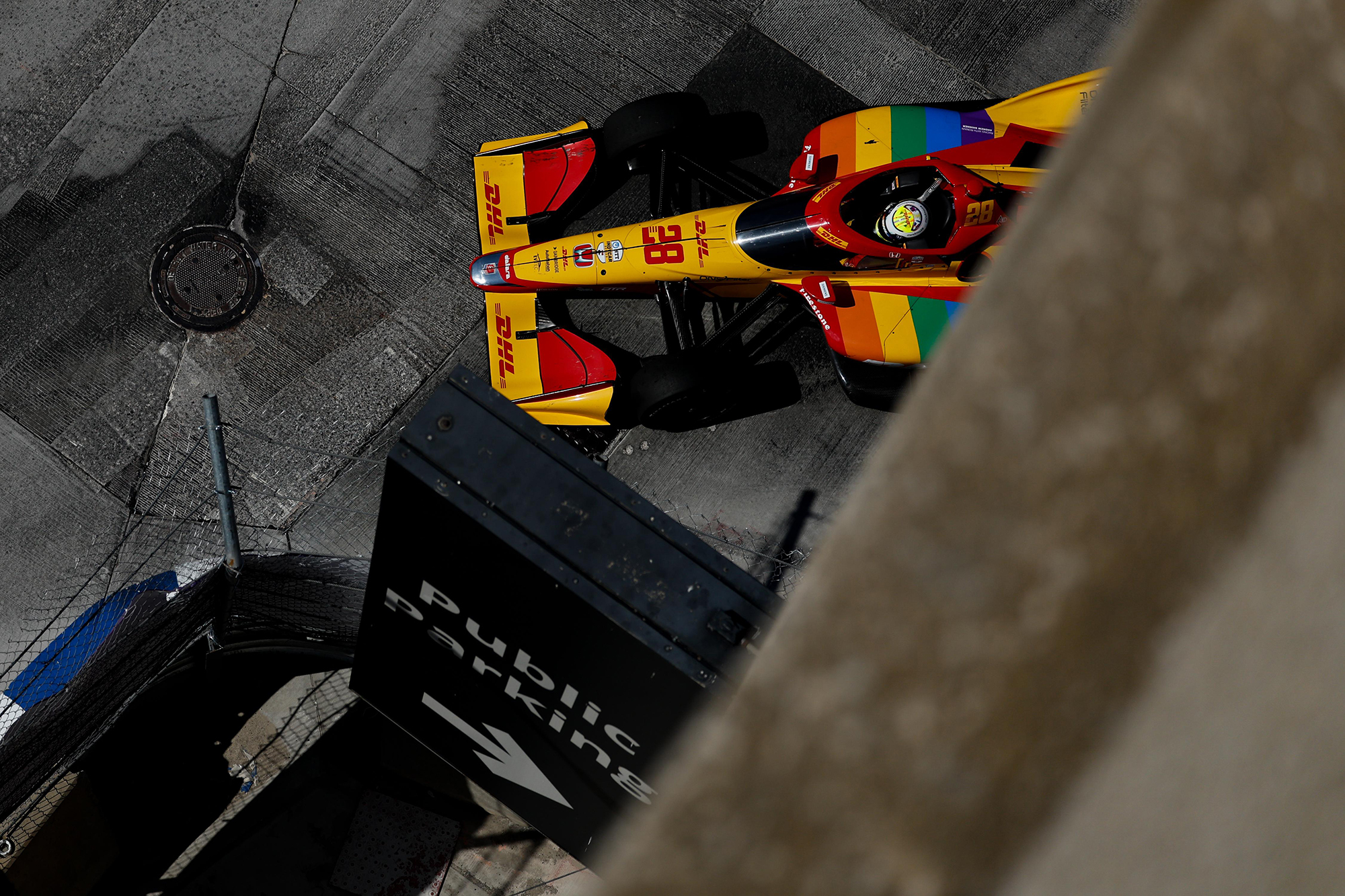 "He's fast. Pleasant guy, great guy, but when it's negative comments about the team, yeah, that's frustrating.
"And it's not even just me. The guys, they take it to heart, because they're busting their asses.
"Everyone makes mistakes, he's made his share as well.
"I think that's where Romain sometimes has a problem, controlling his adrenaline.
"Once he calms down, he's more measured, but in the heat of the moment, I think he has a problem.
"It's probably been his biggest downfall while he's been here."
While Grosjean is yet to win in IndyCar, he's come close on multiple occasions.
He was held up and jumped in the pitstops at the Indianapolis road course in 2021 when racing for Coyne and he was stuffed in the wall in St Petersburg this season by lead battle rival Scott McLaughlin
He's also finished second at Long Beach and Barber this year, second at Long Beach last year and second twice in his rookie year in 2021.
---
What's gone wrong with Grosjean's season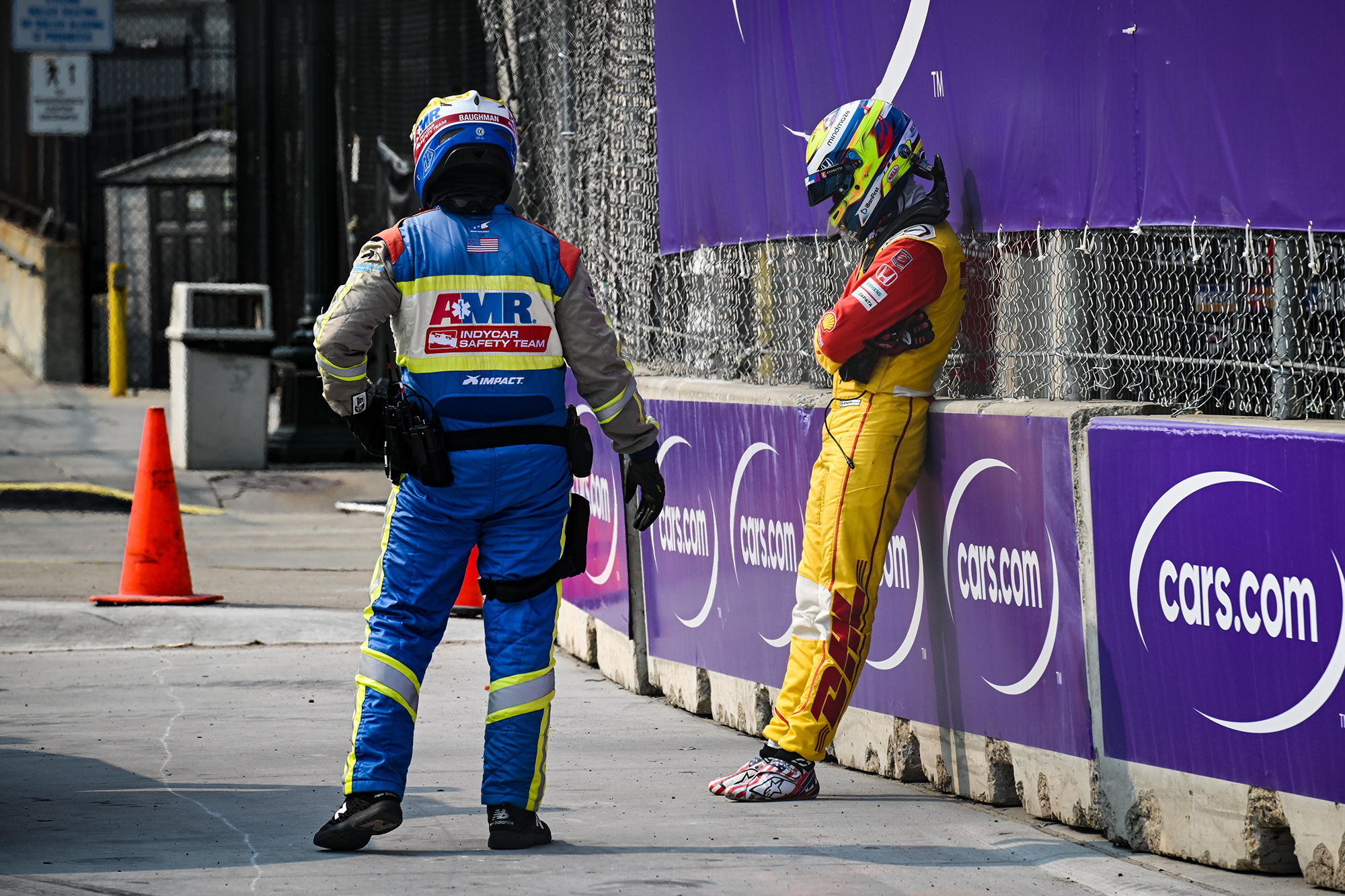 St Petersburg – Taken out of the lead by McLaughlin
Texas – Crashed in dirty air
Indy 500 – Pit issue ruined his race, then crashed
Detroit – Suspension issue, crashed
Toronto – Wheel slipped out of his hand, crashed
---
If you give him back the St Pete win and the seventh place he was running in at Detroit before his suspension problem, he has 270 points, only six behind the top Andretti driver, its poster boy Colton Herta.
He's had two poles, so you know the speed is there.
The question has to be more about whether Grosjean's "negative comments", as Andretti calls them, are of a detrimental effect to the point of making Grosjean's position untenable.
That's not the feeling The Race has got from speaking to people in the team – although of course, that could have been hidden speaking to a journalist – and even Andretti admitted that Grosjean's more measured when he's calm.
Michael Andretti and Grosjean seem somewhat similar in terms of their attitude when they were racing, and I really thought having a kindred spirit like Andretti would be the perfect guidance for Grosjean when he came to Andretti last year.
Marco Andretti, Michael's son, has never been afraid to speak his mind either, calling the team's qualifying form "embarrassing" at the Indy 500. Other Andretti personnel and drivers haven't been afraid to speak their minds in the past.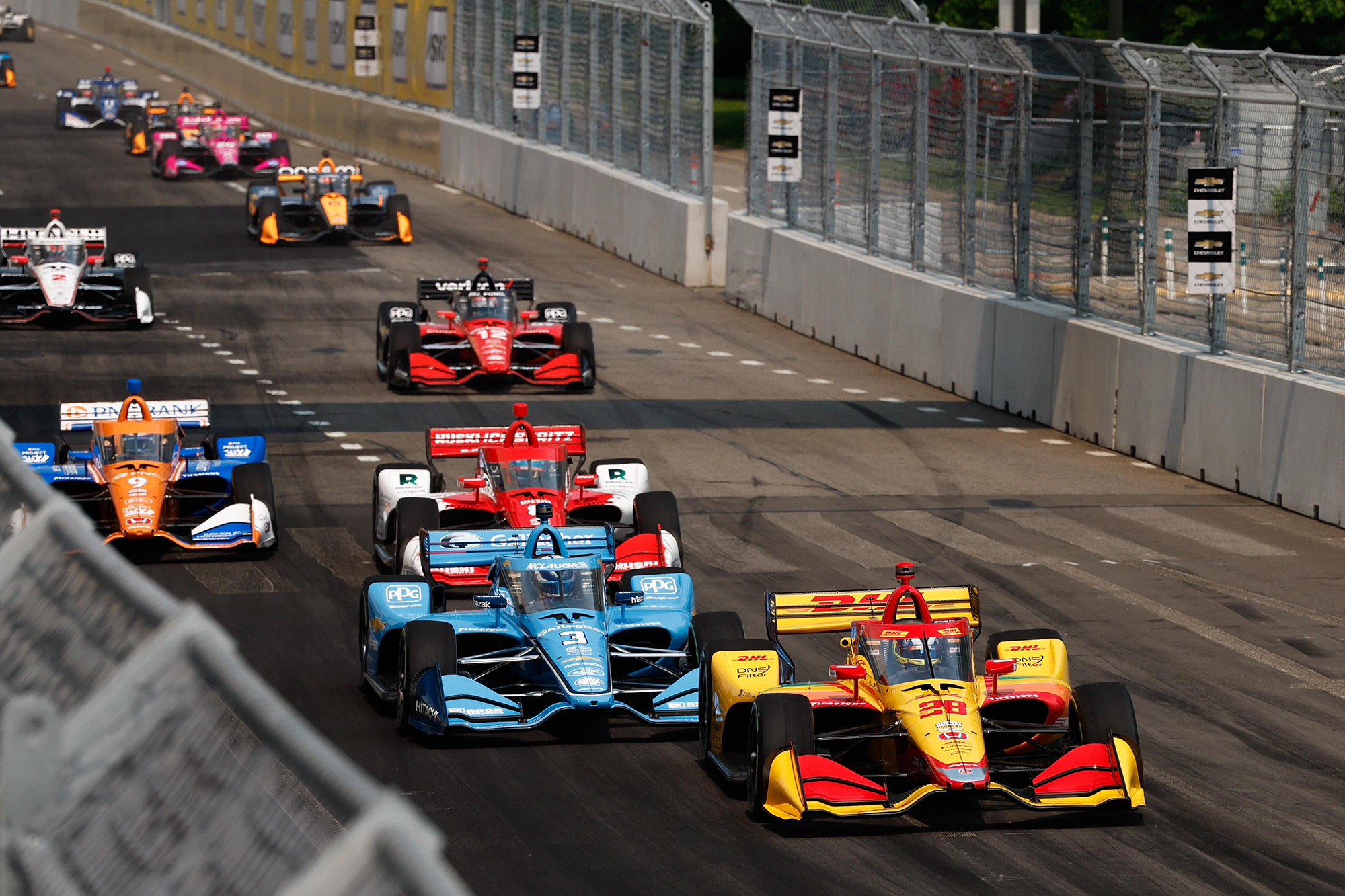 Of course guarding team morale is important, though. We don't know exactly what has been said.
Then there's the question of the replacements.
Ericsson is a no-brainer to add to the team. While Herta and Kyle Kirkwood arguably bring more raw speed than Ericsson, he is a brilliant racer who also adds an Indy 500 victory to the starting line-up and brings a commodity so rare in IndyCar these days: consistency. Just ask Andretti about trying to achieve that.
But even with Ericsson coming in, Grosjean could stay in place of DeFrancesco, who is expected to leave and join Dale Coyne in 2024.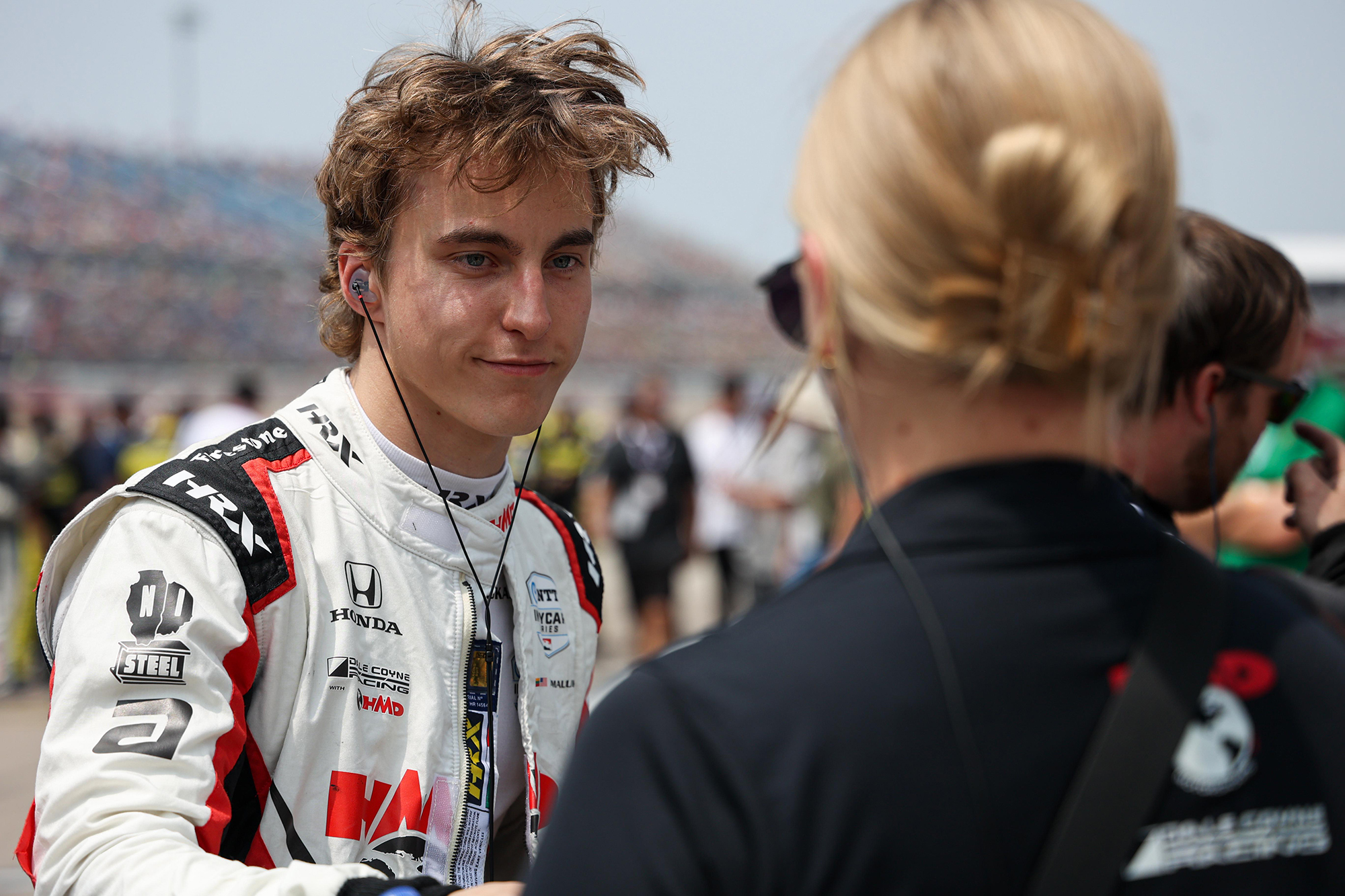 Alternative option Malukas brings a number of upsides. At 21 he's 16 years younger than Grosjean, so is more mouldable and has plenty of potential. He's also been good on short ovals where Andretti has struggled in recent years.
Coyne has lost a host of personnel over Malukas's time there and that's clearly impacted his 2023.
So how good is Malukas? Has his poor run of results in 2023 been down to a disrupted team? Is he being judged highly thanks to a second place at Gateway last year, without too much assessment of his performance over the longer term?
He may be a future champion, but he is unproven.
Ericsson adds the consistency, so why not give Grosjean one more year to make good on his peaky form and deliver the elusive win and pair the two ex-Formula 1 drivers alongside young American stars Herta and Kirkwood?
There's the added benefit of the marketing potential Grosjean has. He's been a marmite character in the series but was voted its most popular driver in 2021. His move to Miami and switching from taking an RV to the races to flying himself to them after getting his pilot's licence are all part of his American dream story.
His fiery demeanour means people love him or don't, but we're often talking about him.
And he's also someone Andretti could keep around and learn from if its F1 bid gets off the ground. Merely the fact that Grosjean races for the team helps keep F1 fans interested in Andretti's IndyCar exploits, helping to keep it on the radar in a way at least with fans.
Given that we wouldn't be having this conversation about Grosjean without the St Pete win and Detroit top 10 being taken away, I think it's tragic if Andretti cuts ties with him after just two seasons.
He's quick enough and good enough to contribute wins, brings excellent marketing potential and can still deliver at this level.
If the decision has been made because the internal team politics have become too much, fair enough. If Andretti wants a young driver, fine.
But there's no option Andretti is currently linked with which offers the upsides that Grosjean being in his third year there would, or guarantees the performance he has proved he can access.