Helio Castroneves defeated Ganassi's Alex Palou to earn a record-tying fourth Indianapolis 500 victory and a first IndyCar victory of any kind for his new team Meyer Shank Racing.
Castroneves and Palou swapped positions eight times in the final 21 laps while cycling back towards the front as pitstop strategies shook out and then while fighting for the outright lead.
Palou – in only his second season of IndyCar – looked like he might have made enough of a break after passing Castroneves into the first corner with four laps left, but Castroneves successfully retaliated on the penultimate lap.
Despite Palou's best efforts, Castroneves hung on over the final lap to take his historic victory by 0.4928 seconds – at the age of 46, 12 years after his third Indy win and three and a half years since he stopped racing in IndyCar full-time.
Palou at least emerges from the race with a substantial championship lead of 36 points thanks to the double score available at Indy and poor results for his closest rivals.
Arrow McLaren SP driver Pato O'Ward had been part of a three-car pack with Castroneves and Palou that looked increasingly like favourites for victory as the race unfolded, but he lost third place on the final lap to Simon Pagenaud – the Penske driver having made brilliant progress from 26th on the grid.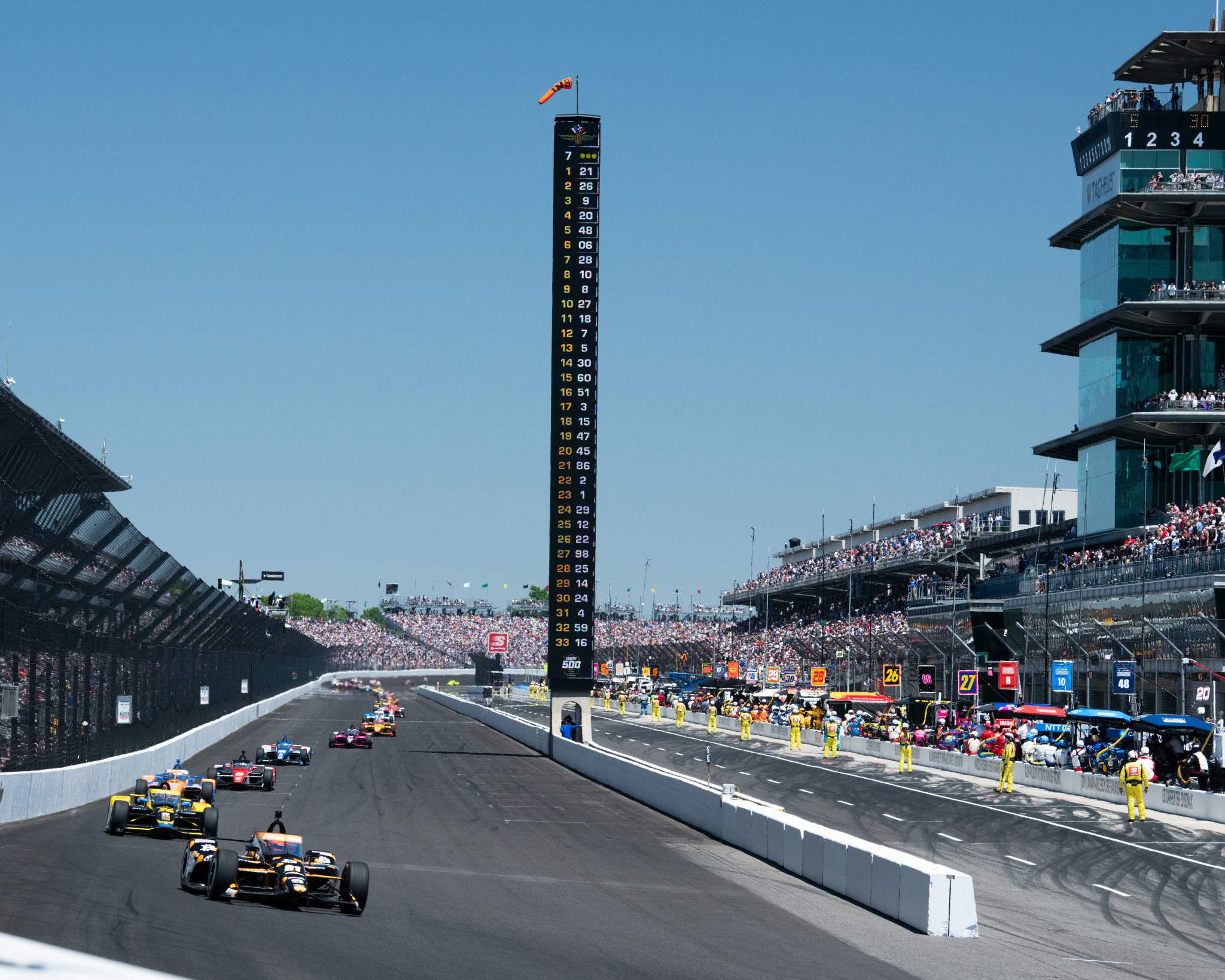 Ed Carpenter Racing had a long spell running 1-2 and lead-swapping with Rinus VeeKay and Conor Daly, but while they fell back to eighth and 13th respectively in the end, team boss Carpenter made it through to fifth.
He and VeeKay were split by two one-off entrants – Santino Ferrucci in Rahal Letterman Lanigan's extra car and a brilliant run by Sage Karam for Dreyer & Reinbold. Both made gains by running long in the penultimate stint and capitalising as those who'd stopped earlier had to keep an eye on fuel conservation.
Juan Pablo Montoya made good progress to take ninth for Arrow McLaren SP on his IndyCar return, with Tony Kanaan completing the top 10 for Ganassi.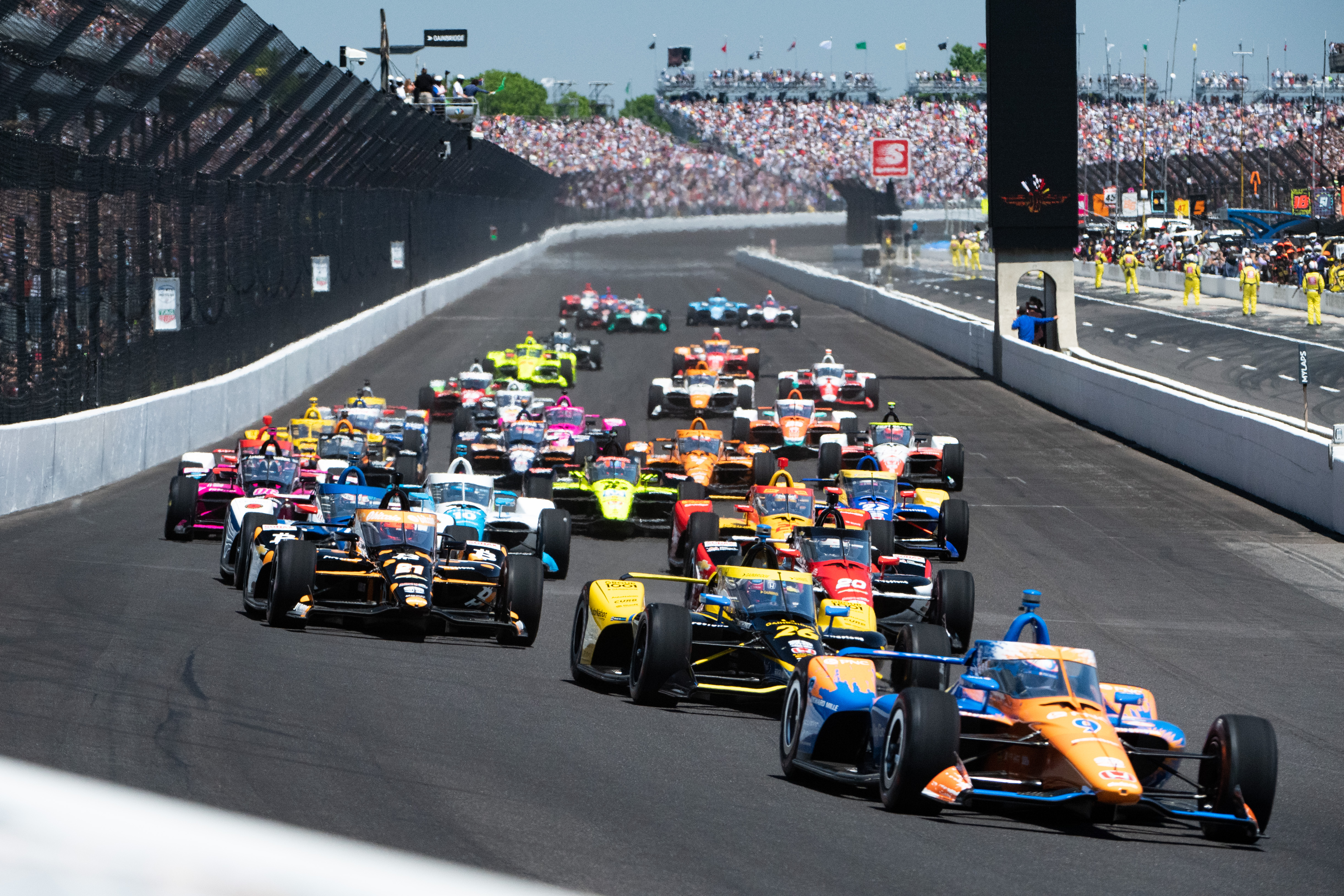 His polesitting team-mate Scott Dixon fell a lap down when his car refused to restart after having to make an emergency stop in a closed pit during the first caution, caused by Stefan Wilson crashing in the pit entry. Dixon went off-strategy trying to recover but ended up only 17th.
Last year's winner Takuma Sato also rolled the strategy dice by hanging on very late for his final pitstop and hoping a caution might keep him up front. It backfired and he fell to 14th when he finally pitted with six laps to go.
Ryan Hunter-Reay was right up with the eventual winners for much of the race, only for a late pit-speeding penalty to leave him 22nd.
REPLAY: @GrahamRahal has been checked, cleared and released after this incident at @IMS. The Green flag is back out with 75 laps to go.

📺: @NBC
📲: INDYCAR Mobile – https://t.co/vyuISIgHnX#INDYCAR // #INDY500 pic.twitter.com/4DpSBd1kmu

— NTT INDYCAR SERIES (@IndyCar) May 30, 2021
The Wilson pit crash caused one of only two cautions in the race – a record that also contributed to a new record race average speed of 190.690mph.
The other yellow was for a scary accident in which Graham Rahal crashed heavily when his left-rear wheel detached itself in the pit exit lane having not been properly fitted.
Daly's car hit the loose wheel and sent it flying into the infield, yet Daly was able to continue to the finish with only minor damage.
Race Results
| Pos | Name | Team | Car | Laps | Laps Led | Total Time | Fastest Lap | Pitstops | Pts |
| --- | --- | --- | --- | --- | --- | --- | --- | --- | --- |
| 1 | Hélio Castroneves | Meyer Shank Racing | Dallara DW12-Honda | 200 | 20 | 2h37m19.384s | 40.089s | 5 | 103 |
| 2 | Alex Palou | Chip Ganassi Racing | Dallara DW12-Honda | 200 | 35 | +0.493s | 39.835s | 5 | 85 |
| 3 | Simon Pagenaud | Team Penske | Dallara DW12-Chevrolet | 200 | 3 | +0.563s | 40.118s | 6 | 71 |
| 4 | Patricio O'Ward | Arrow McLaren SP | Dallara DW12-Chevrolet | 200 | 17 | +0.941s | 40.116s | 5 | 65 |
| 5 | Ed Carpenter | Ed Carpenter Racing | Dallara DW12-Chevrolet | 200 | 0 | +1.243s | 40.127s | 5 | 66 |
| 6 | Santino Ferrucci | Rahal Letterman Lanigan Racing | Dallara DW12-Honda | 200 | 2 | +9.088s | 39.587s | 6 | 57 |
| 7 | Sage Karam | Dreyer & Reinbold Racing | Dallara DW12-Chevrolet | 200 | 2 | +13.436s | 40.184s | 5 | 53 |
| 8 | Rinus VeeKay | Ed Carpenter Racing | Dallara DW12-Chevrolet | 200 | 32 | +14.242s | 40.082s | 5 | 56 |
| 9 | Juan Pablo Montoya | Arrow McLaren SP | Dallara DW12-Chevrolet | 200 | 0 | +14.881s | 39.983s | 5 | 44 |
| 10 | Tony Kanaan | Chip Ganassi Racing | Dallara DW12-Honda | 200 | 0 | +15.443s | 39.912s | 7 | 45 |
| 11 | Marcus Ericsson | Chip Ganassi Racing | Dallara DW12-Honda | 200 | 0 | +16.517s | 40.165s | 6 | 39 |
| 12 | Josef Newgarden | Team Penske | Dallara DW12-Chevrolet | 200 | 0 | +22.305s | 40.294s | 5 | 36 |
| 13 | Conor Daly | Ed Carpenter Racing | Dallara DW12-Chevrolet | 200 | 40 | +22.692s | 40.259s | 5 | 37 |
| 14 | Takuma Sato | Rahal Letterman Lanigan Racing | Dallara DW12-Honda | 200 | 7 | +23.296s | 40.125s | 5 | 33 |
| 15 | J. R. Hildebrand | A.J. Foyt Enterprises | Dallara DW12-Chevrolet | 200 | 0 | +23.528s | 40.205s | 7 | 30 |
| 16 | Colton Herta | Andretti Autosport | Dallara DW12-Honda | 200 | 13 | +28.803s | 40.163s | 5 | 37 |
| 17 | Scott Dixon | Chip Ganassi Racing | Dallara DW12-Honda | 200 | 7 | +38.641s | 40.274s | 6 | 36 |
| 18 | Jack Harvey | Meyer Shank Racing | Dallara DW12-Honda | 200 | 0 | +40.157s | 40.05s | 6 | 24 |
| 19 | Marco Andretti | Andretti Herta-Haupert w/Marco & Curb-Agajanian | Dallara DW12-Honda | 200 | 0 | +40.359s | 39.922s | 6 | 22 |
| 20 | Scott McLaughlin | Team Penske | Dallara DW12-Chevrolet | 200 | 0 | +40.834s | 40.325s | 8 | 20 |
| 21 | James Hinchcliffe | Andretti Autosport | Dallara DW12-Honda | 200 | 0 | +40.847s | 40.258s | 5 | 18 |
| 22 | Ryan Hunter-Reay | Andretti Autosport | Dallara DW12-Honda | 200 | 0 | +41.576s | 40.108s | 6 | 19 |
| 23 | Dalton Kellett | A.J. Foyt Enterprises | Dallara DW12-Chevrolet | 199 | 0 | +1 lap | 40.536s | 6 | 14 |
| 24 | Max Chilton | Carlin | Dallara DW12-Chevrolet | 199 | 0 | +1 lap | 40.564s | 8 | 12 |
| 25 | Pietro Fittipaldi | Dale Coyne Racing with RWR | Dallara DW12-Honda | 199 | 0 | +1 lap | 40.456s | 6 | 10 |
| 26 | Sébastien Bourdais | A.J. Foyt Enterprises | Dallara DW12-Chevrolet | 199 | 0 | +1 lap | 40.289s | 6 | 10 |
| 27 | Felix Rosenqvist | Arrow McLaren SP | Dallara DW12-Chevrolet | 199 | 14 | +1 lap | 40.095s | 8 | 11 |
| 28 | Ed Jones | Dale Coyne Racing with Vasser-Sullivan | Dallara DW12-Honda | 199 | 0 | +1 lap | 40.238s | 6 | 10 |
| 29 | Alexander Rossi | Andretti Autosport | Dallara DW12-Honda | 198 | 0 | +2 laps | 40.339s | 10 | 10 |
| 30 | Will Power | Team Penske | Dallara DW12-Chevrolet | 197 | 0 | +3 laps | 39.99s | 6 | 10 |
| | Simona De Silvestro | Paretta Autosport | Dallara DW12-Chevrolet | 169 | 0 | DNF | 40.436s | 5 | 10 |
| | Graham Rahal | Rahal Letterman Lanigan Racing | Dallara DW12-Honda | 118 | 8 | DNF | 40.206s | 3 | 11 |
| | Stefan Wilson | Andretti Autosport | Dallara DW12-Honda | 32 | 0 | DNF | 40.909s | 0 | 10 |