The 'Last Generation' climate activist group is believed to be behind the attempted disruption of the second Berlin E-Prix on Sunday, a protest that has been criticised by a number of drivers.
The group had already publicly outlined plans to bring Berlin to a 'standstill' as it recruited activists to disrupt events across Germany.
Several members of the organisation scaled fences on the start/finish straight as the cars assembled on the grid and attempted to glue themselves to the track and the official support cars. Most were wearing t-shirts adorned with 'Last Generation' identification.
The race start was delayed for six minutes as the protestors were cleared from the grid by circuit security. After security escorted the perpetrators off the Tempelhof premises and into custody, race director Scot Elkins was able to start the race.
The group had made warnings that it would target specific events throughout Germany, telling a German website (thelocal-de) recently that they "will come to Berlin and bring the city to a standstill in order to get the government to move forward".
It was claimed that over 800 people from around the country had signed up for its activities.
Local media have also recently reported that a rally at the Brandenburg Gate was slated for Sunday April 23, followed by "blockade actions" throughout the city in the coming week.
The activists have been known as 'the climate stickers' (Klimakleber) due to their propensity to use adhesives to glue themselves to infrastructure to disrupt traffic flow in cities.
Several cars were approached by the protestors, among them being eventual runner-up Jake Dennis, who told The Race that he "didn't really know what their goal was" and "what they were trying to achieve but it looks like they were trying to sit down and cause some sort of riot.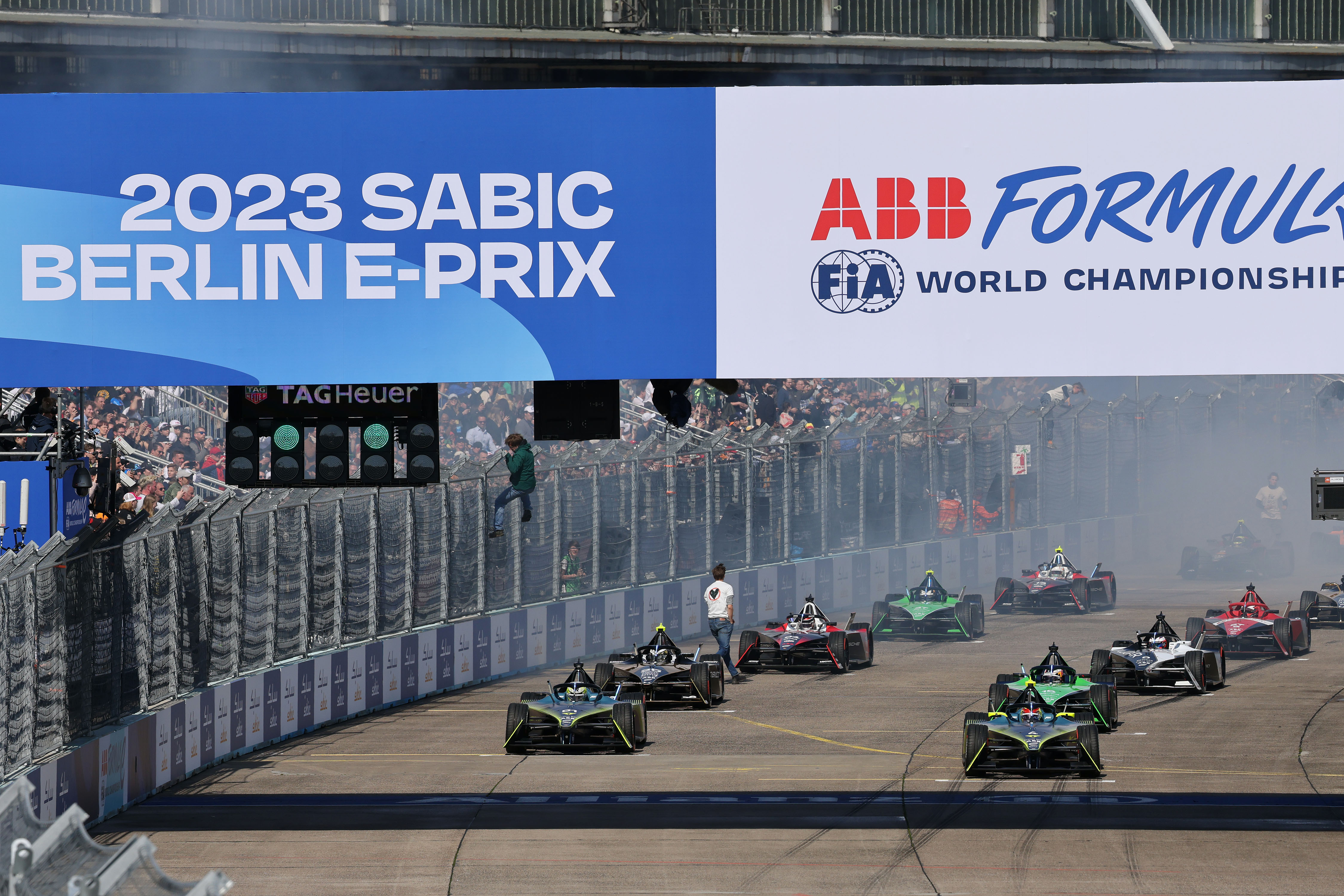 "I was pretty impressed by how quickly we removed that situation and continued with the race.
"Thankfully they did it before the lights came on so it allowed us to sit and wait and I think all the drivers did a good job to stay calm because that can cause a build-up of tension but in Turn 1 it was all pretty clean.
"I think we did a good job to rectify that issue as quickly as we possibly could."
Abt Cupra driver Nico Mueller added that he "saw people running onto the track and that's what happened and when they are sitting there you cannot race.
"The rest, I don't really care about. I thought it was pretty ridiculous. I don't know if these people realise what we are doing here."
Porsche's Antonio Felix da Costa echoed those points, telling The Race that he "was not a fan of that sort of stuff."
"I think we are all fighting for the same right? I'm not sure what they are trying to do because we are probably the worst category in motorsport for them to come and do this at," da Costa said.
"We are by far the most ecological, sustainable and new zero series that ever existed.
"We are pushing boundaries in every direction."
Polesitter Robin Frijns was also confused by the protestors' choice.
"I just cannot really get my head around those people, what they are thinking really," he told The Race.
"We are here, Formula E is standing for helping the environment and then they do this. I don't really understand."
A Formula E spokesperson told The Race that "the race was temporarily delayed while local authorities responded to a protest action unrelated to the event.
"Security services quickly and safely contained the disruption. The event was able to proceed as planned."
Images provided by Andreas Beil