The Formula E drivers involved in the spectacular race-stopping accident at today's New York E-Prix have described to The Race how they were faced with a "wall of water" that caused five cars to crash into the Turn 6 barrier.
Aquaplaning incidents involving multiple cars are a rarity in modern motorsport due to a combination of advanced weather warnings and increased run-offs, so an accident such as the one witnessed on the Brooklyn street track shook up many of those involved.
Nick Cassidy, Lucas di Grassi, Stoffel Vandoorne, Sebastien Buemi, Edoardo Mortara and Pascal Wehrlein all crashed in the snap shower which turned the Turn 3 to Turn 8 area of the track into a river.
Here's a look at exactly what happened in the wild crash that ended Formula E's #NYCEPrix when the leaders all aquaplaned into the wall – via Hugo Morales – IG: @gonzomau pic.twitter.com/AklA3Yyxhh

— The Race (@wearetherace) July 16, 2022
Cassidy still won the race on countback despite his involvement in the crash.
He described his shock at the speed in which events unfolded.
"Before I got to the wall of water, I used [the regen] paddle and straightaway, I had complete aquaplaning and locking so then I used the brakes and actually it was worse," Cassidy told The Race.
"I felt like I sped up and I was a passenger really early on.
"But I dropped my settings a lot in the two previous laps, so I thought I was ahead of the game on that but clearly not when the downpour came.
"I was pretty active in the car and was adjusting to the conditions, so I didn't feel like there was much else I could have done."
Cassidy was almost instantaneously hit by di Grassi and Vandoorne in a multiple impact that he described as "pretty unpleasant".
"I went in so quick and of course it was 'oh s*** we're out,'" he added.
"Then it's only one second later that someone hits you and it was Lucas, then it stopped. Then there was Stoffel and it was big impacts all the way.
"Then I was kind of thinking, 'who else is coming at me now?'
"I have no visibility of who else is coming in so I was bracing.
"It wasn't a situation I'd like to be in every day that's for sure."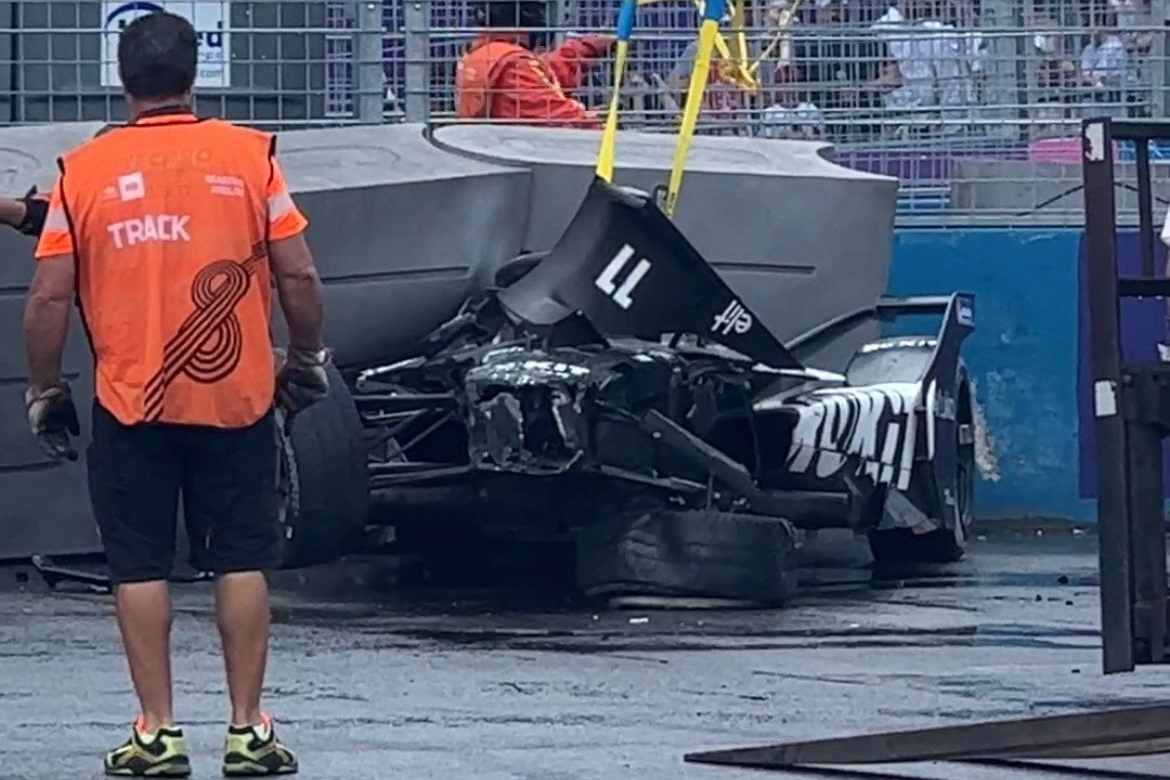 Di Grassi described the shunt as his biggest in Formula E and praised the structural integrity of the Gen2 car.
"Thankfully these cars are extremely safe because this was probably the biggest crash in my Formula E career, no it was the biggest crash in my Formula E career, to date," he said.
"The car is pretty much destroyed but that shows how safe these cars are.
"I came off the straight doing maybe 100km/h and crashed straight into Nick, Stoffel does the same speeds and crashes straight into me, to a quick stop, and we are all fine.
"So, I'm very happy with the safety of the car, I have no bruises, and I'm happy that all the other drivers are 100%."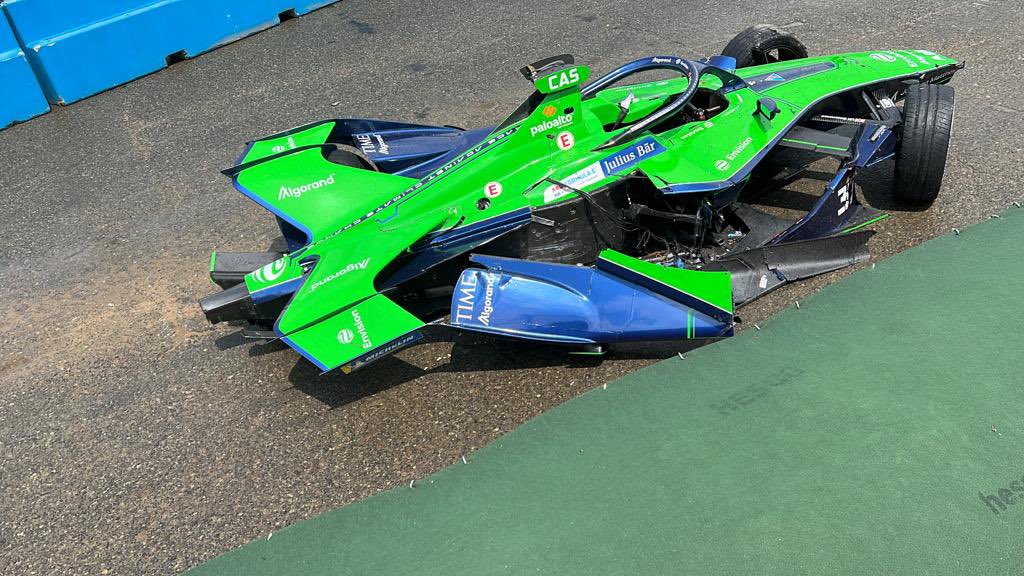 Cassidy and Vandoorne's Envision and Mercedes crews will prepare new monocoques for tomorrow's second E-Prix, while the Venturi team does not have to change the tub on di Grassi's damaged package.
Vandoorne, who collected fourth placed points, said that he "lost the car 300 metres before the corner without even touching the brakes".
"I just had aquaplaning and hit the wall first on the right and then I was just sliding sideways and hit Nick and Lucas," he added.
"It sucks when that happens but the conditions were really bad and you just couldn't see anything at that point. It was just like a wall of water, suddenly."
A separate incident occurred on the straight before Turn 6 between the then sixth and seventh placed cars of Wehrlein and Buemi.
An unsighted Buemi hit the rear of Wehrlein's Porsche, stranding that car in the middle of the track where it caused several cars to come to a halt. Buemi meanwhile spun down the escape road close to where Vandoorne, di Grassi and Cassidy's wrecked cars had come to a rest.
"I respected the full course yellow and slowed down but Buemi behind I guess didn't see me and braked too late," Wehrlein told The Race.
"He crashed into me and so that was the end of my race."
Buemi described in detail how he was "completely blinded" by a "wall of water" as he completed a full 360-degree spin after contacting the Porsche.
"I got surprised by how much margin he took and I locked the tyres to try to go brake and off and then I was instantly aquaplaning fully because it was like a wall of water," Buemi told The Race.
"I hit him, so in my opinion it's obviously more my fault but the water was massive."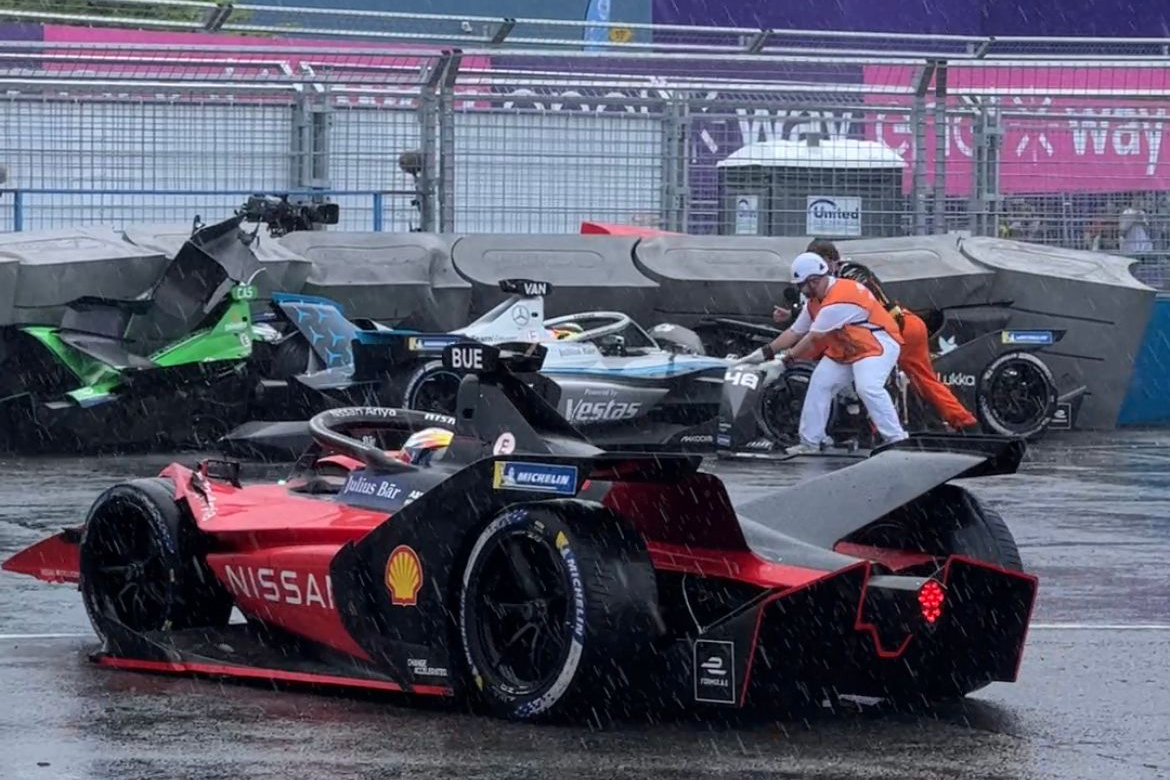 A spectating Antonio Felix da Costa, who had parked his DS E-Tense FE21 with damage at Turn 6 a few laps prior to the rain arriving, assisted marshals in ensuring that the drivers involved in the accident were uninjured.
"It was scary, I went there straight away to see if they were OK," Da Costa told The Race.
"I was just very worried for the three of them but was glad to see there were no injuries."
Crash scene images and video courtesy of Hugo Morales