You can always expect the unexpected in Formula E. That maxim goes hand in glove with its dusty, be-cambered, manhole covered territory.
Also now part of this expectation is contact between the competitors, to whatever degree it is seen pretty much every race. Has it always been there? Or is it a new phenomenon promoted by a combination of strong cars and an intrinsically aggressive event format?
The reality is that contact between Formula E drivers has been ever-present in the series and is usually the result of a simple equation: increasingly high stakes as the series has gathered prestige plus single-seaters that on mostly sinuous be-walled pop-up tracks naturally equals a certain degree of carbon shattering action.
When the second generation of car arrived in 2018 the first comments from team principals, engineers and mechanics were along the lines of forecasted favourable sales figures for Spark Racing Technologies' stock of spare front wings.
"The closed wheels make it quite hard to see the apex of the corners and it does block the view a bit, which could be interesting when we get to a street track," Mitch Evans told me after one of his first serious runs in the Gen 2 car in July 2018.
What happened, though, was that an increased level of contact actually only came after the first exploratory Gen2 race at Ad Diriyah in December 2018.
In the next race at Marrakesh, Jean-Eric Vergne sent a move down the inside of Sam Bird's Envision Virgin at Turn1 in a move so ambitious it required its own image rights team.
Vergne called it "a mistake", saying "it's not the same car, I wanted to do New York again but it didn't work out". It showed that maybe the transition from Gen 1 to Gen 2 was larger than we all thought.
Vergne's reference to 'New York' harked back to a successful attempt he made at the start of the final round of the previous season. On that occasion he sent a similar move to his Marrakesh manoeuvre down the inside of polesitter Sebastien Buemi's Renault e.dams.
It came off, but with the Gen 2 cars, drivers initially seemed to take their time in making similar bold manoeuvres.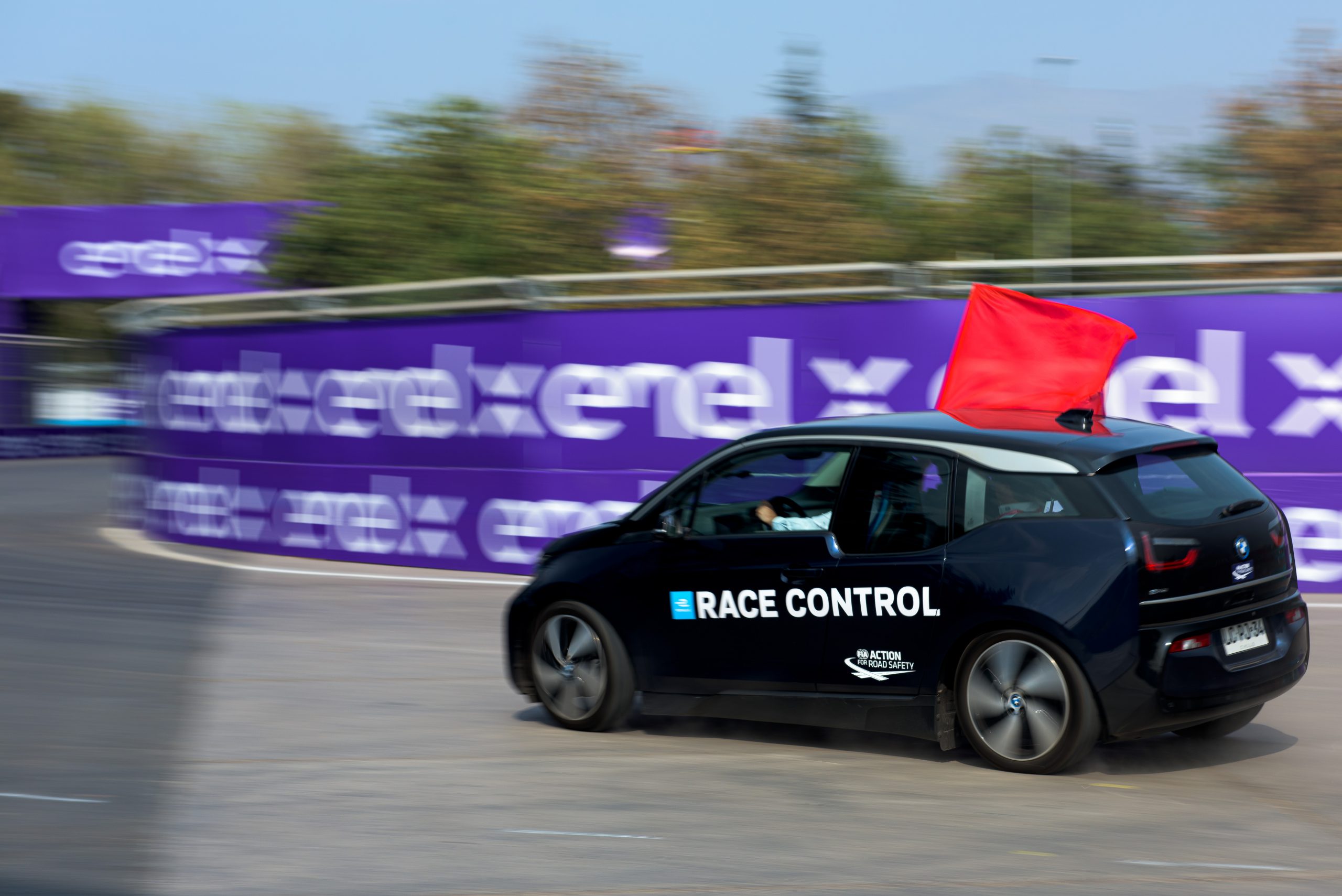 Then a funny thing happened. As they got more confident, fresh hell broke loose.
A walk down the pit lane, placed in parc ferme conditions after races, told its own story time and time again. Often they resembled junk yards with all manner of scrapes, contusions and composite shredded carnage being surveyed by weary mechanics.
It got to the point where, after three red flags in four races midway through last season, the FIA took action by forming a driver warning system.
There is of course a thin line between great entertainment and wanton abandon
Evans' wrist was slapped first in Rome. After a brawny move for the lead on Andre Lotterer sent the notoriously pugnacious Lotterer elbowed off-line, Evans' team informed him of the virtual 'yellow card.'
A few more tasty moves followed and the gloves seemed to come off ever more. On occasion, particularly at Monaco, Bern and the first New York City race, it bordered on being reckless.
There is of course a thin line between great entertainment and wanton abandon. It is something that touring cars has juggled with in the past, but for Formula E this level of contact was something new.
One partial culprit, or so the thinking went, was the solid one-piece assembled front-wings that were designed through an agent sourced by the FIA. The Race understands that the manufacturing was done by HP Composites in Italy under the guidance and management of SRT.
The front section is put on the car as one but is of several individual components. It is all-encompassing in that it covers the wheels, and as such can withstand large impacts from other cars and walls. Witness Pascal Wehrlein, perhaps unwisely, trying to scrape off what remained of his on a Diriyah wall last November, when it was party displaced after contact.
In Santiago we saw retirements in a death by a thousand cuts, or rather contacts, style. Most memorably Vergne was called into the pits when his became dislodged and rubbed on his left front Michelin.
The 2.5 version of the Formula E car will be seen in the flesh next month at the Geneva Motorshow and we already know that it will have a vastly different look.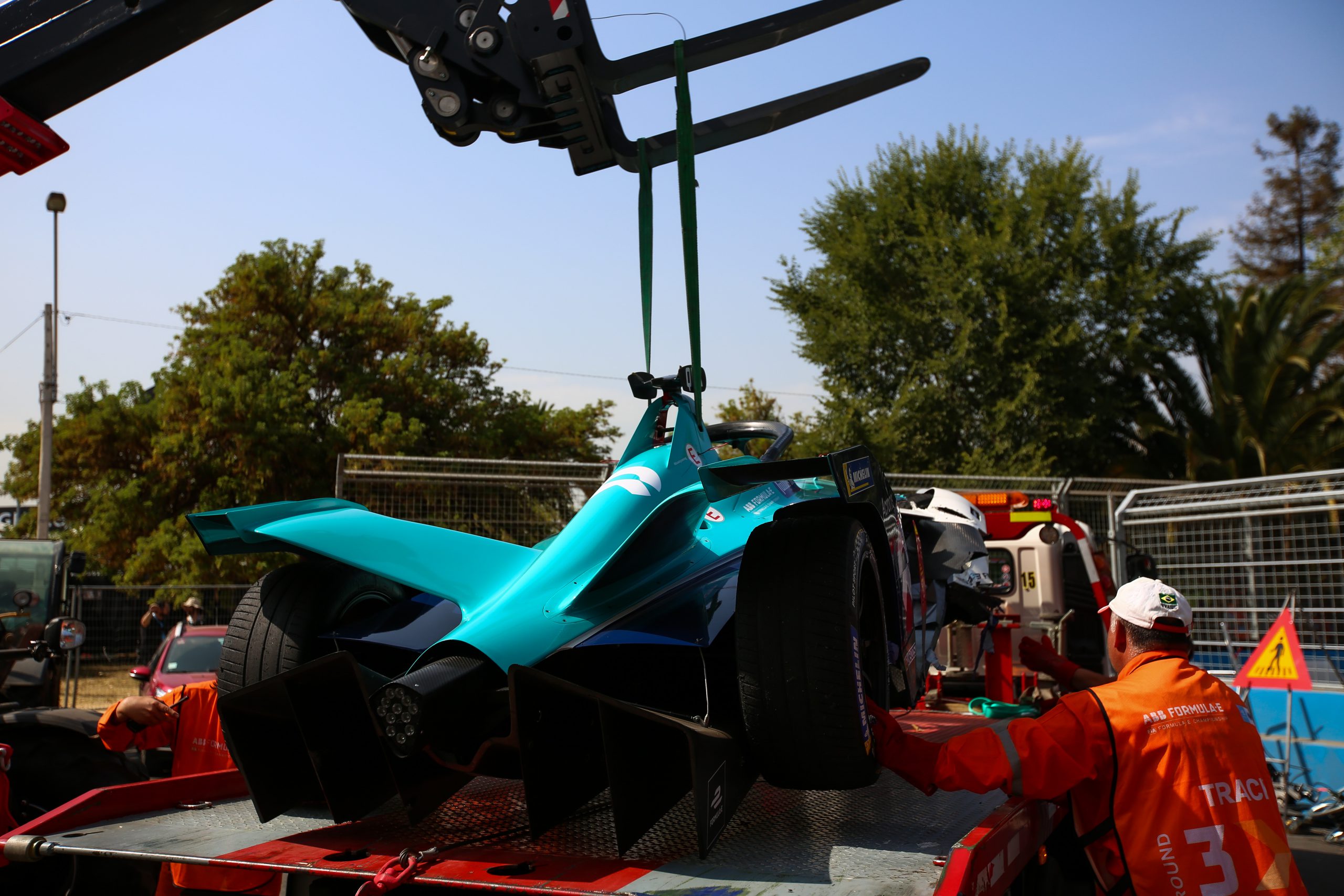 The front wheels will now be exposed and part of the brief for this was to ensure a form of 'punishment' for the drivers if the current trend for tactical contact, particular in the early stages of races, continues.
And have no doubt that there are some drivers on the Formula E grid that consider tactical contact acceptable at stages of races. Some drivers are even privately mocked for it by their peers. Watch the opening exchanges of the Santiago E-Prix and you will see it clear as day.
What was interesting though in Santiago was that no driver warnings were issued. This surprised many, including Audi team boss Allan McNish, man known for his hard but fair stance to his craft when he was an active and highly decorated driver.
"Ultimately, after the race like you saw, there were a few things dished out, and I think quite rightly so," he told The Race.
"We like to have racing, we want to have open racing, but at the same time, we don't want to have stock car racing. That's a different formula completely."
But could the upcoming change to the cars, which will be seen at races later this year, when season seven begins, actually have the opposite effect for the organisers?
It is one thing to modify the front sections but quite another to change the ways of drivers as adrenalin levels skyrocket and the thrust of battle ferments to overflow.
And won't those slightly less forgiving wings cause as many neutralisation periods than they save, especially when they sail in to the air and scatter confetti-like on the race track?
Time will tell on that. But for now the FIA is consulting drivers more on track design which was at least part of the culprit in promoting messy races and a bewildering array of stewards bulletins.
As ever with Formula E, there are methods and there is flexibility that is not largely seen in other championships when it comes to changes in sporting and technical regulations.
Despite some marginal on the edge races, this is one attribute that Formula E's decision makers are quite adept in, and for that they should be applauded.