Michael Andretti sat on the dummy grid for his long-awaited Formula 1 debut with McLaren at Kyalami 1993 with high hopes of a good race.
A leading light of IndyCar racing, who won the 1991 CART title and had been linked to a move to grand prix racing for years, his F1 deal was expected by many to be the start of something big.
He was only ninth on the grid, but was still adapting to F1 cars and would likely have been higher but for his engine seizing during the second qualifying session.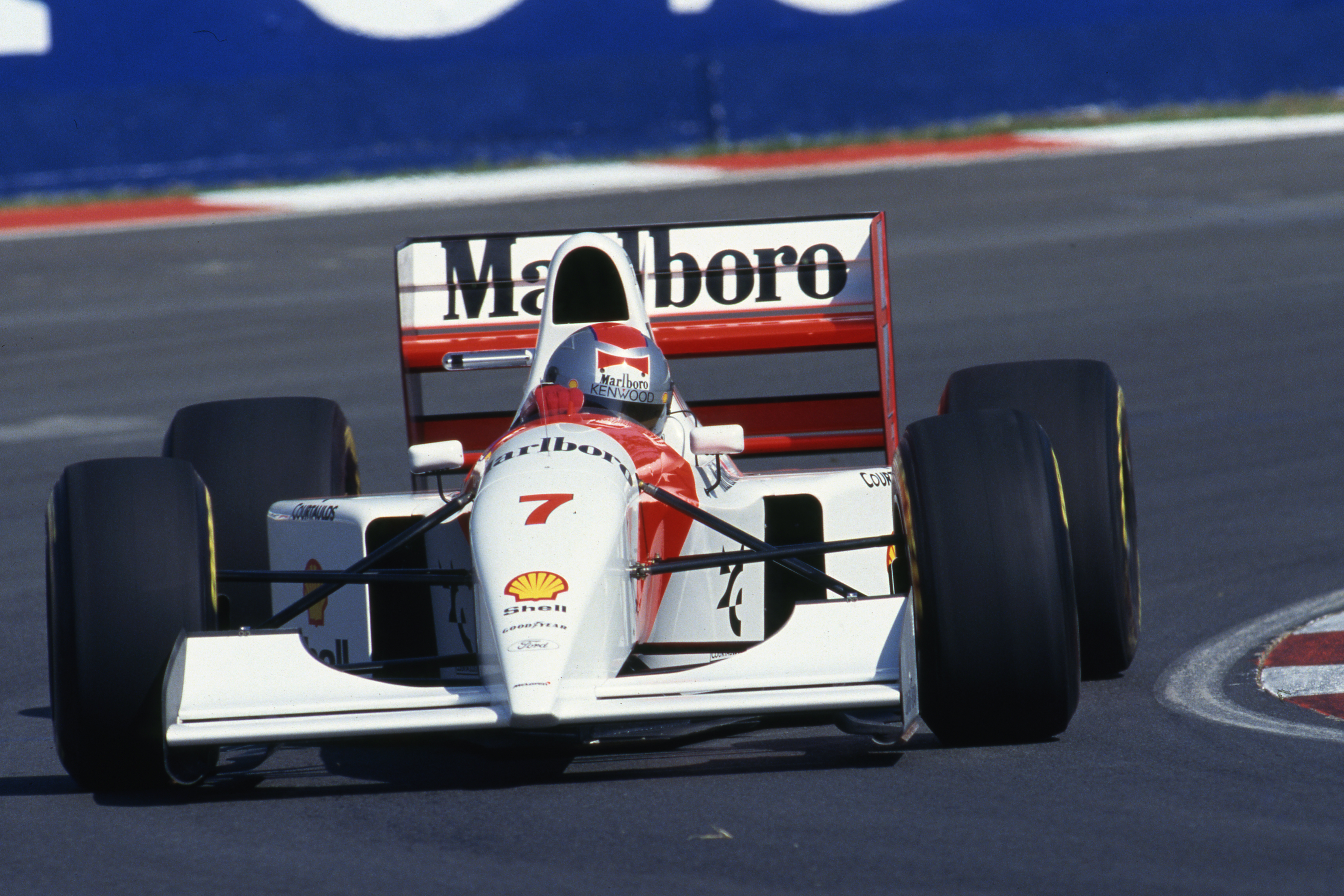 Then, in a moment that could almost be a metaphor for his disastrous F1 career, the car stalled.
Andretti eventually got going two laps later, but retired with only three wheels on his wagon having completed just four laps. He'd lost his left-front wheel after hitting Derek Warwick's Footwork, which had checked up to avoid Fabrizio Barbazza's spinning Minardi.
It was a debut that couldn't have gone much worse, but it was merely seen as a bump in the road at the time. Besides, Andretti at least got further than his father, 1978 world champion Mario, did on what should have been his F1 debut at Monza in 1968 given he wasn't allowed to start the race at all after a transatlantic dash from an IndyCar race.
But things didn't get much better for Andretti. He didn't even make the end of season, dropping out and returning to America with three races remaining with test driver Mika Hakkinen taking his place.
Andretti's fate is often being cited as a cautionary tale for those expecting success in IndyCar to translate easily to F1.
Now, an F1 return is potentially on the cards as a team owner given the possibility his Andretti Autosport organisation will acquire 80% of the Sauber operation that runs the Alfa Romeo team.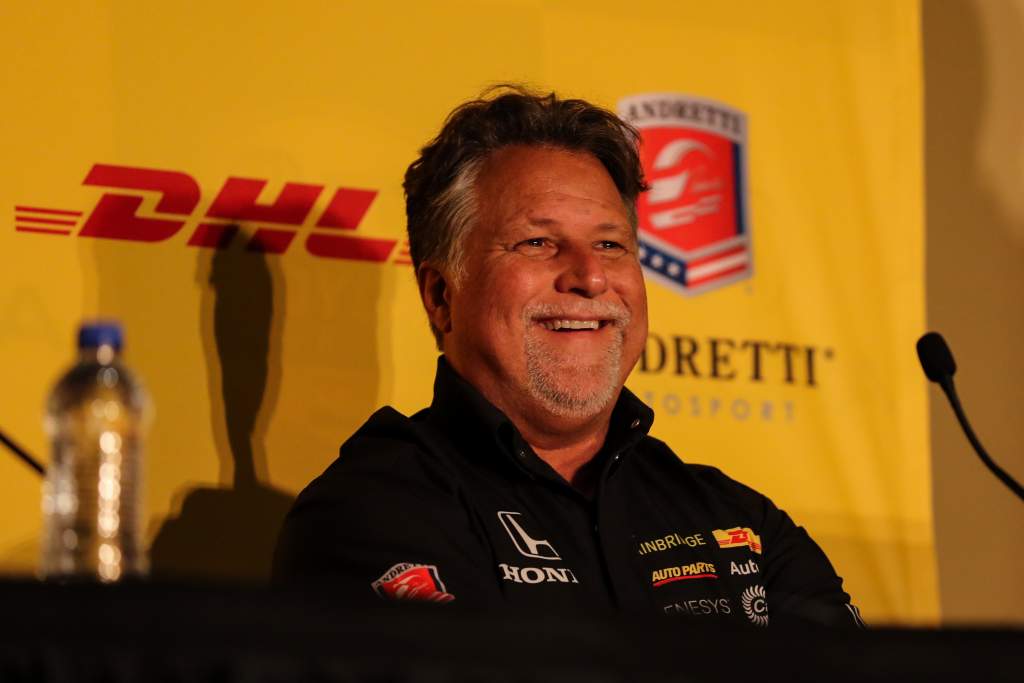 There are plenty of easy answers offered for Andretti's 1993 failure. These range from a lack of commitment to F1 given his unwillingness to base himself in Europe and commute from the USA, the struggle to adapt to the cars, being up against Ayrton Senna as a team-mate – although one thing that definitely doesn't stand up to scrutiny is the idea he wasn't a very capable driver. His American record proves that this was no failure of talent.
The pressure was already on before the season given the expectations, and although Andretti had a reasonable amount of testing mileage, albeit not much of it in the 1993 McLaren MP4/8, he didn't feel it was enough. These were F1 cars at the peak of gizmo era, requiring a driver to commit utterly on turn-in and buy into the fact the grip would be there even without the feel to confirm it.
That was the curse of active suspension and required, as Andretti put it, to "reprogramme" his driving style. He was far from the only one to struggle with this, as even old F1 stager Riccardo Patrese was all at sea with that in the active ride Williams FW14B in 1992 compared to Nigel Mansell, having run him much closer in the passive car the year before.
Then there was Senna.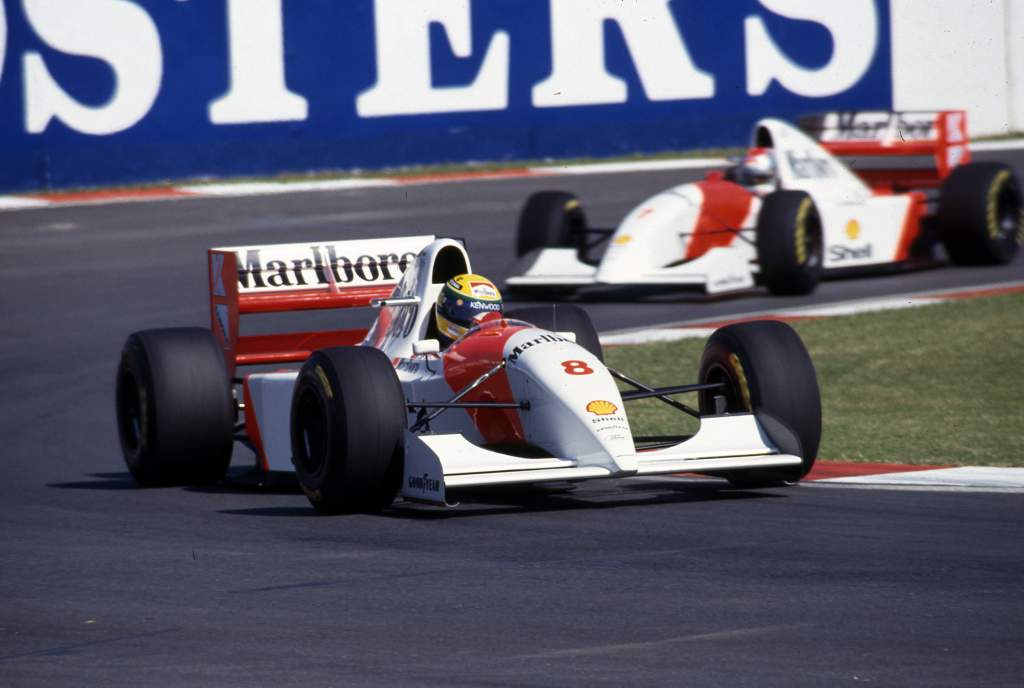 Not only was he the most difficult driver to go up against as team-mate, but there was also the sideshow surrounding his uncertain participation in the season.
While Andretti was always locked in and Mika Hakkinen was bumped down to test driver to accommodate Senna, it was a distraction for the team and didn't help to create a stable environment.
But clearly, the biggest problem was Senna's pace. Even at Kyalami, where Andretti was reckoned to have done a decent enough job in qualifying before his Ford engine seized, he was three seconds down.
That was comfortably his biggest qualifying deficit of the season, but it's telling that the average was 1.4s, or 1.7%. He simply wasn't on top of the car and in particular tended to lose time in the slower corners. The learning curve was steep.
These struggles were exacerbated by new rules restricting drivers to just 12 laps – including in and out-laps – in each qualifying session and the prohibition on testing at tracks before the race there. For a driver with barely any relevant experience of racing in F1's European heartland, this was an added challenge.
Often, Andretti's pace in post-race tests was significantly stronger and good enough for far loftier grid positions than he achieved. It's also worth noting that these rule changes were introduced after Andretti had signed his 1993 deal.
Progressing along that learning curve wasn't helped by the fact that his early races proved disastrous. The four laps he completed at Kyalami was four more than he managed in the next two races, being eliminated at Interlagos in a massive accident with Gerhard Berger (whose demolished Ferrari is pictured below) at the first corner following a slow start due to gearshift troubles, then ending up in the gravel at Coppice at Donington Park after clashing with Sauber driver Karl Wendlinger.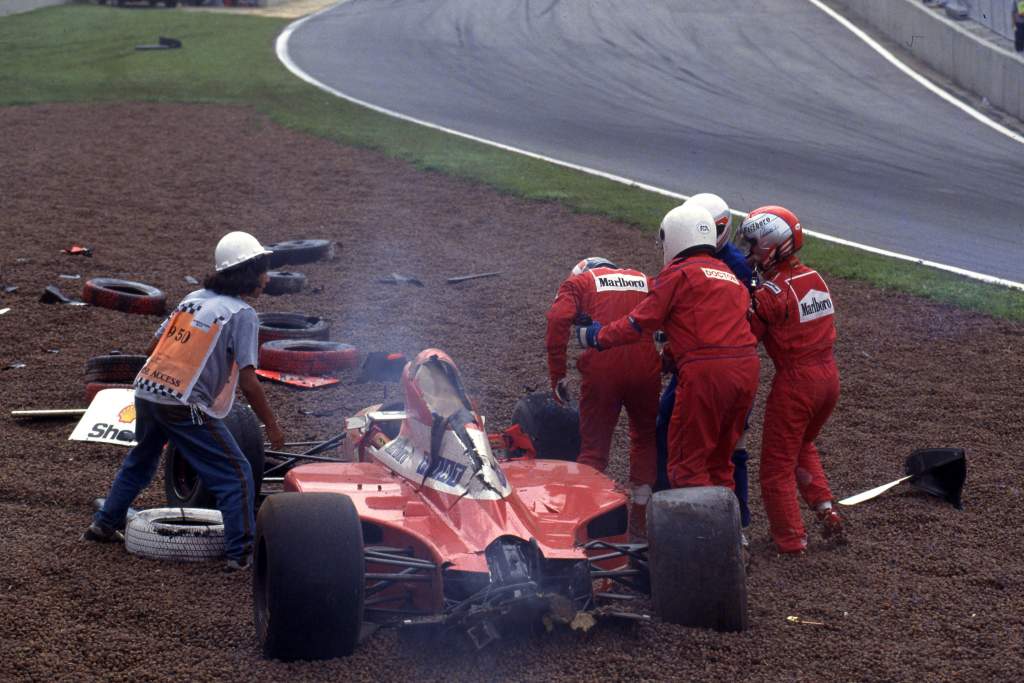 That European Grand Prix stands as a big missed opportunity for Andretti, who had qualified 0.632s off Senna and was attempting to relieve Wendlinger of fourth place at the time.
His fourth race at Imola went a little better, with Andretti running fifth and looking certain to pass Wendlinger for fourth on lap 33 when he spun out under braking for Variante Alta while tucked up behind the Sauber.
"Our brake balance was set up for the wet and I couldn't reach to adjust the control," said Andretti after the incident. "My rear wheels started to lock when I tried to have a go at Wendlinger and locked a second time, which caused me to nearly overshoot a corner. When I finally went off, I wasn't trying to pass him but the car just swapped ends on me."
His first four races couldn't have gone much less impressively, but at least he'd been within a second of Senna in qualifying for three of them. He then picked up his first points finish for fifth in the Spanish Grand Prix, although any momentum that created was eliminated when he finished eighth – twice lapped by winner Senna – in Monaco.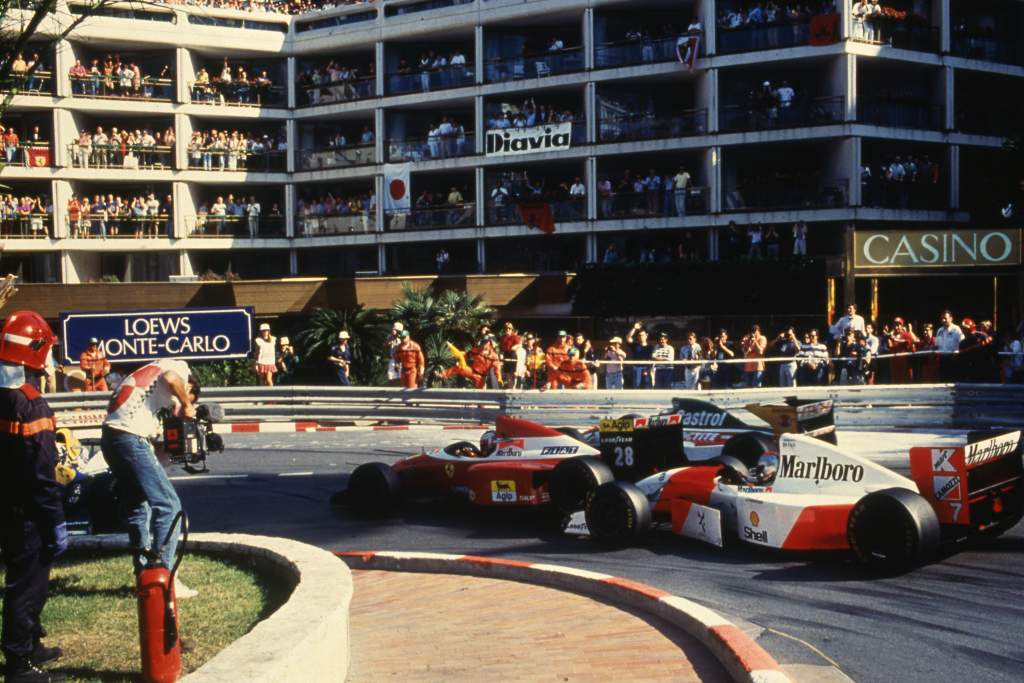 There, he struggled despite enjoying the challenge of the track, spinning at the chicane and damaging his front wing while on course to improve on his ninth place. The car selected third gear at the start, giving him a slow launch, and he hit the rear of Barbazza approaching the hairpin, forcing him into the pits for a new nosecone and condemning him to an afternoon struggling in the inevitable Monaco traffic jam.
In Canada, active suspension problems and overdriving in practice didn't help him, but he put in his best qualifying performance, lapping just half-a-second off Senna. Unfortunately, this was on a weekend when Senna also struggled and it was only good enough for 12th. An electrical problem forced Andretti to start from the pits three laps down, so he couldn't be blamed for only finishing 14th.
At Magny-Cours, active suspension problems left him 16th on the grid. In a 2018 interview with McLaren, he put this down to the deactivation of a locator beacon required for the active system to know where it is on the lap. He drove well in the race, finishing sixth after passing Jordan driver Rubens Barrichello on the last lap – taking his points tally to three for the season.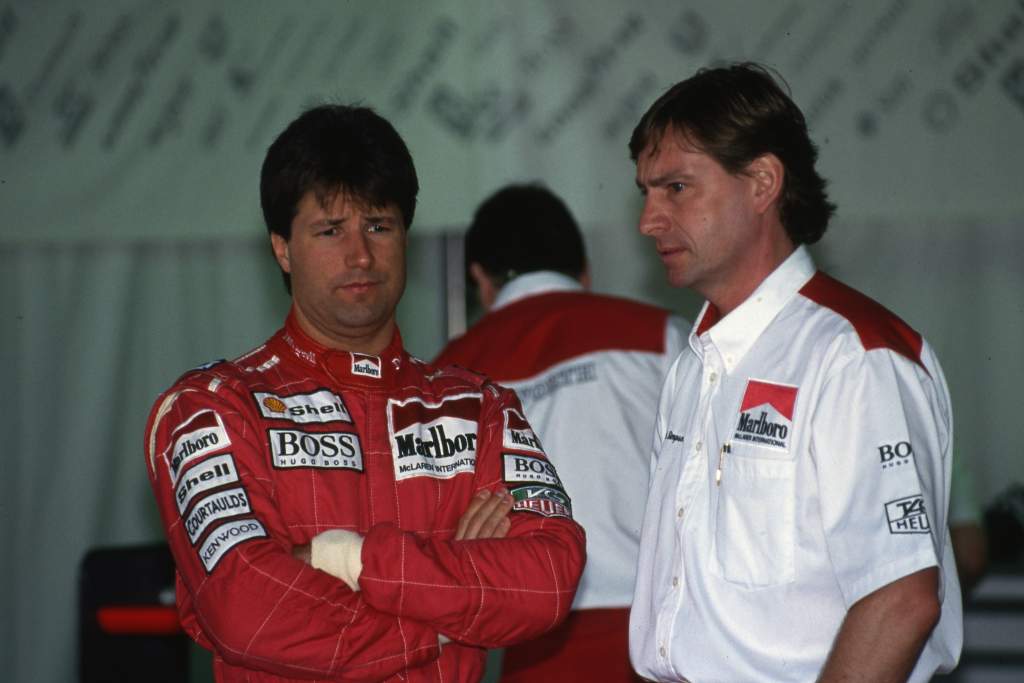 Again, that point didn't prove to be the start of a turnaround.
At Silverstone, he spun off at the first corner having qualified 11th, albeit with the caveat that he felt he would have been much faster but for rain that hit late on what would have been his best lap. At Hockenheim two weeks later, he retired after a collision with Berger on lap five having had all sorts of problems in practice with the gearbox and active suspension. By this point, there were plenty of rumours that despite his long-term deal he could be replaced by Hakkinen.
At the Hungaroring, he was running sixth early on when a throttle problem forced him out, then at Spa he finished eighth after a late pass on Sauber driver JJ Lehto, having qualified only 14th.
By this point, the writing was on the wall. McLaren refuted suggestions ahead of the Italian GP that Hakkinen was going to replace him, but reports had also emerged that Andretti had held talks with Chip Ganassi and even his old boss Carl Haas – the latter in case Nigel Mansell left the team – for a possible return to America.
A few days after finishing third at Monza despite a first-lap spin, Andretti's deal to return to CART with Ganassi was announced, with Hakkinen taking his place from the next F1 race.
McLaren had always planned to put Hakkinen in the car for some 1993 races, but remained uncertain on its 1994 plans, with Andretti told he was still in the frame before he decided to commit to Ganassi instead.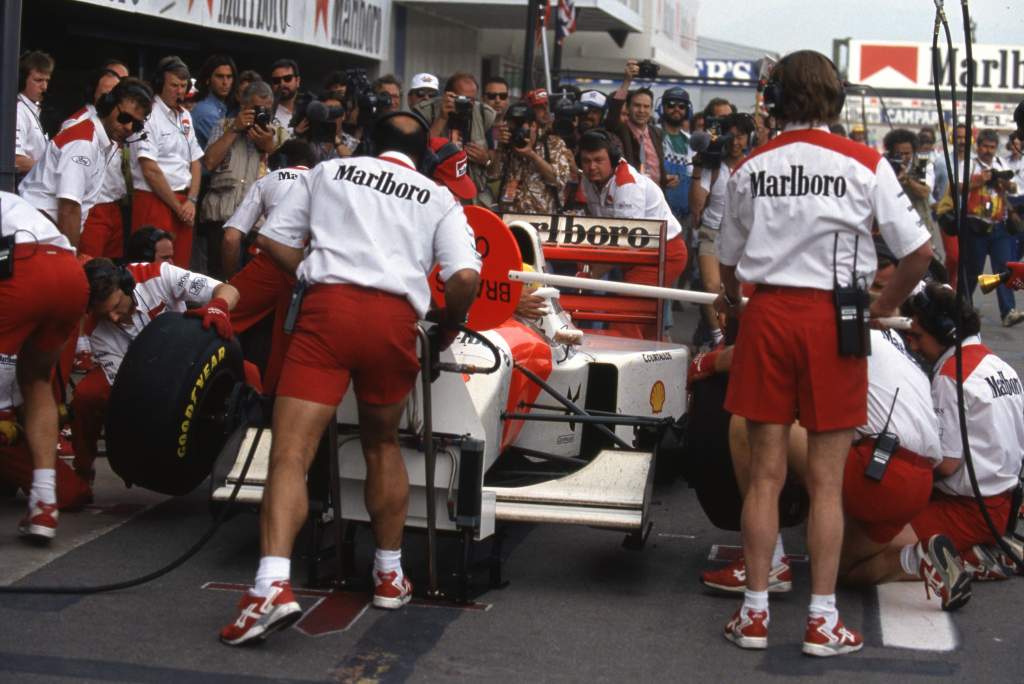 "It comes down to timing," said Andretti when the move was made public. "Ron [Dennis], at this time, was not ready to make a decision on his 1994 line-up. Having Chip's offer on the table, I thought that if I was to let that slip away I could be put in a position where I would not have anything next year.
"I'm happy about the decision and, as Ron said, it does not mean I'm quitting F1. I enjoyed my stint. It was very difficult many times, but I learned a lot and I know if I was to go back there now that I would have a totally different year."
But Andretti never did go back, despite the comment Dennis made that Andretti referenced about having first call on his services if he did return. Famously, he won on his CART comeback at Surfer's Paradise, taking Reynard's first victory, remaining one of the top drivers in the series until moving his team into the IRL-run IndyCar series in 2003.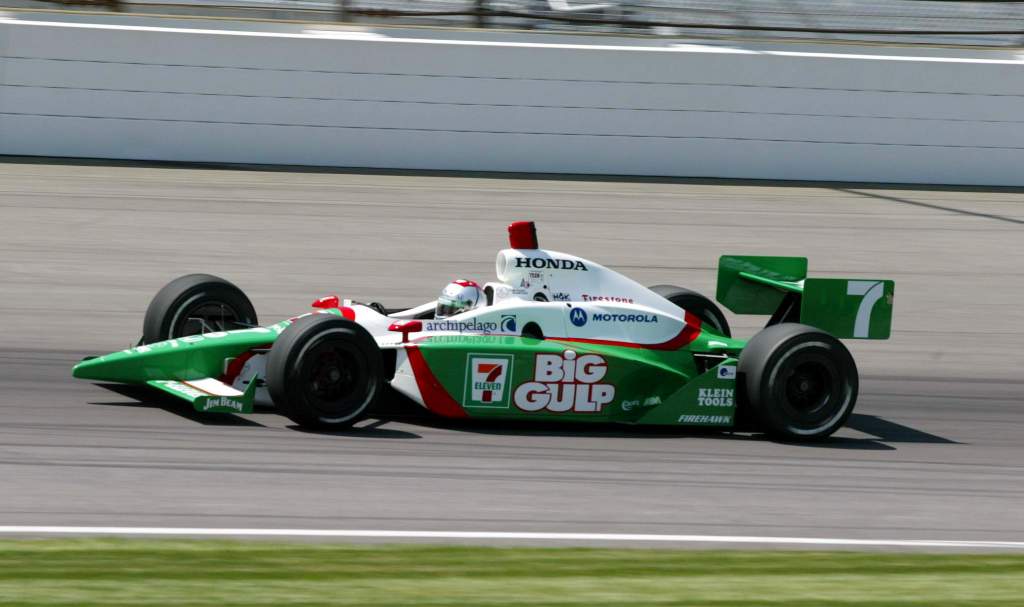 He retired from racing after the 2007 Indianapolis 500 with a career tally of 42 wins, although he never did win the Indy 500 or add to his 1991 CART crown. To add insult to injury, he felt he probably lost his best chance to do so by leaving Newman/Haas at the end of 1992 for F1, handing Mansell the chance to take his place in a Lola package that was the class of the field for '93.
So why did Andretti fail in F1 given he was a driver of prodigious ability? Partly, it was the timing given the more conventional cars of 1994 might have suited him better. Partly, it was down the inevitable unfavourable comparisons with Senna in the other car. Partly, it was down to bad luck with the regulations and the significant car problems he battled through the season.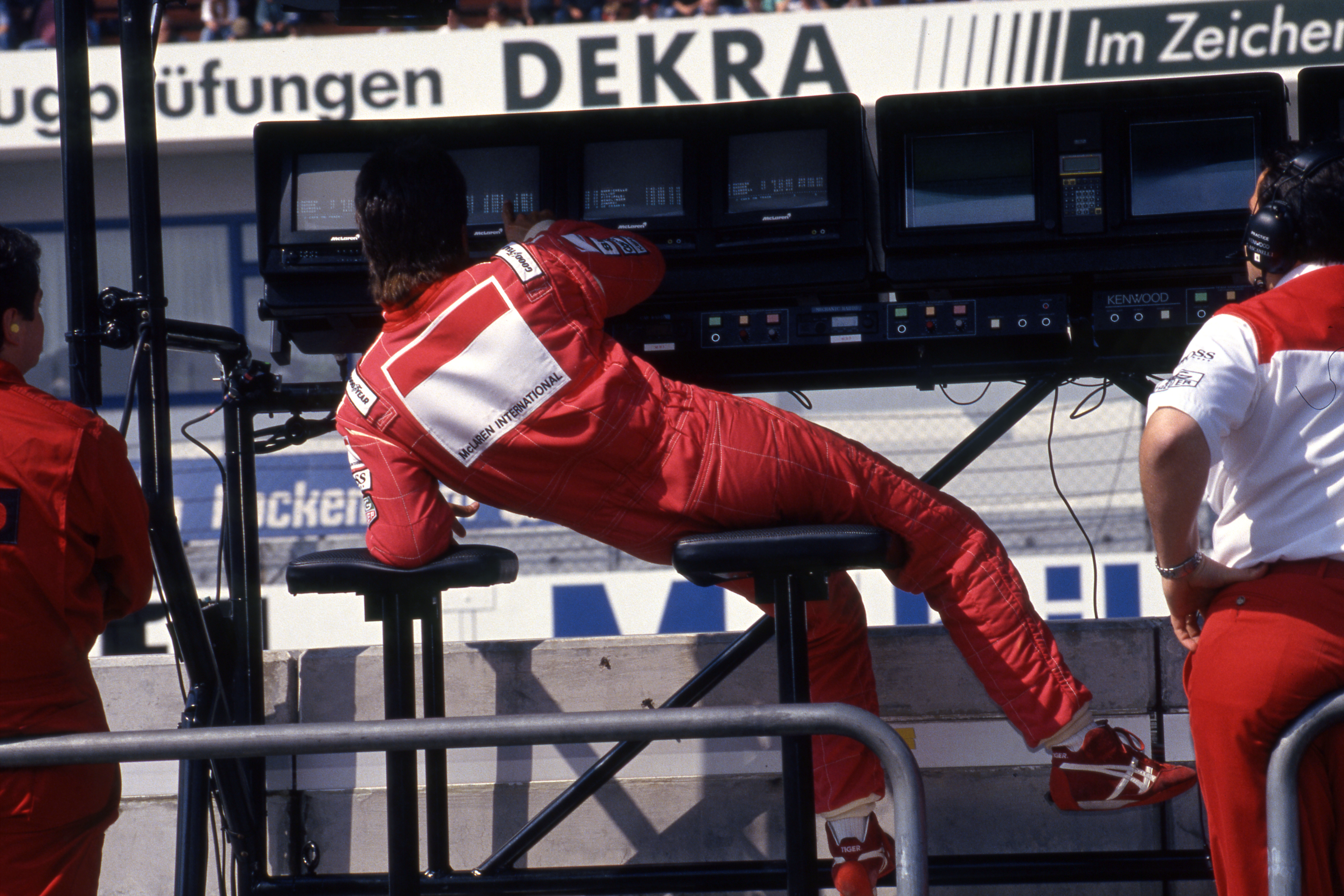 But all of those hurdles could have been overcome. Whether or not Andretti commuting from the USA really was a problem – and he can't be blamed for that, especially given he had two young children at the time – there is an enduring suspicion that perhaps he was never fully committed to making F1 work and would have happily stayed in IndyCar for his whole career.
That doesn't mean he was phoning it in, but on that level you have to put your heart and soul into it to make it work – even 1% missing can make the difference between success and failure.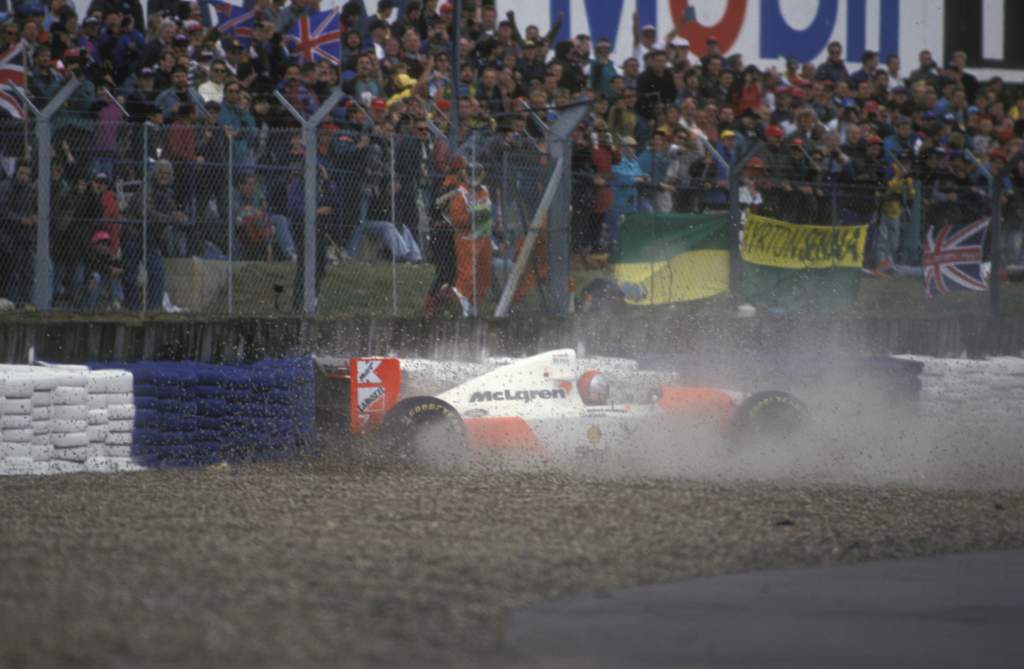 Perhaps the deflating start was enough to knock off that edge, meaning he was in a downward spiral that he couldn't pull out of. But who knows, maybe Monza could have been the turning point had he been able to continue.
But that was not the way his career went, and for all the problems Andretti himself also has to take a big share of the blame in the fact he couldn't make the most of a chance to switch to F1 with a top team when he was at the peak of his powers as a driver.
Given a different opportunity at a different time, perhaps Andretti would have delivered on his potential and made a success of F1. Instead, it stands as arguably the biggest negative of his career.