Max Verstappen set the pace in final practice ahead of qualifying for the Sakhir Grand Prix in Bahrain, with Valtteri Bottas second and Friday pacesetter George Russell only seventh.
Verstappen took top spot from Bottas by two tenths of a second with 10 minutes remaining.
The Mercedes drivers completed their qualifying simulation runs a few minutes earlier than the Red Bull, leaving the pits on their fresh sets of soft tyres with 18 minutes left.
Bottas comfortably held the edge over Russell, although the Finn left some time on the table by going wide at the final corner.
Russell tried to go for another quick time after a couple of cool-down laps, but he locked up at the first corner and had to abandon the attempt.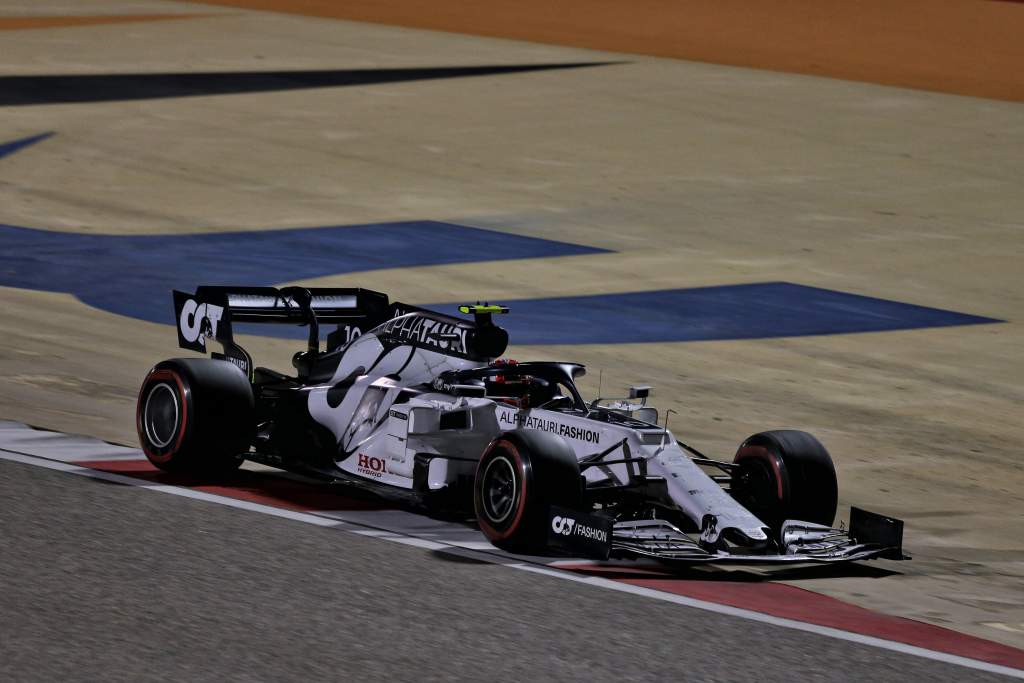 The gap between the Mercedes drivers was big enough to enable star midfield runners Pierre Gasly, Esteban Ocon and Lando Norris to get between them, as well as the second Red Bull of Alex Albon in sixth.
Sergio Perez, Lance Stroll and Carlos Sainz Jr completed the top 10.
One of the notable drivers missing from the top half of the field was Daniel Ricciardo, whose qualifying simulation effort was ruined with a lock-up at Turn 1 and a messy, sparking run across a big kerb through the middle sector, which left him down in 14th place.
That put him just behind the Ferrari of Charles Leclerc, who suffered a spin at the final corner just as the chequered flag came out to end the session.
Leclerc's team-mate Sebastian Vettel ended his session early when Ferrari decided to change his engine ahead of qualifying. The German was classified 15th.
Practice 3 Results
| Pos | Name | Car | Best Time | Gap Leader |
| --- | --- | --- | --- | --- |
| 1 | Max Verstappen | Red Bull-Honda | 54.064s | |
| 2 | Valtteri Bottas | Mercedes | 54.27s | +0.206s |
| 3 | Pierre Gasly | AlphaTauri-Honda | 54.427s | +0.363s |
| 4 | Esteban Ocon | Renault | 54.453s | +0.389s |
| 5 | Lando Norris | McLaren-Renault | 54.606s | +0.542s |
| 6 | Alex Albon | Red Bull-Honda | 54.629s | +0.565s |
| 7 | George Russell | Mercedes | 54.664s | +0.6s |
| 8 | Sergio Pérez | Racing Point-Mercedes | 54.678s | +0.614s |
| 9 | Lance Stroll | Racing Point-Mercedes | 54.693s | +0.629s |
| 10 | Carlos Sainz | McLaren-Renault | 54.72s | +0.656s |
| 11 | Antonio Giovinazzi | Alfa Romeo-Ferrari | 54.845s | +0.781s |
| 12 | Daniil Kvyat | AlphaTauri-Honda | 54.85s | +0.786s |
| 13 | Charles Leclerc | Ferrari | 54.854s | +0.79s |
| 14 | Daniel Ricciardo | Renault | 54.857s | +0.793s |
| 15 | Sebastian Vettel | Ferrari | 54.858s | +0.794s |
| 16 | Kimi Räikkönen | Alfa Romeo-Ferrari | 55.171s | +1.107s |
| 17 | Kevin Magnussen | Haas-Ferrari | 55.347s | +1.283s |
| 18 | Nicholas Latifi | Williams-Mercedes | 55.493s | +1.429s |
| 19 | Pietro Fittipaldi | Haas-Ferrari | 55.666s | +1.602s |
| 20 | Jack Aitken | Williams-Mercedes | 55.67s | +1.606s |