Formula 1 championship leader Max Verstappen narrowly defeated Charles Leclerc in qualifying to score pole position for his home race, the Dutch Grand Prix at Zandvoort.
Verstappen had not topped any of the practice sessions, having particularly struggled on Friday, but pulled out a late lap in the Q3 shootout to deny his Ferrari rival.
The first set of laps in Q3 had given Leclerc provisional pole, his 1m10.456s putting him half a tenth clear of Verstappen, two tenths clear of Lewis Hamilton (Mercedes) and three tenths clear of Carlos Sainz (Ferrari).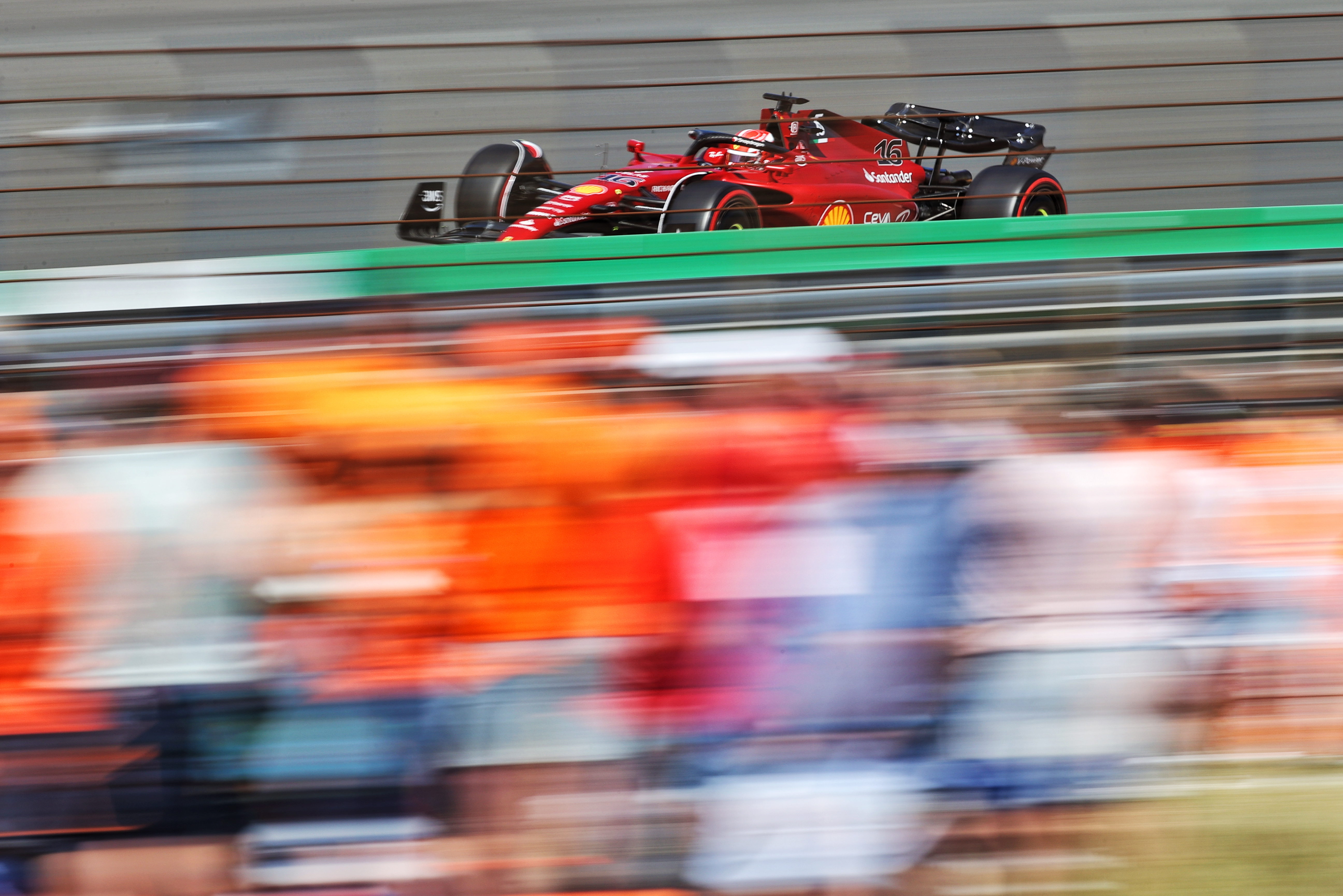 But while Leclerc then improved on his final attempt, so did Verstappen, his 1m10.342s taking him 0.021s clear of the Ferrari driver for his 17th F1 pole.
Sainz moved up to third at the death but Mercedes duo Hamilton and George Russell were denied a chance to challenge him, with Verstappen's team-mate Sergio Perez spinning coming out of Kumho to bring out yellow flags that seemingly impeded both.
It meant Hamilton will line up fourth and Russell sixth, his poor first Q3 lap meaning he was nearly picked off by the McLaren of Lando Norris.
Norris was under investigation for what appeared to be a fairly egregious case of an unsafe release by his McLaren team in Q1, as it sent him out right into the path of Yuki Tsunoda. McLaren ultimately ended up with a €5000 fine.
Tsunoda placed ninth in Q3, he and Norris split by Mick Schumacher, who had been his Haas team's sole representative not just in Q3 but Q2.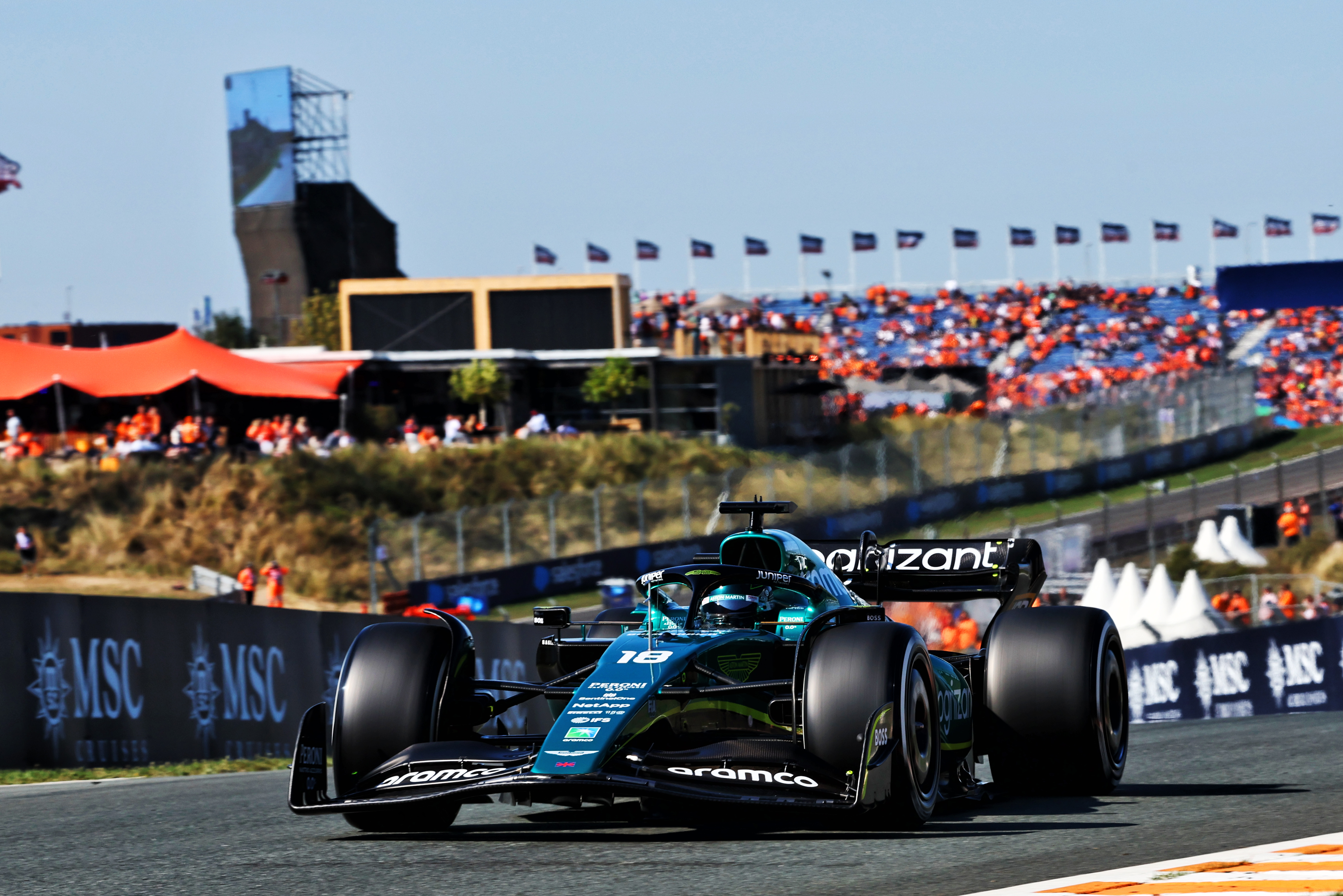 Like Schumacher, Aston Martin driver Lance Stroll had also made it to Q3 with his team-mate stranded in Q1 – but unlike Schumacher, Stroll never got to run in the pole shoot-out, with Aston having diagnosed a "technical problem" that consigned him to a provisional 10th on the grid.
The second qualifying segment was interrupted moments after it started by a red flag for a flare being thrown onto the track, with the stoppage used to not only remove the flare but also chase away some of the pigeons that had gathered precariously close to the racing surface.
Bravest (or maddest) pigeons in the world! 😄#DutchGP #F1 pic.twitter.com/ZJYidbOyye

— Formula 1 (@F1) September 3, 2022
As the session concluded, Pierre Gasly was the quickest of those left on the outside looking in, coming up a tenth short of beating team-mate Tsunoda to a Q3 spot.
Alpine duo Esteban Ocon and Fernando Alonso slotted in behind Gasly, Alonso irritated to get caught up – very briefly – behind Perez coming into Scheivlak on his final push lap.
Behind them, Alfa Romeo rookie Zhou Guanyu and Williams driver Alex Albon completed the order in Q2.
Zhou's team-mate Valtteri Bottas was out of Q1 for the second race running, although this time – unlike at Spa, where he had a big grid penalty – it was not by design.
The Finn ended up over a tenth behind Zhou, which proved the difference between making Q2 and missing out.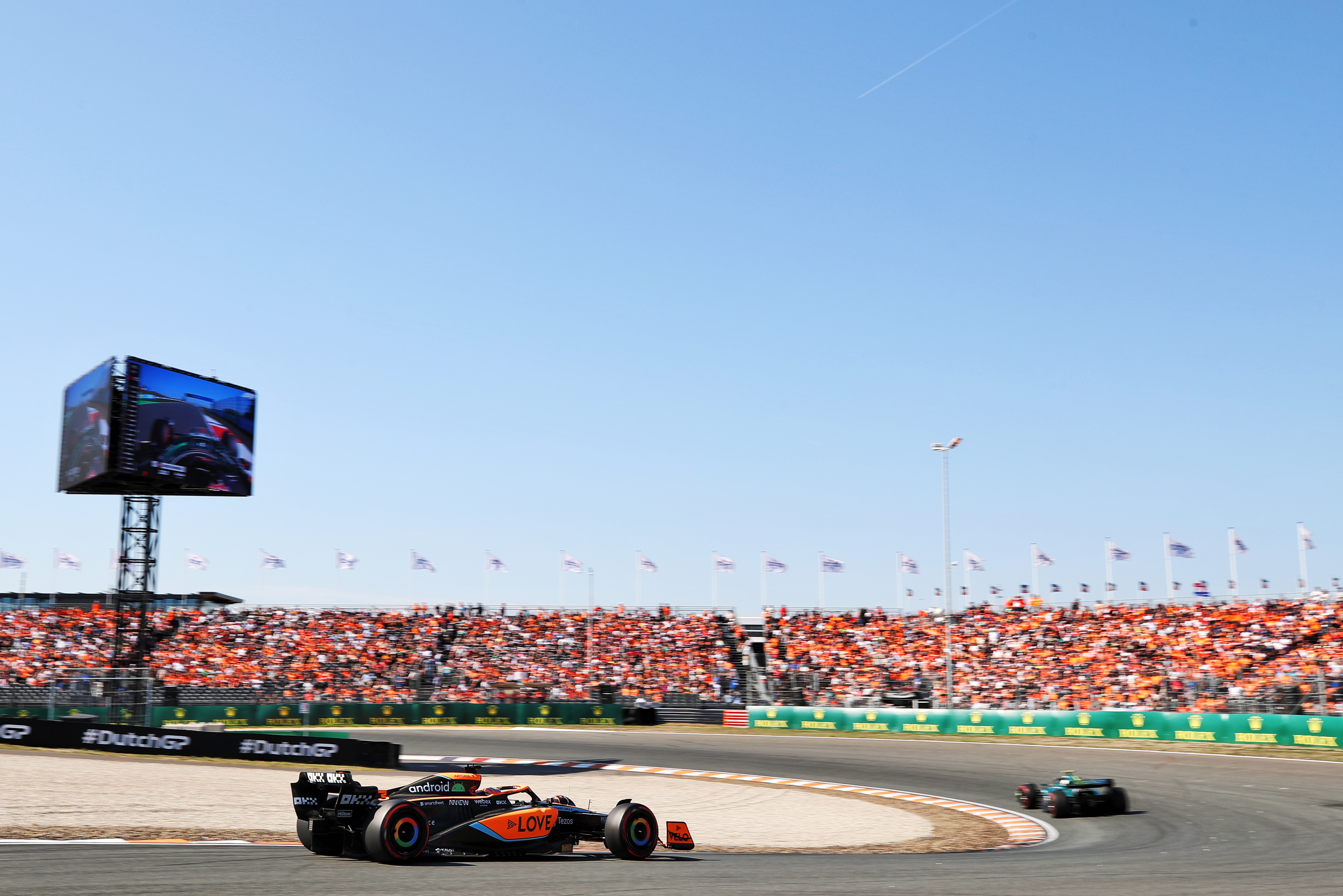 McLaren's Daniel Ricciardo was outpaced by team-mate Norris by half a second in the first qualifying segment, and settled for 17th – benefitting from a laptime deletion for Kevin Magnussen (Haas), who moved back one spot after losing his fastest time due to a track limits infringement at Hugenholtz.
Aston Martin's Sebastian Vettel will start on the back row after going off into the gravel at the Kumho corner on his final Q1 lap, which had started with the best first sector of anyone in the session.
Seb was giving it everything in his final flying lap before running wide into the gravel #DutchGP #F1 pic.twitter.com/ikJeRdHcVx

— Formula 1 (@F1) September 3, 2022
The error left him only ahead of Williams driver Nicholas Latifi – who himself didn't manage to get a clean last lap in.
Qualifying Results
| Pos | Name | Car | Q1 | Q2 | Q3 |
| --- | --- | --- | --- | --- | --- |
| 1 | Max Verstappen | Red Bull | 1m11.317s | 1m10.927s | 1m10.342s |
| 2 | Charles Leclerc | Ferrari | 1m11.443s | 1m10.988s | 1m10.363s |
| 3 | Carlos Sainz | Ferrari | 1m11.767s | 1m10.814s | 1m10.434s |
| 4 | Lewis Hamilton | Mercedes | 1m11.331s | 1m11.075s | 1m10.648s |
| 5 | Sergio Pérez | Red Bull | 1m11.641s | 1m11.314s | 1m11.077s |
| 6 | George Russell | Mercedes | 1m11.561s | 1m10.824s | 1m11.147s |
| 7 | Lando Norris | McLaren-Mercedes | 1m11.556s | 1m11.116s | 1m11.174s |
| 8 | Mick Schumacher | Haas-Ferrari | 1m11.741s | 1m11.42s | 1m11.442s |
| 9 | Yuki Tsunoda | AlphaTauri-Red Bull | 1m11.427s | 1m11.428s | 1m12.556s |
| 10 | Lance Stroll | Aston Martin-Mercedes | 1m11.568s | 1m11.416s | |
| 11 | Pierre Gasly | AlphaTauri-Red Bull | 1m11.705s | 1m11.512s | |
| 12 | Esteban Ocon | Alpine-Renault | 1m11.748s | 1m11.605s | |
| 13 | Fernando Alonso | Alpine-Renault | 1m11.667s | 1m11.613s | |
| 14 | Guanyu Zhou | Alfa Romeo-Ferrari | 1m11.826s | 1m11.704s | |
| 15 | Alex Albon | Williams-Mercedes | 1m11.695s | 1m11.802s | |
| 16 | Valtteri Bottas | Alfa Romeo-Ferrari | 1m11.961s | | |
| 17 | Kevin Magnussen | Haas-Ferrari | 1m12.041s | | |
| 18 | Daniel Ricciardo | McLaren-Mercedes | 1m12.081s | | |
| 19 | Sebastian Vettel | Aston Martin-Mercedes | 1m12.391s | | |
| 20 | Nicholas Latifi | Williams-Mercedes | 1m13.353s | | |