The prognosis before the Australian Grand Prix was poor for Alex Albon and Williams. He started last after being thrown out of qualifying for there being insufficient fuel in his car to provide the mandatory sample and seemed doomed to an afternoon running towards the back of the field. So how did he manage to take his first point for Williams, and the team's first of a difficult season?
The simple answer is that he ran a marathon stint after starting on hards, making his pitstop at the end of the penultimate lap and coming out just ahead of Alfa Romeo driver Zhou Guanyu. But that's just how it ended. To understand how he did it, we need to start at the beginning.
PART 1 (Lap 1-3)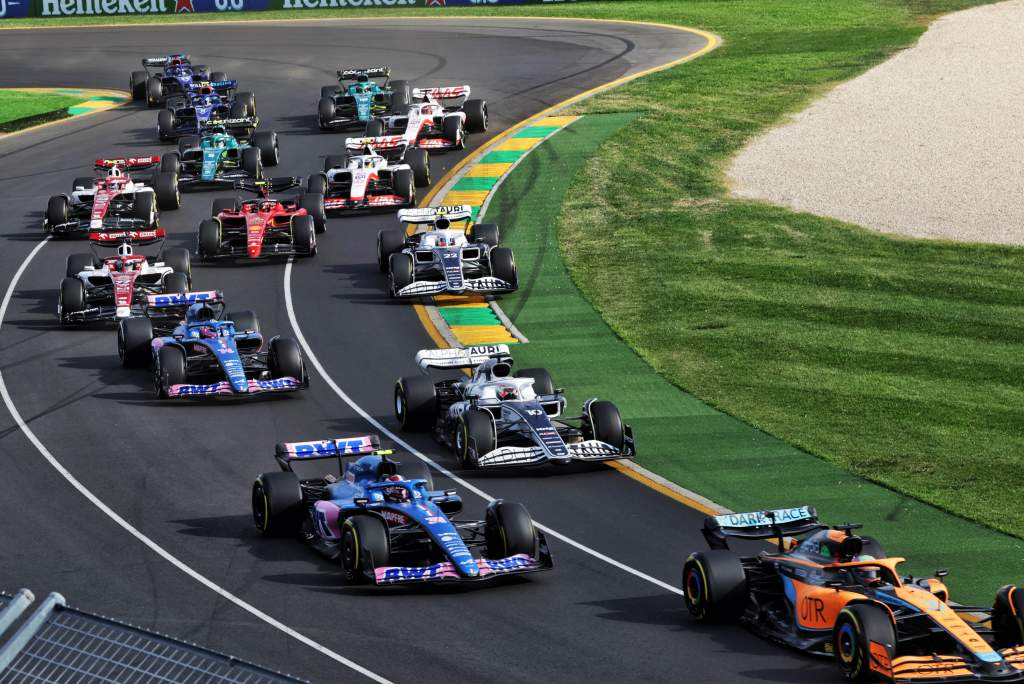 Albon made little progress early on, with wheelspin at the start preventing him from attacking the cars in front then a cautious approach in bringing the tyres in to ensure longevity. He chased the Aston Martin of Lance Stroll, with the only position gained thanks to Carlos Sainz understeering off the track at Turn 9 and then spinning into the Turn 10 gravel.
The virtual safety car was deployed just after Albon had completed the second lap and was subsequently upgraded to a full safety car. Given the hard tyre choice, he stayed out but moved up to 18th place when Lance Stroll made the first of two pitstops on consecutive laps, switching to mediums then to hards to create the possibility of running to the end from there.
PART 2 (Lap 7-23)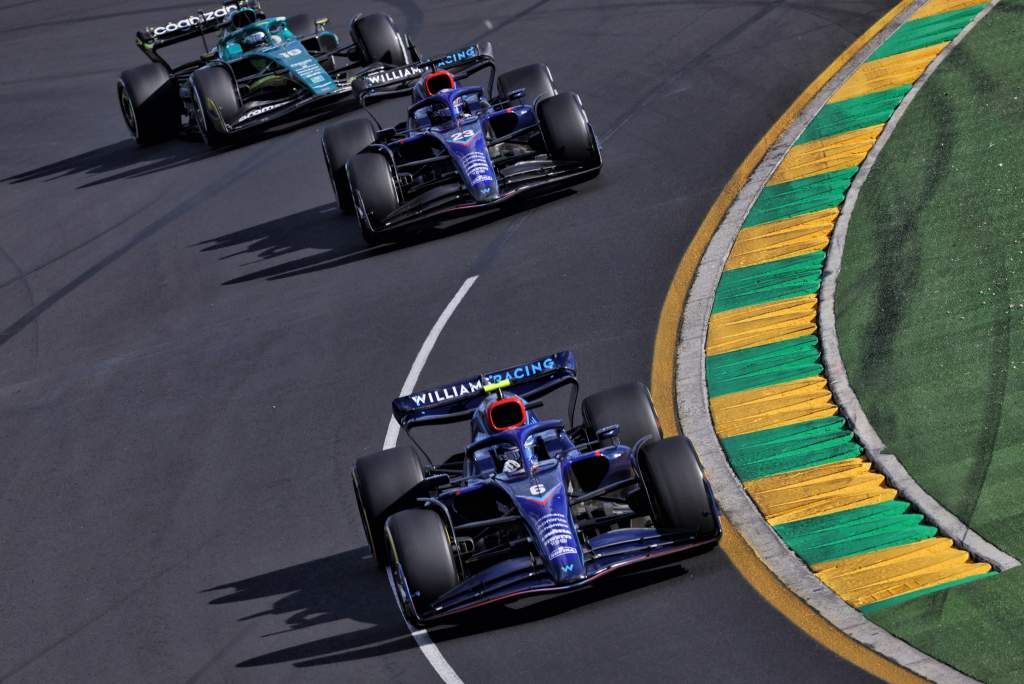 Albon remained in 18th place at the restart at the start of lap seven and settled into chasing team-mate Nicholas Latifi, who slipped back from the cars ahead.
The Anglo-Thai driver gained 17th place when Vettel had his trip through the gravel at Turn 11, caught out by an unexpectedly powerful tailwind. But the key was getting ahead of Latifi, who was battling graining problems.
During this phase of the race, Albon rejected James Urwin's suggestion to increase management of the front-left tyre in Turn 12 by saying "I can't. Why are we doing it so early? Let's just think about the race first".
Albon then made the pass using the DRS on the run to Turn 1 at the start of lap 13 with Stroll following him through and Latifi then heading to the pits.
Albon was then able to start chipping away at the group ahead, although far more significant was strategy as the medium starters ahead began to pit. Mick Schumacher, Esteban Ocon, Yuki Tsunoda, Pierre Gasly and Guanyu Zhou all pitted between laps 14 and 21, promoting Albon to 11th.
Then Albon suffered a setback caused by the unfortunate timing of McLaren driver Daniel Ricciardo emerging from the pits on lap 22. He was entering Turn 1 just as Albon arrived at racing speed and lost momentum thanks to the McLaren being in the way. Stroll briefly got alongside on the run to Turn 3, then fell back behind Albon again, with the Williams driver having no choice but to commit to the outside with Ricciardo defending. He entered the corner side by side and ended up wide as a result, with Stroll cutting inside to take 11th place.
That left Albon in 12th place when Vettel crashed at Turn 4 and brought out another safety car.
PART 3 (Lap 28-39)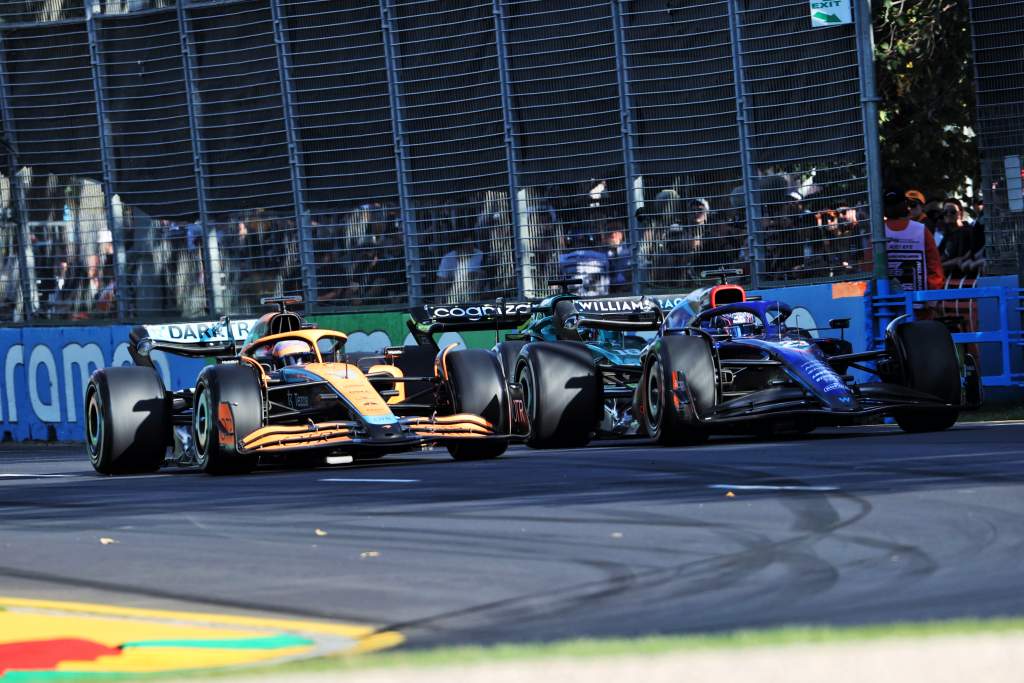 Albon reported during the safety car period that he struggled with the front end when behind another car. He also said he was struggling with over-rotation in the medium and high-speed corners, describing it as "the pendulum effect". He also reported "a bit" of graining but said it was nothing to worry about, indicating he wasn't having the same troubles Latifi was.
There was no discussion about pitting at that time. There was, however, talk about the possible front-wing flap adjustment for when he did stop, with a conventional strategy still a possibility.
His race was made simpler by Stroll, for the second time, making a pitstop under the safety car and getting out of the way. That, combined with Alfa Romeo driver Valtteri Bottas pitting just before the safety car, meant Albon ran 10th at the restart behind the two McLaren drivers.
It didn't appear to be a promising position as the safety car had eliminated any time gain from not yet having stopped. The same applied to Alpine driver Fernando Alonso, who was fourth, and Haas's Kevin Magnussen in seventh. But what they had all gained was track position.
The race restarted at the end of lap 27, with Albon warming his tyres on the start/finish straight as he chased the McLarens. Despite having older hard-compound Pirellis than those ahead and behind, Albon's pace was strong during this period.
During the first part of this stint, little changed. Albon was told "tyre life is good, your pace is really good" but all that added up to was holding station in the queue. When the virtual safety car was deployed on lap 39 thanks to Max Verstappen retiring, Albon was only eight seconds clear of last-placed Latifi down in 18th. Even a VSC pitstop would have dropped him well out of points contention, hence the instruction to stay out.
But Alonso and Magnussen did stop, which – combined with Verstappen's retirement – moved Albon up to seventh for the crucial final phase of the race.
PART 4 (Lap 40-52)
Albon's pace continued to hold up well at the restart and he was able to hold position without any serious threat from Ocon, who had a 17-lap tyre life advantage.
The Williams worked well on the hard-compound Pirellis and produced consistently good laptimes and they were proving durable, as proved by the fact Albon set his best lap of the race on lap 54. But even so, at this time the strategy was still something of a 'Hail Mary' – predicated on the hope of a red flag and a 'free' tyre change.
This possibility began to emerge during the early laps of this stint thanks to the unexpected assistance of Stroll, who got the jump on Bottas and barged past him at Turn 3 when the VSC ended.
The Aston Martin driver was in ninth place and going to the end on hard tyres with a big queue of cars behind him – Gasly (10th), Bottas (11th), Schumacher (12th), Alonso (13th), Zhou (14th), Tsunoda (15th), Latifi (16th) and Magnussen (17th).
These were queued up behind the Aston Martin, which became a rolling roadblock and opened up the possibility of Albon's strategy paying off without the help of a red flag. Albon had a bunch of quicker cars behind him, but crucially they were all behind one of the few slower ones. If Stroll could keep them all behind and Albon build a big enough gap, eighth place was possible.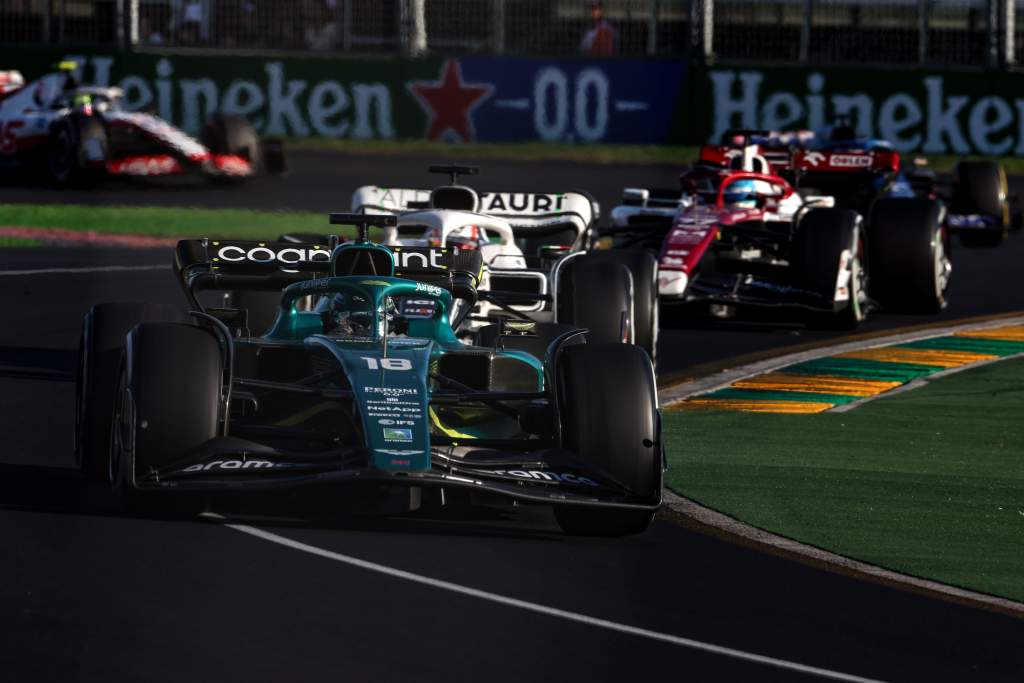 To the delight of the Williams team, its former driver proved to be enormously stubborn – albeit motivated by his own desire to stay in the points rather than assist Albon. The VSC ended on lap 40 and it wasn't until lap 50 that Stroll's defences were breached, with Gasly – who had followed Stroll past Bottas – passing him.
At that point, Albon was 10 seconds clear of Stroll – just over half the time he needed for a green-flag pitstop. With Gasly through to join Ocon in Albon's pit window, ninth was now the best result possible. When Bottas got past Stroll on lap 51, that became 10th, but by now Stroll was 12.4s behind Albon.
The battle was now with Alonso, who had got past Schumacher and had earlier expressed puzzlement at why Gasly didn't pass Stroll more quickly. "Who is in the AlphaTauri," he asked, adding when told "I don't get it, why he don't overtake?".
But before Alonso could have a go at attacking Stroll, he was passed by Zhou – who had jumped Schumacher when the Haas driver locked up and had a brief off at Turn 1 while chasing the Alpine driver.
Zhou DRS'd ahead of Alonso on the start/finish straight, with Magnussen following him through at Turn 4, crowding the Spaniard – who was struggling with the tyres – onto the kerb in a move that started into Turn 3. Albon now had around 16s over Stroll.
PART 5 – ENDGAME (Lap 53-58)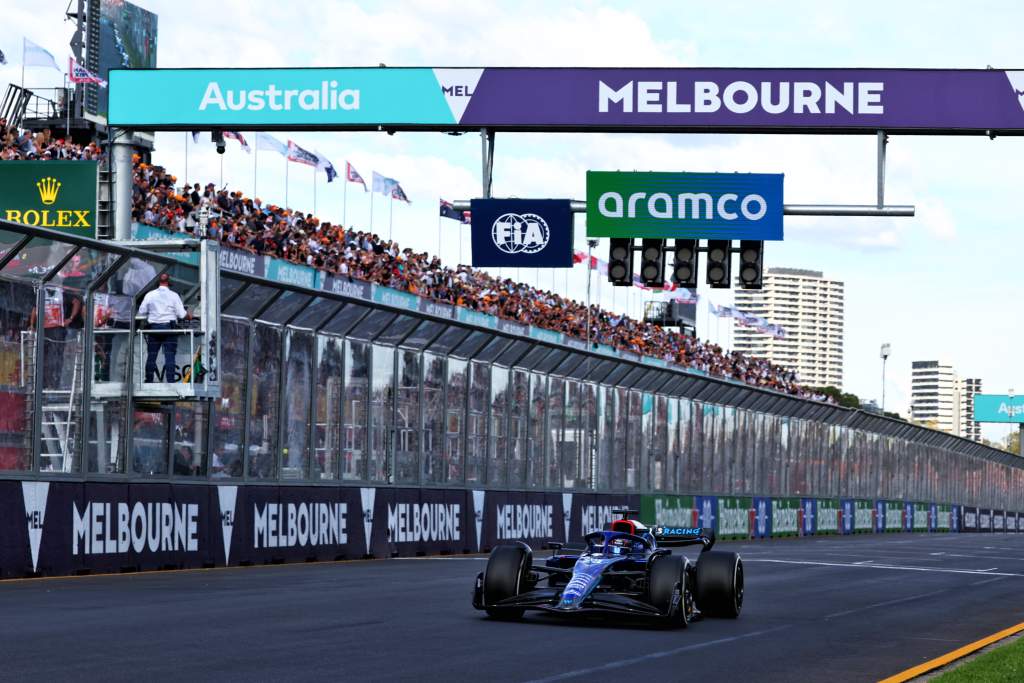 This meant it all came down to Albon versus Zhou for the final point. But the Alfa Romeo driver first had to catch up with Stroll, who had edged away from the battles behind. Zhou had passed Alonso with six laps to go but had three seconds to make up on the Aston Martin.
Albon, meanwhile, was in clear air, having dropped just over five seconds back from Ricciardo and lapping at a similar pace to Ricciardo, Ocon, Gasly and Bottas despite his aged rubber. "It's a hell of a stint," his race engineer told him at this point.
Zhou got his head down and chased, overtaking Stroll on lap 56 using the DRS on the start/finish straight. At that moment, the gap between Albon and Zhou was 19s – with the Alfa Romeo under instructions to push. Albon, meanwhile, knew what he had to do and continued to lap in the mid-1m22s bracket, only being given the instruction to give it everything for the last couple of corners of his in-lap, having earlier been warned "it's going to be a race at pit exit".
When Albon pulled into the pitlane at the end of the penultimate lap, he was 20.166s ahead – enough to stop and emerge just ahead but without much leeway. His pace on the hards, combined with the shenanigans behind, meant he could stop with a reasonable expectation of emerging ahead.
Incidentally, stopping on the last lap was not an option. Although the Williams pit was before the timing line, the regulations state that a car must use two compounds of dry rubber in a race on pain of exclusion. And using is clearly defined as having crossed the timing line at the pit exit while the race is still on.
A slow front-left change proved costly, with Albon spending 1.9s longer in the pitlane than Latifi did for his second stop. Zhou closed on him approaching Turn 1 with a significant speed advantage, turning in and taking the apex with the intention of holding the car wide to try and go around Albon coming through and off Turn 2. But he had a big rear-end snap and the likely pass turned to nothing.
"The last lap, I have no tyres left," reported Zhou over the radio on the slowdown lap. "I nearly spun because the rear was overheating."
But while Zhou was perplexed to be beaten by a Williams, Albon was delighted. The only alarming moment was when Urwin mistakenly told him he was 11th after crossing the line, quickly correcting that to P10.
"That was amazing, the car was unbelievable," said Albon, who was congratulated both by Urwin and Capito. He even found time to gently rib the strategy team after a prediction-defying race.
"We we came into today, looked at our race predictions and we looked a bit sad," said Albon. "It was a race where we took risks because we felt like no matter what we did, we were going to finish 19th or 20th.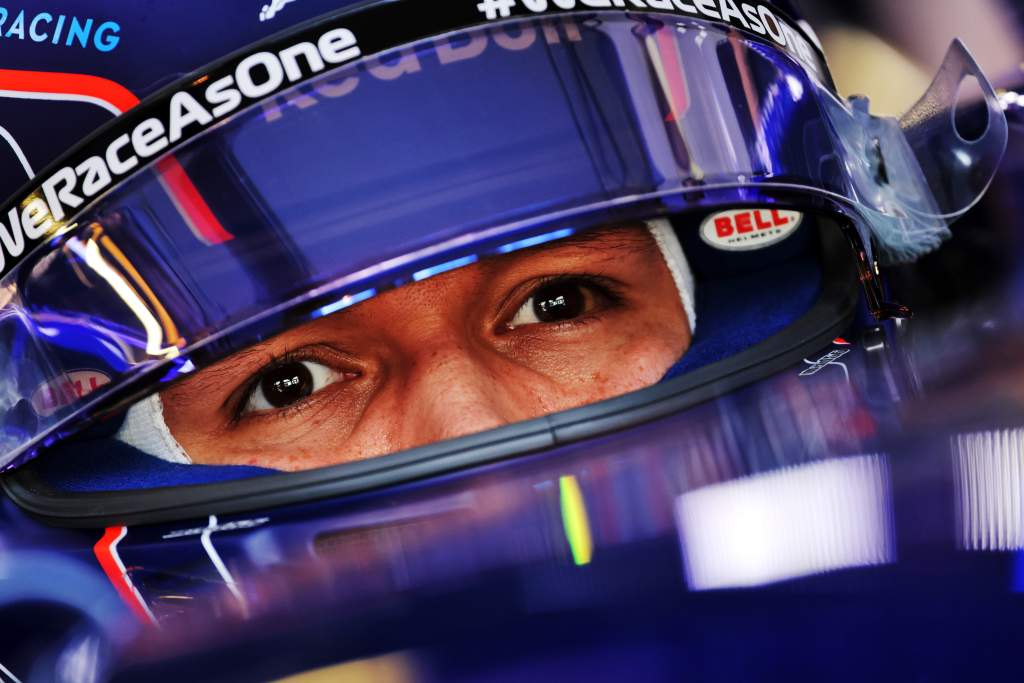 "We went in starting our race, taking a bit of time to build the tyres up into a nice window. When you start last you can afford to do that and then it just got better and better.
"And then by the end of it, it felt like qualifying laps for the last 25 laps of the race.
"Obviously, it's completely unexpected, but it really highlights all the work that's been done at the factory and the track. That's what determination and motivation gets you.
"It's been an amazing day and I'm glad I could get the result for the team."
'Amazing' is the right word. The result required a confluence of factors – the strength of the Williams on the hards that became increasingly impressive as the race progress, Albon's error-free performance, the low expectations that encouraged risk-taking, Stroll holding up a queue of cars in the second half of the race and that moment for Zhou that prevent a likely, albeit not certain, pass.
"I was surprised we were never boxing under the VSC or the safety cars," said Albon. "I thought 'OK, they know something I don't'.
"Once we got clear air, we just went and were on much older tyres than the cars around us. We were keeping pace more or less with the McLarens and, at the very end, pulling away from the Alpines.
"What's interesting is that the C2 tyre really suits our car. We need to understand why because it's a bit unexpected, this result. Maybe we need to qualify, race, do everything on that tyre!"