Kimi Raikkonen said he was left wondering "what the others are doing" on an electric first lap of the Portuguese Grand Prix that left his Formula 1 rivals stunned.
Raikkonen charged from the penultimate row of the grid to seventh on the opening lap at Algarve then passed Charles Leclerc's Ferrari to run sixth in the early stages.
The Alfa Romeo driver made the most of his soft tyres, the low-grip track surface and light drizzle to carve through the order despite actually losing a place into Turn 1 after the start.
After falling behind team-mate Antonio Giovinazzi briefly, Raikkonen toughed it out between a Williams and a Haas before bursting ahead on the brakes for Turn 3 and passing Daniil Kvyat around the outside.
He cleared Giovinazzi when the Italian lost momentum tagging Sebastian Vettel, then passed the Ferrari on the run to Turn 5 and Lance Stroll's Racing Point into the hairpin itself.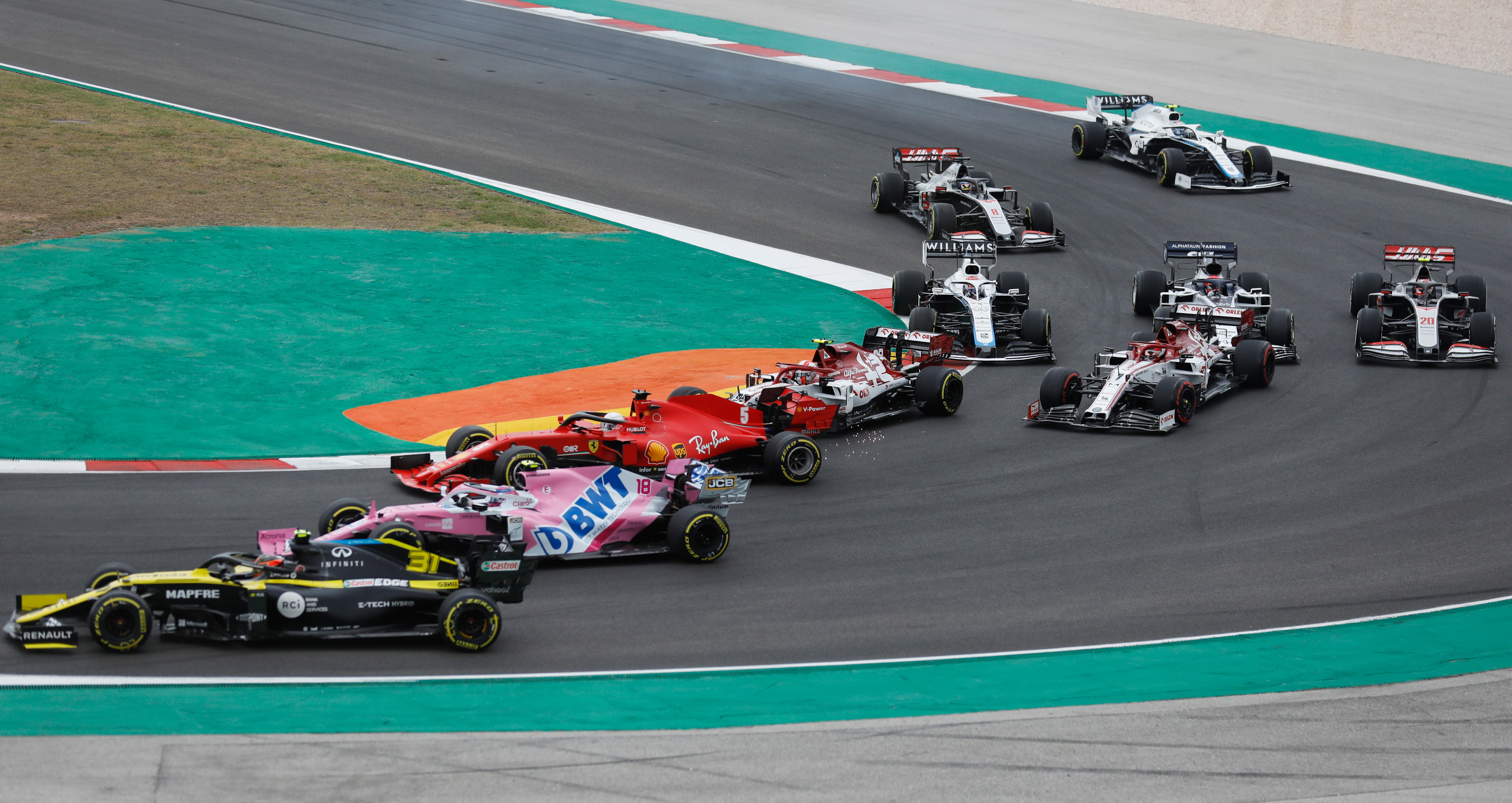 Incredible traction allowed him to blast past Esteban Ocon through the Turn 6 and 7 kinks, and do the same to Pierre Gasly out of Turn 8 and through the uphill Turn 9.
Raikkonen then passed Daniel Ricciardo on the outside of Turns 10 and 11 and dived inside Alex Albon at Turn 12 as the leaders scrabbled for grip and bunched each other up.
"Kimi was flying," said Albon. "It looked like he was on a different track to all of us."
"Probably his rally driving helped him a bit in the first lap or something because that was pretty impressive" :: Max Verstappen
"I don't think the start itself was very good, I think I lost a place," Raikkonen laughed.
"But after that, honestly I thought at one point 'what are the others doing?'.
"Obviously I had a good first lap and even second lap, but then I think the speed was decent in the car most of the race."
From P16 to P6 😎

An amazing start for Kimi Raikkonen at Portimao 🚀#PortugueseGP 🇵🇹 #F1 pic.twitter.com/cRneQ4dw2O

— Formula 1 (@F1) October 25, 2020
As Raikkonen joined the lead group he almost ran three-wide with Leclerc and Max Verstappen's Red Bull down the start-finish straight, passing the Ferrari into Turn 1.
He briefly drew level with Verstappen around the outside of Turn 4 and launched a huge attack under braking for the next corner but got run out wide exiting the hairpin.
His race peaked at that point, and Raikkonen eventually slipped back – not helped by "difficulties" at his pitstop – before fading tyres meant Vettel stole the final point from him.
"We got nothing out of it, so that's a shame," Raikkonen lamented after missing out on only his second top-10 finish of the season. But he left a clear mark on his rivals, including race winner Lewis Hamilton and third-place man Verstappen.
"I had Kimi behind me," said Verstappen. "I was shocked about that because I thought "Am I really going to… like, what's going on?!"
"Kimi was flying, probably his rally driving helped him a bit in the first lap or something because that was pretty impressive. He must have been P6?"
Hamilton interjected: "Shows you can still do it at 40 [Raikkonen is 41]!" to which Verstappen replied: "Clearly!"
Raikkonen turned 41 earlier this month. His only points finish this season came with ninth place at Mugello, but his impressive race-day performances have put him on the brink of announcing a third season with Alfa in 2021.
He has already broken Rubens Barrichello's record for grand prix starts and will extend that further if he does, as expected, continue next season.
Raikkonen's combative effort at the start of the Portuguese GP was lauded by Ricciardo who said Raikkonen was there on merit, not just because he had inherited a lot of places, though he suggested Raikkonen had benefited from having the tyres in a better working window that others for some reason.
Ricciardo felt his own rise to seventh on the opening lap was "not a bad start" until he saw Raikkonen pass him, knew the Finn "didn't start 11th or 12th…so I was like 'where did he come from?!'"
He added: "I wasn't thinking 'get out of my way', I felt like he'd earned his spot.
"Obviously the first few laps were mega from Kimi, but it felt like he had the pace to hold it.
"I eventually got past him, but his pace wasn't slow. On the medium, I had to defend in the first few laps and he was hanging with me.
"I could see in my mirrors, he had some decent pace.
"Obviously all deserved, when I'm fighting an Alfa, we're probably not on for a podium today, but he had some really decent pace. That was my battle for today, I had to accept it."