A maximum Formula 1 tyre life limit of 18 laps has been imposed for the Qatar Grand Prix amid continuing concerns about the Pirellis showing signs of internal damage.
The 18 laps figure is based on the number of fast laps completed on that set during the event, including qualifying, meaning not all tyres available to drivers still can actually be used for 18 laps in the race. For example, a used set that completed an outlap/push lap/inlap run in qualifying could be used for a further 17 laps in the race but no more.
This will force everyone to run a minimum three-stop race, assuming there is no disruption that reduces the race distance. The number of stops is not officially mandated, but dictated by the available tyre life.
Any driver who exceeds the tyre life limit is expected to be excluded from the results.
WHY IT'S HAPPENING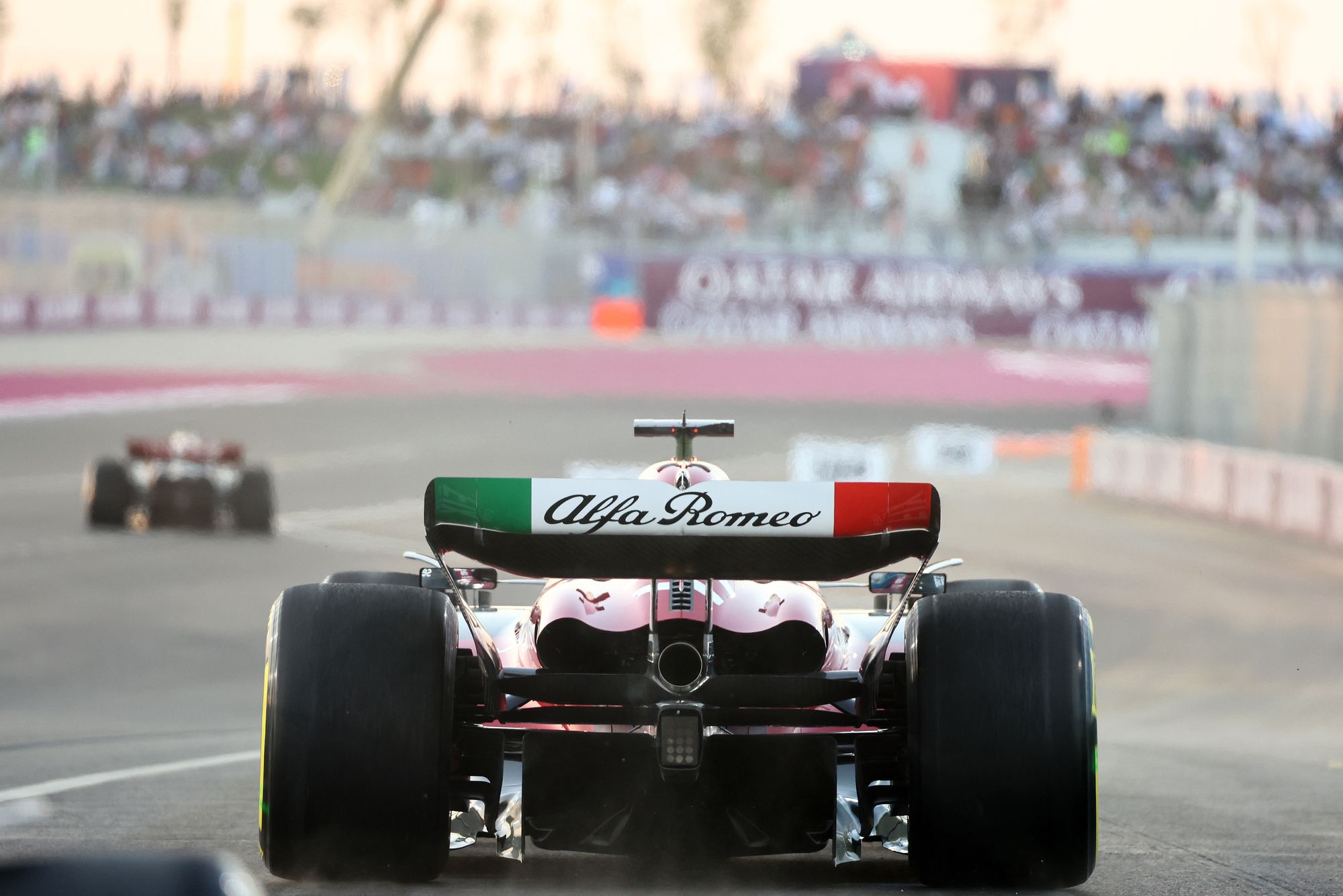 Pirelli discovered the signs of internal damage after analysing tyres used in Friday practice, which showed early indications of the separation in the sidewall between the carcass cords in the construction of the tyre and the topping compound.
As Saturday's sprint race produced limited data given the three safety-car interruptions, there was insufficient data to run the race without any tyre restrictions - though the FIA admitted that even the interrupted sprint produced some signs of continuing tyre problems.
An FIA statement said: "Due to the frequency of safety car interventions in yesterday's sprint, the tyre data available for analysis by Pirelli was insufficient to add to that already undertaken following previous track sessions."
"In some cases, tyres that were analysed from the sprint did show the initial onset of the separation in the sidewall between the topping compound and the carcass cords of the tyres.
"As was the case in free practice 1, this issue has likely been caused by the high-frequency interference between the tyre sidewall and the 50mm 'pyramid' kerbs used extensively at this circuit, aggravated by the propensity to ride those kerbs."
The FIA statement went on to outline the "mandatory limit of 18 laps of total tyre life per set will be imposed" with "the life of already used tyres taken into consideration".
Pirelli's graphic below tells you exactly how many laps each driver could do on a particular set of tyres they have carried over for use in this race. No one is allowed to go beyond the number of laps allocated to each tyre in this graphic, otherwise the FIA will consider the car to be in an unsafe condition, which will lead to exclusion.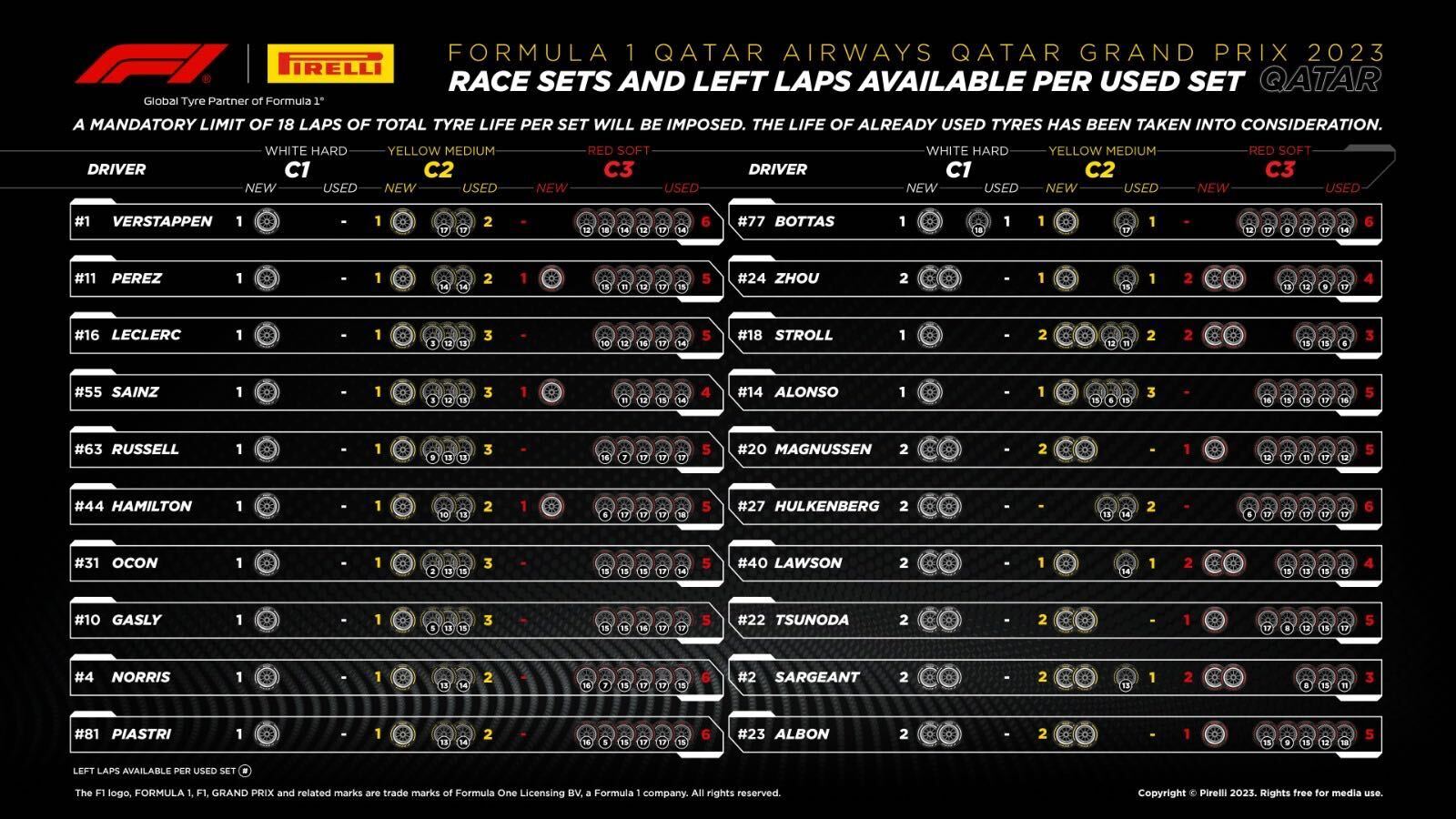 DEFINITELY THREE STOPS?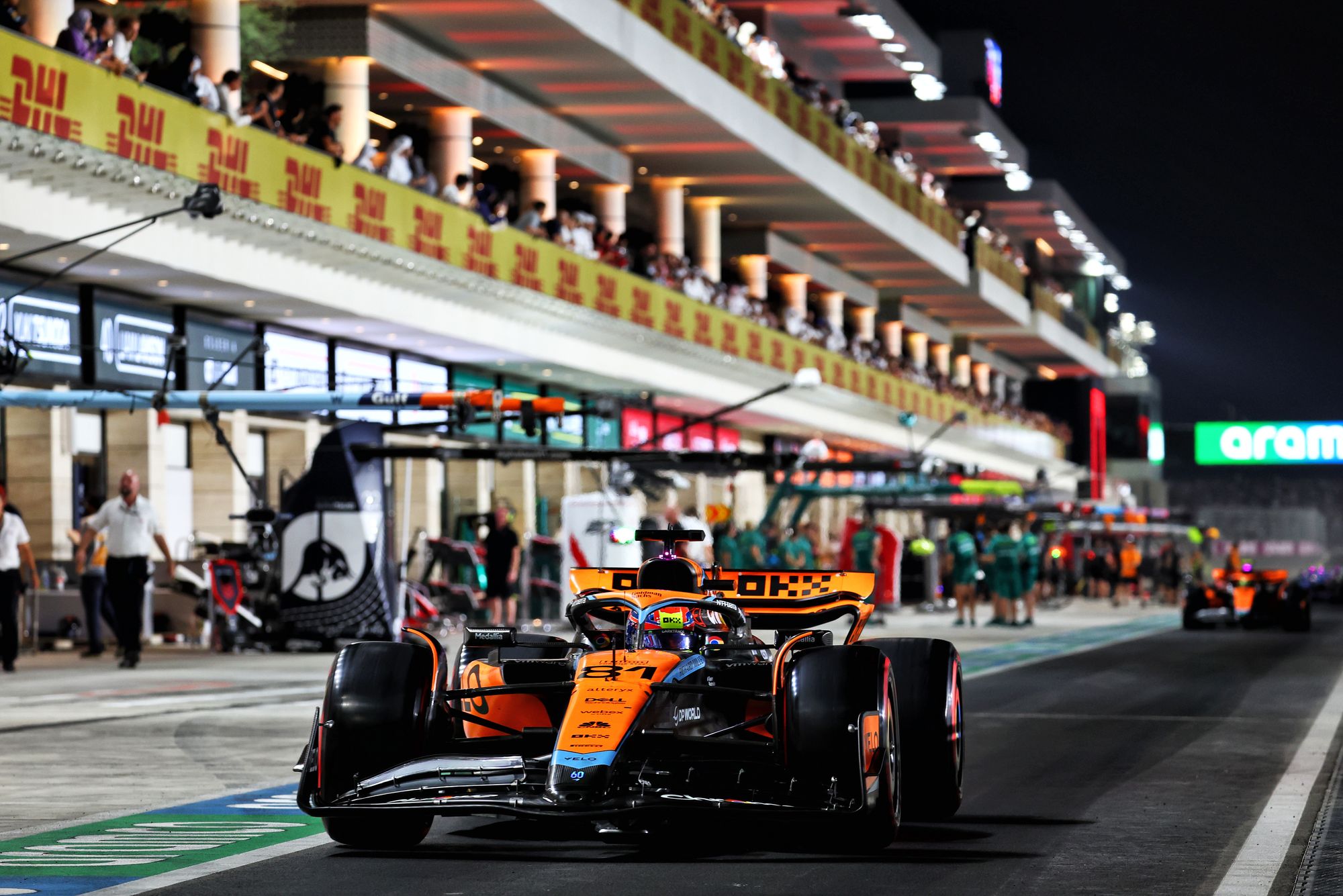 The statement also stressed "there is no direct mandate for at least three tyre-change pitstops during the race".
There were initially indications that any laps under the safety car would not count towards the tyre life limit because they would not be 'push laps'. That would have meant there might be a chance for some drivers who were in better tyre availability shape to stretch to a two-stop strategy if there were sufficient laps at low speed. But information supplied to the teams suggested that was not the case, and they are expecting a "definite" three-stop race according to Aston Martin performance director Tom McCullough.
The FIA also indicated that any car "deemed to have exceeded the tyre life lap limit will be reported to the stewards as being run in an unsafe condition".
This poses an interesting strategic challenge for the teams given they have varying tyre resources available subject to the laps already completed on used tyres.
And while the race is set to be a three-stopper, were it to be reduced for any reason by three laps that could still lead to a two-stop strategy being possible.
A TOTAL CURVEBALL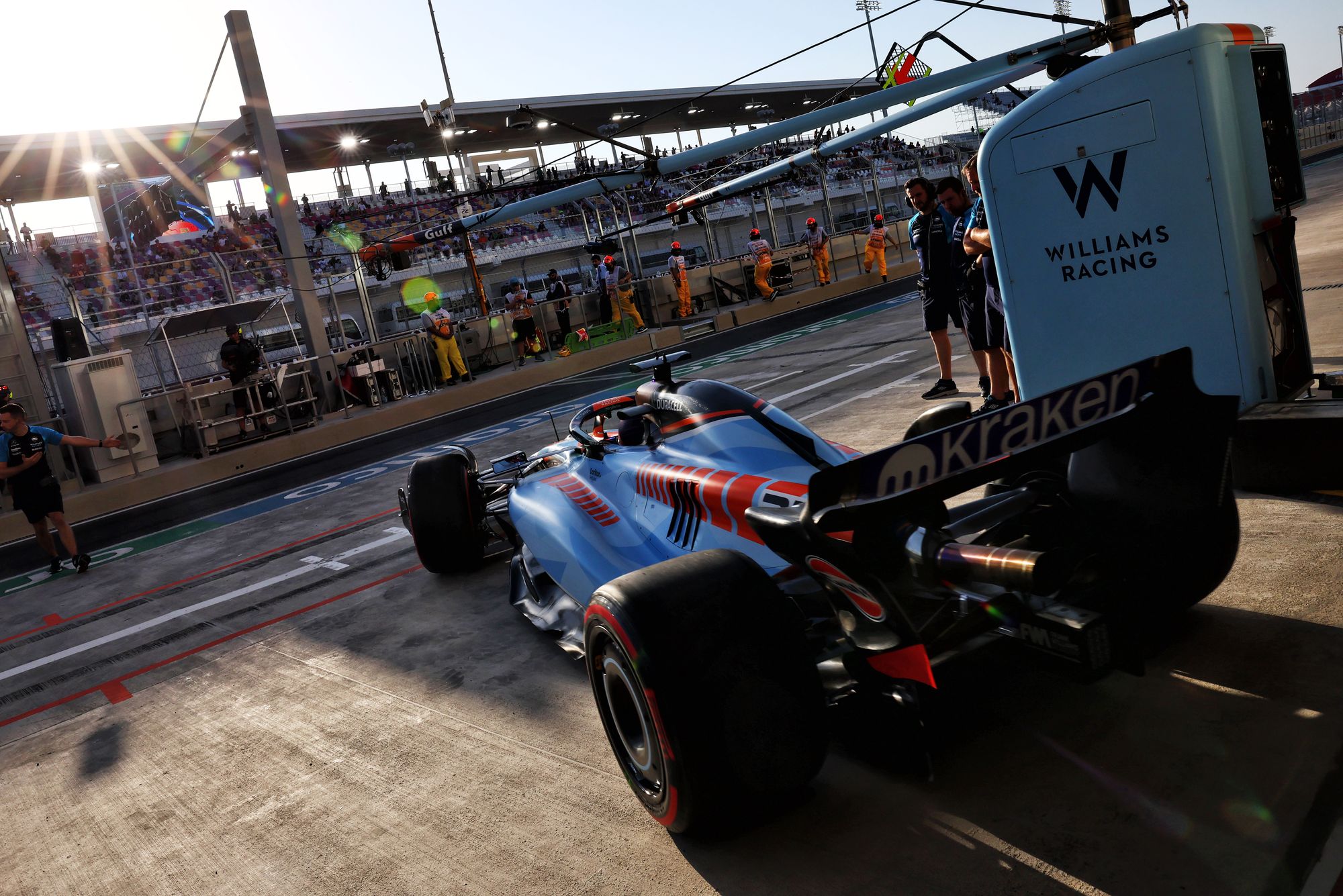 As teams were not aware of the possibility of such constraints on Friday, this has thrown the tyre planning for the weekend out of kilter.
Because the soft tyre has shown it does not last long, drivers will want to stay off it as far as possible. However, only four drivers have sufficient new hards and mediums (two sets of each) to do a full three-stop race under green flag conditions without either using softs or running used tyres – Alex Albon, Logan Sargeant, Yuki Tsunoda and Kevin Magnussen.
All drivers have four sets of tyres across the hards and mediums available, but the varying levels of qualifying running on those sets could yet force some drivers to use softs for parts of the race.
Five teams – Red Bull, Ferrari, Mercedes, Alpine and McLaren - have just two completely unused sets across the hard and medium tyres, along with Alfa Romeo's Valtteri Bottas and Aston Martin's Fernando Alonso. Polesitter Max Verstappen has 17 laps left on his two sets of 'used' mediums, though.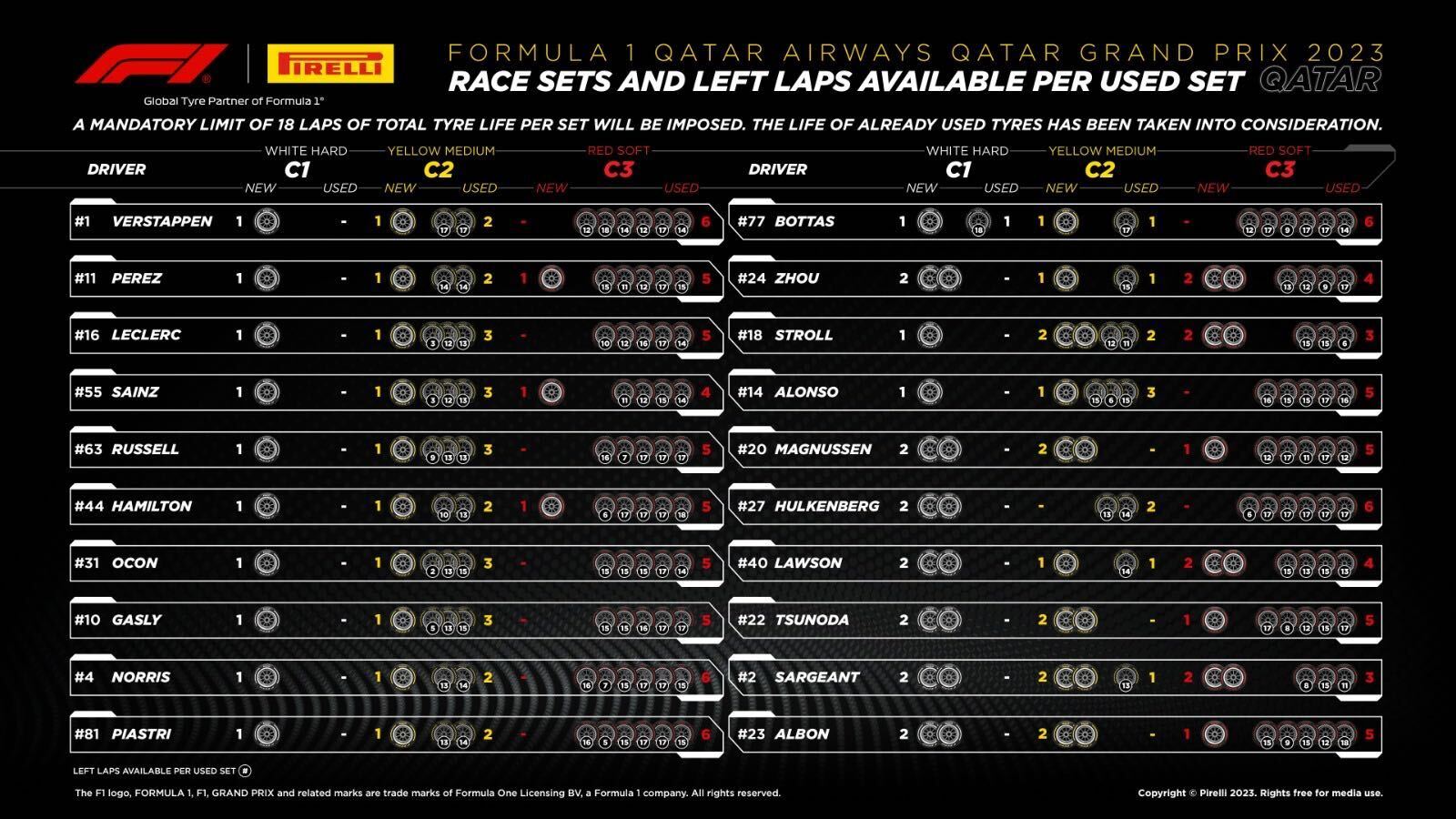 While all drivers have multiple used mediums available, some may be too well-used to be of value in the race. Lewis Hamilton is in a potentially tricky position as one of his two used sets of mediums has already done eight fast laps and the other has done five. His Mercedes team-mate George Russell, the two Ferraris and the two McLarens will also have to rely for some stints on mediums that have already had between four and six fast laps on them.
The FIA expects teams to manage their own adherence to the tyre life limit and there will not be any warnings from race control of tyres approaching their maximum fast laps.