Sergio Perez took a remarkable first Formula 1 victory in the Sakhir Grand Prix, as a series of late disasters befell Mercedes when George Russell looked assured of the win.
Racing Point driver Perez had to come from last to take the astonishing result, having been caught up in a first-lap clash.
Russell took the lead immediately by making a better start than Bottas and then moving ahead under braking for Turn 1, despite Bottas trying to hang on around the outside.
As Bottas then had a twitch through Turn 2, he lost momentum and was attacked by Max Verstappen, Perez and Charles Leclerc.
The Turn 4 incident 👀#SakhirGP 🇧🇭 #F1 pic.twitter.com/8aReIzkbVZ

— Formula 1 (@F1) December 6, 2020
The Mercedes managed to fend them off, and Leclerc locked up and tagged Perez into a spin at Turn 4. That immediately broke the Ferrari's suspension, with Verstappen ploughing off the road into avoidance and going straight into the barrier.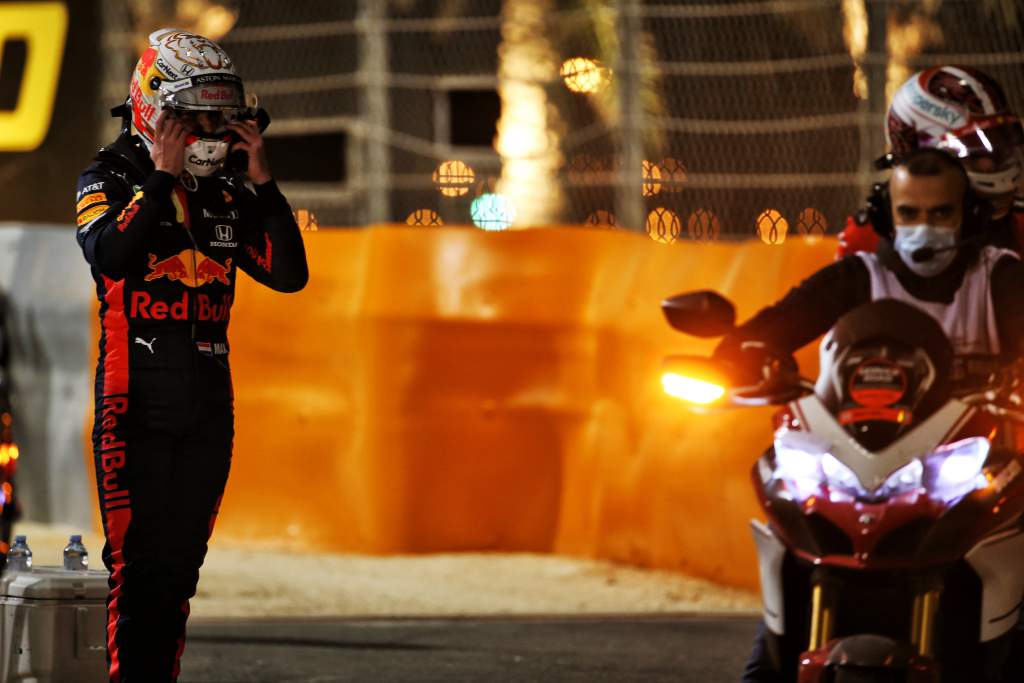 That prompted a six-lap safety car period, after which Russell made another break as Bottas was briefly overtaken for second by Carlos Sainz Jr's McLaren.
Russell established a lead that fluctuated between 2-3s through the first half of the race.
He made his sole pitstop five laps earlier than Bottas, with staying out backfiring badly for Bottas as he rejoined with the gap up to eight seconds.
Bottas nibbled the gap down to five seconds before the race was turned inside out by a safety car period required when Russell's Williams stand-in Jack Aitken went off at the final corner and deposited his front wing on the circuit.
With a huge gap over the rest of the field, Mercedes brought both its cars in for precautionary pitstops for fresh medium tyres.
LAP 61/87

Virtual Safety Car deployed after Aiken hits the barriers#SakhirGP 🇧🇭 #F1 pic.twitter.com/ulOrv7h7ey

— Formula 1 (@F1) December 6, 2020
But it accidentally put a mixed tyre set on Russell's car, and appeared to realise the error halfway through Bottas's tyre change. The crew put Bottas's old hards back on his car and released him after an agonising 27s wait, and had to bring Russell back in next time around to get his correct tyres.
That left Bottas and Russell back in fourth and fifth, as Perez emerged in a remarkable race lead.
He'd dived in for new mediums after his first-lap clash, and made superb progress through the field – making up five places in the first two laps of racing and soon reaching the top 10.
Perez vaulted those on a conventional two-stop strategy and going into the closing stages was catching the fight for third that had developed between his Racing Point team-mate Lance Stroll and Renault's Esteban Ocon.
Stroll locked up and went wide at Turn 4 under pressure from Perez, who then rapidly passed Ocon to take what looked like it would be third to the flag before Mercedes' calamity handed him the race lead.
Russell still looked like he had a shot at recovering to victory, as he made quick progress past Russell, Stroll and Ocon to move into second after the final restart.
But Perez was 3.6s clear by then, and Russell had only got that gap down to two seconds when he had to dive back into the pits with a puncture and tumbled to 15th.
LAP 79/87

📻 "Aaggghhhh!" cries Russell over the radio

He's told he has a left rear puncture and is forced into the pits

He returns to the track in P14 #SakhirGP 🇧🇭 #F1 pic.twitter.com/wW5oaT5oXe

— Formula 1 (@F1) December 6, 2020
Perez continued to storm away from the field to take victory in what could still be his penultimate grand prix, as he has yet to secure a seat for 2021.
Ocon fended off a train of cars to take his first F1 podium in second place. Stroll was his main threat, but also had to focus on successfully resisting two-stopper Sainz.
Daniel Ricciardo brought the second Renault home fifth after a race-long fight with fellow two-stoppers Sainz and Daniil Kvyat.
Red Bull's second driver Alex Albon was brought in for an extra stop under the late safety car and made it back up to sixth between Ricciardo on Kvyat. With his 2021 seat rival Perez winning, that result may well not be enough for Albon's future.
Bottas had no pace after the safety car and was elbowed back to eighth place, with Russell charging back to ninth behind him.
Lando Norris completed the scorers for McLaren, despite starting on the back row, with Pierre Gasly and the sole remaining Ferrari of Sebastian Vettel behind him.
Aitken recovered from his brush with the barrier to beat fellow debutant Pietro Fittipaldi to 16th.
Race Results
| Pos | Name | Car | Laps | Laps Led | Total Time | Fastest Lap | Pitstops | Pts |
| --- | --- | --- | --- | --- | --- | --- | --- | --- |
| 1 | Sergio Pérez | Racing Point-Mercedes | 87 | 24 | 1h31m15.114s | 56.789s | 2 | 25 |
| 2 | Esteban Ocon | Renault | 87 | 0 | +10.518s | 57.35s | 1 | 18 |
| 3 | Lance Stroll | Racing Point-Mercedes | 87 | 0 | +11.869s | 57.388s | 1 | 15 |
| 4 | Carlos Sainz | McLaren-Renault | 87 | 0 | +12.58s | 57.165s | 2 | 12 |
| 5 | Daniel Ricciardo | Renault | 87 | 0 | +13.33s | 56.979s | 2 | 10 |
| 6 | Alex Albon | Red Bull-Honda | 87 | 0 | +13.842s | 57.056s | 2 | 8 |
| 7 | Daniil Kvyat | AlphaTauri-Honda | 87 | 0 | +14.534s | 57.001s | 2 | 6 |
| 8 | Valtteri Bottas | Mercedes | 87 | 4 | +15.389s | 56.563s | 2 | 4 |
| 9 | George Russell | Mercedes | 87 | 59 | +18.556s | 55.404s | 4 | 3 |
| 10 | Lando Norris | McLaren-Renault | 87 | 0 | +19.541s | 57.27s | 2 | 1 |
| 11 | Pierre Gasly | AlphaTauri-Honda | 87 | 0 | +20.527s | 57.22s | 2 | 0 |
| 12 | Sebastian Vettel | Ferrari | 87 | 0 | +22.611s | 56.905s | 3 | 0 |
| 13 | Antonio Giovinazzi | Alfa Romeo-Ferrari | 87 | 0 | +24.111s | 56.887s | 2 | 0 |
| 14 | Kimi Räikkönen | Alfa Romeo-Ferrari | 87 | 0 | +26.153s | 57.375s | 3 | 0 |
| 15 | Kevin Magnussen | Haas-Ferrari | 87 | 0 | +32.37s | 57.516s | 2 | 0 |
| 16 | Jack Aitken | Williams-Mercedes | 87 | 0 | +33.674s | 57.392s | 3 | 0 |
| 17 | Pietro Fittipaldi | Haas-Ferrari | 87 | 0 | +36.858s | 57.742s | 3 | 0 |
| | Nicholas Latifi | Williams-Mercedes | 52 | 0 | DNF | 58.206s | 1 | 0 |
| | Max Verstappen | Red Bull-Honda | 0 | 0 | DNF | 0s | 0 | 0 |
| | Charles Leclerc | Ferrari | 0 | 0 | DNF | 0s | 0 | 0 |