It's happened again, and this time both Max Verstappen and Lewis Hamilton are out of a race as a result.
Whose fault was the Formula 1 title rivals' Italian Grand Prix collision? Why is Hamilton and Verstappen's championship battle proving so contentious?
Here are our writers' snap thoughts:
These two need to start respecting each other
Gary Anderson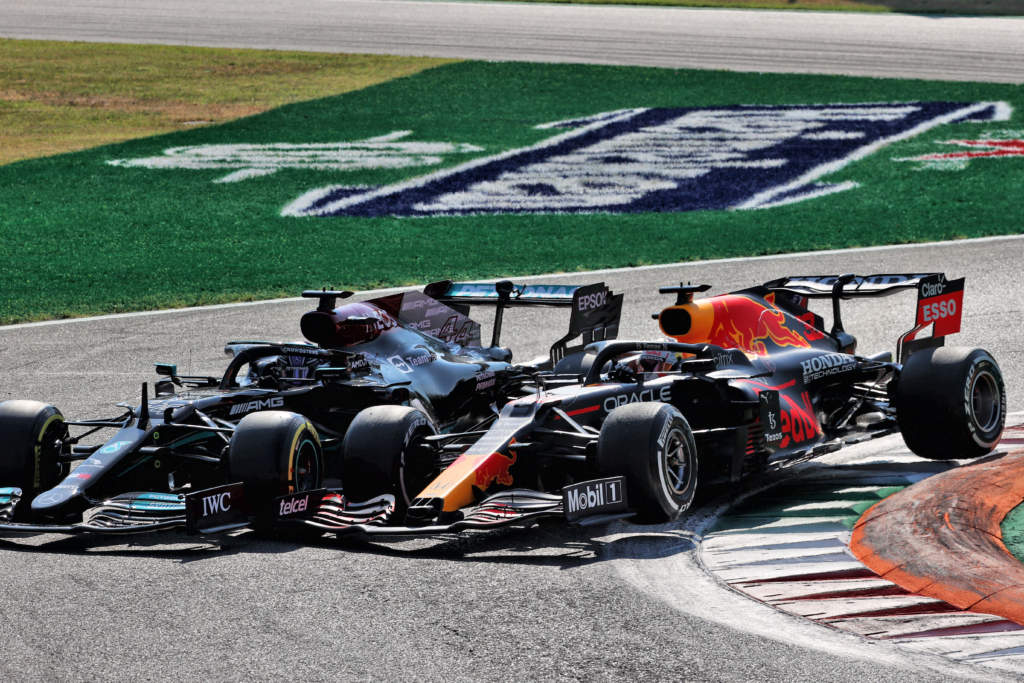 If you are a boxer, you have got to take the hits but in motor racing you've got to give whoever you are racing with space. They can't just disappear.
I actually couldn't apportion blame for that collision as neither driver left the other space and both of them could have done. If so, they would still be racing.
This one is going to be down to the stewards but it is happening too often. So if any penalties are going to be handed out they need to be sufficient to make these two respect each other and allow the championship to be decided with points instead of incident and injury.
Verstappen made it inevitable – but it wasn't all his fault
Scott Mitchell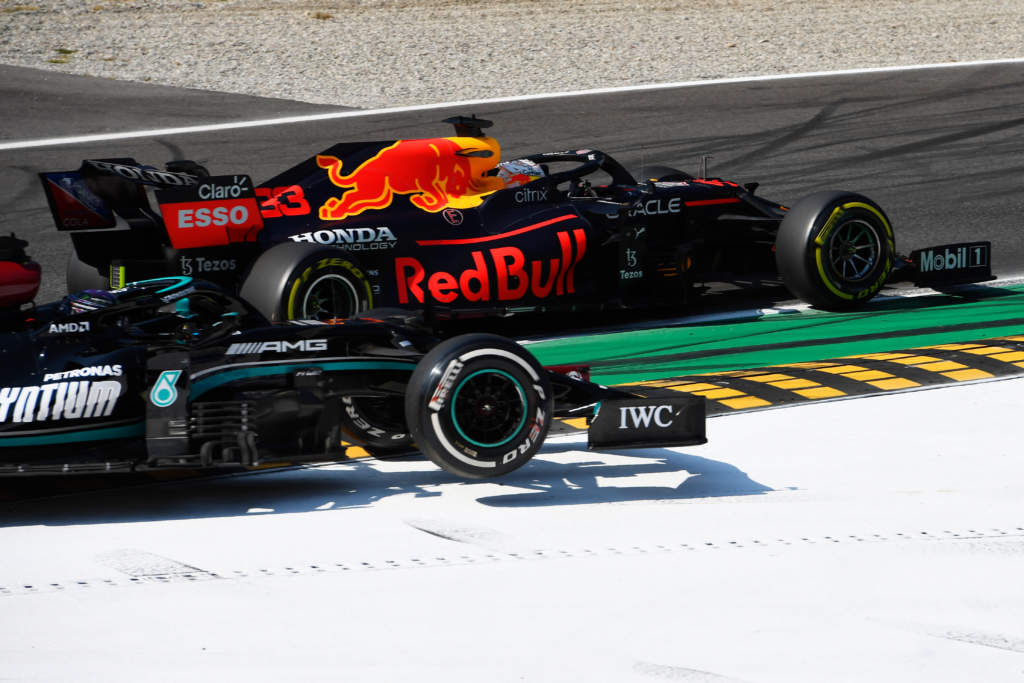 Once Verstappen committed to the move on the outside contact felt inevitable. But that doesn't mean it was his fault.
There's a lot of similarity between that accident and the first-lap clash that forced Hamilton over the kerb at the second chicane (pictured above).
Hamilton aborted the corner earlier on lap one, after a wheel bump with Verstappen through the first part. If he'd tried to hang on they'd have almost certainly collided.
The key difference with the second, race-ending collision is that Verstappen was able to hang on for longer around the outside. That put him inside Hamilton for the second part and far enough alongside to be given space.
Verstappen was on a collision course with the kerb if he wasn't given more room. Hamilton clearly felt Verstappen had the car's width he needed as Hamilton didn't exactly point his car at the apex. Verstappen didn't have the space but he also didn't back out.
Unsurprisingly, the two cars met at the apex and hit each other. I expect this will be chalked up as a racing incident.
A consequence of what happened at Silverstone
Valentin Khorounzhiy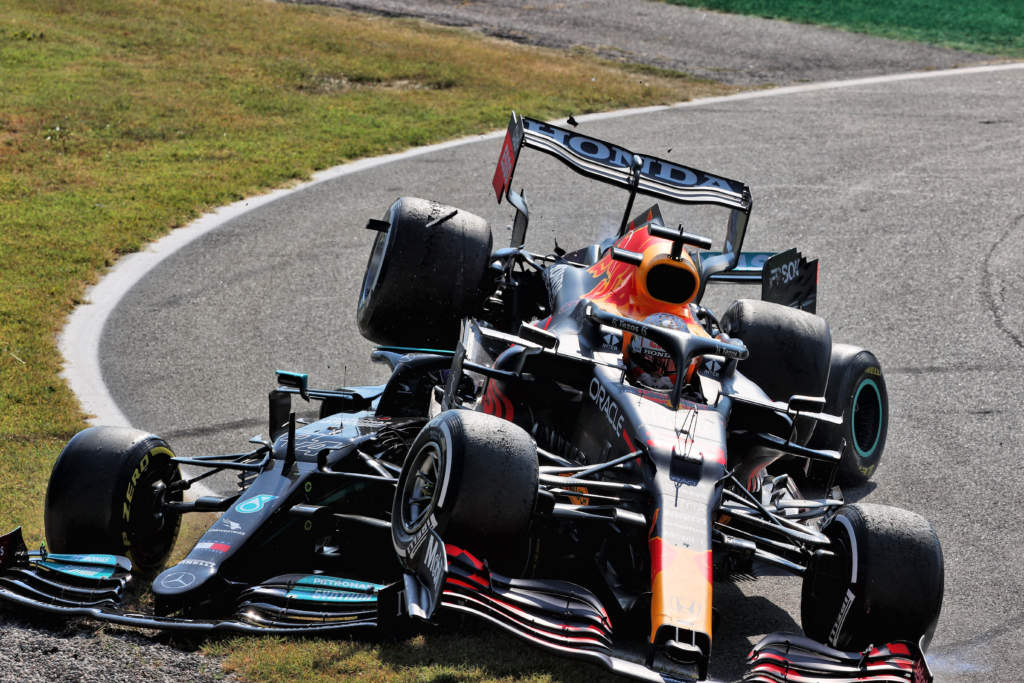 My first instinct upon viewing the crash, probably even before the actual contact was made, was that Verstappen was doing his own version of Adelaide '94 – a desperate attempt to make sure that there is no way your title rival gets out of their corner ahead of you, and if both of you don't get out, so be it.
Upon review, that is clearly not the case, and I think Verstappen had enough of a right to the corner to avoid any kind of penalty going forward.
But I'd be surprised, even given Verstappen's usual aggression, if this kind of thing would have happened in a pre-British GP world.
Verstappen and Red Bull were always bound to spend the rest of the season with a chip on their collective shoulder, feeling that a title battle swing was unjustly imposed upon them at Silverstone.
I'd wager a guess that at a certain point Verstappen knew keeping on with the move was likely to end in a crash, and simply accepted that risk in the split second before it came to fruition.
Hamilton should've done more to avoid crash
Glenn Freeman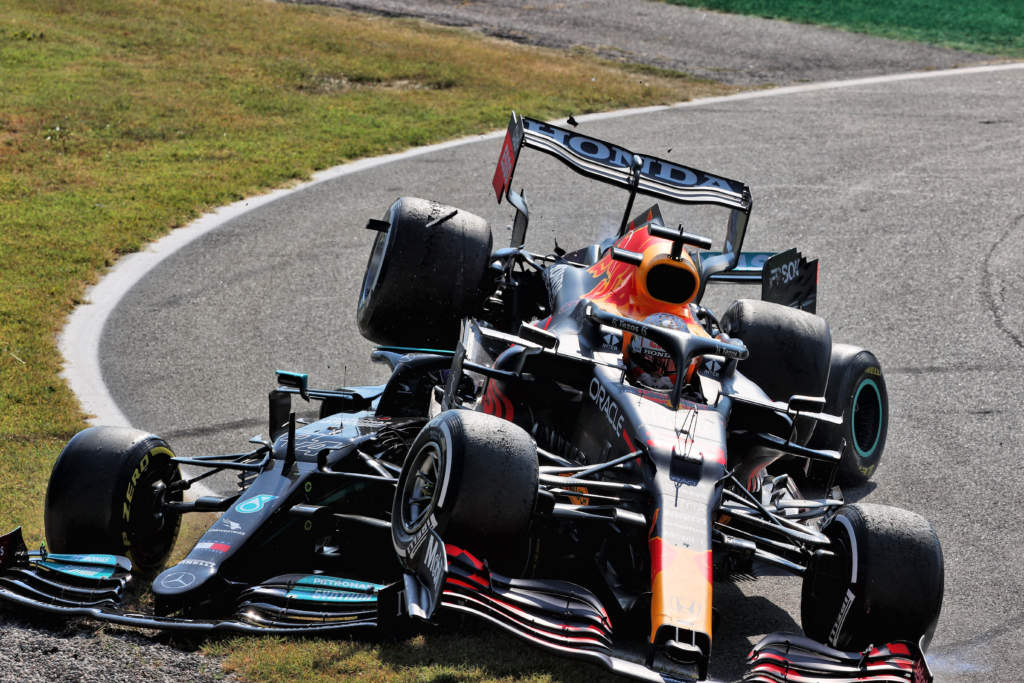 Verstappen was far enough alongside far enough into the chicane that he was entitled to more space.
He attacked the first part of the chicane around the outside superbly. Hamilton would have assumed he could go deep enough on the brakes to deter Verstappen, but once the Red Bull had got itself into position, the gap between Hamilton and the white line on the inside of the left hander needed to be bigger.
Let's all be thankful for the halo given where Verstappen's rear wheel ended up.
But with how the wheel 'sat' almost inside the ring created above Hamilton's head, forcing Hamilton to duck down inside his cockpit, questions will have to be asked if the halo can be redesigned to offer even better protection in a collision like that.
The build-up showed how intense F1 2021 has become
Edd Straw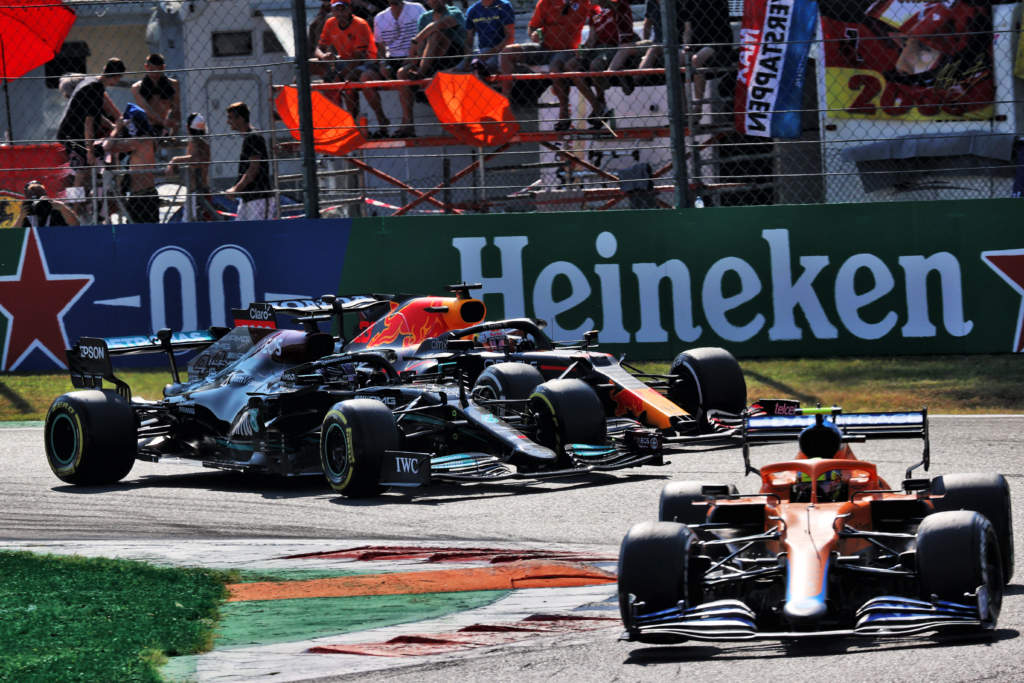 Both Verstappen and Hamilton had a role in that collision given the stewards generally seem to allow the driver on the inside on the way into chicanes not to leave a gap in the middle part.
But what this incident really shows is how intense this championship battle has become and that it encompasses more than just the drivers. After all, both the Red Bull and Mercedes pit crews created the conditions for this collision.
It was Red Bull's uncharacteristically slow pitstop that created the situation where Mercedes could bring Hamilton in to ensure he emerged ahead of Verstappen.
But Hamilton's slightly slow pitstop ensured that the first corner was contested, meaning both pit crews played had their role.
Once into the corner, it was simply a case of two drivers not being willing to give an inch. Hamilton should probably have left Verstappen more space, but Verstappen should have anticipated where it was all going given the risk inherent in being the one attacking on the outside.
You can say the same thing with the names reversed on the battle at the second chicane on the first lap.
Irresistible force meets immovable object.
Whoever's fault it was, Hamilton loses the most
Josh Suttill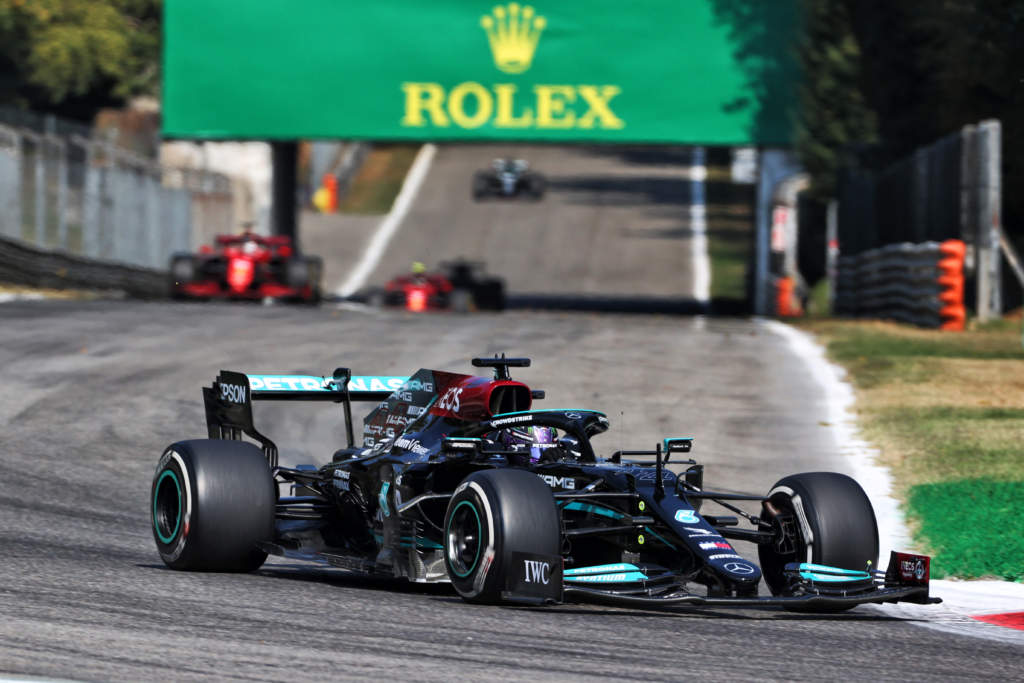 It's debatable which driver loses the most from this racing incident.
Of course, you could say that a pair of zero scores makes this a neutral outcome but arguably Hamilton lost slightly more with this collision.
He lost out two vital points to Verstappen in Saturday's sprint race and after coming off second best in their opening lap skirmish he looked set to lose even more.
Then Red Bull gave Hamilton a gift with that 11.1-second pitstop and it looked like the momentum had swung back towards a Hamilton win.
Instead, the collision inadvertently ensured Hamilton never got that chance. It's impossible to know who would have triumphed had the title rivals made it around the corner but the clash guaranteed that Verstappen holds his championship lead out of Monza and it's Hamilton who needs to do the chasing – and take slightly more risks.
Hamilton more to blame than at Silverstone
Mark Hughes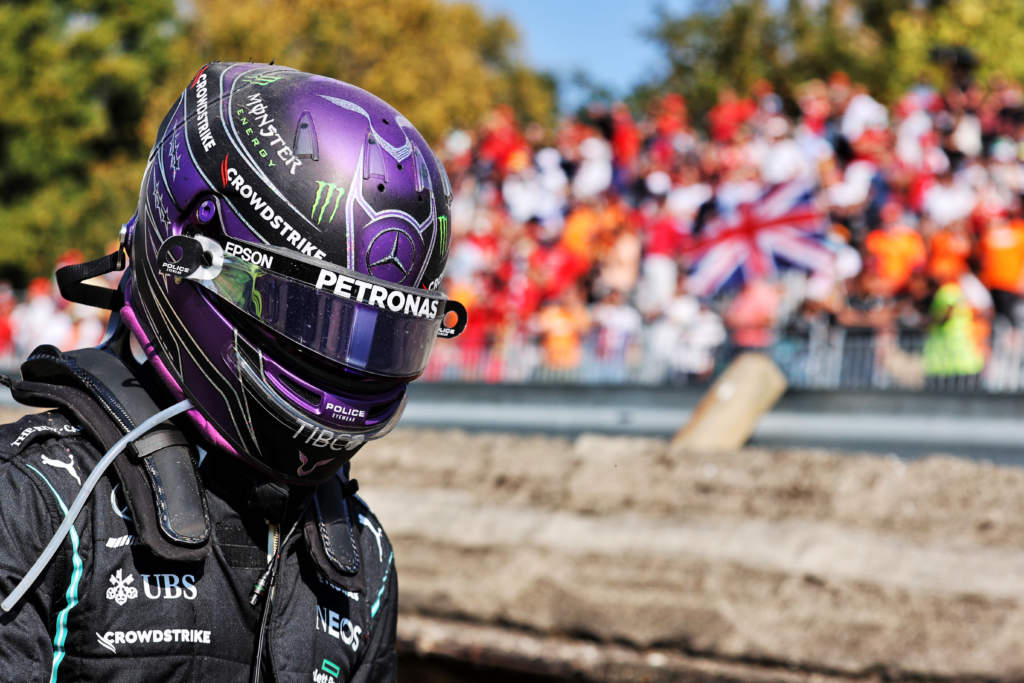 For me, this one was more Hamilton's fault. Much more so than Silverstone. Verstappen was perfectly entitled to put himself where he did on corner entry – and Hamilton should have recognised in that moment that he would need to create space as the track funnels down to a point. It was obvious Max would be flicked into him by the kerb if he didn't.
Had Hamilton created room he could still have fought out the place from the outside of the left-handed part of the chicane as they headed off to Curva Grande. At Silverstone, there was room for both cars and both refused to back out of it.
Here, there wasn't room for both cars and Verstappen had therefore essentially claimed the corner and it was down to Hamilton to make room.
At Silverstone, the corner had not been claimed.