The Ferrari guys weren't even looking on as the two Red Bulls – Max Verstappen ahead – pulled into the 1 and 2 slots in Azerbaijan Grand Prix parc ferme. They were busy packing up, hadn't had a car in the race for the last 41 laps.
Utter desolation on the face of Charles Leclerc as he faced the media with the race still ongoing, with Verstappen having passed his faster-qualifying team-mate Sergio Perez. So a perfect weekend for Red Bull, the logical title-challenger faster on the day and leading a 1-2, this marking a Clark/Lauda-equalling 25th grand prix victory for Verstappen.
Yet again Leclerc had blitzed qualifying. Yet again nothing to show for it, though this time it wasn't necessarily a victory his power unit failure cost him, unlike at Barcelona.
With Perez leading, Leclerc had pitted from second place at the VSC created by the retirement of team-mate Carlos Sainz with hydraulics failure on lap nine, whereas both Red Bulls stayed out.
How that strategy contest might have played out we never got to find out. With the 10s saved by pitting under a VSC Leclerc later assumed the lead as the Red Bulls pitted with the race at full pace but whether he would have had the pace to hold them off on significantly older tyres remained to be seen.
We were denied that contest by the spectacular, smoky failure of his power unit after 20 laps. Verstappen – who had passed Perez on track after the latter apparently over-used his rear tyres – assumed a lead he just kept increasing.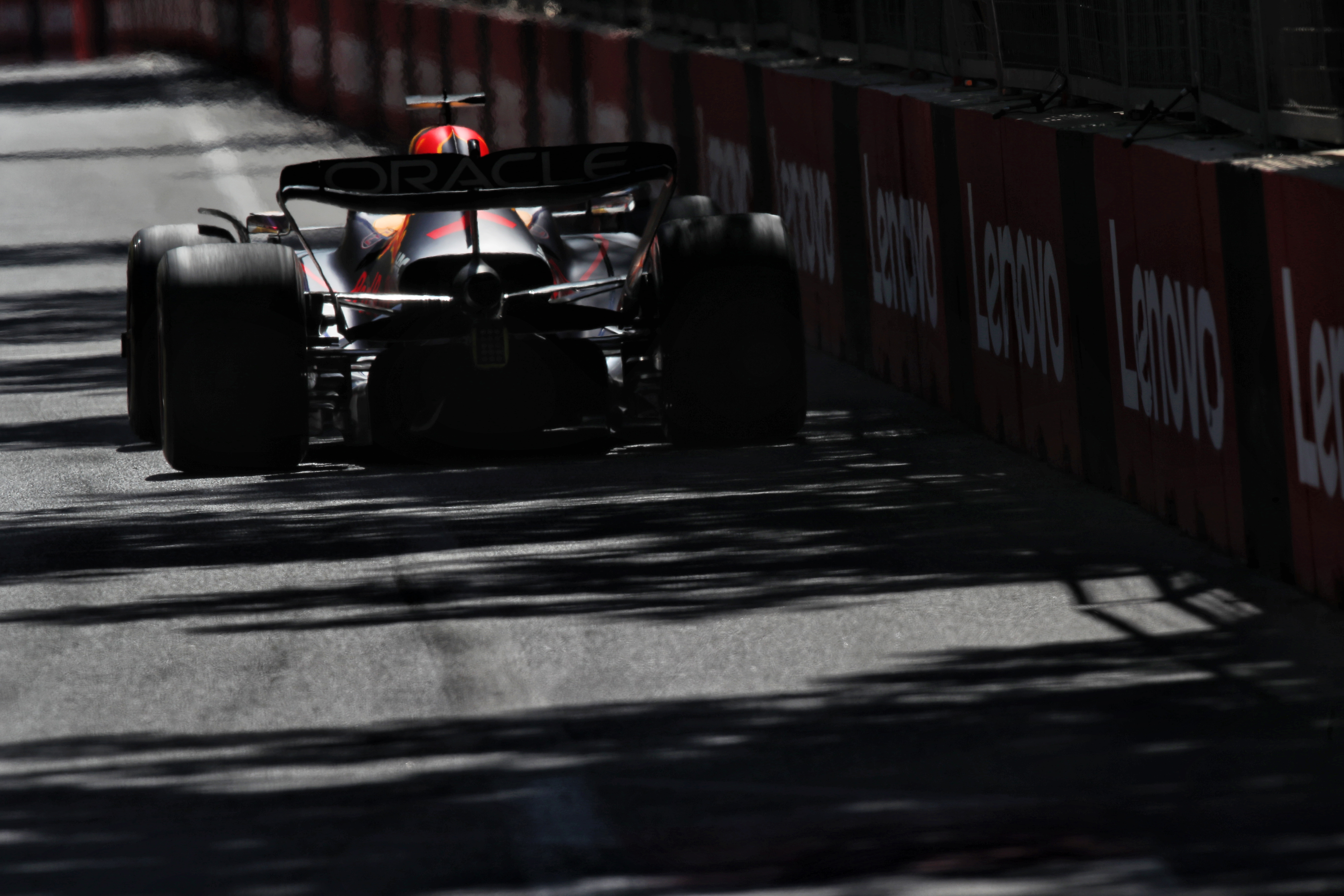 A couple of times his engineer tried to control his pace. Max understood the request, but eventually pointed out that if he went much slower he might lose temperature in his tyres.
What he did not ask his engineer, though, was whether he had the fastest lap. Had he known that Perez had set it when Max was taking it easy almost 10s up the road, he would surely have had it within his grasp to respond. He didn't and Perez took the point. That was the only way in which Verstappen's race was less than perfect.
The sun had begun melting the asphalt just ahead of Leclerc's pole position slot. All that brilliant effort on Saturday was at that moment rendered counter-productive. Hindsight says he'd have been better off letting Perez take pole.
Sure enough, the Ferrari's wheels spun up as they found that soft surface and Perez was already alongside, able to claim the corner from the inside under braking as Leclerc lightly locked his inside front.
Verstappen, Sainz, George Russell, Pierre Gasly, Lewis Hamilton, Sebastian Vettel, Yuki Tsunoda, Fernando Alonso and Lando Norris followed on, all of them on the medium tyre. Then Daniel Ricciardo, the first of the hard runners, but able to comfortably keep pace with medium-tyred McLaren team-mate Norris.
Although the degradation rate was low enough for a one-stop (medium/hard) to be optimum, those cars running the skinniest wings would still need some tyre management. This was perhaps particularly pertinent to Perez, out front and setting a hot enough pace to have pulled out 1.3s over Leclerc on the opening lap, the dust rising from the Red Bull's diffuser and tyres as he blasted down the straight.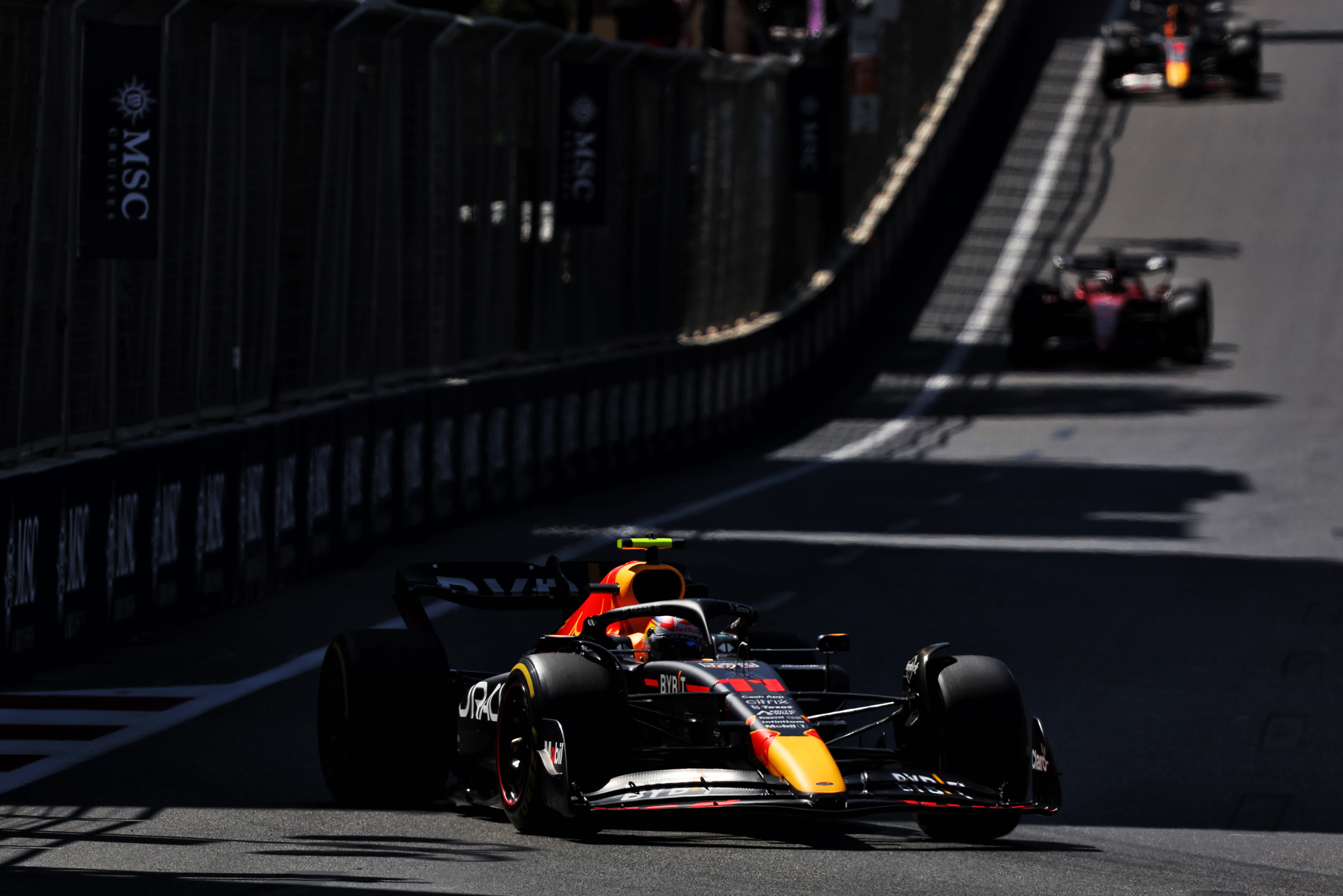 Eating Perez's dust maybe wasn't what Leclerc had imagined he'd be doing, but driving to his tyre temperatures while holding Verstappen at bay, he couldn't initially keep Checo from pulling away, the gap out to 1.8s and 2.2s on subsequent laps.
As discussed here yesterday, the Red Bull was running less wing than the Ferrari even though the latter was racing its new low-downforce wing for the first time. This contributed towards the Red Bull's strong end-of-straight speed but not enough for Verstappen to be able – even with the help of DRS – to find a way by Leclerc. Because of the Ferrari's strong acceleration onto the straight.
What it also perhaps meant was that the rears on the Red Bull needed a bit more looking after than those on the Ferrari. Verstappen, following Leclerc, was being held to an initial pace between 0.4-0.6s slower than leader Perez.
It wasn't too long before Perez was talking of his traction worsening. His race engineer Hugh Bird was telling him to 'use his tools', advising on diff settings etc.
But Checo's communication with him seemed less than clear: frequent hesitations, occasional clarifying questions. The radio reception around this place isn't great and probably didn't help. But at one point when Bird advised 'tyres 6', Checo replied that he just didn't know what that meant.
Everything's about rhythm with Perez. He's not wired up like Vettel, someone who wants to drill into the data and understand rather than just feel, and for whom it would be almost inconceivable to not understand a communication from his engineer. That very sharp contrast was noticed immediately by all at Aston Martin when Vettel arrived in Perez's place.
Did that have an impact upon what happened after the VSC? When his pace was just not there?
"We hit a lot of deg on that medium tyre after the virtual safety car," Perez said. "So a few things to understand from that today."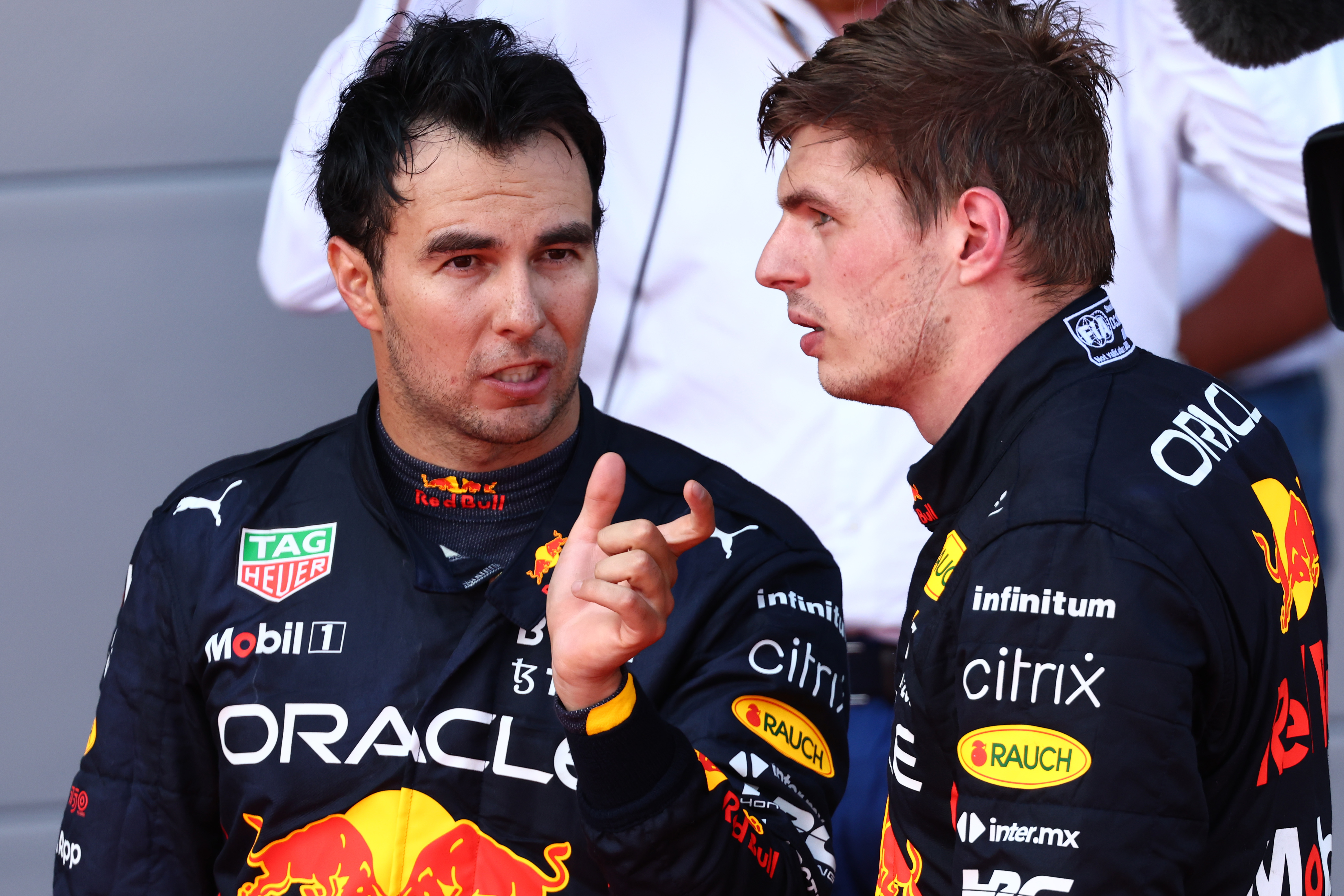 Perez owes his career to many great tyre whispering drives, with a technique that doesn't overload them. But it just pan out like that this time, with this car at this track it was more about management than technique.
Had the rear tyres been overworked by that early pace on full tanks with such a skinny wing? A pace that Verstappen couldn't set, stuck behind Leclerc?
Were the tyres just a little too hot before the VSC and therefore hardening more as they cooled under VSC speeds? Were they cooked? If so, could the situation have been rescued before the VSC with clearer communication and understanding between him and his engineer?
"I didn't feel like I was hitting the tyre too hard," Perez said, a little mystified. But he had, clearly.
"It was certainly right at the restart after the VSC that we lost the pace. We really dropped the pace massively."
That communication problem may also have played a part in his staying out at the VSC. Had he come in, his over-worked mediums would have been ditched before any harm was done.
"I'm not the one deciding when to pit," he said.
"Unfortunately we have certain communications in place that we know when to pit and when the window's open – but a few things went wrong today."
The other things that went wrong – but which made no difference – were a stuck front jack at his first stop, costing around 2s, and a broken wheel gun at a later stop taken when there was another VSC (for Kevin Magnussen's broken-down Haas).
The first VSC was for Sainz's broken-down Ferrari. But even before the total and sudden hydraulics failure, Sainz had been unable to sustain his early attacks on Verstappen and had dropped away off the pace, another possibly to have over-worked the tyres in the early stages.
Having seen the VSC lights, Leclerc was already to the left of the white lines denoting the pit entry lane as the team urgently requested him to "box now, box." He'd taken the unilateral decision to do it. Perez up ahead had stayed out while behind Verstappen was coming at him hard; it seemed the obvious thing to do to make a cheap pitstop.
"Has he had a free stop?" asked Verstappen.
Affirmative.
"How many laps are left?"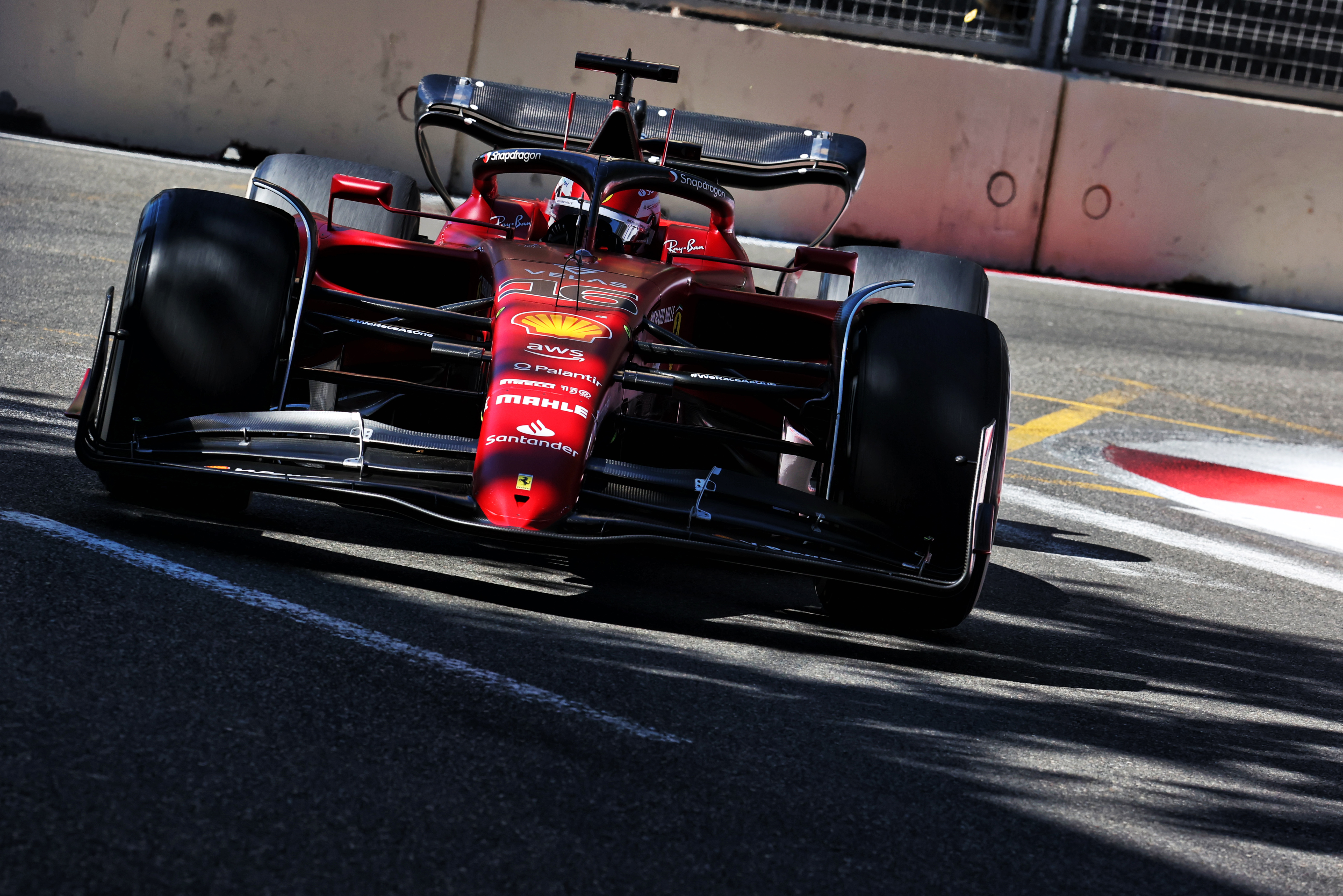 In those two questions were the nub of the strategy game. Stopping under the VSC with the field lapping at the regulation-reduced pace, Leclerc had saved himself 10s compared to a stop with the field at full racing speed, which the Red Bulls would subsequently have to do.
It was still optimally a one-stop race even with such an early stop, but would the Red Bulls be able to use their much newer rubber to more than compensate for those 10s and – crucially – still be enough faster by the time they caught the old-tyred Ferrari to put a pass on it?
Red Bull reckoned it had it covered either way, that it just had better race pace than Ferrari and could have emerged ahead whatever Ferrari chose to do.
In fact, in the moment of the VSC being called, Red Bull in theory was perfectly placed – with Perez leading the race and Verstappen in third being able to react to whatever Leclerc did – to have a foot in each strategic camp. As recalled, the call came maybe 1s too late for Perez to respond. He was already past the white lines denoting the opening of the pit entry road.
Verstappen, 3s back, was instructed to do the opposite of Leclerc. So as the Ferrari peeled in, he – like Perez but for a different reason – stayed out.
Thus was the challenge for everyone set up. Leclerc on his new hard tyres rejoined behind only the Red Bulls – and by far less than what a pitstop would cost them. His VSC stop ensured he was always going to be leading after the Red Bulls stopped. Leading but being hunted down.
So how might it have panned out? Well, so compromised was Perez's pace upon the resumption of racing before his stop six laps later, Leclerc would surely have stood a good chance of staying ahead of him. Verstappen, on the other hand, looked mighty.
Perez's poor pace after apparently frying the tyres meant he could offer no resistance at all when Verstappen on much healthier rubber came charging through even before the VSC. Although Perez was told 'no fighting' he wasn't about to. He was in no position to.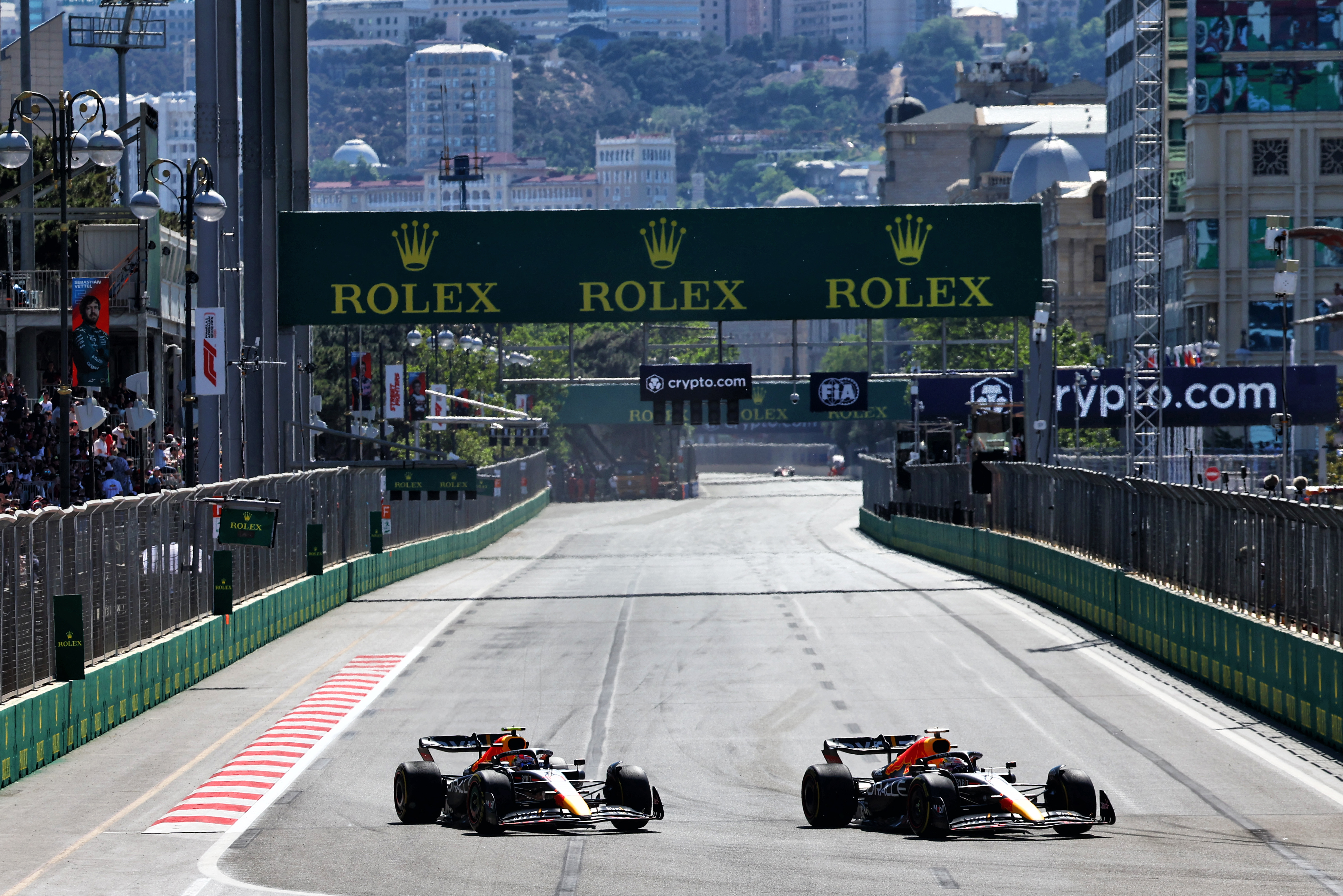 He hung on until lap 16 before making his stop, two earlier than Verstappen. When it had all played out Leclerc's early cheap stop had put him in the lead by just under 13s from Verstappen, with Perez another 4s back.
Could the Red Bulls on their newer hard tyres make up that gap with 43 laps remaining? Would their tyres still be better by the time they arrived on the Ferrari's tail? There was by no means a certain answer. It was going to be fun finding out.
Then the Ferrari power unit let go in a cloud of oil smoke. He limped it as far as the pits collecting area and climbed forlornly out. But for things out of his control he could quite conceivably have won the last three races on the bounce. Instead he's garnered a solitary fourth place.
That took all the tension out of the race. All it was about now was Verstappen pulling ever-further clear of his team-mate and being pulled back every now and again by his engineer: "Max, you know very well what it feels like to lose a race here."
The lap 33 VSC allowed the Red Bulls a free pitstop each, as they had way more than a pitstop's gap over Russell's Mercedes.
Russell, in turn, was way clear of Gasly and so he too took the free stop. Gasly didn't have any suitable new tyres left so stayed out. Hamilton – who'd been trying in vain to find a way by the AlphaTauri all race – came in for fresh (used) hards, quickly picked off Tsunoda on his way back to Gasly – and this time he had the grip advantage to nail a pass into Turn 3 for fourth place. He'd lost well over 20s stuck behind the AlphaTauri in the first half of the race though and so was no threat to team-mate Russell.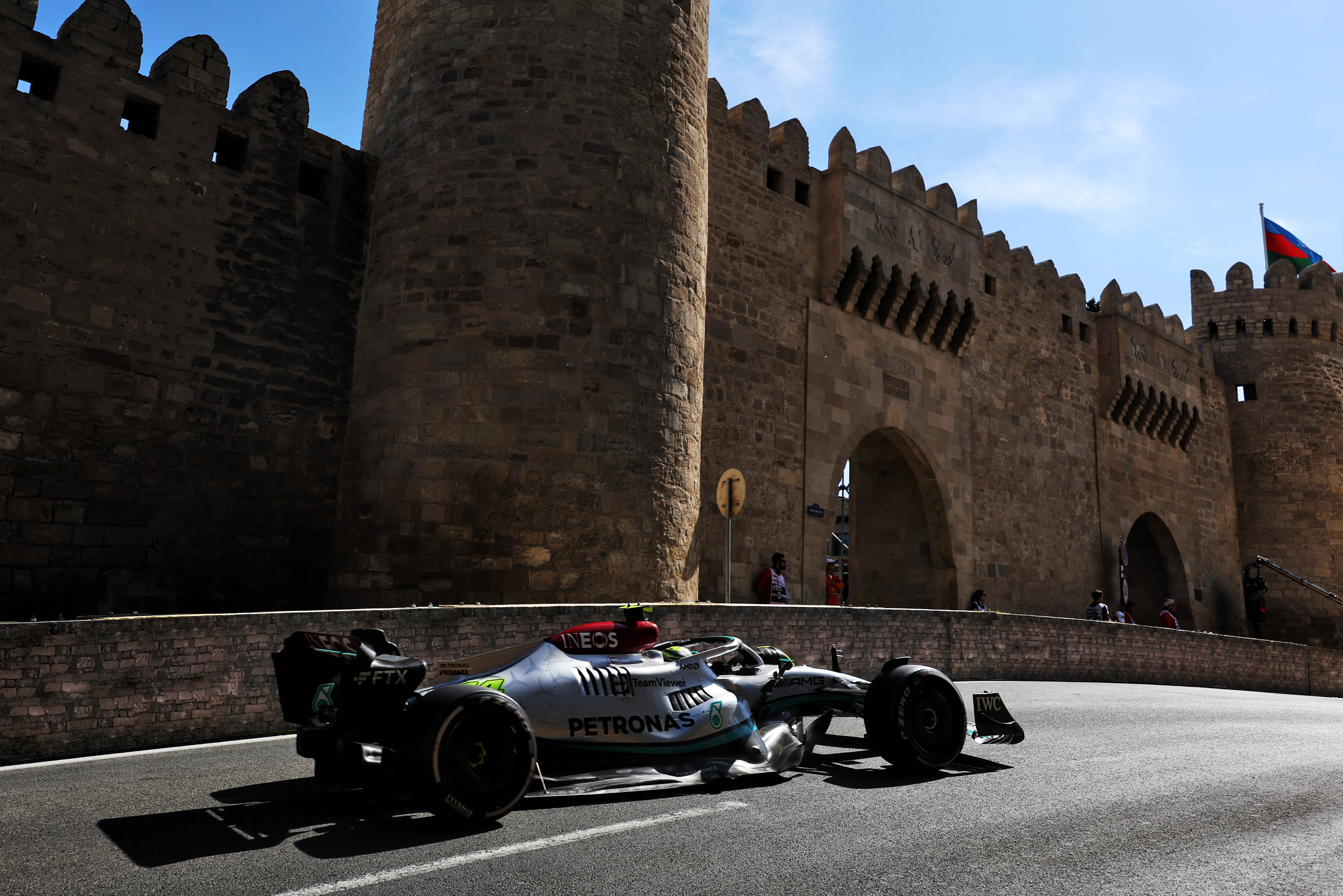 Hamilton was running what was described as an 'experimental' floor. It seemed to bounce and crash even more severely than Russell's. You'll have seen him climbing very gingerly from the car at the end. Russell reckoned the bouncing to be so bad he couldn't read his pit board or accurately pick out braking points.
The Mercedes was the third-fastest car but with 10 laps to go was over 42s adrift of Verstappen. Vettel had jumped Hamilton in the pits as the latter was stacked behind Russell. But Lewis got the place back again after Vettel ran straight-on after trying for a pass on Gasly.
Alonso ran a long first stint in the Alpine to give himself a grip advantage in the second stint. He used this and the updated car's prodigious straightline speed to make his way through the lower midfield to seventh where he formed a blockage to the McLaren pair Ricciardo and Norris who were potentially quicker over the lap but totally unable to find a way past the combination of a determined Alonso and a big straightline speed advantage. Ricciardo got the upper hand in a tense in-team struggle on account of the cheap one and only stop the second safety car gifted him.
Esteban Ocon used a similar hard-starting strategy to finish 10th. Tsunoda should have been mixing it with Alonso and the McLarens but was forced to have a failed DRS flap gaffer-taped up.
It's maybe premature to believe two retirements from three races has taken any tension out of the championship fight but in the immediate Red Bull afterglow there was that sense.
"I don't really find the right words to describe," said Charles, his normally bright eyes filled with resignation.