Max Verstappen and Red Bull probably had this one covered, however it played out.
Carlos Sainz's Ferrari may have even been a little quicker in the Canadian Grand Prix, but not by enough to allow it to overcome the disadvantage of starting behind. Fast enough to pressure Max intensely and to make things somewhat tense on the Red Bull pit counter pretty much throughout, but that's all.
Sainz, pushing super-hard, tyres skimming the walls, was always hovering, ready to capitalise – setting the fastest lap along the way – but without ever quite seeming a strong enough presence to force the issue.
Had Charles Leclerc been able to fully participate – had he not been starting from the back after changing to his fourth power unit of the season – things may have been different.
Sainz had come within an over-committed last corner of contending for pole rather than starting third. A possible pole-sitting Leclerc may have made this race a much tougher proposition for Verstappen.
But these are, of course, what-ifs. What if the Ferrari was more reliable, what if Leclerc had maintained his usual performance advantage over Sainz etc.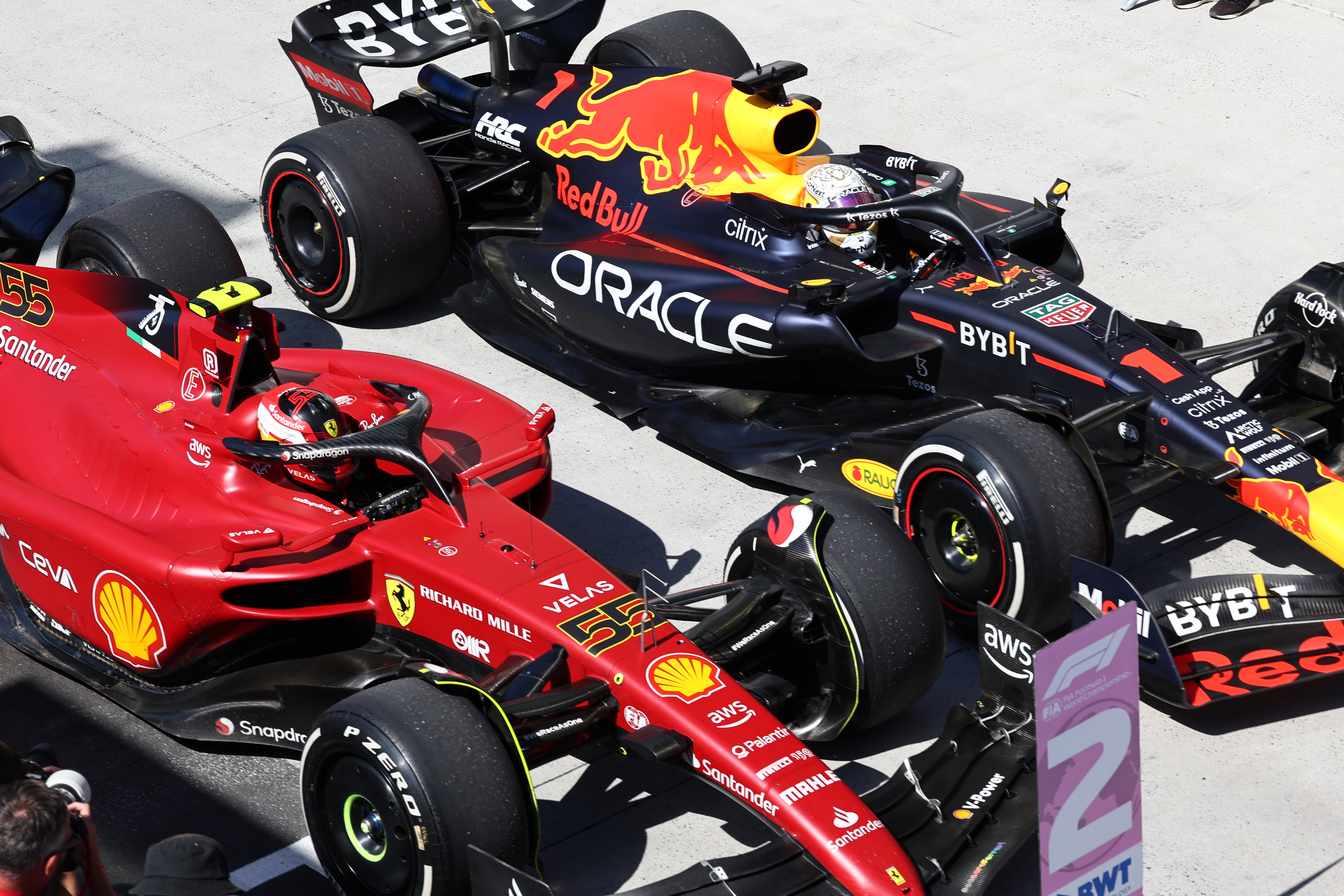 What we actually got was a masterful Verstappen controlled performance, doing the job to perfection to win for the fifth time in the last six races.
With Verstappen and Sainz the only respective representatives of their teams in the top 10, a lot was up for grabs immediately behind them. Mercedes filled those slots comfortably enough, Lewis Hamilton ahead of George Russell.
Fernando Alonso's front row heroics couldn't be converted into race day glory thanks to a power unit problem which limited his pace and an unlucky break with a VSC.
Leclerc's progress from the back was delayed by DRS trains, poor traction out of the hairpin not allowing him to pass as easily as his low wing suggested he might, bad breaks with traffic gaps and a slow pitstop. Even dealing with all that, he wasn't far behind the two Mercedes at the end, in fifth.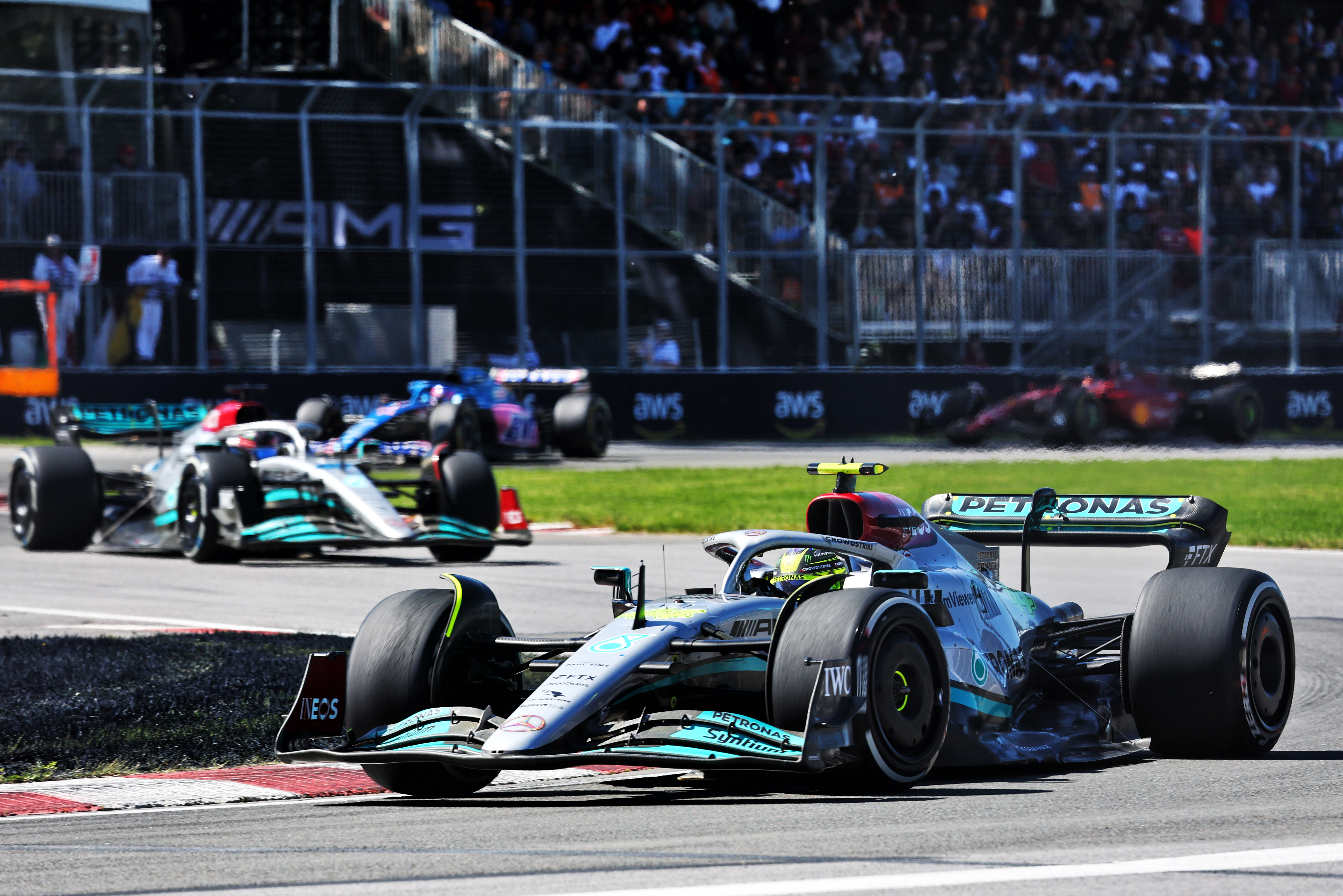 Mercedes was flattered by the circumstances of the race to look more competitive than it really was. In reality its ultimate pace deficit was a fairly standard 0.7-0.8s. But because Verstappen and Sainz were pushing each other, the Mercedes had better tyre degradation and were comparatively strong at the end of the stints.
Tyre deg played a much bigger part than it traditionally has here. Maybe it was the washing clean of the track by the previous day's rain, maybe just the way this generation of front tyres are a little weaker relative to the rears than before and so – on the medium compound that all the top 10 started on – are more susceptible to front graining. Whatever it was, it meant that the race was no longer the nailed-on one-stop it used to be. It seemed to straddle a one and a two, depending upon how well that front graining could be controlled.
You need to know this because that's what split Verstappen and Sainz into differing strategies once the first VSC was triggered on lap eight by Sergio Perez coming to a halt out on circuit with a transmission failure.
Sainz was around 3s behind Verstappen, having had to follow Alonso for the first couple of laps, before DRS was enabled. But Max was already saying that his front tyres were beginning to grain. The Ferrari was having no such trouble. A VSC pitstop, as well as offering a 10s saving over a normal one, also got Verstappen off tyres that were about to begin losing him time.
Red Bull brought him in, this committing him to a two-stop strategy. Sainz did the opposite and stayed out now leading, trying for the one-stop. Which, if it could be made to work, was theoretically quicker.
Another VSC – for the broken-down Haas of Mick Schumacher who had been going well in seventh – on lap 19 was late enough for Sainz to make the same pitstop saving as Verstappen but late enough to stay on the one-stop, with a set of hards to get to the end.
That brought Sainz out about 10s behind Verstappen and with a non-VSC stop taking around 20s, he was sure to be leading once Verstappen made his second stop. Sainz, after passing the still yet-to-stop Alonso again, nibbled a tenth or two out of Verstappen's lead each lap.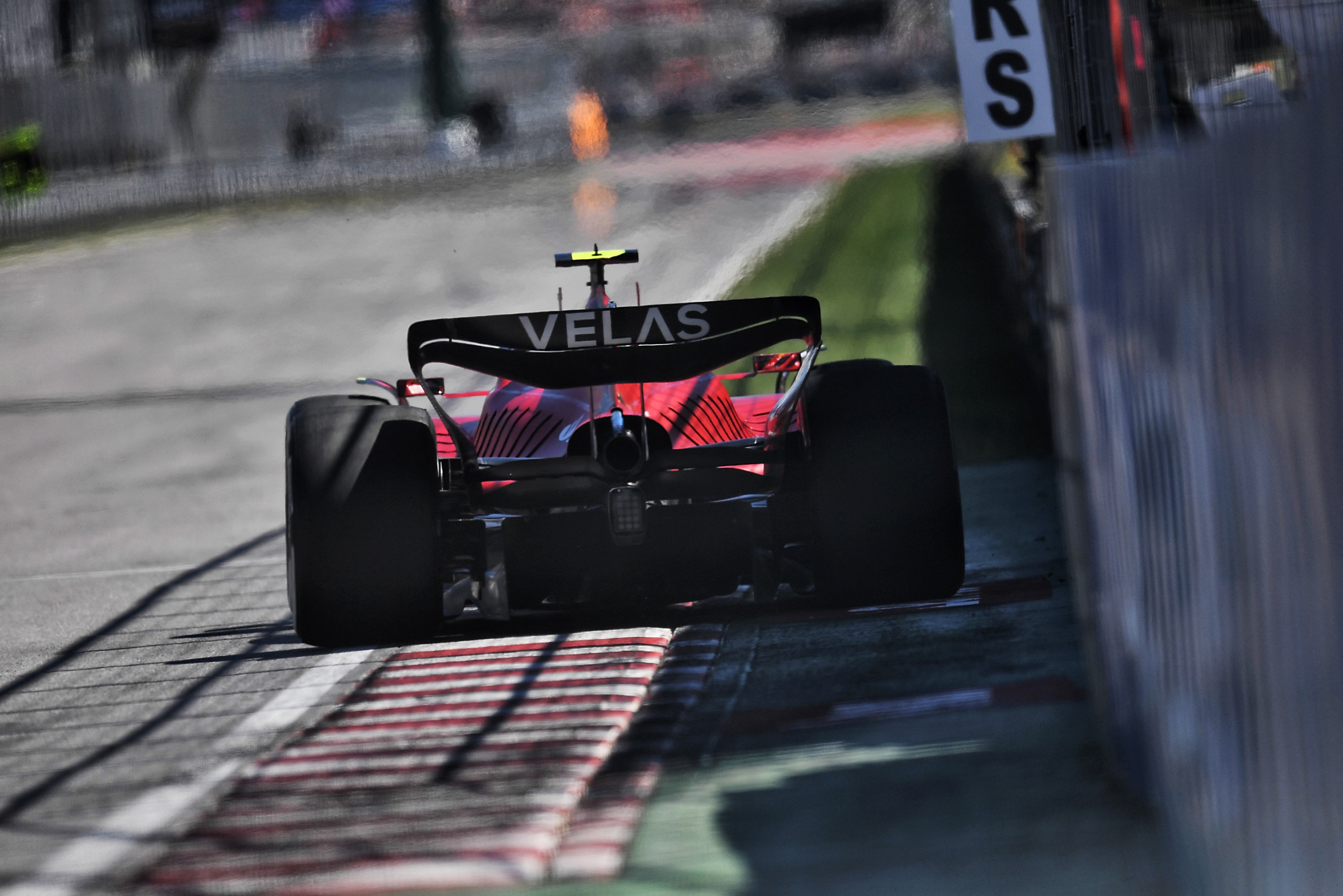 Once Verstappen pitted on lap 42 and lost the standard 20s, it left Sainz leading by around 11s but on tyres 22 laps older, with 28 laps left.
Christian Horner: "All of our metrics said that would have left Sainz too vulnerable on old tyres and we'd have passed him with about 10 laps to go."
The lap time difference to make an overtake here is only around 0.6s, so long as you are quick in the right places. Which the Red Bull was. The degradation of the hard wasn't big, but the rear wear could be. That's where Sainz might have come undone.
Sainz isn't so sure: "He wouldn't have caught me easily. I think it would have been a good battle at the end. With him catching up on me, I was ready to hang it out there until the chequered flag. I had good pace, I was still doing 1m17.3s. And I think we could have made it to the flag."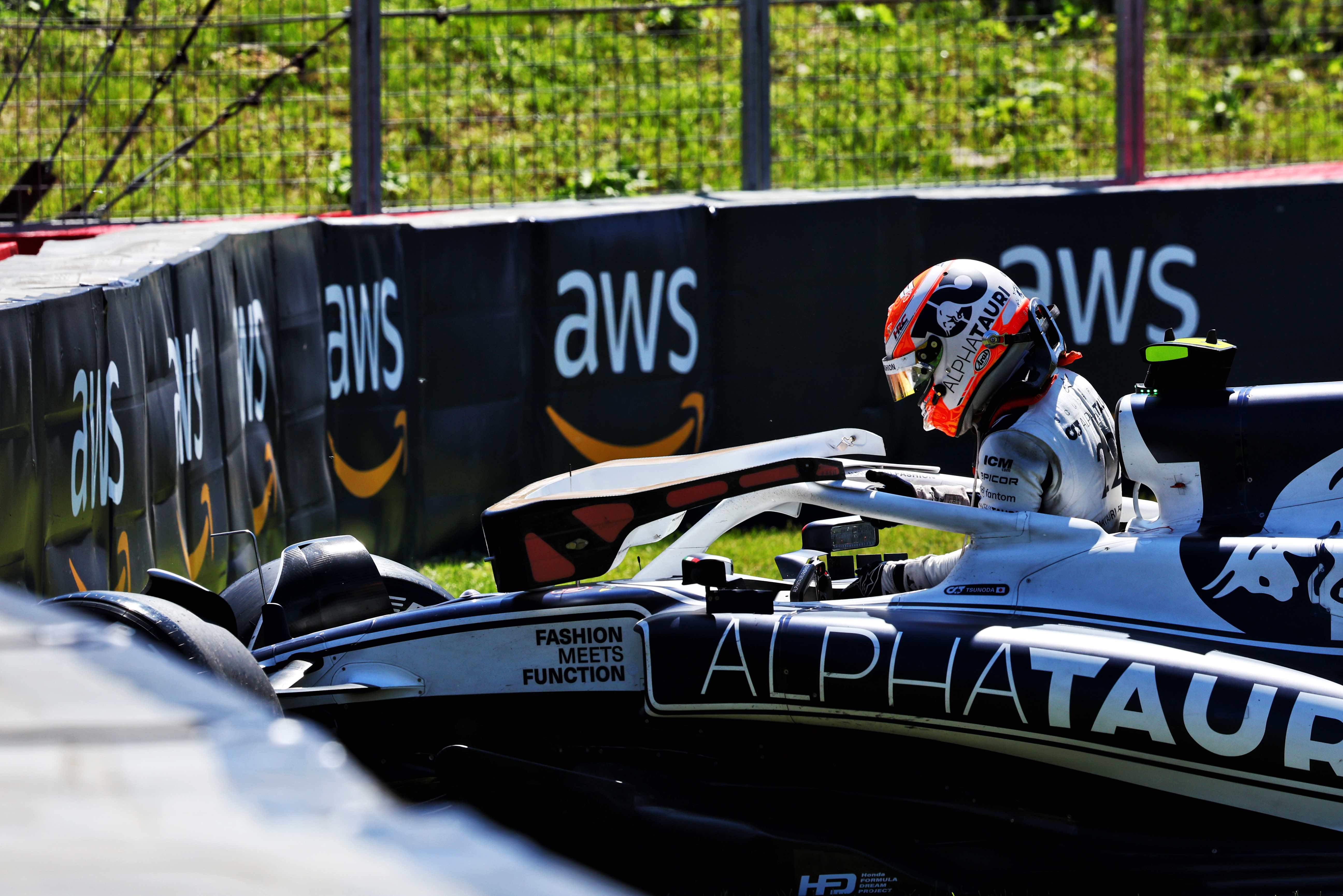 But that all became moot on lap 48 of 70 when Yuki Tsunoda dropped his AlphaTauri as he hit the bump on the exit of the pitlane and went straight-on into the Turn 2 barriers.
The car wasn't badly damaged but the barriers were. It took a while for the safety car to be called, but it was – just in time for Sainz to pit from the lead. He was approaching the pit entry and had only 1s in which to react.
Had he gone past there, he couldn't have made the stop on the subsequent lap without losing many places and would instead have been consigned to take the restart still leading but a sitting duck on very old tyres – which would have cooled and might not have warmed back up – with Verstappen right behind him.
This way, although he'd surrendered track position he was on new tyres (hards again, as the medium just wasn't as good) and sitting on the slightly older-tyred Verstappen's tail on the restart.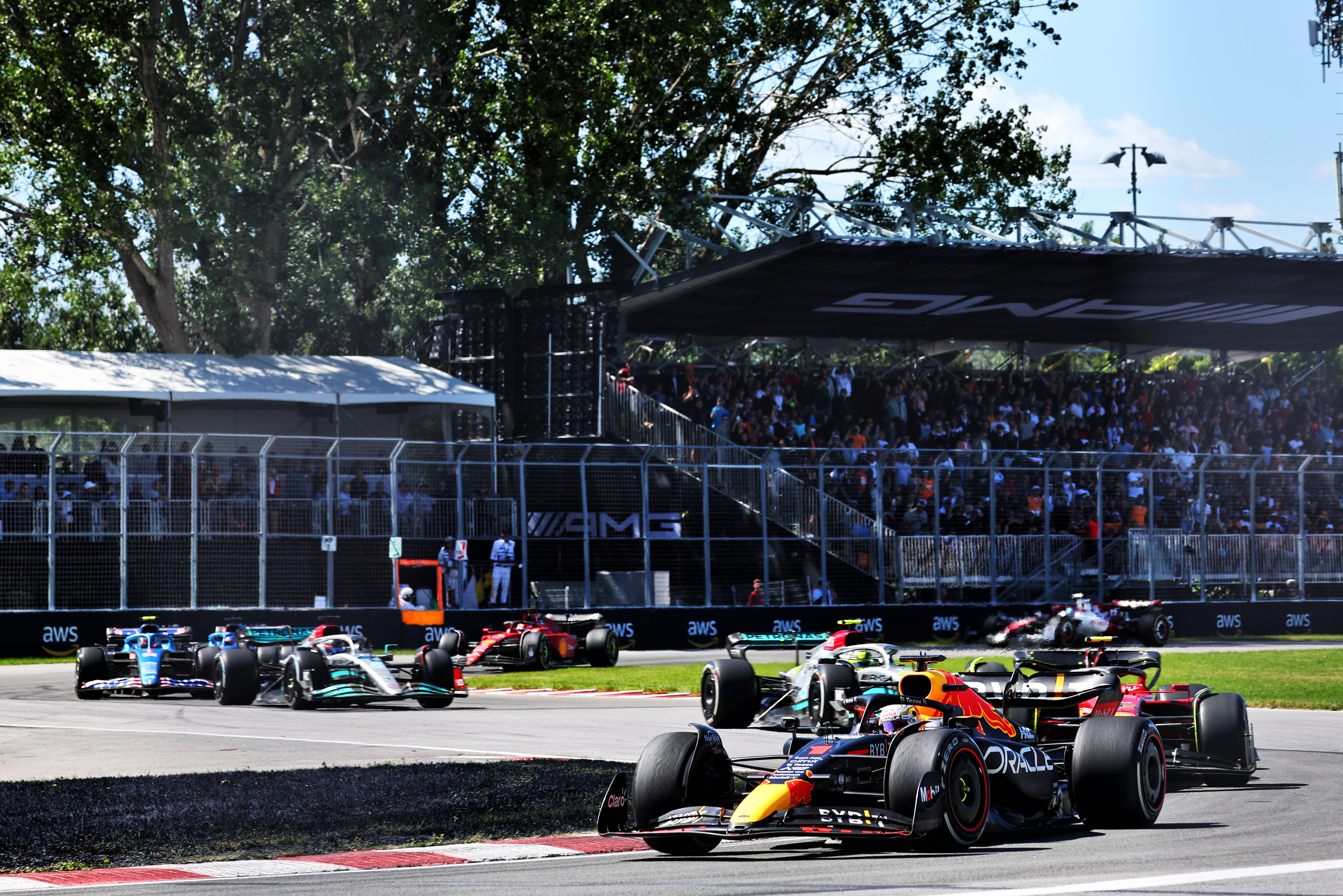 Verstappen worked the restart beautifully and rocketed away, desperately trying to get out of the Ferrari's DRS reach in the next two laps. But he couldn't. Sainz was right there with him. The chase was on.
No longer was their battle one-step removed, but Verstappen could not untangle himself free of the DRS-assisted Ferrari. It was a reverse of the late-race Leclerc-Verstappen fight in Jeddah. Except even DRS wasn't enough to make an easy route through.
The problem for Sainz was the Turn 10 hairpin before the back straight and Verstappen's unerring speed and precision through there.
"It's all chicanes so [when up close] you have nowhere to put your front wing to avoid the understeer and the overheating of the tyres," explained Sainz.
So he'd come out of there a long way behind and all the DRS would do down the back straight was allow him to catch back up as they reached the braking point for the chicane.
All it would have taken would have been a locked wheel from Verstappen or a little too much gas on the exit of a slow corner, and Sainz might have got the opportunity he was pushing so hard to find. But Verstappen was absolutely flawless, totally under control even if unable to escape. He had 16 laps of this to endure, Sainz never out of the DRS zone.
Sainz would alternate his battery usage by the lap, trying to force Verstappen to use his up. But Max always had enough pace to use it sparingly. His speed from the exit of the Turn 8/9 chicane, into and through the hairpin was what gave him the cushion he needed not to be too greedy with his battery usage. Thus was Sainz thwarted after a very spirited attack.
That hard pace had given their tyres a tough time, enabling Hamilton to keep them vaguely in sight, with Russell not far behind. Russell was running with a lot more downforce than Hamilton but the more significant difference was Russell's failed bid on slicks at the end of Q3, a brave gamble but one which left him starting eighth, four places behind his team mate.
Hamilton had touched with Kevin Magnussen (again!) on the first lap, forcing the Haas to come in under race control orders to have his damaged wing replaced, putting him out of contention. Hamilton came in under the first VSC (Russell couldn't, as he'd have lost time being stacked and hadn't cleared traffic behind). Russell was brought in on the next one. They were both able to use their new tyre grip to pass Alonso, who had yet to stop.
Thought was given in the Russell camp to staying out there, trying to one-stop their way ahead of the two-stopping Hamilton. But it was Russell who called that off, as he felt the rear tyres finally beginning to surrender.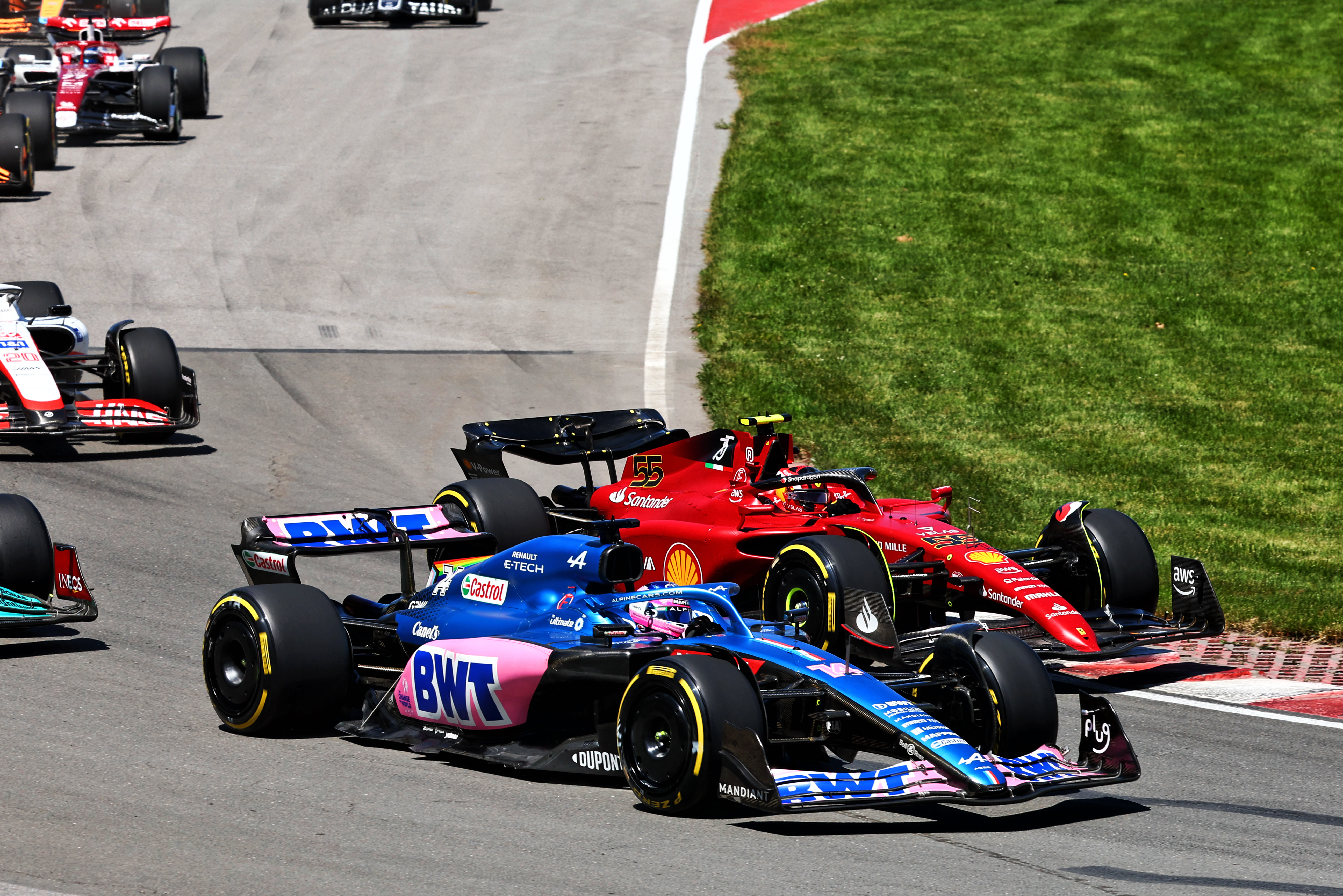 Alonso's determination to at least lead the opening lap went awry when he just didn't react as well as Verstappen to the lights and instead of attacking the Red Bull he was busy fending off Sainz – who swept by as soon as DRS was enabled after a couple of laps.
Alonso's day would head south from there. He stayed out under the first VSC but would have pitted under the second had it been called a second or so earlier. Missing the opportunity, he was obliged then to stay out on fading old medium tyres trying to run long enough to one-stop. It was a doomed strategy.
He was brought in for his hards after 28 laps but he'd lost a place to team-mate Esteban Ocon – because the latter had been able to make that cheap second VSC stop. From the 20th lap onwards Alonso was also suffering with his engine, a suspected air leak limiting its top-end power. The safety car allowed him a second stop, but Leclerc's recovering Ferrari was now past both Alpines.
Alpine tactically used Ocon to pull Alonso along in his DRS to keep him ahead of Valtteri Bottas' attacking Alfa Romeo. Alonso had to resort to a bit of weaving on the final lap to keep Valtteri behind, for which he was given a 5s penalty, putting him behind both Alfa Romeos in the official results.
Guanyu Zhou had an impressive weekend, qualifying the Alfa in Q3 and sitting right on his team mate's tail at the end, having got the better of Lance Stroll's Aston Martin in a long-running dice.
The VSCs and safety car had kept this race on the boil, but there was something inevitable about Verstappen's victory. It was hard-fought, yes – "I was giving it everything I had. Of course, Carlos was doing the same. You know, following is tricky around here. I could see he was pushing, charging, pushing. But of course, naturally when you're under DRS it's a bit easier to charge. So yeah, the last few laps are a lot of fun." But it was also under control. This was a master at work.