Max Verstappen's victory drive around Spa was arguably the most emphatic of his entire career to date – or of anyone's career.
Starting from his penalised grid slot in the back half of the field, he was in control of the 2022 Belgian Grand Prix from lap 18 of 44 and although his gap over Red Bull team-mate Sergio Perez at the end was 17 seconds, it could probably have been way more if he'd so chosen.
He set the fastest race lap on a set of medium tyres with 12 laps-worth of fuel (around 28kg) still on board, a lap which the low-fuelled, new soft-tyred Ferrari of Charles Leclerc later failed to match by 0.6s.
In qualifying the day before he'd lapped 0.65s clear of anyone else on a single run. Again, it could probably have been more. In Q2 he'd lapped as fast as the new-tyred Perez on a set of used tyres – just in ensuring he got through to Q3, so that he could qualify ahead of the similarly-penalised Leclerc.
Verstappen's pace advantage was astonishing, far greater than anyone has enjoyed this year, and similar to that of Lewis Hamilton at Brazil last year.
But to perform at that level requires a car with a very high ceiling. Even if only a great driver can maximise it. To see Verstappen threading together the sixth, seventh and eighth gear corners of Spa's middle sector was to witness a driver totally at ease with a neutral balance which could have spat him off the road in a blink.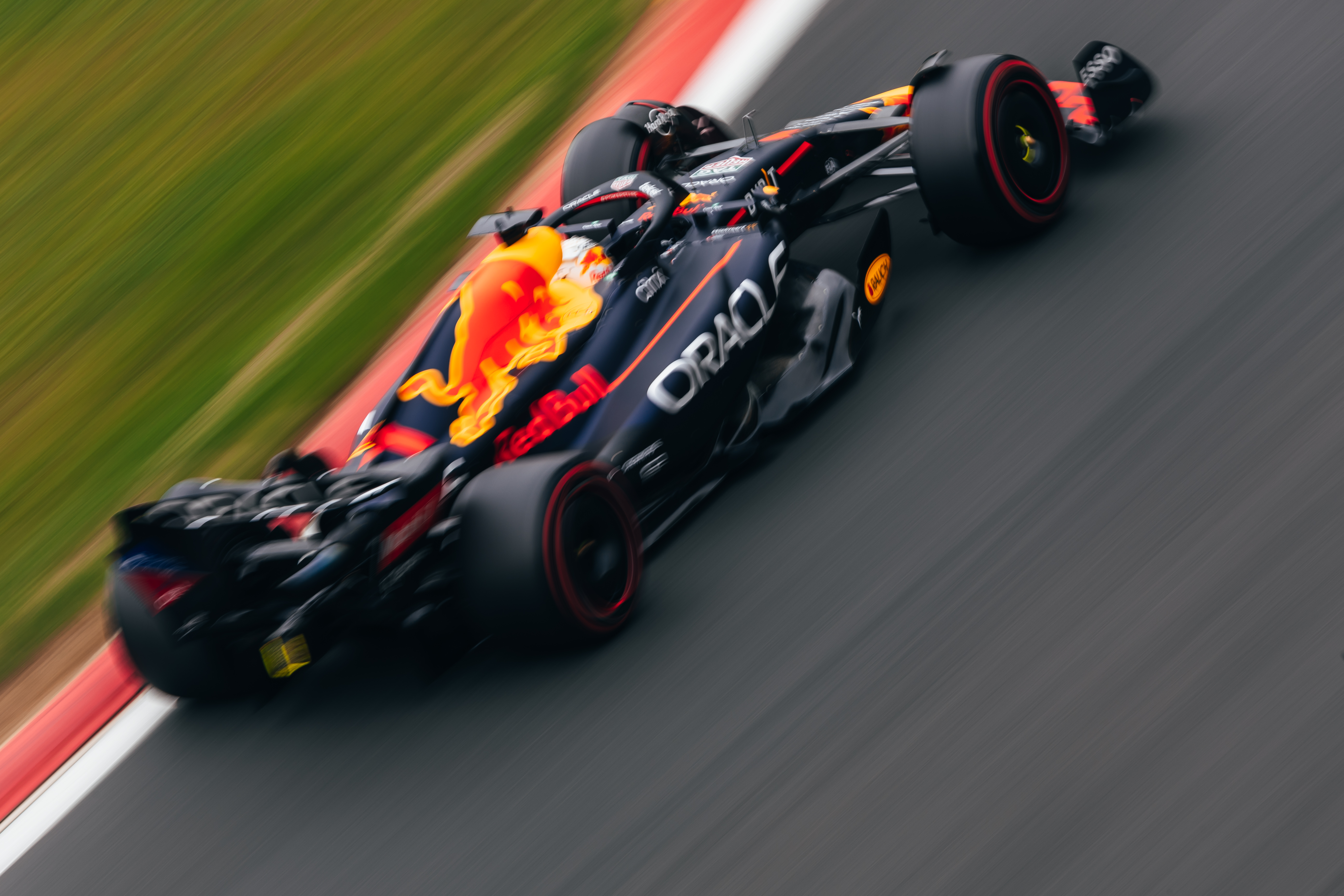 In the way he was converting that feel and confidence, it was akin to watching peak era Michael Schumacher through that same section; just the smallest of inputs keeping him on the very outer edges of control but the car looking as if on rails.
Perez just couldn't do it like that in the same car, or anything close. Running with a more understeery balance than Verstappen he was asked after his first Q3 run, when he was 0.8s adrift of Verstappen if he wanted to take some front flap out. He surely understood the implication: if he wanted to get anywhere near Verstappen he wouldn't do it with that set-up. There was a long gap before Checo replied with, "I can't carry more flap."
That middle sector was where a car with the compromised set-up Spa's layout demands could give a driver big rewards. Because to have the slow-corner performance in sectors 1 and 3 really required a balance which would be pretty demanding through the high-speed corners descending through the valley. Slow corner neutrality usually means fast corner oversteer.
The Red Bull resolved that conflict way better than any other car – for reasons we'll get to in a moment. But it demanded a lot of the driver to fully exploit. Because the easy way would have been just to live with a slightly lazier response through the Bus Stop and La Source for a nice secure and comfortably fast Pouhon, Fagnes and Stavelot. Verstappen would likely still have been fastest like that. Just not by as much.
Obviously, knowing coming into the weekend he was starting from somewhere near the back of the grid because of the power unit grid penalties, he needed to maximise his advantage. He came into the weekend absolutely on a mission – and from the moment he first drove the car in first practice that was totally evident. It was 100% commitment to perfection.
That perfection was fully expressed on Sunday, soft tyres for the start, careful but decisive in the opening hectic laps, just taking opportunities as they appeared, keeping clear of the carnage – Lewis Hamilton turned in on Fernando Alonso, trying for second place at Les Combes on the opening lap and went flying, with his hobbled car then causing brief chaos before he pulled off.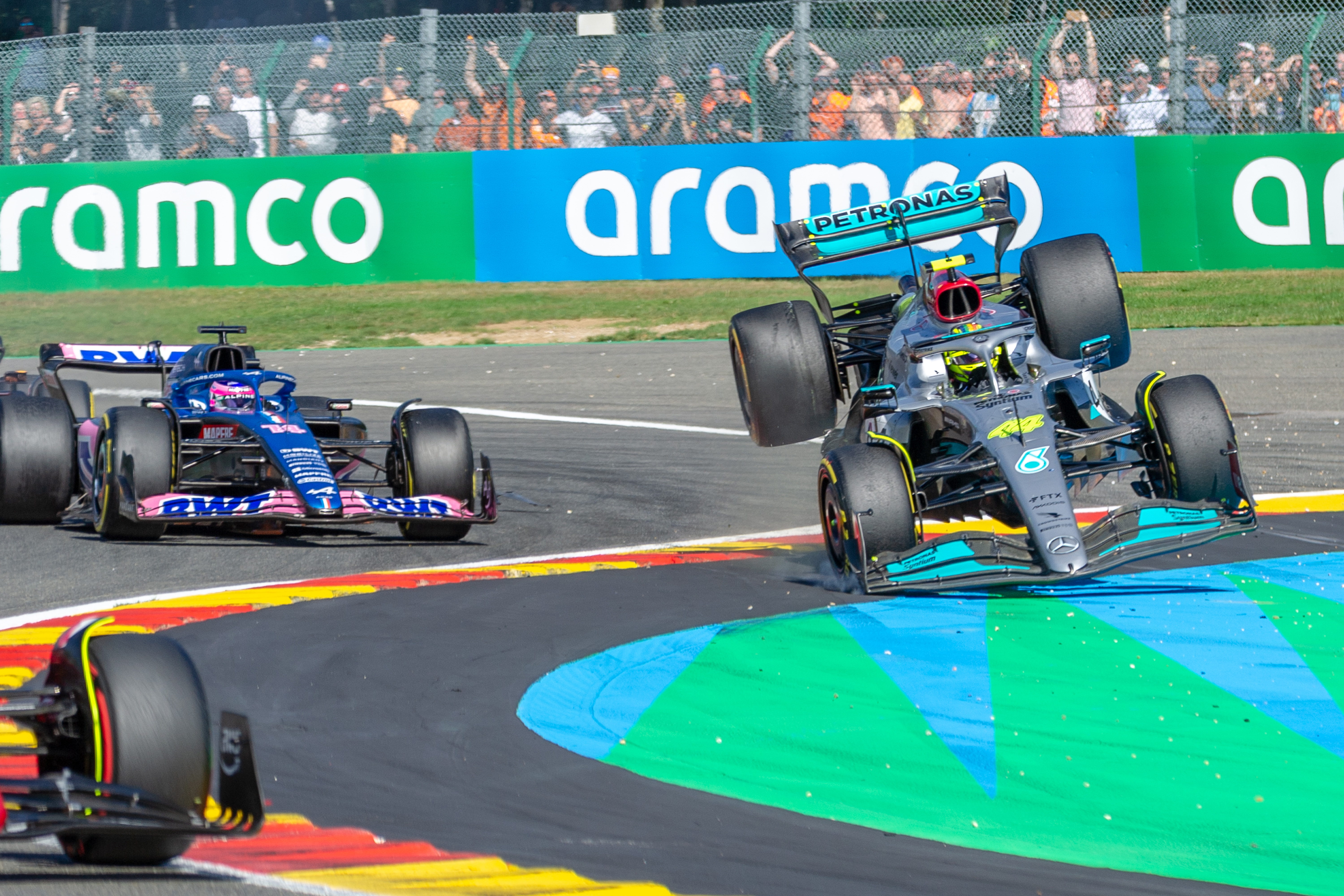 Cars were rejoining from gravel traps, dust everywhere. Charles Leclerc briefly passed Verstappen but he made a counter-move moments later as the way parted. With dust now covering his visor, he pulled on the rip-off and let it fly. It was likely that which lodged in Leclerc's brake duct – which would send him pitwards soon enough.
Max's car was still intact and he'd gone from his 14th starting slot up to eighth. But it was only as the safety car for a lap two Nicholas Latifi/Valtteri Bottas incident came in that Verstappen's race got properly underway.
He began picking them off one or two each lap, mainly into the Bus Stop – Alex Albon, Daniel Ricciardo, Sebastian Vettel. Then Alonso pulled aside for him up the Kemmel Straight, no point in fighting. These were slower cars, so he wasn't risking anything in passing them. He expected it to get harder soon, but it never did! They were all slower cars. Much slower.
He went past George Russell's Mercedes for third into Les Combes on the eighth lap. Now only team-mate Perez and the race-leading Ferrari of Carlos Sainz were in front of him – and not by much. The safety car had tightened the field up, reducing the time it took to reach and pass cars and now he was less than 4s off the lead, after starting 14th.
Sainz's softs were beginning to fade and as the medium-shod Perez began reducing his previous 1.9s deficit, Ferrari brought its man in to defend any undercut and switched him to mediums. That put the Red Bulls 1-2 as they stayed out. Perez didn't fight as Verstappen DRS'd himself into the lead on the 12th lap.
The orange masses threw out a great cheer at this, but the reality was he'd still need to deal with Sainz – for the Ferrari's new rubber ensured he was lapping around 0.6-0.7s faster than the older-tyred Red Bull. So Sainz retained track position after Verstappen pitted four laps later.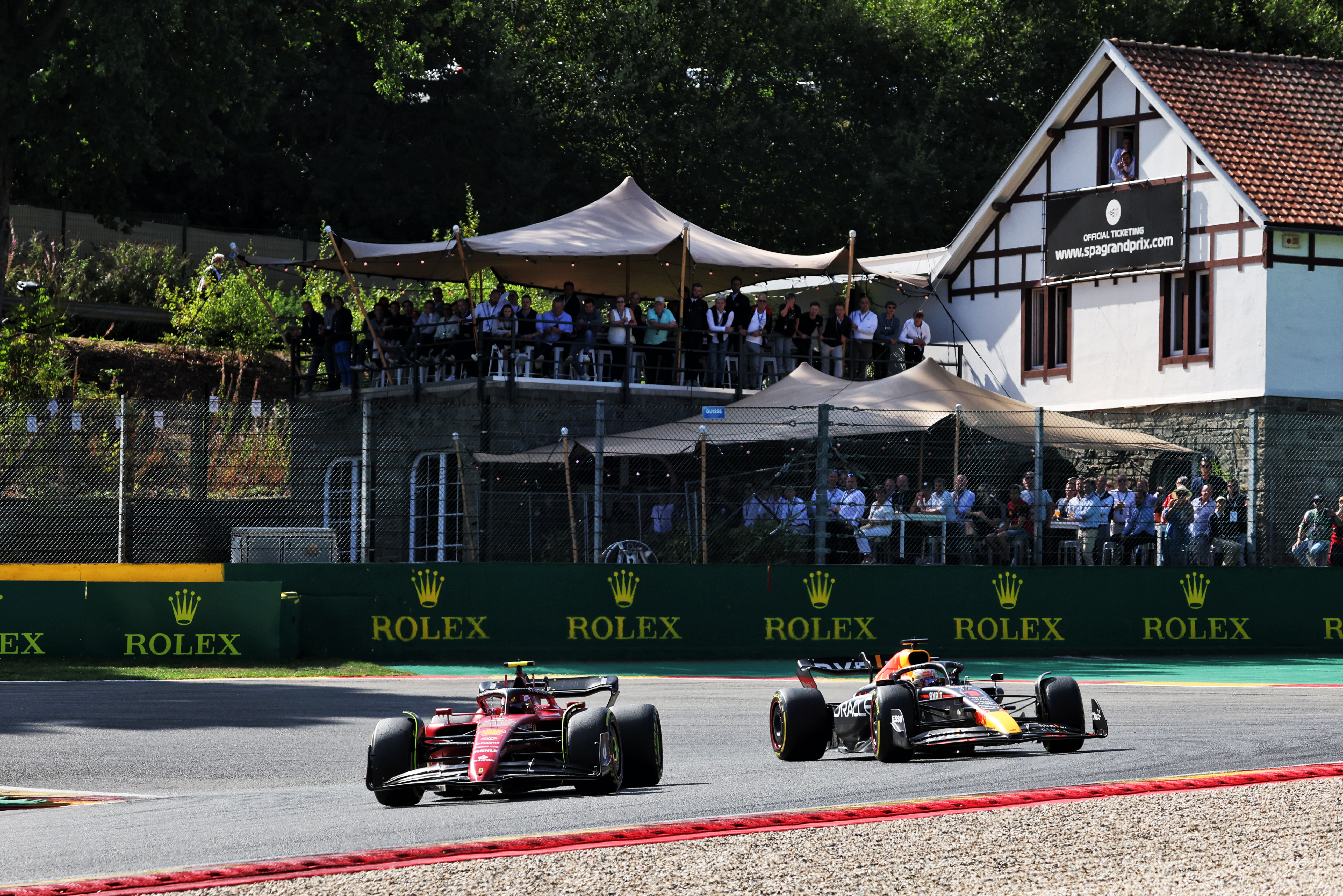 But it was no contest. On new medium rubber Verstappen was lapping two seconds faster than the Ferrari. It just wasn't in the same league. The real pass – the one that put Verstappen firmly in control of the race – came on lap 18 and Sainz didn't even fight it. There was absolutely no point. "They were on a different planet today," as Carlos later related. The second stops came and went routinely, Verstappen's gap just steadily increased.
Why was that? Why was a Ferrari which has usually qualified faster than the Red Bull this year, suddenly in this position?
"The ratio of efficiency [lift to drag] of our car around here is maybe not very good," said Sainz. "We need to look at it for Monza and analyse why our lower downforce package was not as good as theirs.
"Also, it's a characteristic of each car. We tend to be better on high downforce tracks."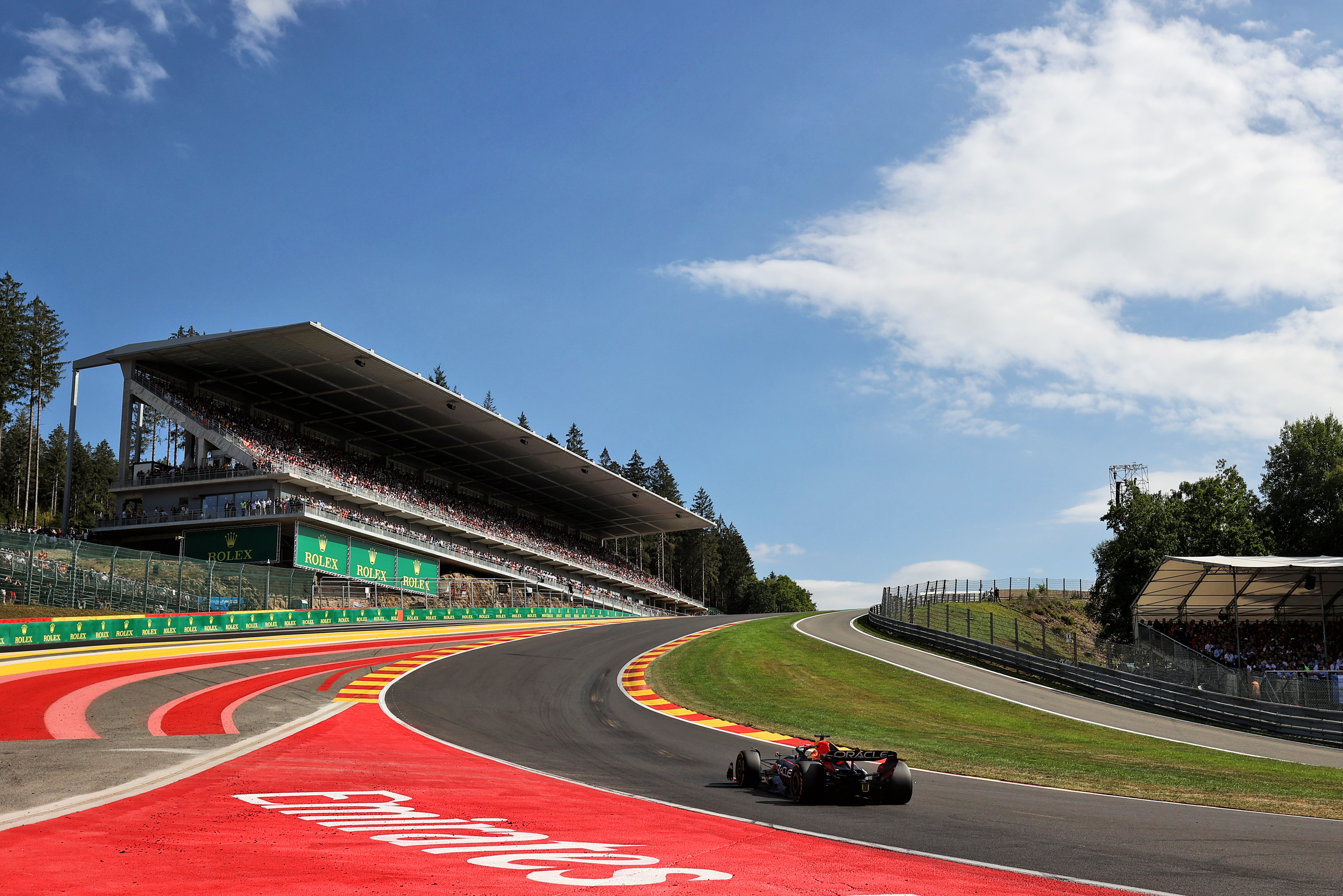 There was probably more to Red Bull's aero advantage here than just that too. Spa, because of the compression in Eau Rouge and the way the car has to run the kerbs through the flat-in-top Blanchimont, needs a much higher static rear ride height than most tracks.
Red Bull has for years, regardless of the formula in place, shown complete mastery of retaining good downforce at big rear ride heights. This is extremely helpful through the conflicting demands of Spa's very slow and very fast corners. Other cars seem to lose way more downforce at greater ride heights – and Red Bull seemingly does not have to run quite as high as everyone else here.
You may have read our technical consultant Gary Anderson raving about the detail of Red Bull's floor edges and how they were changed for each track and his comment that without this they'd probably have to run higher. Like other teams.
The big increase in track temperatures on race day (from 20/22-deg C on Friday/Saturday to 34-deg on Sunday) only amplified the Red Bull's advantage. It completely changed the tyre limitation from front graining to rear thermal degradation. The extent of that deg was huge – around 50-60% more than anticipated by most teams. It was this which switched the race from the anticipated one-stop to a two.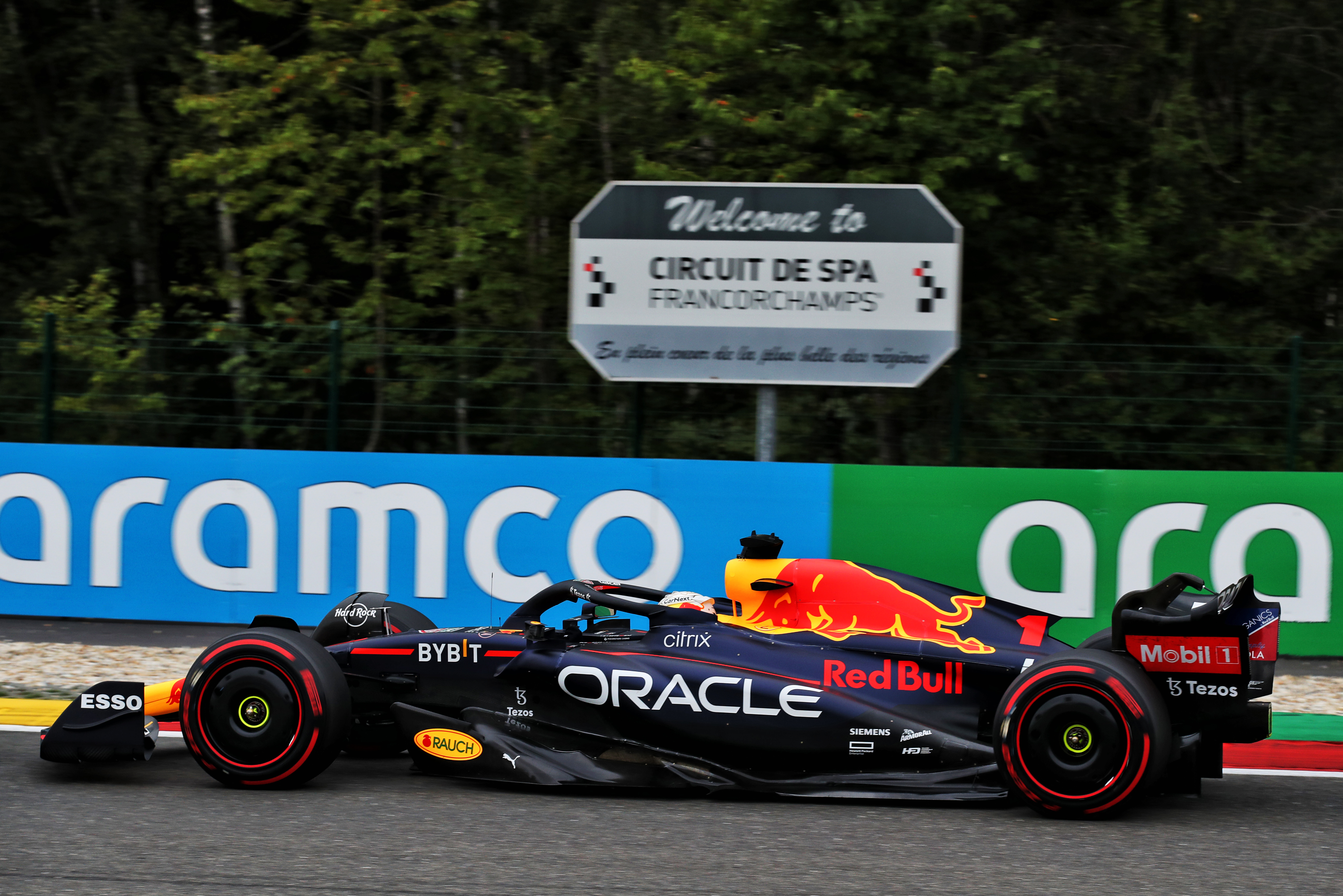 But more significantly, it afflicted the Red Bulls way less than any other car. That ability to be balanced through low speed and high – bought by that ride height mastery – was tyre deg gold dust and only amplified their advantage. So even though Perez had not been able to match Sainz in qualifying – partly thanks to Carlos' big commitment through Pouhon, flat-in-top – he was comfortably able to catch and pass him late in the second stint of the race, repeating Verstappen's DRS move, aided by much better traction out of La Source from rubber which was standing up much better as those special Red Bull Spa advantages just snowballed.
Sainz's tyre deg was such that he switched to hards for the final stint but was still under threat from Russell (also on hards). The Mercedes was better on the tyres than the Ferrari in the race, probably for much the same reason it wasn't able to switch them on quickly enough in qualifying. But with its relatively high wing setting it was slow on the straights.
Russell – along with Alonso and Hamilton – had taken advantage of Perez's wildly wheel-spinning start off the grid but the Red Bull was able to tow back ahead into Les Combes. The Hamilton/Alonso incident immediately jumped him up to third, made temporary by Verstappen's charge a few laps later.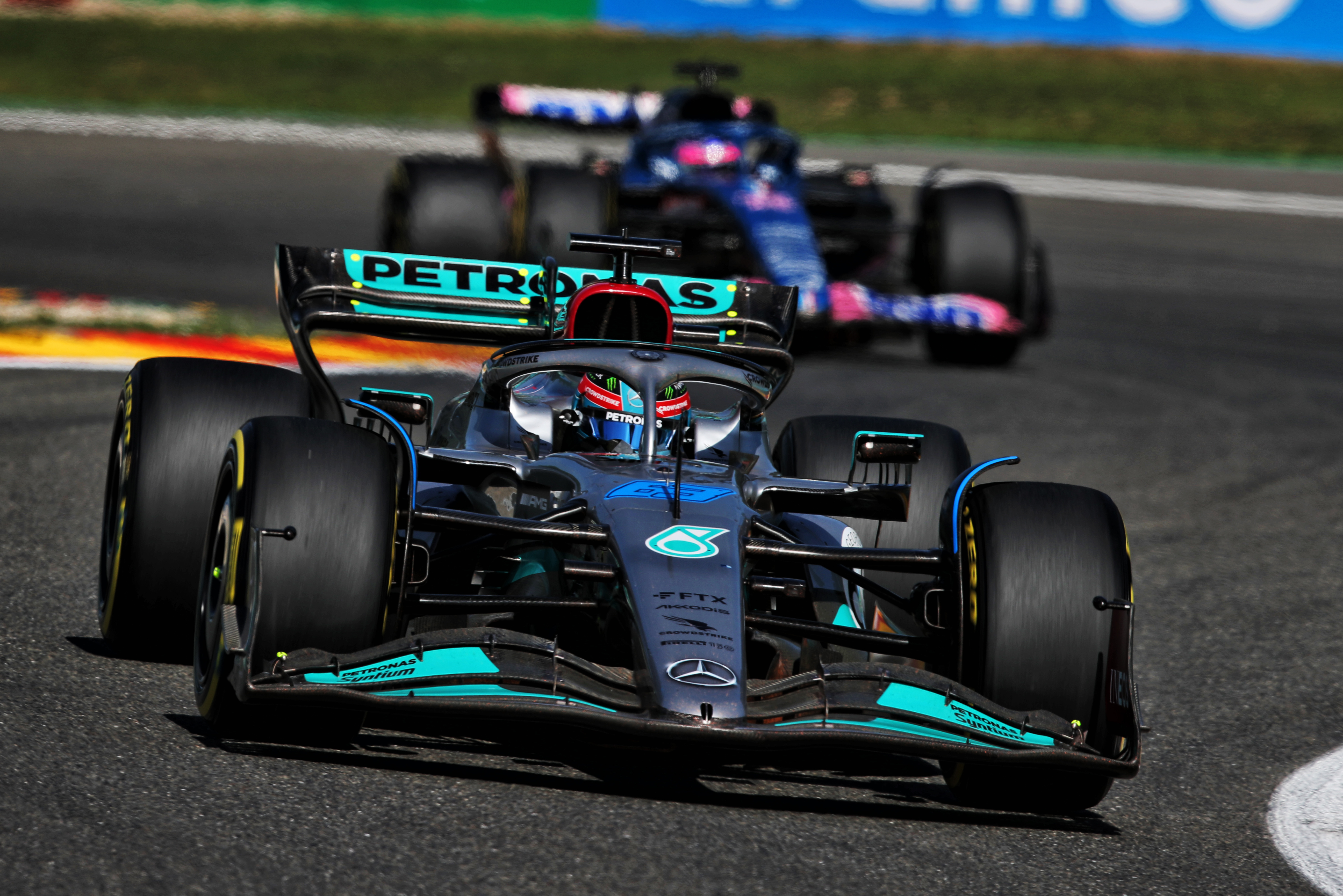 Unlike in qualifying, Russell had pace enough to pull away from Alonso – and thus be in place for the assault on Sainz; he was at times lapping up to 1s quicker than the Ferrari. But running wide through Blanchimont lost him much of the time he'd gained, enough to get Sainz off the hook for the final podium place.
Leclerc, after pitting under the safety car to have the tear-off removed from his right-front brake duct, rejoined near the back and lost a lot of time stuck in DRS trains, glided up to fifth but was suffering the exact same excessive tyre deg as Sainz.
His late and failed assault on the fastest lap lost him a place to Alonso as he exited from his stop and although he repassed the Alpine on the final lap to take it back, he then lost it again by the 5s penalty imposed for pitlane speeding. He'd been 0.1km/h over the limit and it was partly because the front-right speed sensor had burnt out when his brakes overheated from the tear-off in the duct.
Esteban Ocon from his 16th place start drove a wonderful race. He spent a long time stuck behind the super-fast on the straight Williams of Albon (starting sixth after getting into Q3 for the first time), eventually pressured him into locking up into La Source and then Esteban's race came alive. He'd earlier passed two cars in one move up to the Bus Stop and now he'd do it again into Les Combes – putting him in position to close down on Alonso before the team instructed them to hold positions.
The two cars he passed into Les Combes were the Aston Martin of Vettel – who'd given team-mate Lance Stroll no quarter on the first lap, forcing him to take to the gravel – and Pierre Gasly's AlphaTauri, the latter making a strong recovery from an enforced pitlane start after an electrical problem cut the power unit on the grid. They took eighth and ninth, having also spent a long time in the queue behind the very wide Williams of Albon, whose final point was richly merited.
As were the 26 of Verstappen.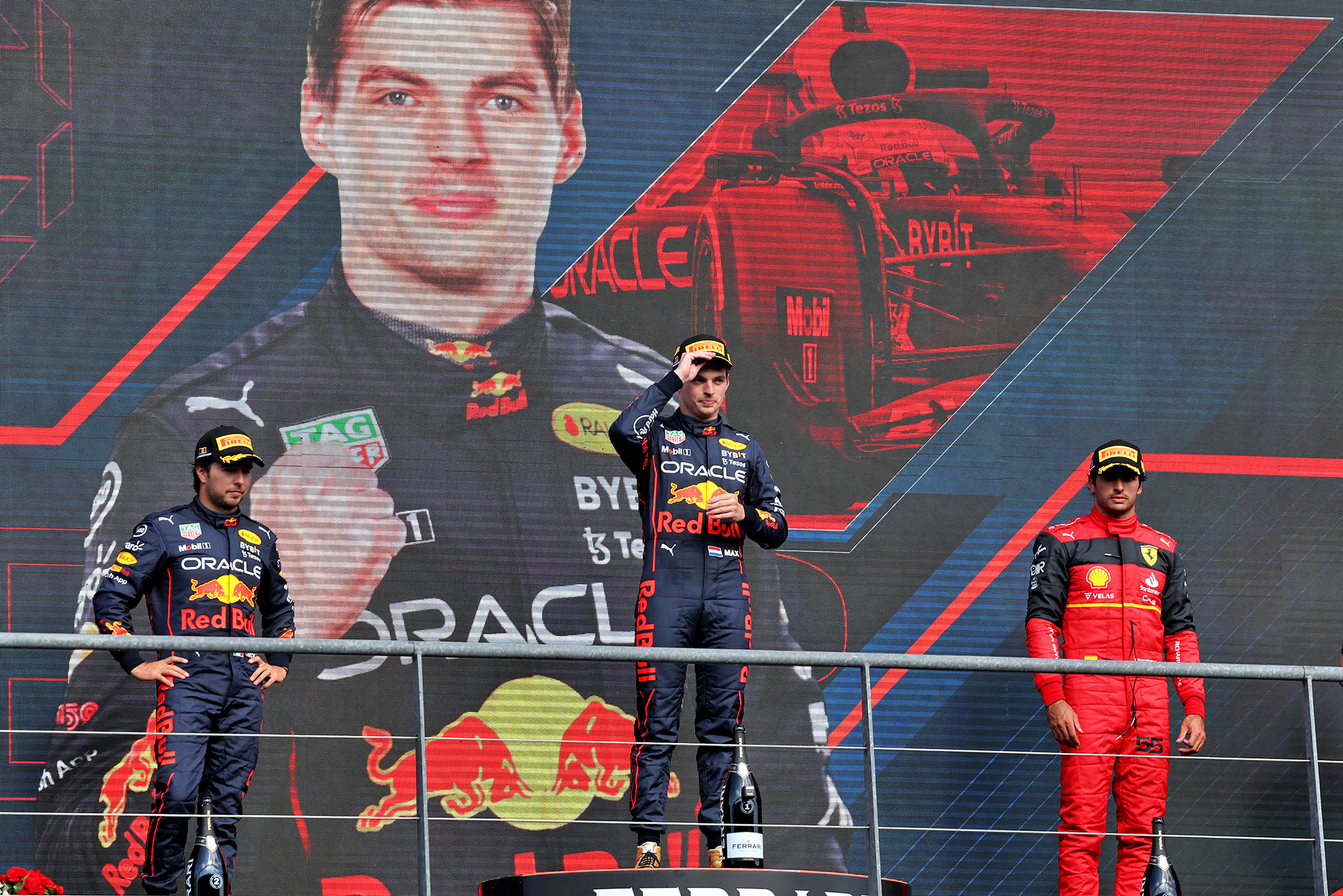 "The car was really on rails," he grinned. "We picked the right places to pass people and we could look after our tyres. That's how we made our way forward. And after that, once were in the lead, it was all about managing everything. But this whole weekend has been incredible.
"I think our car is very efficient. And then this track I think suits it perfectly, maybe. So I know that some tracks which are coming up might be a little bit more difficult and I expect again a good battle with Ferrari, it was just that yeah, this track seemed to be perfect for the car."
Chatting in the green room with Sainz, he'd said, "The deg was really high, wasn't it."
"For you, no," replied Sainz.
"They were on another planet this weekend," Sainz later added. "They were just strong in quali, strong in the race, better in tyre management, stronger on the straights, stronger in the corners…"