In the last four laps we lost both title contenders, so in championship terms the 2021 Azerbaijan Grand Prix meant nothing.
Try telling that to the top three Sergio Perez, Sebastian Vettel and Pierre Gasly. It meant a hell of a lot to them.
At the crux of it all was the left-rear Pirelli failure suffered by Max Verstappen a few laps from the end of a race he had controlled from the moment he vaulted past Lewis Hamilton to take the lead at the early first stops.
Hamilton and Mercedes had no answer to Red Bull's speed around here and their weekend was strikingly similar to that of Monaco.
But Verstappen is wary that's just a street circuit trait and that the return to conventional tracks will mean a strong Mercedes resurgence. Hence he was absolutely determined to inflict maximum points damage on his championship rival here and until that tyre went pop – just as Lance Stroll's had done earlier – he and Red Bull were doing exactly that, for Perez had also overcut his Red Bull past the Mercedes at the stops.
If things had stayed as they were before the explosion, Verstappen would have extended his points lead to 15.
Well, maybe. For Red Bull there was the concern of Perez's gradually decreasing hydraulic pressure which was reaching critical levels towards the end of the race.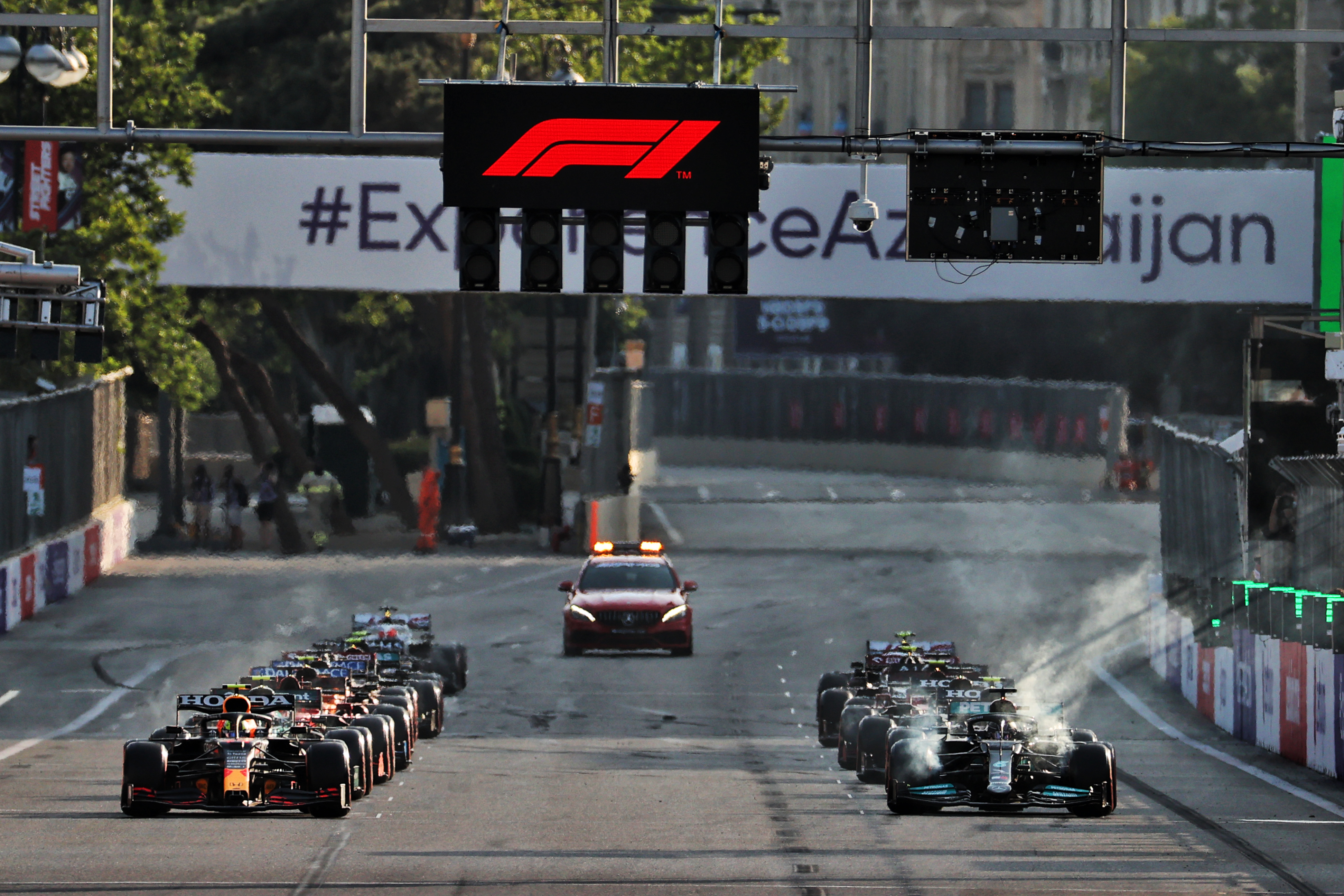 The team even started the car up at the last possible moment before that wild two lap mini-race at the end, so as to conserve what little pressure was in there. It even told him not to weave on the warm-up lap as the power steering might have drained that vital last bit of pressure that was keeping the car alive.
So Red Bull, having just watched its title contender hit the wall, was facing the restart uncertain that Perez could even finish, let alone fend off a slipstreaming Hamilton on new tyres.
It was quite feasible Red Bull was coming out of this race 21 points down moments after looking like going 15 up.
Moments later again, after Hamilton had inadvertently knocked his 'brake magic' button at the restart and consequently locked up his fronts disastrously and left the circuit, Red Bull was still four up in the drivers' championship and had extended its lead in the constructors.
Perez was instructed to shut down his Honda the moment he crossed the line for his second career grand prix victory. Aston Martin had no idea just how close to a grand prix victory it had been. Far closer than just Vettel's second place made it look.
OK, so Perez's was a victory taken only at the expense of Verstappen's bad luck and on a day when Mercedes wasn't able to do anything more than hang on.
But regardless, this had been a breakthrough weekend for him. He was quick all weekend, not so far off Verstappen, even if his qualifying position of sixth didn't support that claim. That was simply a scruffy lap without the opportunity of doing a second one.
The rest of the time he was more assured and confident than at any time in the season to date at a track at which he's historically excelled.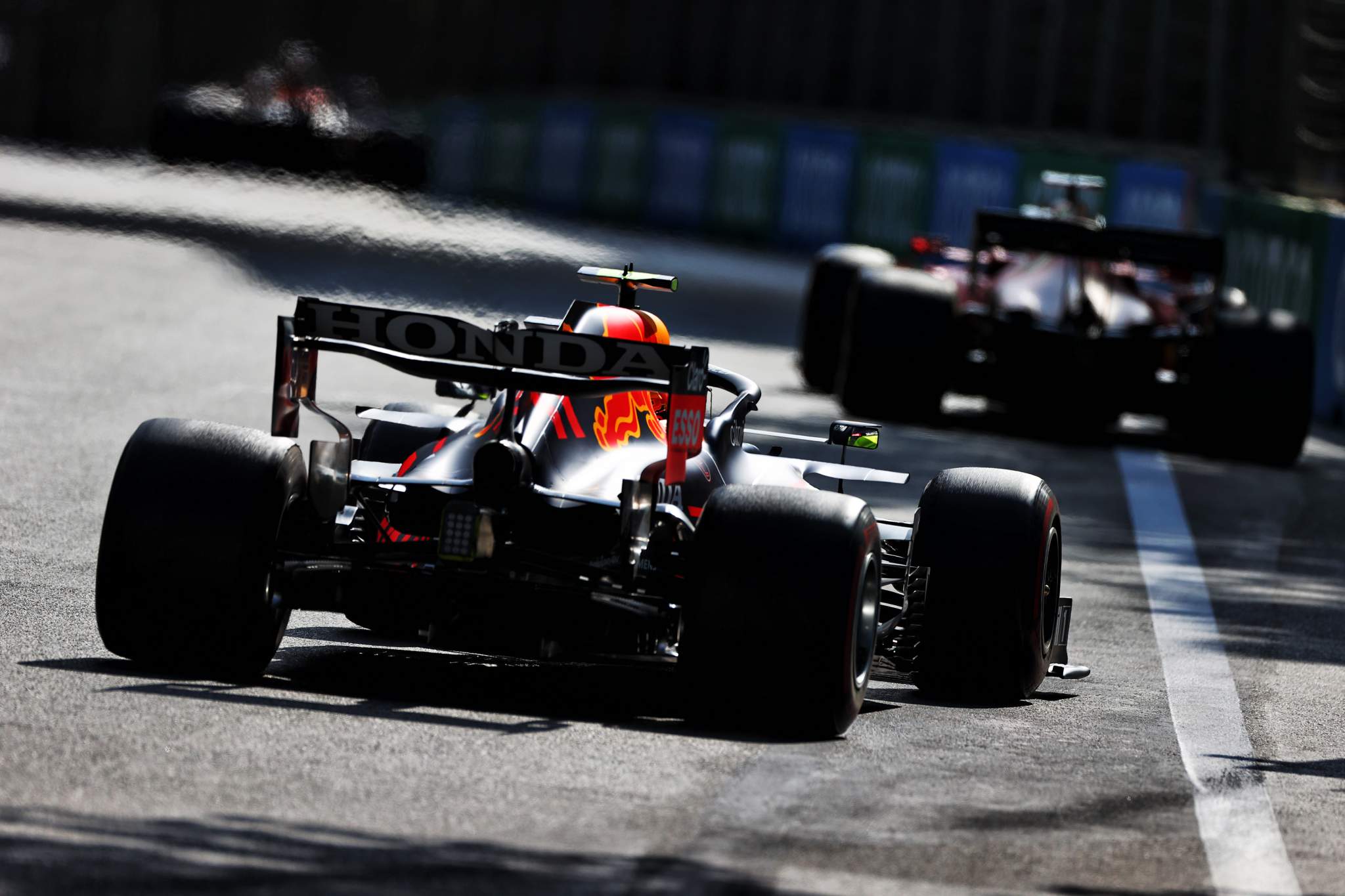 Two strong passes on the opening lap put Perez immediately in Verstappen's wheeltracks and that's all he needed.
He may have even jumped past his team-mate and into the net race lead at the stops, for his in-lap was mighty. A slight overshooting of his marks delayed the left-rear gun-man and the resultant couple of seconds delay was all that prevented Perez fighting for track space with Verstappen as he exited.
But even with the delay, he'd done enough to overcut Hamilton, who had suffered his own delay in the pits. Mercedes had to hold him because Gasly was about to cross its path.
Were it not for that, Hamilton may have been able to hold onto the lead he'd taken on lap two when he'd slipstreamed past the quickly-fading polesitting Ferrari of Charles Leclerc.
But to have retained it would have been asking a lot against a Red Bull that was just plain faster and which had way better tyre degradation, thanks partly to the skinny wing Hamilton had chosen as his only route to competing.
The Red Bull was carrying plenty of wing here, as befitted a team confident in its underlying pace advantage. It brought two new spoon-profiled wings but used only the higher-downforce one. The low-drag specials chosen by Hamilton and Ferrari (for slightly different reasons) can get you a Baku lap time. But invariably at the expense of rear tyre surface overheating.
So the apparent challenge for Verstappen once he'd been limited to only third on the grid (by the low-drag but brilliantly-driven laps of Leclerc and Hamilton and then being denied a chance of responding by the Yuki Tsunoda-induced red flag) was about expressing the car's greater performance.
Would it be on track, or with the under or over cut? Because barring mishap there was no way either the Ferrari or Mercedes was going to leave him behind. The car was much the fastest over the long runs, that decent wing level protecting the tyres.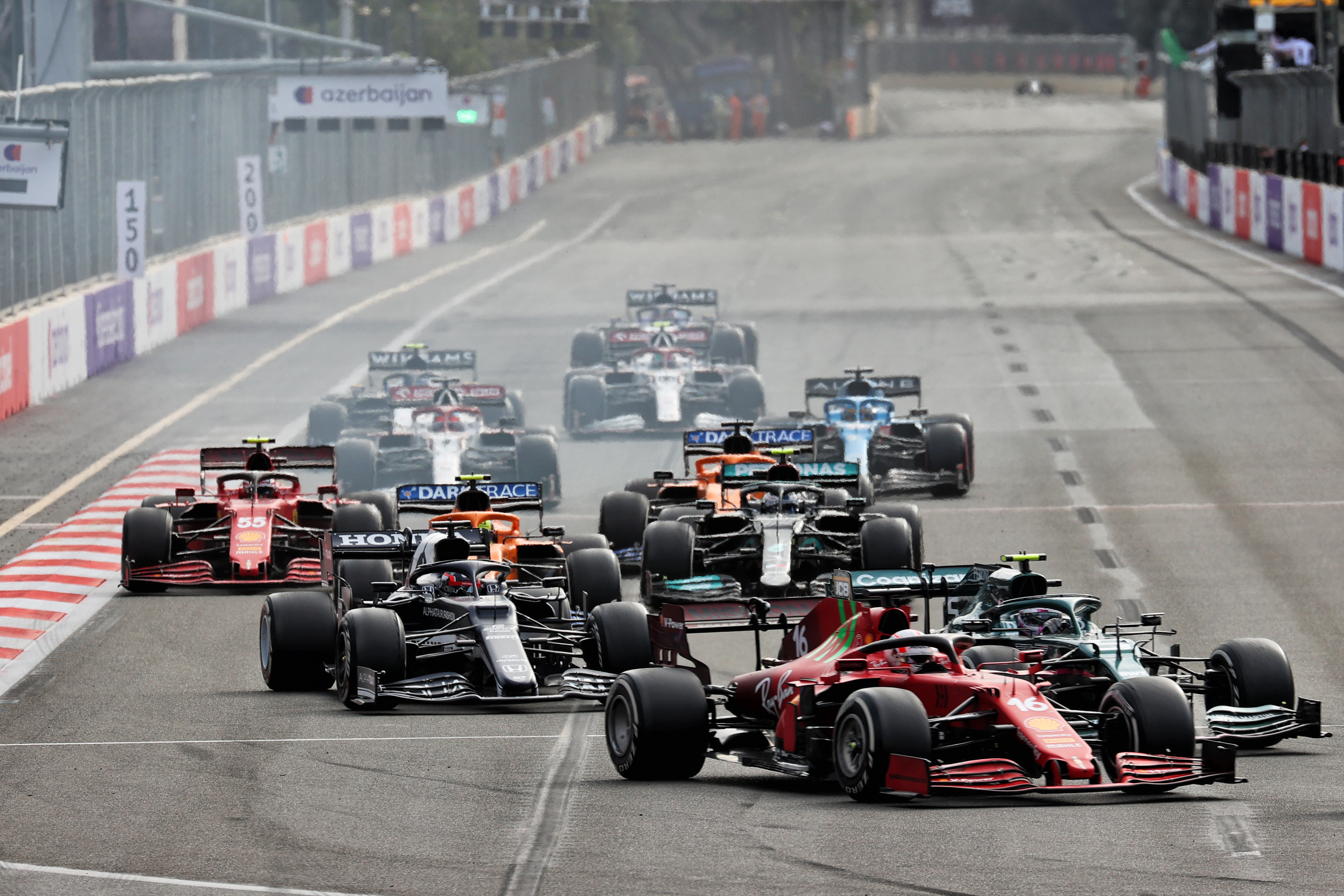 Leclerc led away from Hamilton and Verstappen. Perez built the foundations of his victory with two super-strong passes in the opening few corners on Carlos Sainz Jr's Ferrari and Gasly's AlphaTauri.
Ferrari had used the car's great low-speed agility and grip through the old town sector to back right off on wing levels to mitigate against its power deficit. It may have found some gains in deployment too. It brought two skinny wings and chose the skinnier of them, knowing it wouldn't be a contender on Sunday whichever of them it chose, so why not maximise qualifying?
Leclerc had got a decent tow (from Hamilton) to post his second consecutive pole but was easy meat for the Mercedes the first time down the Caspian stretch on race day, even before DRS was enabled.
From there Leclerc used the DRS from Hamilton's car just to defend himself against Verstappen's attacks. As the Ferrari's traction began to fade along with its rear rubber, so his entry onto the Caspian stretch made him vulnerable to a successful Verstappen DRS move heading into the seventh lap.
Prior to that Leclerc had to skirt around a tree branch which had dropped onto the track at Turn 15, and which Hamilton had hit, incurring some wing damage.
Once past the Ferrari, Verstappen was 1.2s behind Hamilton but even the subsequent DRS help couldn't get the Red Bull's big wing down that straight fast enough to pass. He got close once or twice, but it was going to have to wait until the stops.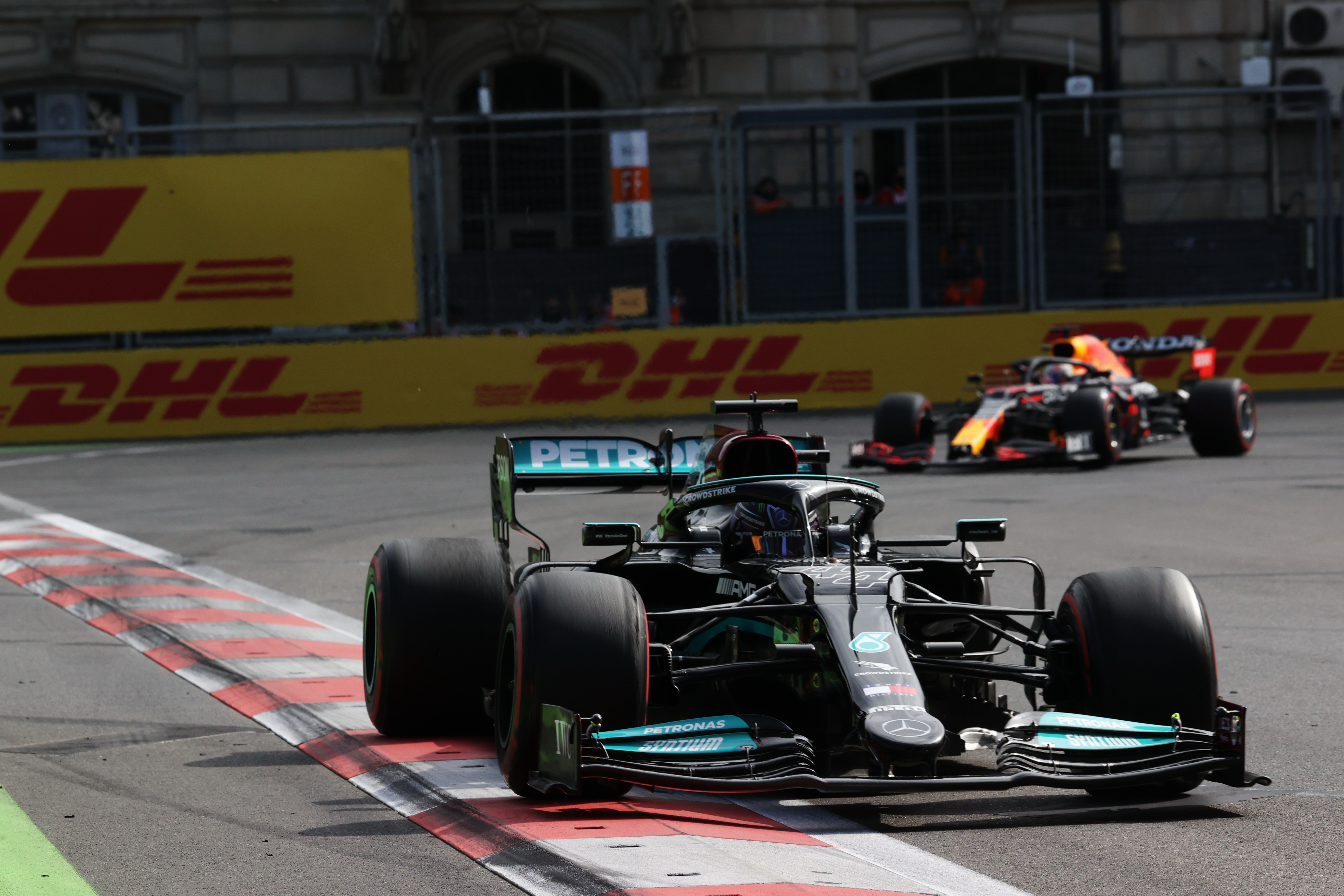 These almost went very well for Hamilton. By the ninth lap his grip was fading as that skinny wing took its toll. But a couple of laps earlier Fernando Alonso and Lando Norris had pitted, creating a nice space for him to drop into. As soon as Hamilton had also cleared Daniel Ricciardo's McLaren, Mercedes brought him in and fitted a set of hards.
A few points here: it wasn't altogether clear going in if the undercut or overcut would be more effective. Neither the soft nor the medium gave good range and so would likely be slow on the in-lap.
But the hard – which was otherwise by far the best race tyre – could be difficult to bring up to temperature. You therefore had to fit the hard as the medium wouldn't get you to the end and was slower anyway after about five laps.
But which would be faster on that crucial in/out lap between the old hot soft and the new cold hard?
The Red Bull still had heaps of tyre life left and with Hamilton out of his way, Verstappen's in-lap was 0.8s faster than Hamilton's had been. That in addition to Hamilton's 2s pitlane delay caused by Gasly's arrival meant that Verstappen comfortably overcame the Mercedes after a clean 1.9s stop.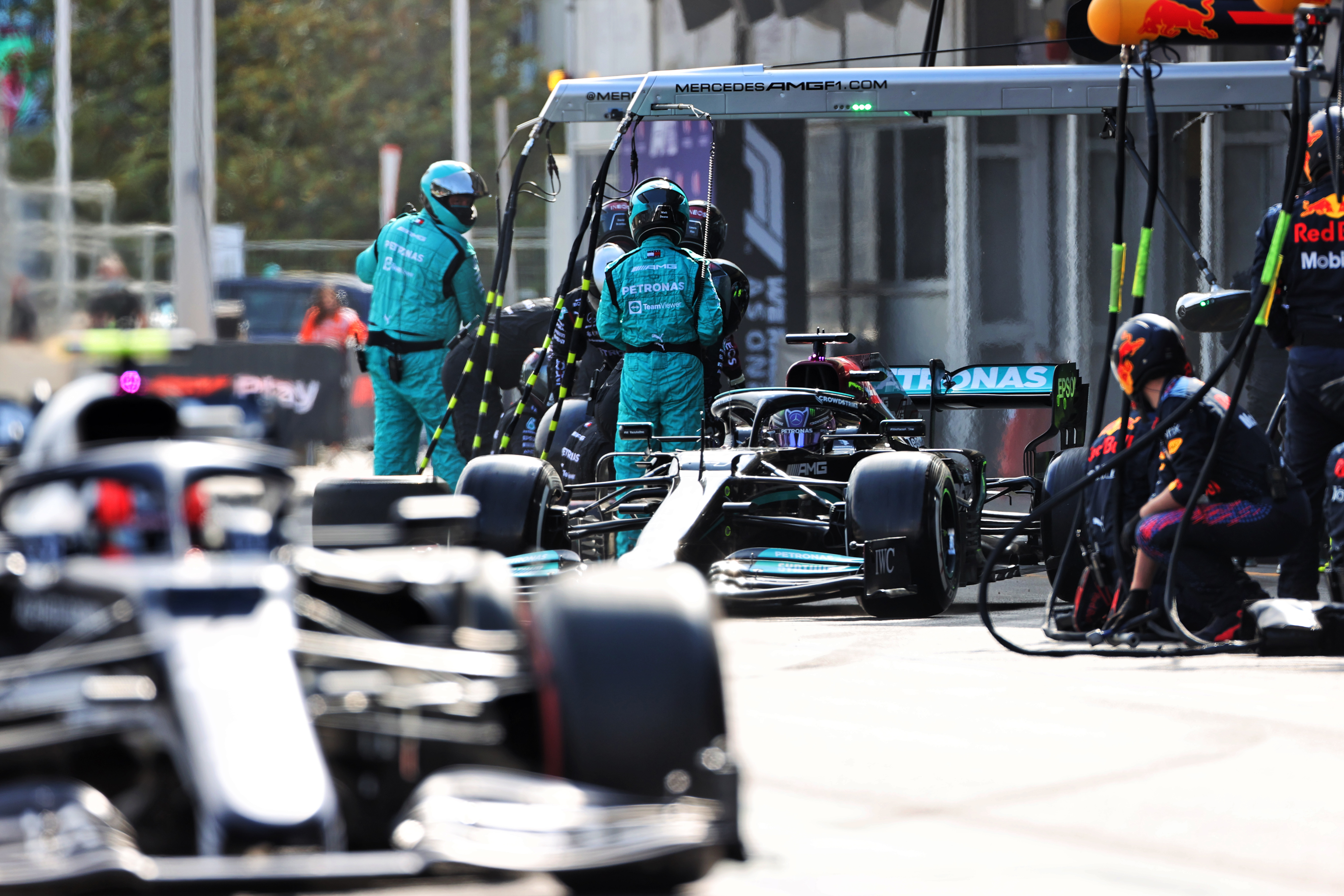 Now Perez – who'd pretty much been shadowing Verstappen but without trying to pass – let rip and showed he had even more tyre left than Max.
His in-lap was 0.5s faster than Verstappen's and 1.3s faster than Hamilton's. This was set to have made it extremely close between the two Red Bulls – except Checo ran a little beyond his marks, the left-rear gun guy had to shuffle his equipment up to reach and the stop took 4.3s.
That ended up working perfectly for Red Bull in that it allowed Verstappen not to have to fight for the position but still overcut Perez past Hamilton. Lewis was notably conservative in not attacking the second Red Bull as it exited in front of him.
Red Bull had moved itself from 2-3 into a net 1-2, once the race-leading Aston Martin of Vettel stopped.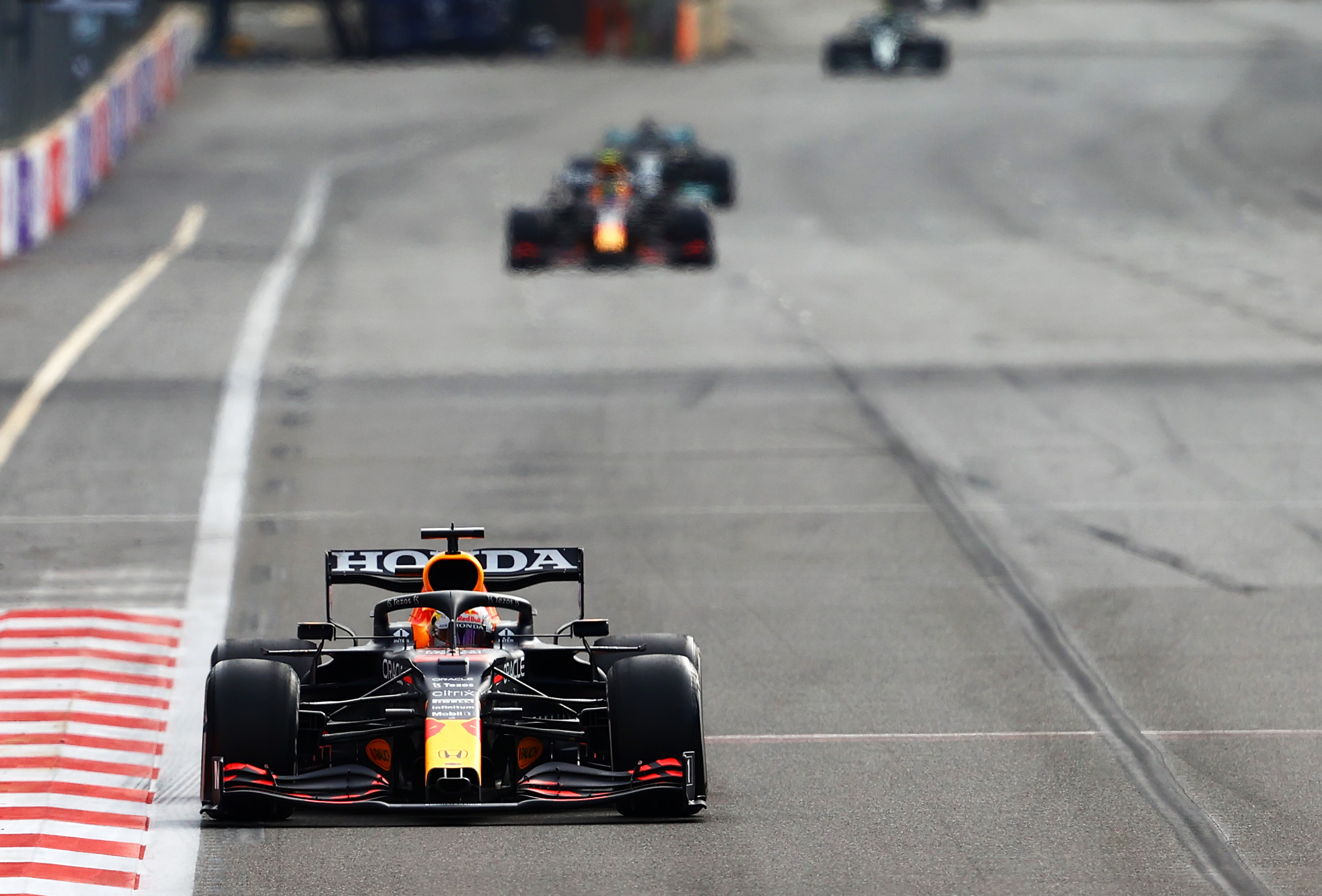 Once into this position of control, Red Bull began to manage its pace. It had fuelled a little light in anticipation of safety cars which hadn't appeared and so went into a phase of lift and coasting.
Verstappen extended his lead over Perez who seemed to be toying with Hamilton behind, just enough to keep him out of DRS range.
There wasn't quite enough of a gap behind to make a Barcelona-like second stop feasible for Hamilton. Vettel had got his softs to last for 18 laps at a really good pace before pitting from the lead and rejoining between Leclerc and Tsunoda in a net sixth place.
Vettel was the cork in the bottle to Hamilton stopping and before much longer the Mercedes was not lapping any faster than the much newer-tyred Aston Martin. So it was stalemate; the top three positions were set, so it seemed.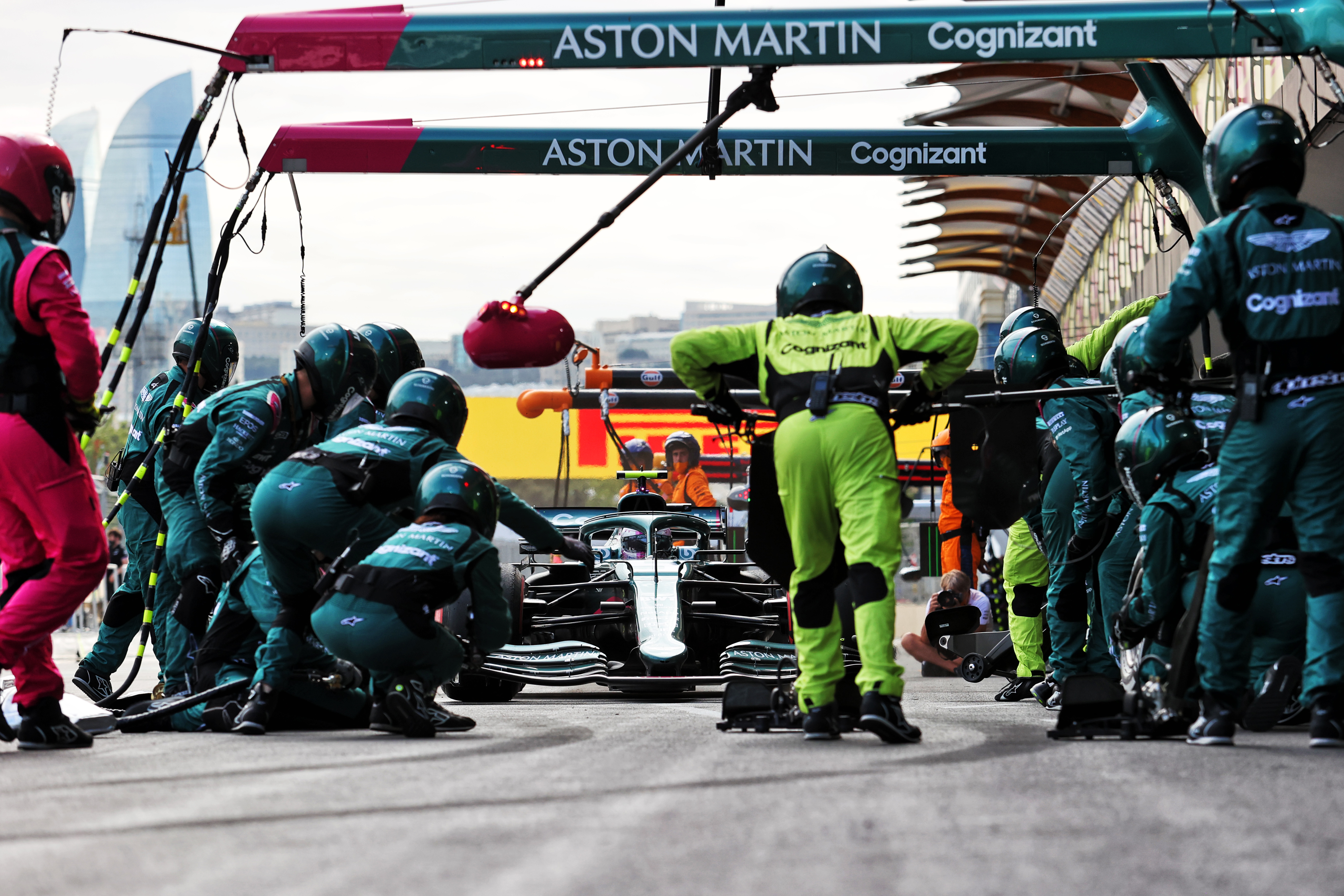 Behind, Stroll who'd started on hards from the back row was running long, fourth on the road but looking set to emerge in the lower reaches of the top 10.
The net fourth place guy was Gasly who'd comfortably overcut the earlier-stopping Leclerc and who was driving superbly all weekend, very much at home between the walls.
Sainz in the other Ferrari had gone up the escape road on his out lap – finding the car very prone to locking up on cold tyres – and was fighting back through the lower reaches.
After Vettel and Tsunoda, Norris was there from his penalised grid slot, having got past Alonso and Valtteri Bottas. The latter could get no tune at all from the second Mercedes and was not at any point anything other than a lower midfield runner. He seemed completely lost as to what had gone wrong.
Alonso and Ricciardo were engaged in a long-running struggle for 10th. Esteban Ocon had gone out early with a power unit problem.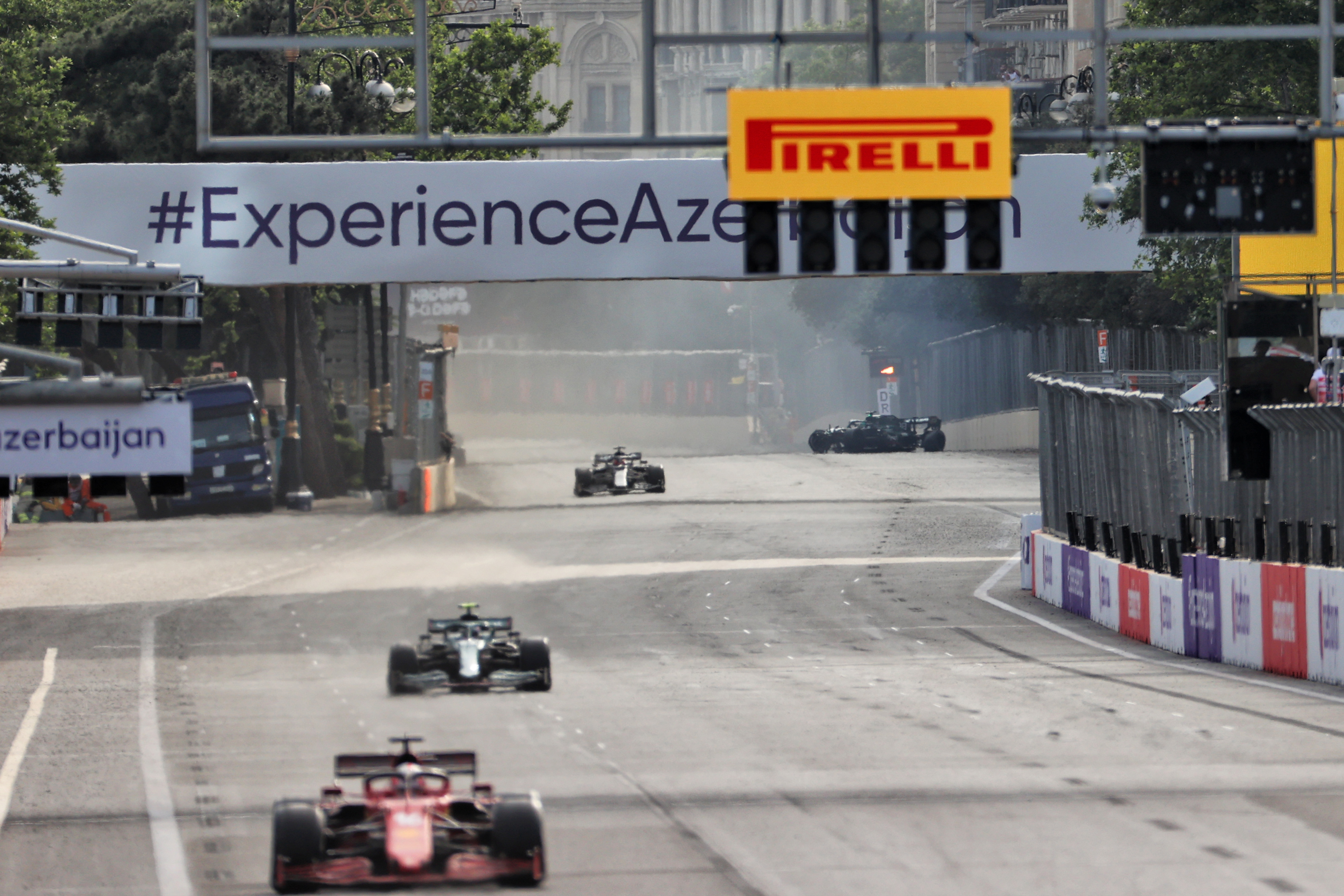 That's how it was going to pan out before the safety cars changed the picture. Stroll's left-rear went as he came down the main straight on the 30th lap, pitching him hard into the wall at 196mph.
He desperately wrestled the Aston Martin to keep it on the left side of the track and not in the path of the oncoming cars. No warning, just a sudden explosive deflation.
The safety car ran for five laps, wiping out Verstappen's 8s lead and bunching the whole field up. Because Stroll's car had come to rest in the entry lane for the pits, the pitlane was closed. Hence no one up front was able to take advantage of the safety car to make a cheap stop. By the time it was reopened, the tightly-packed field would have made a stop disastrously costly in positions.
But a few of those already well down the field – Alonso, Antonio Giovinazzi, George Russell, Mick Schumacher and Nikita Mazepin – did make the move.
Verstappen and Perez worked as a team on the restart, completely thwarting Hamilton, with Perez then holding the Mercedes at bay while Verstappen escaped. He was told to be careful with how he brought the tyres in, not to abuse them. Perez's actions allowed him to do this.
But one guy on the move at the restart on his much newer tyres was Vettel, who was able to pass Leclerc for fifth into the first turn, the Ferrari locking up spectacularly into Turn 2 as he tried to retaliate, only just missing the back of Vettel.
Vettel followed up with a clinical move on Gasly further into the lap, putting him fourth and looking at the back of Hamilton.
Bottas lost four positions on the first restart lap, his tyres hopelessly gripless and was now out of the points. Soon he'd have Russell's Williams just behind him…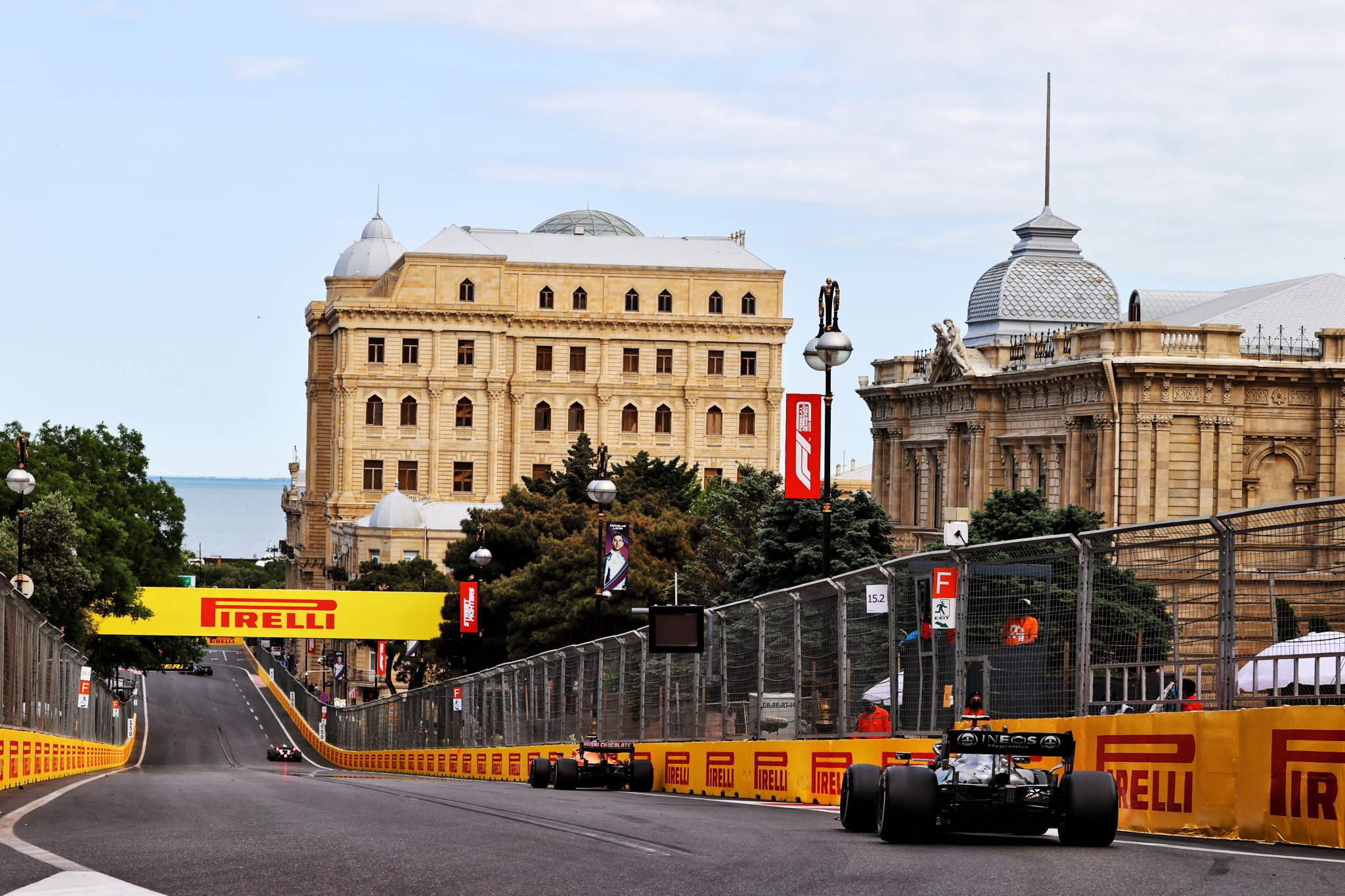 Verstappen stretched his lead back out to over 4s on Perez. Hamilton was visibly trying like crazy to put pressure on Perez, wild snaps of oversteer, almost running off track at Turn 16 on one occasion. But Perez was always able to keep him at length. They were only just edging away from Vettel.
It was like this with five laps to go as Verstappen's left rear went in just the way of Stroll's – on the inner shoulder – just a little further down the straight.
Verstappen was doing over 200mph and he did amazingly well just to get the first reactive bit of opposite lock on, but it tank-slapped him into the right-hand wall, along which he bounced, scattering debris all the way, which Perez and Hamilton skated around.
It took a while for the safety car to be scrambled and not long after the red flag was shown, with two laps left.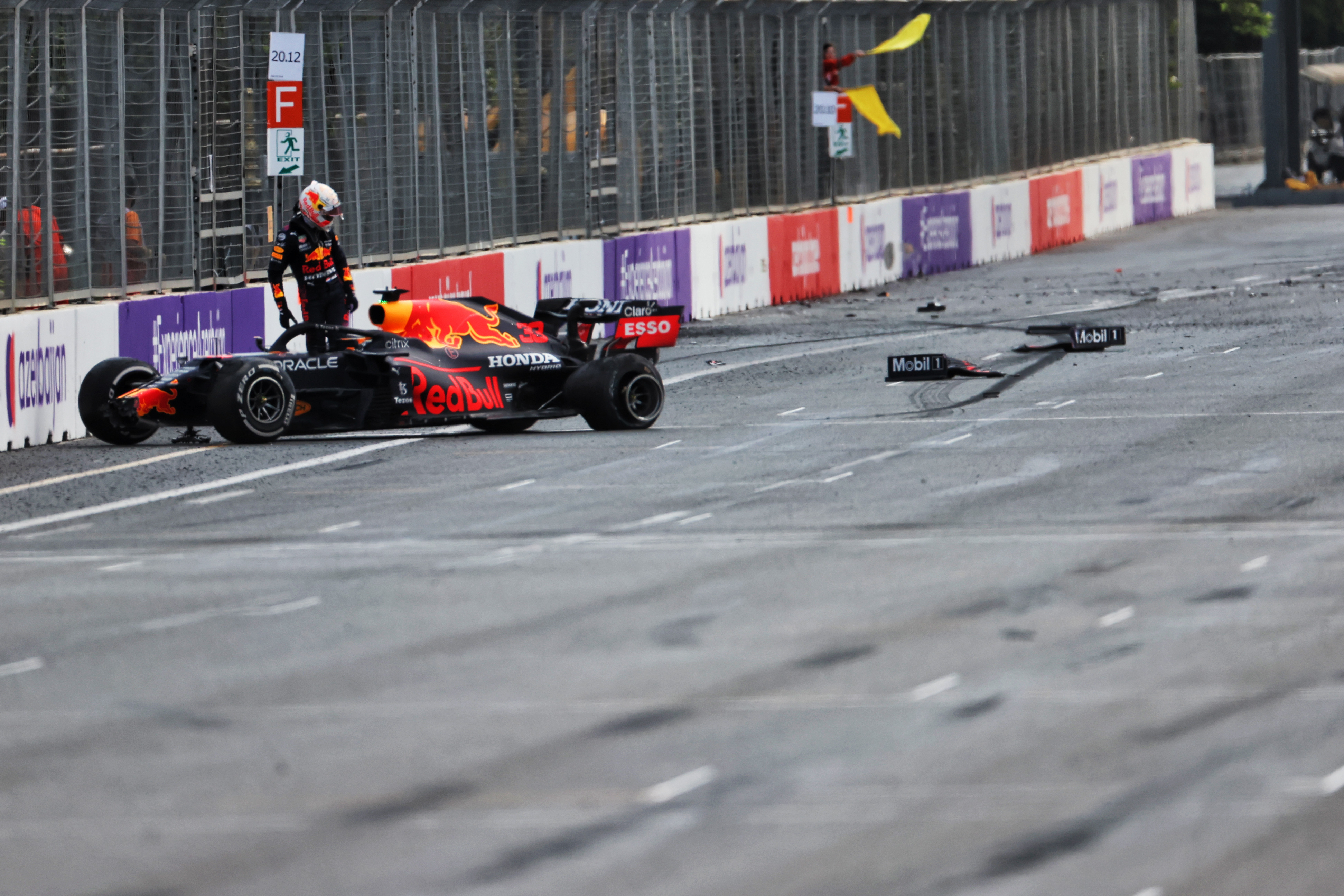 "I didn't feel anything strange with the car," Verstappen reported, "and then suddenly the left rear went and I was in the wall quite hard. It's not a nice place to crash."
Everyone lined up in the pitlane and it was announced that the last two laps of the race would be held from a standing start. Everyone changed tyres – onto whatever softs they had left.
As he'd waited in the pitlane, Hamilton had cautioned it was a marathon, not a sprint and Toto Wolf had agreed with him.
But as the lights went out, Hamilton got a better launch and was immediately up Perez's inside.
"No way was I letting him by," said Perez, who swooped aggressively across.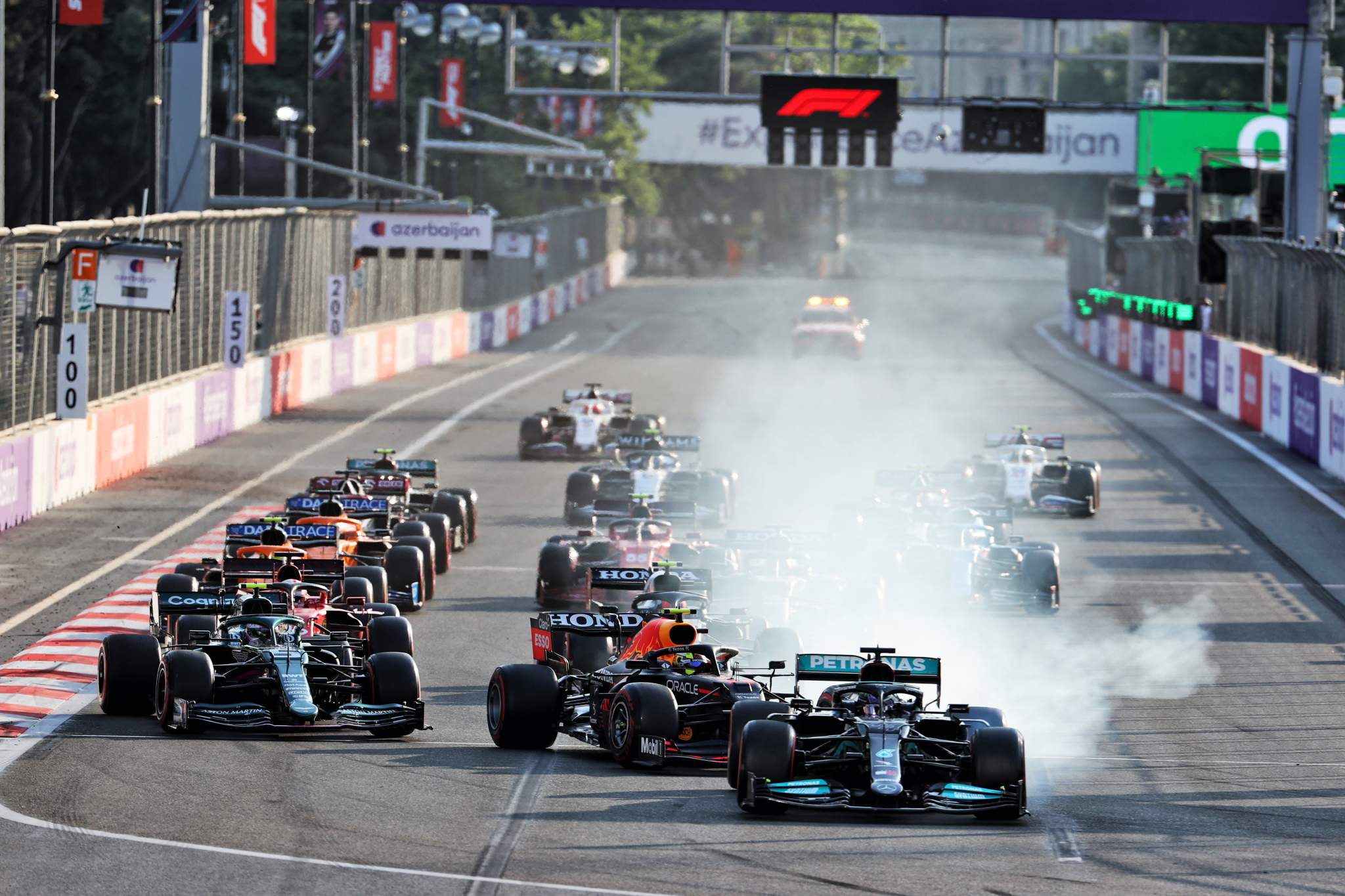 As Hamilton steered away, he inadvertently knocked the 'magic brake' button on the steering. This is a device used for putting heat into the tyres and essentially puts the bias almost totally forward. So as he hit the brakes they locked solid and he sailed up the escape road.
Perez was through and gone, leaving Vettel behind. Gasly and Leclerc would pass and repass many times over the next two laps, with Norris – who'd passed Tsunoda – almost getting involved.
Sainz again struggled under braking on cold tyres and locked up into Turn 2, losing him places to Tsunoda and Alonso, the latter then passing Yuki for sixth, having restarted 10th.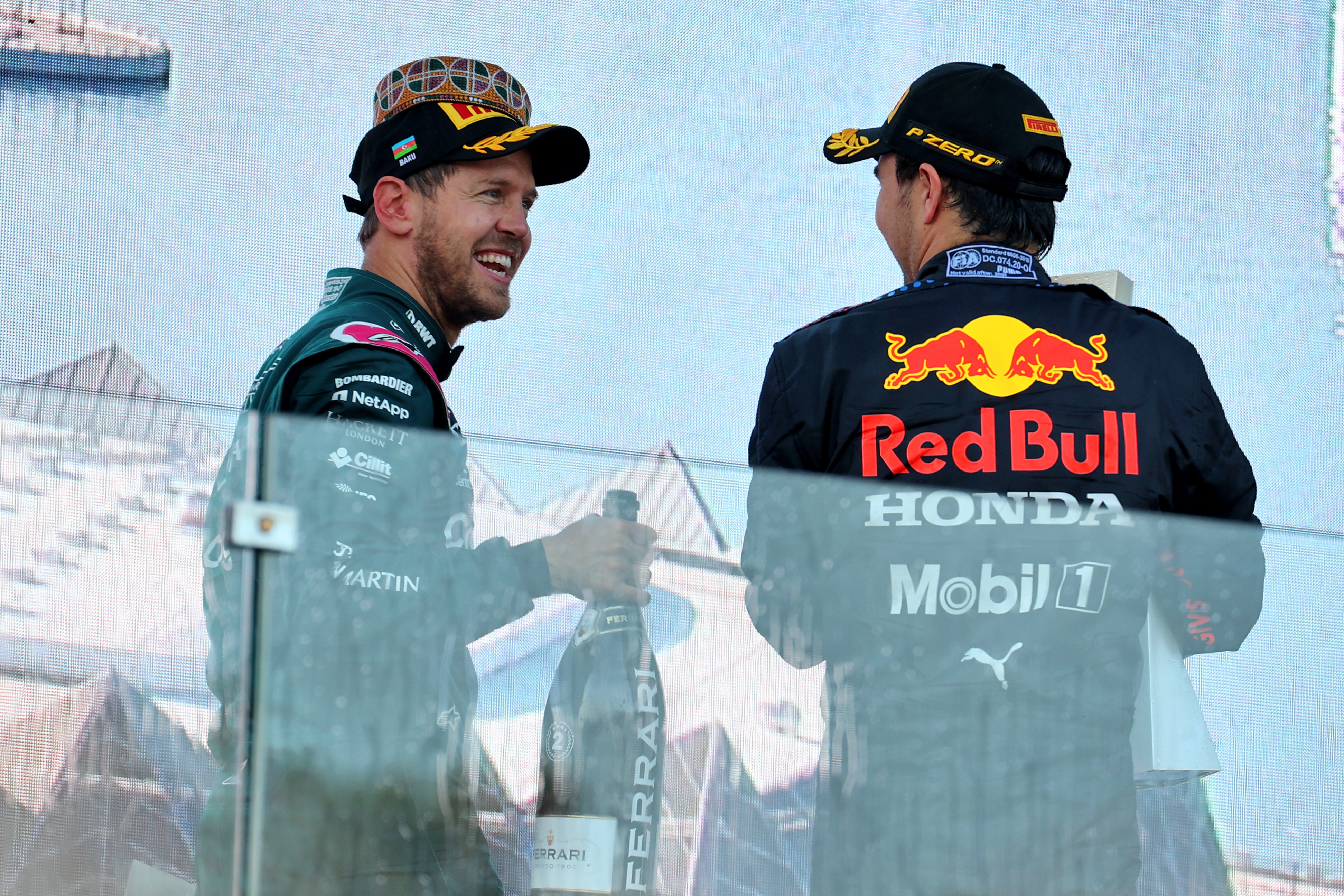 Perez hoped his hydraulics would hold out and Vettel had no idea how close he was to winning. Gasly held off the attacking Leclerc and Norris for third. Alonso fended off Tsunoda for sixth. Sainz, Ricciardo and Kimi Raikkonen rounded out the points scorers.
Giovinazzi, Bottas, Latifi, Schumacher and Mazepin all beat Hamilton across the line. Schumacher was unamused at team mate Mazepin's potentially lethal swerve right as he went to pass him on the straight flat-out in top.
"Stop the car, Checo." Yeah, with pleasure. He jumped out with joy in his eyes. As he joined the team to celebrate, Verstappen was there applauding him.