McLaren's Formula 1 prospects look bright. It's a vibrant organisation on a clear upwards trajectory, with the top teams in its sight.
Little more than a year ago its outlook risked becoming considerably worse.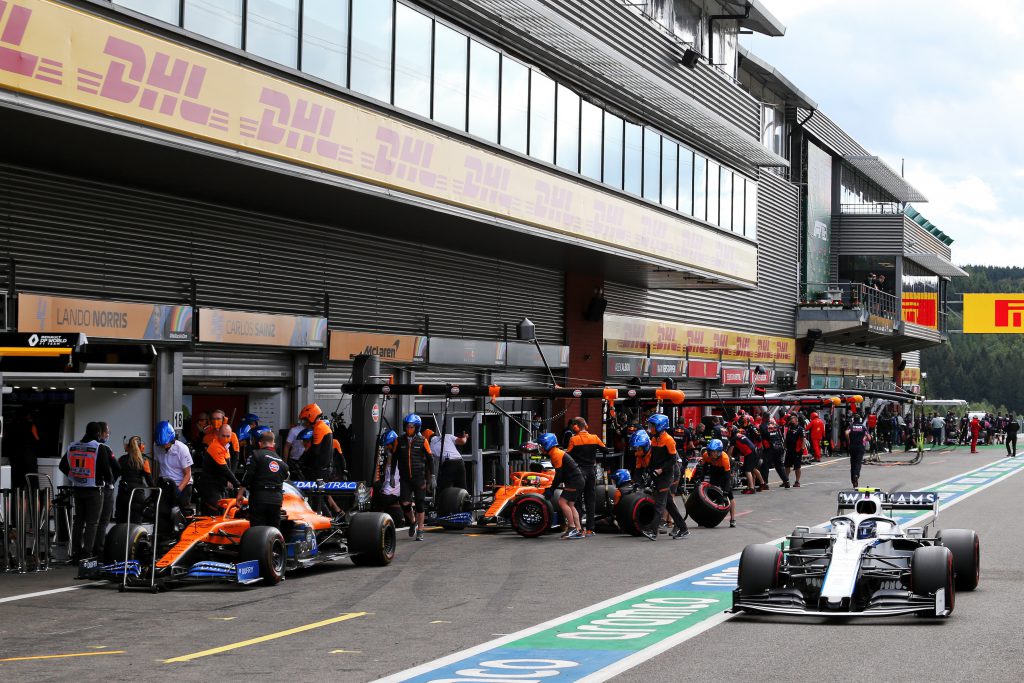 When the McLaren Group was in financial turmoil in 2020, there was talk of potential insolvency for the parent company. The F1 team looked vulnerable to knock-on effects and so there was a high degree of urgency to conclude the eventual sale of a significant minority stake in the McLaren Racing division.
But this was stated in the context of securing the necessary investment to continue the progress to the front of the F1 grid. There was never any explicit suggestion the sale represented salvation from immediate or long-term peril.
So, it may come as a surprise to hear McLaren Racing CEO Zak Brown speak of that process in such blunt terms as:
"Ultimately, we were fighting for survival."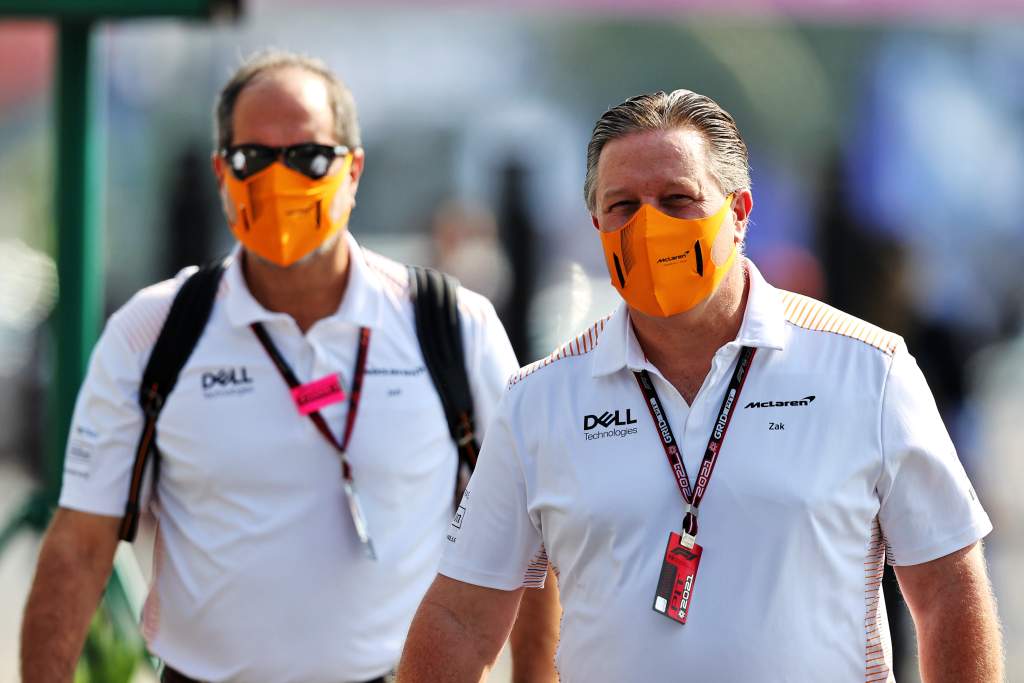 That conjures images of fallen F1 giants and struggling minors.
It is difficult to think of McLaren, one of F1's oldest, greatest and most popular teams, in the same context as teams that have been swallowed up by such situations – although when you consider Williams went through its own upheaval over a long period, with an even more extreme solution (a complete sale), it seems a little less farfetched.
Last December, McLaren Racing agreed a £185m buy-in from MSP Sports Capital that gave the consortium of US sports investors an initial 15% stake rising to a maximum of 33% by the end of 2022.
Brown, speaking to The Race near the end of a 2021 season in which McLaren became a grand prix winner again and was only narrowly beaten by Ferrari to third in the championship, considers that deal McLaren's biggest moment during his tenure, which began in 2016.
That's saying something given the recent milestones he's been a part of include the split with Honda, the switch to Renault and the return to Mercedes; hiring the likes of Andreas Seidl and James Key; and securing the go-ahead to build a new windtunnel.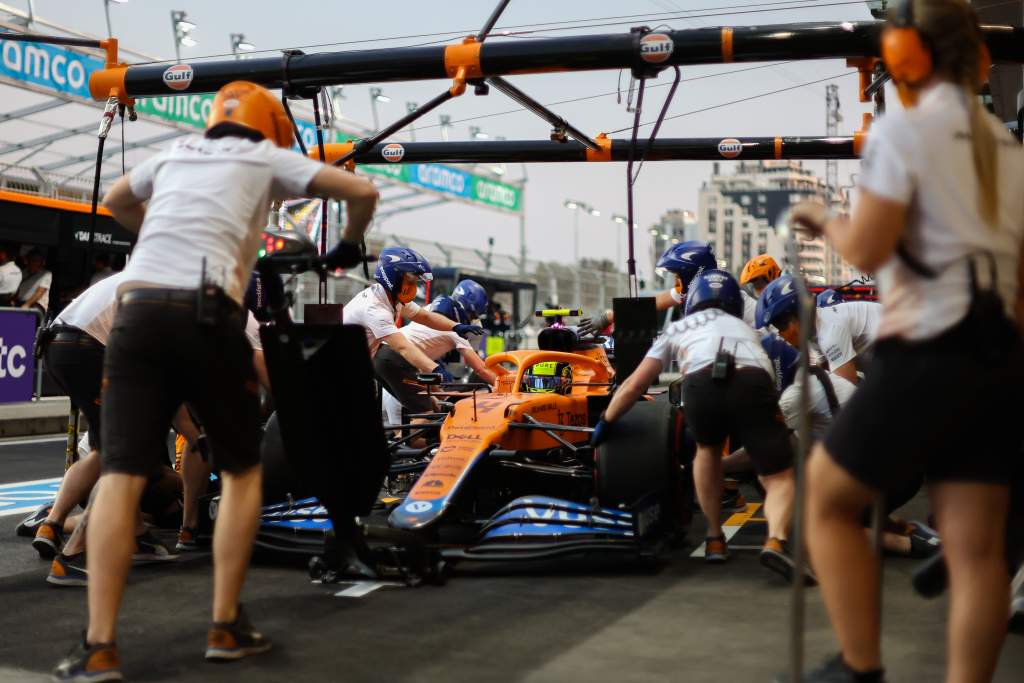 "Without MSP's investment we might not be sitting here," says Brown. "Now we're sitting here extremely healthy, having just bought an IndyCar team, and we started an Extreme X team.
"We're fighting Ferrari, we've got great drivers, we've got a great team, we've got a windtunnel coming.
"I look at where we are 12 months on, it's night and day."
If that feels like an overstatement, it's probably because McLaren did a good job of keeping a lid on the potential consequences of its 2020 strife. So while it was well-known the Group was in serious trouble, the fact the team seemed to be performing well had many assuming it may be independent enough to be protected – and that at worse, things might just get a little tight.
In response to the coronavirus pandemic there were redundancies in the Racing division as well as the wider company as part of a massive effort from the McLaren Group to address the growing financial crisis. The company had a major cash influx from majority owner Bahrain's Mumtalakat group and secured a $150m loan with Bahrain's national bank to stem the tide.
Then came the MSP deal for McLaren Racing and since then, McLaren's iconic Woking headquarters has been sold and leased back on a long-term deal to raise more funds.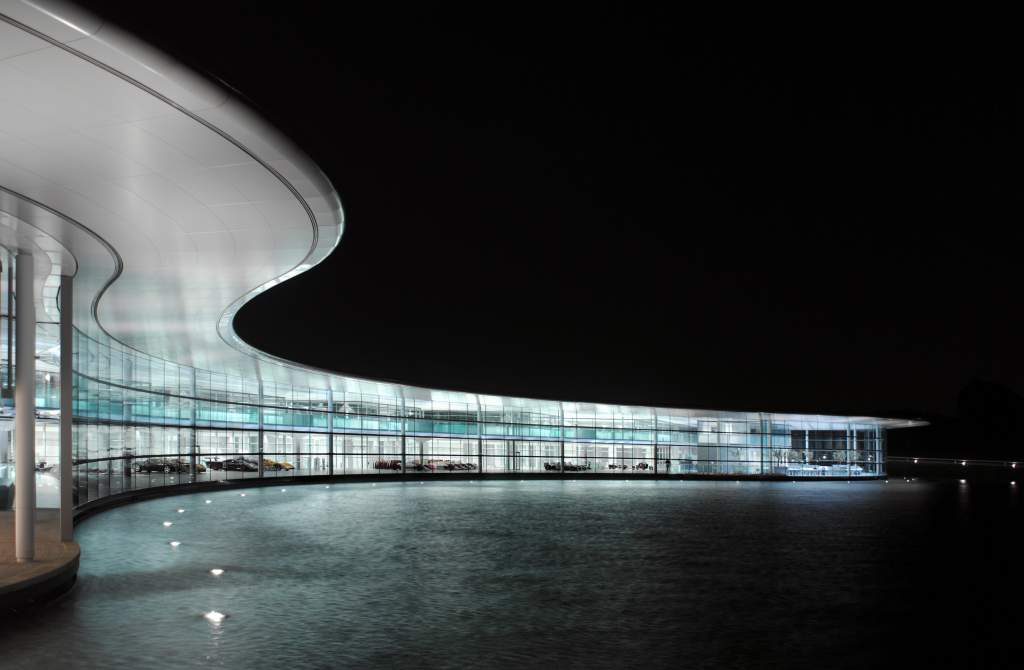 But separating the specific problems of the pandemic from a deeper-rooted commercial malaise is almost impossible for those on the outside. For example, the closure of the factory during lockdown meant construction of the windtunnel and simulator paused. But it didn't resume as soon as the F1 team went back to work. That itself was a hint of the wider complications McLaren was suffering from.
So, was McLaren Racing as insulated from the Group's issues as appeared to be made out? Or was it more serious?
"It was pretty serious," says Brown. "It was pretty serious. I'm sure we would have found a way through it… but it was pretty serious."
That's why Brown and his management team wanted the extent of McLaren's problems to be on a need-to-know basis at the time.
Media reports about the McLaren Group's plight – which he says were "90% accurate" – made that tougher. As did the fact Brown likes to be "very transparent with the race team", but felt this knowledge would be an unhelpful burden.
"That was very difficult," he says. "We were in a situation where the race team was performing but I was well aware of the financial challenges we had at a Group level, which rolled down to Racing.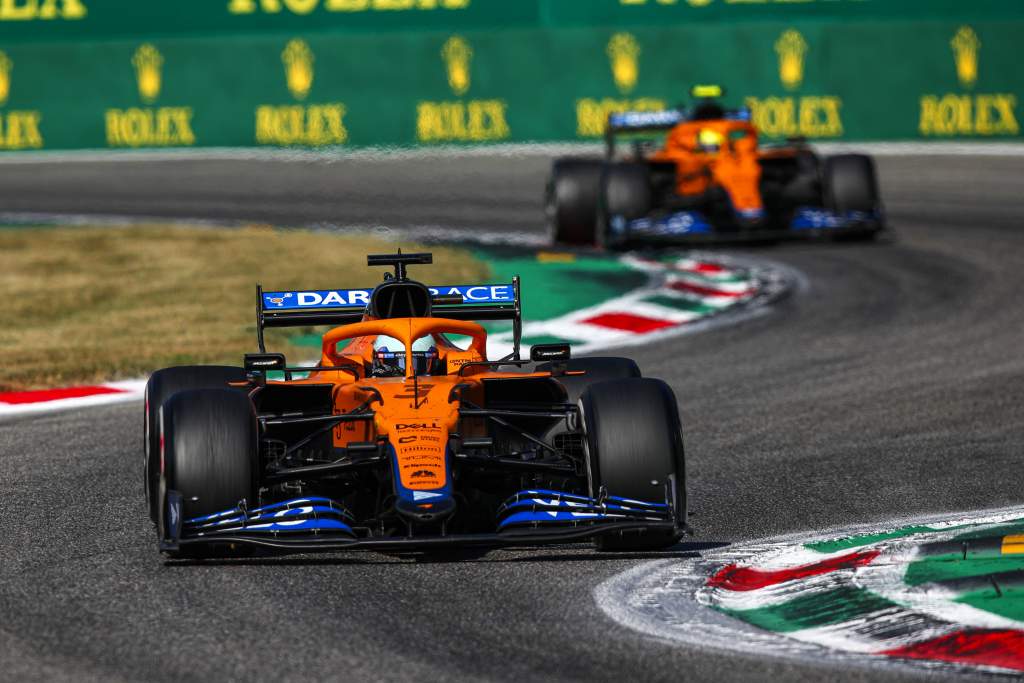 "And I didn't want the racing team to lose its focus and momentum, and be concerned by something that was out of their control. So that was a lot of weight on my shoulders and my leadership team's shoulders because they were aware of 'how do we keep the momentum, enthusiasm, excitement that we got going on, while we know there's a huge storm coming but they can't do anything about it'.
"That's our job as a leadership team at times to insulate. And we worry about things they can't worry about. Sometimes they worry about things I can't have any influence over, what's going on in the garage – I have total trust that whatever they're worried about, they're on it. And I think they have total trust that whatever myself and my leadership team are worried about, we're on it.
"I'm really pleased with the outcome because now are just very healthy and don't have any worries. [But] we were not in good shape until we brought the investment on from MSP, which is something that I'd worked on for six months."
There would likely have been an alternative solution to MSP had the deal not gone through, whether that be another investor or a bail-out from the Bahrainis after all, which may again imply talk of a 'fight for survival' is a little overblown. But an alternative solution doesn't mean an identical one.
Likely, it was less that McLaren would be fighting hand to mouth that instant, and more that there was a big long-term problem on the horizon – a reduced budget, lower ambitions, less success, a drop in revenue, and a potentially devastating negative cycle.
That's exactly the sort of thing that can lead to hand-to-mouth status. Just look at Williams, or lost giants like Lotus (pictured below in its penultimate season) and Brabham.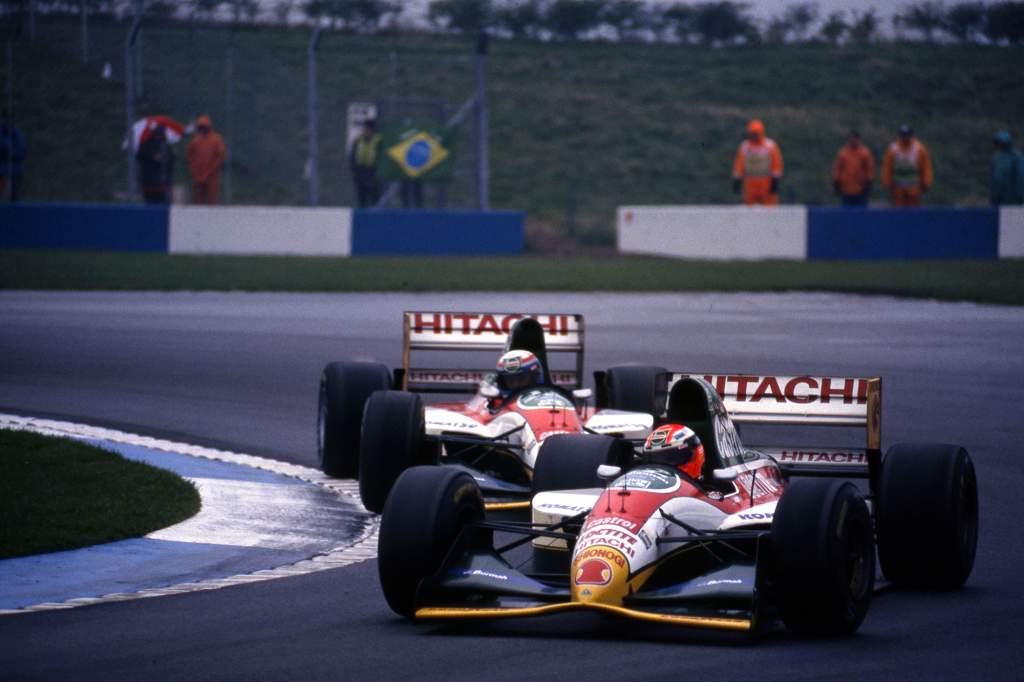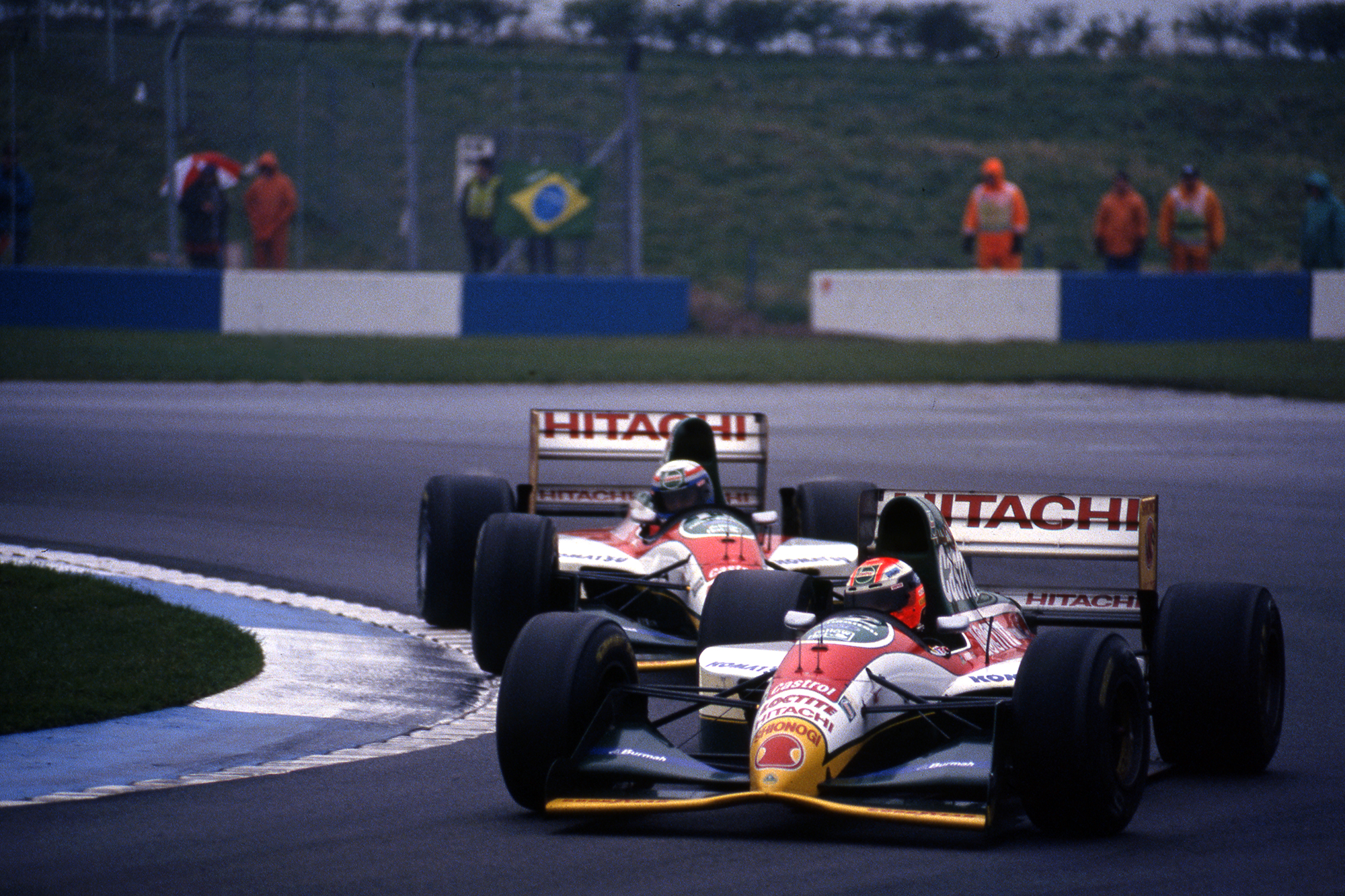 "I sit back, 12 months on, knowing how fragile we were," says Brown. "So even though on track we were doing strong, I knew and my leadership team knew, the shareholders knew what a fragile state we were in.
"Trying to find the balance between full throttle and fighting for survival at the same time without letting the world know, even though the media was reporting about it and it was getting closer and closer and closer, that was a highly stressful time.
"Now that we've gone through it is highly rewarding and highly motivating and has made the team stronger because I think everyone actually kind of knows now, and it's given everyone a boost of energy that we could survive that.
"What doesn't kill you makes you stronger."
At the same time, the McLaren Group is still working to improve its own situation. Brown reckons that will happen under McLaren Group chairman Paul Walsh (pictured below with Brown), who joined just before the start of the pandemic.
"We're fortunate to have Paul Walsh as the chairman," says Brown. "He's a business heavyweight. I'd put him up against any CEO or chairman I've ever met."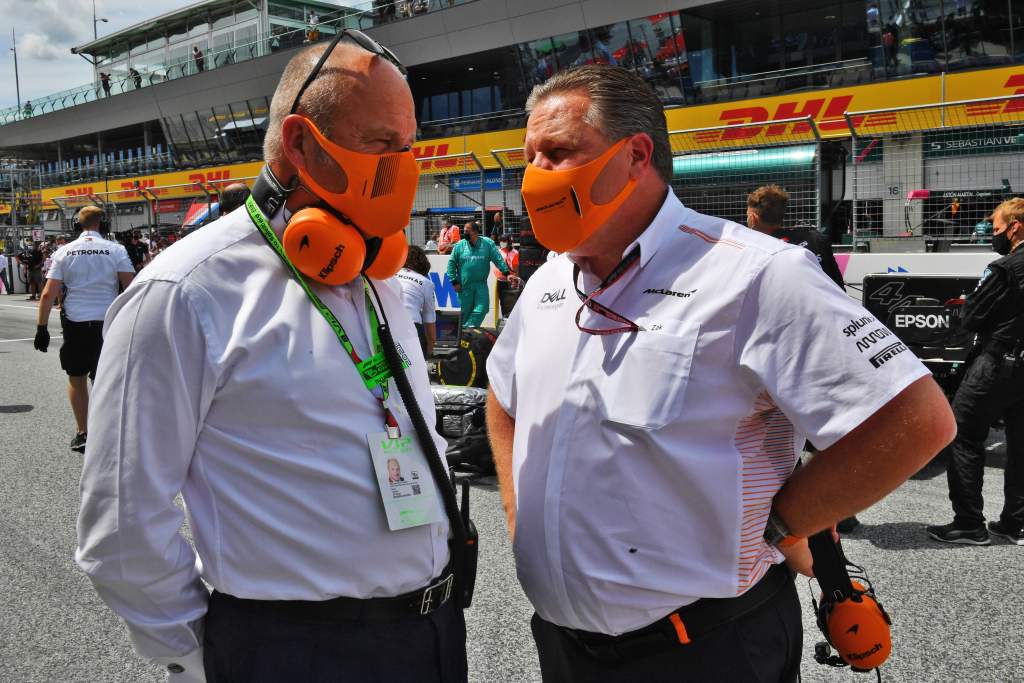 There's still work to do for the McLaren Group itself but now the racing division seems detached enough and prosperous enough to be entirely unconcerned.
Brown calls it "its own entity", with separate funding and 67% McLaren Group ownership, and the upshot is McLaren Racing is now "in super strong shape".
"We're back to having the level of resources that you came to know McLaren to have," he says.
"We are now fiscally one of the big four [along with Mercedes, Ferrari and Red Bull]. When I started it drove me crazy, we were talking about the big three, the big three, the big three.
And it was like, the McLaren I knew growing up was like the big one! Or it was us and Ferrari.
"I can comfortably say, while we have some catching up to do with all of our technologies, there's no resources that the other three don't have."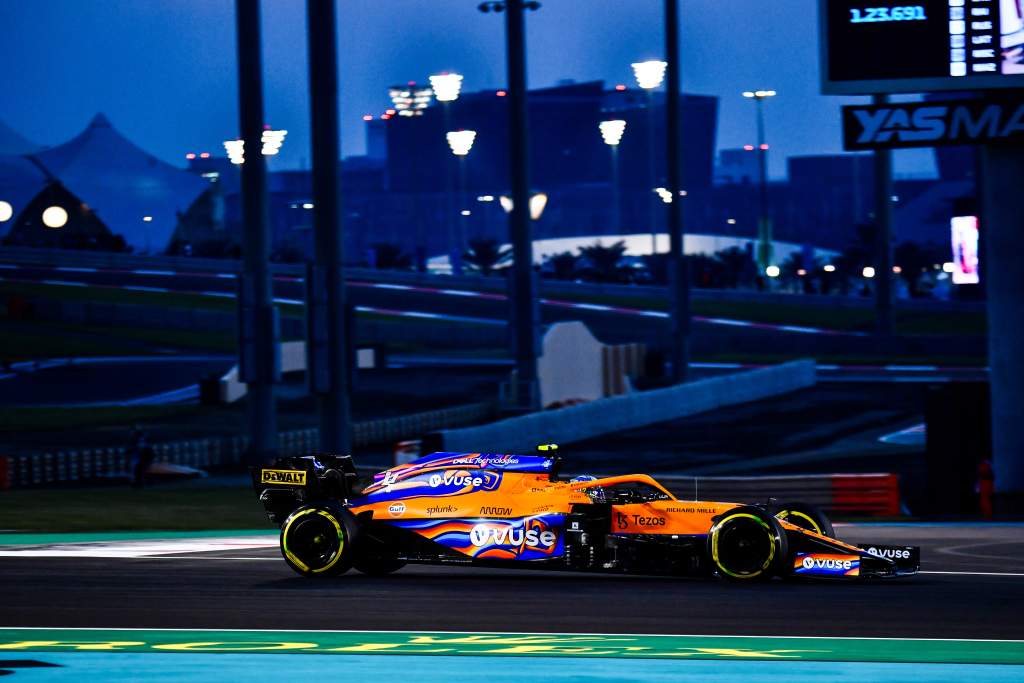 That sets McLaren up to confidently stride into F1's new era.
The case for the team ending its exile from F1's top table in the next few years is stronger than ever.
The chance of that happening would have been vanishingly thin had a wider financial crisis ended differently – whether its survival was in question or not.