Nico Hulkenberg completed a rigorous first test at Barber Motorsports Park, calling the IndyCar a "steering monster" as he faced many of the toughest challenges a current IndyCar driver faces on his debut.
Hulkenberg got his first taste of an IndyCar with Arrow McLaren SP on Monday, in an evaluation test where Indy Lights runner-up David Malukas was fastest for Dale Coyne, among a group of drivers who haven't raced for their respective teams in IndyCar yet.
With 108 laps complete, Hulkenberg netted just over a race distance at the undulating, 2.4-mile circuit and was slowest of the drivers testing. Those included Malukas – who IndyStar reports will test with Penske on Friday as part of his Indy Lights prize package – Ryan Hunter-Reay (Ed Carpenter Racing), Devlin DeFrancesco (Andretti Autosport), Kyle Kirkwood (Andretti) and Hulkenberg.
However, early reports from within the team indicate it was happy and impressed with Hulkenberg's performance given the nature of the day.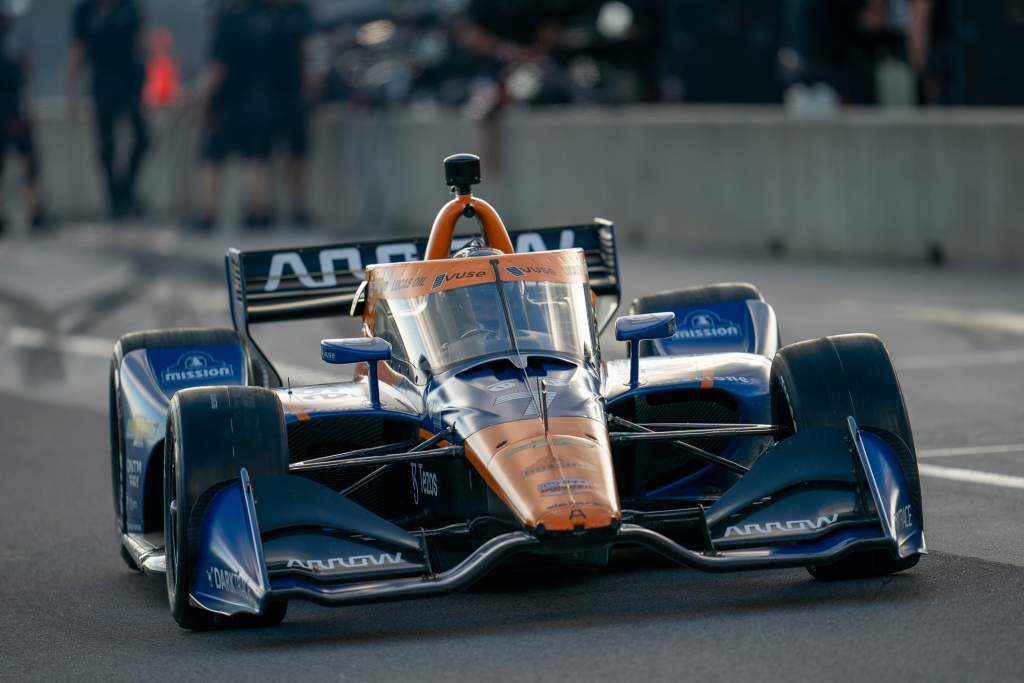 Interestingly, Hulkenberg's time was right in the ballpark of Romain Grosjean's first test time – also at Barber – as Hulkenberg was less than a tenth quicker than the driver who went on to wow the series this year and earn a big move to Andretti.
It's clear Hulkenberg felt the physicality of the test but appeared to enjoy it.
"First time in an IndyCar, first time at Barber Motorsports Park and overall I think it was a good and successful day," said Hulkenberg afterwards.
"I definitely can confirm that these steering monsters are very physical cars and it took a while in the morning to feel comfortable, but in the afternoon the laptimes and the performance started to come in and it was great fun.
"Big thanks to Arrow McLaren SP for this opportunity today and their very professional work on track."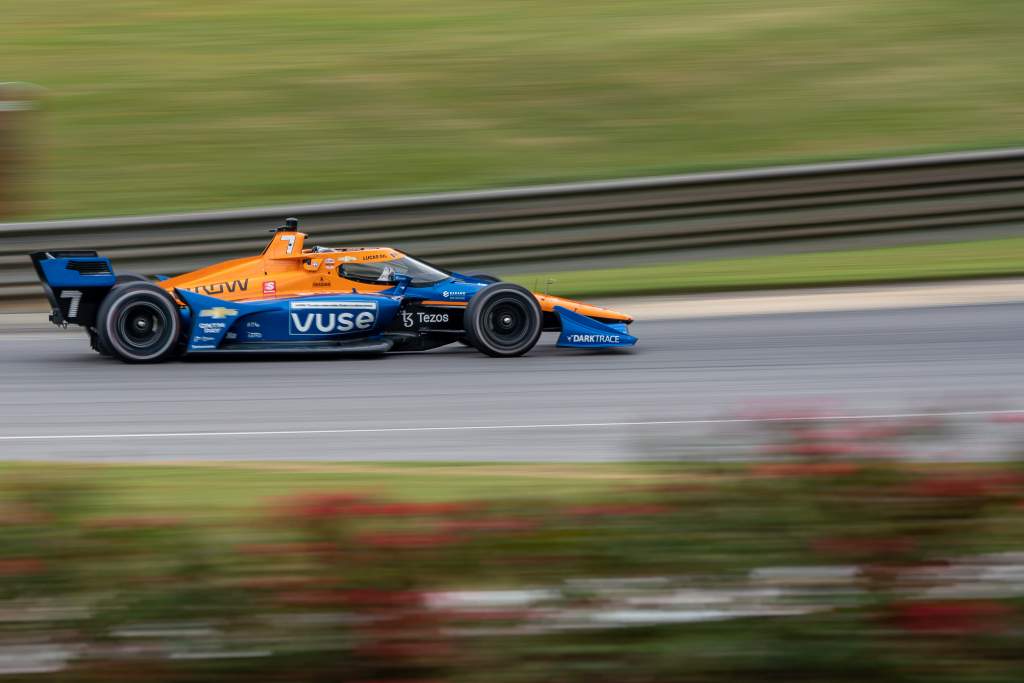 This wasn't a test where a driver simply turns up and drives the car.
First of all, the biggest challenge is the physicality, especially at a track like Barber which has a mix of slow-, medium- and high-speed corners.
Hulkenberg hasn't driven a car with an aeroscreen before and therefore coping with temperatures between 15-30 degrees Celsius will have been a massive challenge, especially as Hulkenberg hasn't driven a car without power steering in a considerable amount of time.
He also went through every programme you'd expect of a driver on a race weekend.
Things like out-laps from the pits on cold tyres, pitstops, various fuel loads and qualifying sims – the latter which might make his laptime on the day look disappointing, albeit we don't know what the exact track temperature was when that lap was set or whether he indeed completed that qualifying sim at full speed.
There's also the fact that Arrow McLaren SP's team and personnel have admitted how difficult its car is to extract laptime from, as it has taken 2021 new-boy Felix Rosenqvist half a season to adapt to. So expecting Hulkenberg to be session-leading on his debut would have been a lot to ask for.
He also had to learn really simple things like how the pitstops work, the buttons on the steering wheel and just the positioning of controls in the cockpit.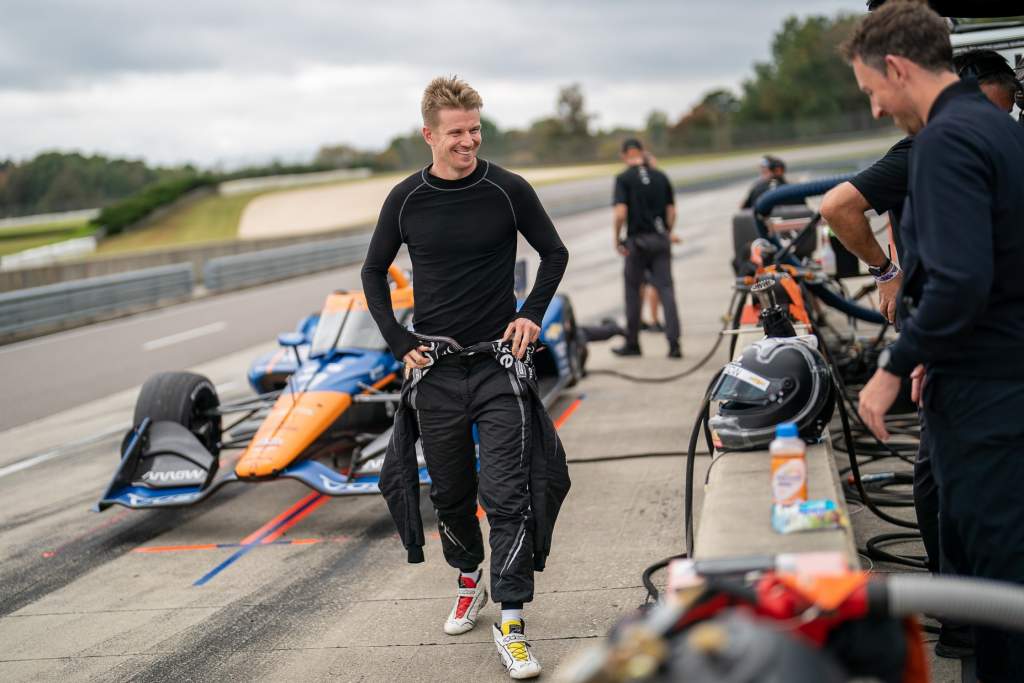 Pato O'Ward – who finished third in the championship with the team this year – was on hand to help Hulkenberg acclimatise following his F1 seat-fitting at McLaren ahead of a test in December, and all in all the team appeared impressed with Hulkenberg's progression.
To not have been in a car for a significant amount of time over a distance like this and to be able to cope with the temperatures in the cockpit and the aggressive nature of the IndyCar is nothing short of outstanding.
That's almost certainly Hulkenberg's last test in an IndyCar before his future is decided – owing to the nature of IndyCar's lack of testing opportunities.
Zak Brown confirmed at Texas last weekend that the team wouldn't run a car full-time in 2022, just at the Indy 500 and then part-time when the team is ready to hit the ground running with its team and driver in place to get some experience before a full assault in 2023.
Hulkenberg is towards the top of AMSP's shortlist, while Kevin Magnussen is also still in the picture, having raced for the team subbing for Rosenqvist last year.
There's no doubt both of those drivers would be extremely popular with the US fanbase, and with this being a plumb seat on the grid for 2023, there's likely to be other big names joining the silly-season merry-go-round before then too.