Veloce Esports' Australian Grand Prix replacement featured real world racers, professional sim racers and other big name personalities getting together for a 20 person race on Codemasters' F1 2019 game.
McLaren racer Lando Norris and Mercedes test driver Esteban Gutierrez both got disqualified from the qualifying session, Norris for blocking the pitlane, but both still finished the race inside the top 10 despite starting on the back row of the grid.
They were able to largely avoid the multitude of spins and crashes and make up positions while others lost places by doing the opposite.
It wasn't plain sailing for all of the past and present F1 drivers taking part as Mercedes F1 reserve and Formula E racer Stoffel Vandoorne started the race in ninth but quickly moved up to fifth thanks to F1 Esports driver Simon Weigang getting spun around and dropping from second place to 19th. F1 gaming YouTuber Aarava also got caught up in the incident and dropped to last.
Unfortunately for former McLaren F1 driver Vandoorne his good run didn't even last an entire lap as Louis Deletraz made contact with the rear of Vandoorne's Mercedes at the high speed Turn 11 and 12 chicane – which sent Vandoorne spinning 270 degrees and backwards into the wall on the right hand side of the circuit.
It wasn't all crashes, though, as come the end of the event the racing became much cleaner and respectful.
Indeed when Weigang accidentally rear ended Gutierrez into the heavy braking zone of Turn 3 at half distance, he let Gutierrez rejoin the circuit back ahead of him.
That sporting decision didn't hinder the F1 Esports driver's progress too much as he made a clean overtake stick on Gutierrez later on that same lap.
Up at the front Daniel Bereznay, 2018 F1 Esports runner-up, took pole position and was relatively unchallenged once the one and only pit phase in this 50% distance race played out.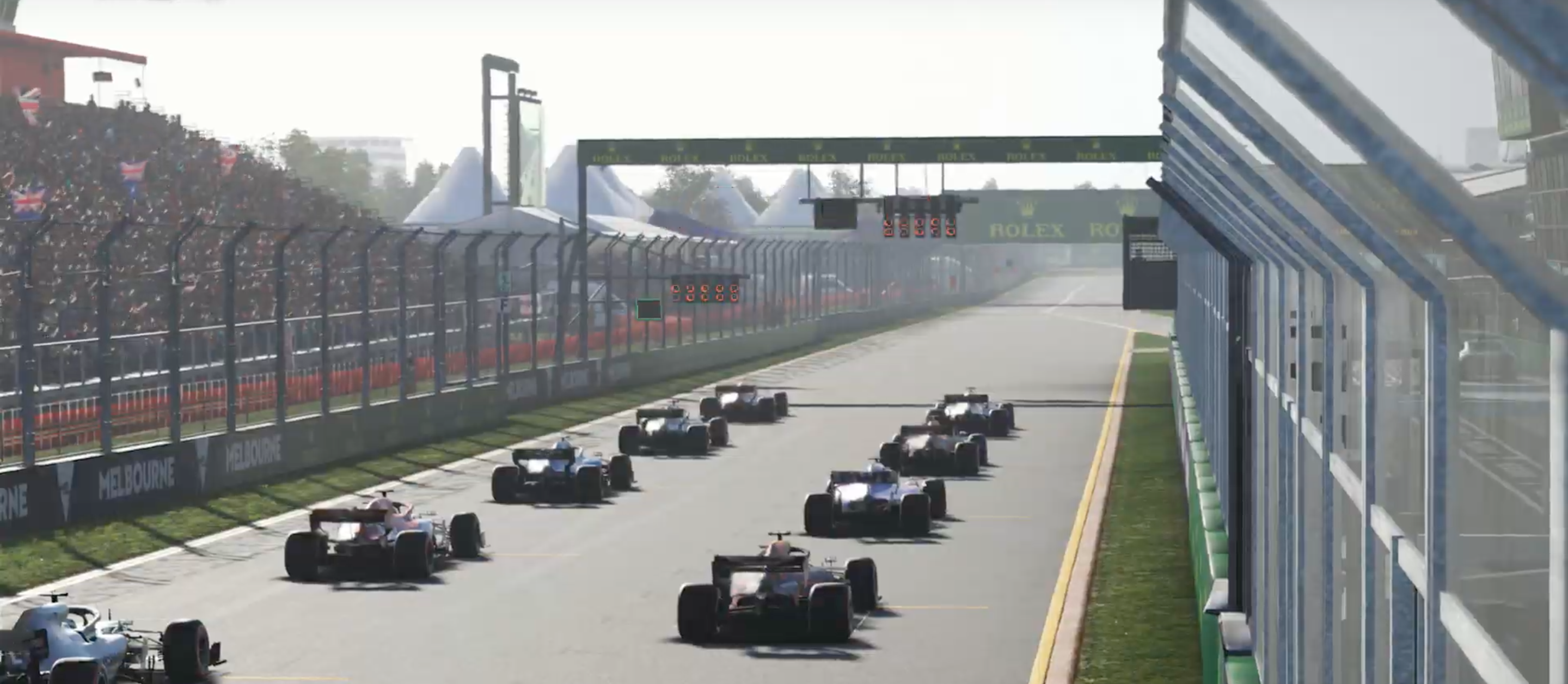 Jarno Opmeer, a real life Formula Renault Eurocup driver as well as a Renault Esports driver, finished the race in second with Tomek Poradzisz in third after persistently defending from the World's Fastest Gamer James Baldwin – who opted to fit the medium tyres during his pitstop when most went for hards.
F1 gaming YouTuber Tom Martinez finished in fifth, beating Norris – who had a thrilling wheel to wheel battle with another popular F1 gaming YouTuber Ben Daly. Ultimately though the Pro driver came out on top, even with Daly briefly managing to repass Norris.
"I felt like I was really slow but everyone seemed to be struggling the same amount," said Norris. "I just had to get that one overtake on the final few laps.
"Congrats to Dani, he seemed like he was in a league of his own."
Commenting on his battle with Daly, Norris added: "It was good racing. We were side by side for like half a lap, I kept thinking he was going to shunt into me but he didn't"
It wasn't just pro drivers and sim racers who took part in this race. There were a number of big name YouTubers and, strangely enough, Real Madrid goalkeeper Thibaut Courtois.
The Belgian World Cup player swapped his goalkeeping gloves for racing gloves, and did a respectable job.
He qualified in 14th and made up three places over the course of the 29 lap race to finish in 11th and only one place behind ex-F1 race driver Gutierrez.
Courtois does have an interest in F1 Esports and takes part in racing leagues in his spare time.
"It was quite good and quite fun," said Courtois. "The only issue was I came from PS4 [to PC] so my wheel felt very different because I didn't make the right set-up with the wheel.
"But in general it was a good race and I had some nice overtakes and good battles.
"It was nice to be P11, I didn't expect I could be that high, and I'm sure I can get faster so if I get an invite next time then I'm happy to compete again."
Veloce has already teased a follow-up race to be held around the Bahrain circuit on F1 2019.
The Race hosted its own Esports event earlier on Sunday, containing a mixture of real world and sim racing drivers.
Next week on Sunday The Race will be hosting two more sim races. One will be exclusively for real world racers and the other for professional sim racers.